The Power of Pachamama
Experiencing Peru's Ancient Traditions
Ker & Downey's Elizabeth Frels travels to Peru where she participates in a Pachamama (Mother Earth) Ceremony. 
Staring across the Andean Mountains of Peru, I approach the ceremony site with trepidation and wonder.
Waiting for me are two humble individuals marked by their multi-colored ponchos and tasseled wide-brimmed hats. The quiet shaman priest sits in welcome, beaming with a sort of peace and knowingness as I approach. Next to him is a barefoot musician, standing in wait to bring the landscape to life through sound. Framing them is a 180-degree panorama of the Sacred Valley's peaks and glaciers peaking through the low clouds.
I'll admit it: I'm skeptical of the ceremony in which I am about to partake.
I know it will be an authentic cross-cultural experience, but that doesn't mean I am ready to believe in anything that is to take place in this ceremony of the Pachamama.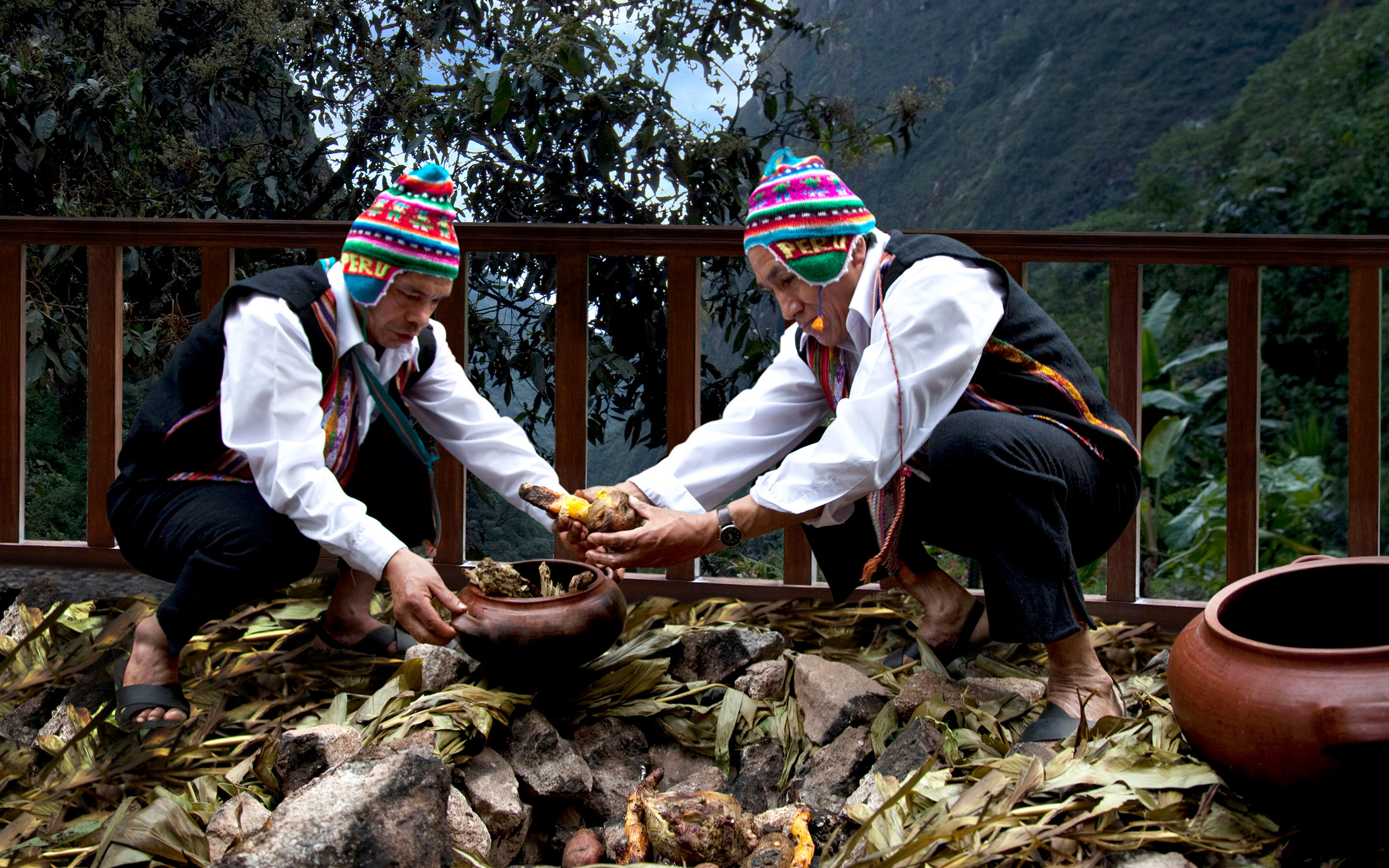 Pachamama, or Mother Earth, is a revered goddess of the indigenous people of the Andes. According to Inca legend, Pachamama is an ever-present and independent deity who controls fertility, presides over planting and harvesting, and causes earthquakes. She alone has the creative power to sustain life on earth and take it away. Yet in some more remote areas, not fully reached by the Catholic conversion, she is often considered a manifestation of the Virgin Mary – a benevolent and giving holy figure, sometimes referred to as the "good mother."
No matter her depiction, she is always approached with offerings. The hope is that by doing so, we will provide strength for the Pachamama so that she can continue generating life and blessing the land and so that we can live in reciprocity and harmony with the earth and all of its components.
The ceremony begins with an introduction to the ritual and the sacred gifts spread out before us. Flowers, sweets, wool, incense, condor feathers, animal fat, and a variety of foods and herbs are decorated in the form of a beautiful heart.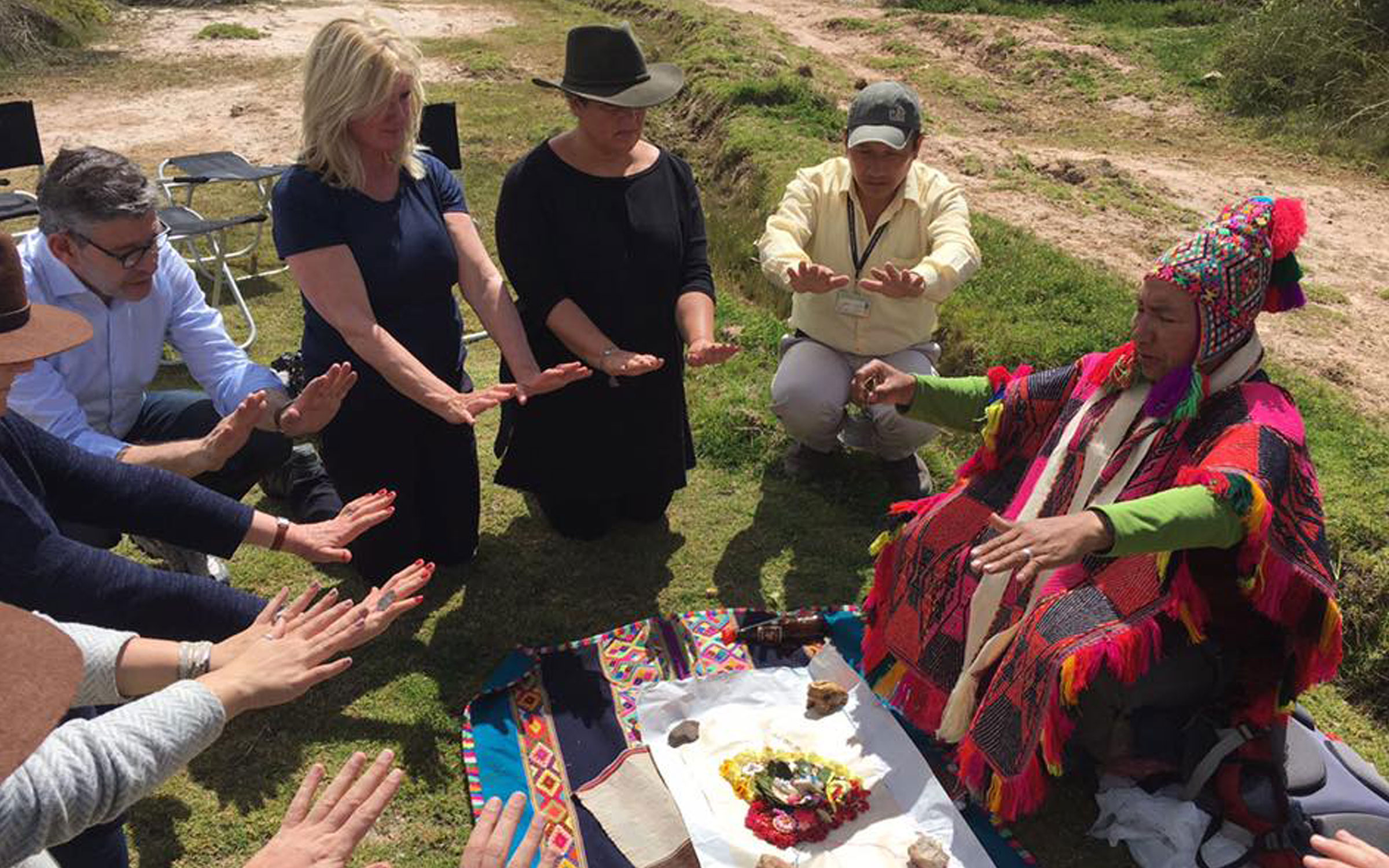 I am handed three undamaged coca leaves and instructed to focus my intentions to Pachamama in each of them. Health, work, prosperity, protection – nothing is off the table in terms of your requests to her. They do not need to be secret, but they should be close to your heart.
Then the music begins. The instrumentalist uses many pre-Hispanic instruments that have no musical register attached to them. He simply lets their effervescence sweep over us with joy, love, color, and life. The prayer of sound brings with it a call for an open heart.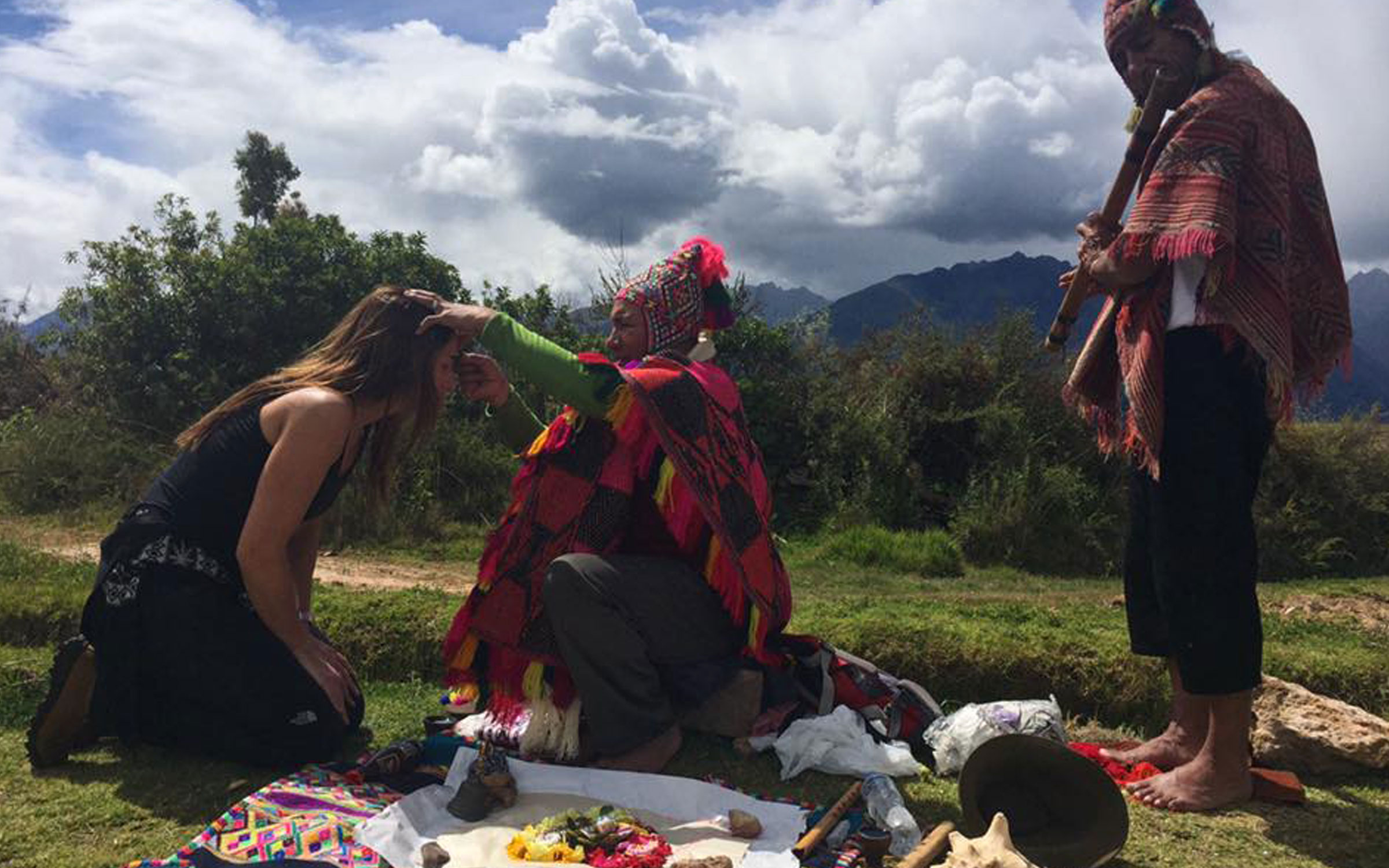 I should reiterate that I am still hesitant of my directives at this point. As I hold my coca leaves, I am asked to connect with my inner being and revel in the nature around me as inspired by the musical interlude. I do as I am told, but I am still not convinced.
But then something magical happens.
I am called forth by the shaman and asked to kneel at his side. He places his hand upon my head and calls upon the mountains, the glaciers, the condors, the pumas, and the snakes to honor the wishes held in my three meager coca leaves. He blows on the leaves, and asks me to do the same.
In that single breath and that blessing, I sense a spirit of clarity and peace. Of a burden lifted and a connection made.
Who knows if it was Pachamama herself or just the marvelousness of the moment, connecting with an ancient shaman in this mountainous setting and the floating notes of the flute whisking my breath toward the heavens. Whatever it was, it was beautiful.
To conclude the ceremony, I was asked to place my hands over the offering, now adorned with my coca leaves, and pour my energy into its promise. The shaman would burn the offering later that evening to finalize the deed.
Then we were asked to hug – to seal what had transpired with Pachamama with our own form of encouragement and love, extended to one another. First, it was about our connection with the earth, and now, it was about our connection to each other. It was a striking parallel and one that provoked tears in those around me.
I may have come into this Pachamama ceremony with skepticism, but I was wrong about many things. Yes, it was an amazingly authentic cross-cultural experience that offered me a firsthand glimpse into Peru's indigenous culture and practices. Yet it was also a testimony to the faith, joy, and positivity represented by the country's people and their beliefs, practiced in these mountains for hundreds of years.
That is the true takeaway from my Mother Earth moment and one I will remember for the rest of my life.
And in case you were wondering… so far, all of my wishes have come true.
The private Pachamama (Mother Earth) Ceremony is an essential on any Ker & Downey journey to Peru. Contact your luxury travel consultant today to discover how you can incorporate the experience into your next visit to the Sacred Valley.