Whale Watching in Iceland
Whale watching in Iceland is an activity quickly gaining in popularity. Travel with Ker & Downey to experience whale watching in Iceland in style and luxury aboard a private traditional schooner.
Iceland tops the list for many travelers. The "Land of Fire and Ice" beckons adventurers to its volcanoes and glaciers for epic glacial treks, a soak in the geothermal lagoons, volcano rappelling, snowmobiling across glaciers, and bicycling across the country. And a chance to see the glorious Aurora Borealis is a major draw for photographers and tourists alike. It's just a hop, skip, and a jump from the United States too – a non-stop flight from New York is just under six hours.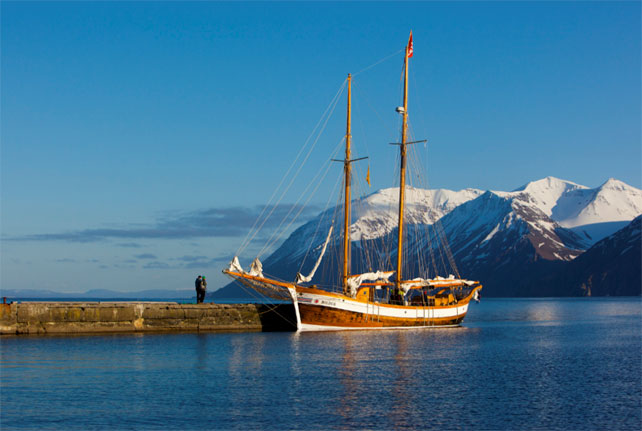 Whale watching in Iceland is an activity quickly gaining popularity. In the north, Húsavík's Skjálfandi Bay is Iceland's whale watching mecca where nearly 20 species of whales venture to the shores to feast on algae alongside resident puffins. Minke and humpback whales are among the most frequent visitors, however blue whales have also been seen more frequently in the early summer months before traveling further north. Other commonly seen species are the white-beaked dolphin and harbor porpoise, with the occasional fin whale, orca whale, northern bottlenose whale, and sei whale making a rare appearance in the water.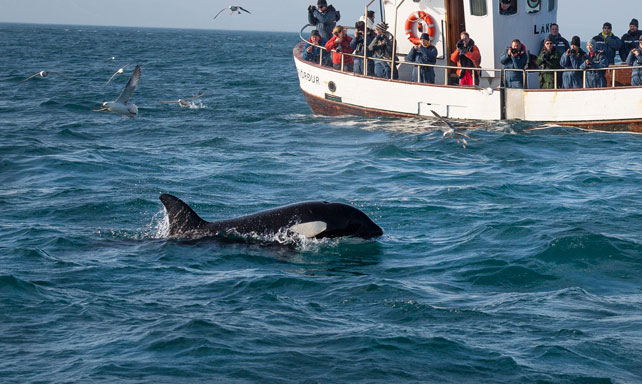 While some of the more rare whales are seen less frequently, the more common of the giant visitors are so often seen in the bay that sightings are virtually guaranteed on each excursion. And let's face it – is there anything more spectacular than whale watching in the light of the midnight sun?
Explore the world of Iceland's gentle giants with a private whale watching excursion aboard a traditional Icelandic schooner on our Iceland Adventure. You'll head out for 3.5 hours to seek out the whales of Skjálfandi Bay and try your hand at sea angling.
You'll also have some fantastic birdwatching out at sea. Two islands in the bay – Lundey and Flatey – are nesting grounds for birds like puffins, arctic terns, guillemots and gannets.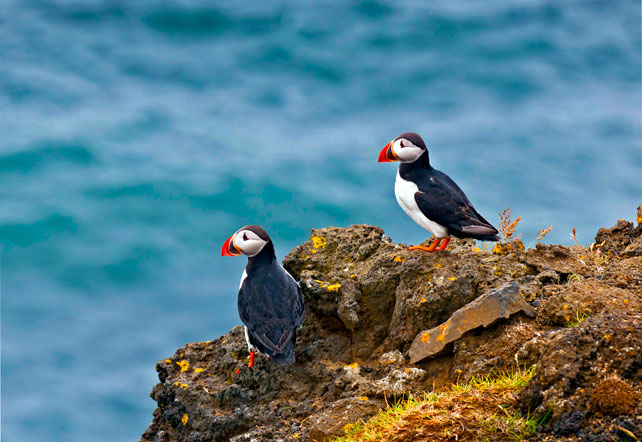 At the end of the sailing excursion, you'll head to the restaurant Gamil Bukur, where the chef prepares the fish you caught while out at sea.
Ker & Downey Product Manager Elizabeth Frels says, "Watching whales up close in their natural habitat is one of those truly transformative experiences that stay with you forever… you find yourself left with a deep respect and love for these cetacean creatures—in all of their might and majesty."
For more information about whale watching in Iceland, contact your Luxury Travel Consultant. For further inspiration, follow us on Facebook, Instagram, and Twitter.