Iceland Family Vacation
7 Days / 6 Nights
Iceland


An All-Ages Escape to the Land of Lagoons and Lava
This Luxury Iceland Family Vacation covers all of the island's bests over just seven days. Pioneer together through stunning valleys, epic waterfalls, black sand beaches, and relaxing lagoons. Along the way, meet the resident Icelandic horses, puffins, and Beluga whales.
Itinerary-at-a-glance:
Day 1: Reykjavik
Day 2 - 3: Golden Circle
Day 4 - 5: Southern Shores
Day 6: Blue Lagoon
Day 7: Departure
Customize This Journey. Request More Information >>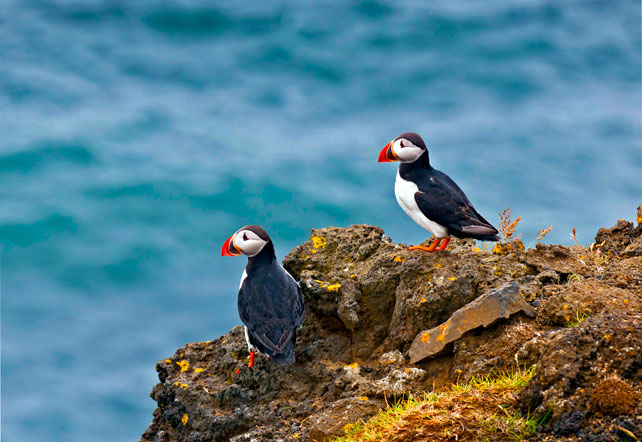 More Details
Your Luxury Iceland Family Vacation begins with a pause in Reykjavik so you can recover after your flight. Your private driver will greet you at the airport and whisk you away to your connecting family rooms at The Reykjavik EDITION.
Family travel to Iceland would prove incomplete without a full-day exploration of the Golden Circle. From your two-bedroom turf house accommodations, explore the region's geological phenomena, powerful geysers, and stunning waterfalls with a private guide.
You will also have a chance to go hiking in Gjain Valley and see the Haifoss and Granni waterfalls. Throughout the day, the Hekla Volcano -- the second most active volcano in Iceland -- will tower over you.
Next, continue your Iceland family vacation along Iceland's southern shores at Skalakot Manor Hotel. En route, stop at some of the stunning highlights nearby. This includes the beautiful Seljalandsfoss and Skogarfoss waterfalls, the legendary basalt sea stacks of Reynisdrangar, and the black sandy beaches of Reynisfjara. You will also have a chance to go on a horseback riding excursion on an Icelandic horse.
The highlight of your time in Southern Iceland is a day of exploring the Westman Islands by boat. Learn about the islands' rich history of volcanic eruptions, fishing traditions, and even pirate attacks. Also, go hiking on Heimaklettur. Finally, take a guided scenic boat tour to a Beluga Whale sanctuary to meet and learn about the first residents. Then look for puffins on one of the scenic islands before returning to the Sea Life Trust Beluga Whale Sanctuary Visitor Center to see the puffin rescue center and local species aquarium.
Conclude your Luxury Iceland Family Vacation in the Blue Lagoon for one last overnight. But first, stop at the Reykjanesskagi peninsula in the southwestern end of Iceland, near the city, for a special lava tunnel experience. Witness the inner workings of a volcanic eruption as you walk in the path of lava that flowed during the Leitahraun eruption, which occurred about 5200 years ago. Additionally, visit Kleifarvatn Lake and the Seltun geothermal area, filled with colorful green, yellow, and red deposits.
Your final night will be spent at the Blue Lagoon which you can enjoy from your accommodations at Silica Hotel. Dip in and enjoy the hot water and white mud on your skin.
Experience Family Travel to Iceland
Ready to go on a once-in-a-lifetime adventure to Iceland together? Contact a Ker & Downey destination specialist to customize your own journey and read more about the seasonality and pricing in Northern Europe. For even more travel inspiration, follow us on Instagram, Facebook, and X.