The Ultimate Gourmand's Guide to Germany
As Seen in QUEST Magazine
Move over, beer and bratwurst.
During the last decade, Germany's culinary scene has blossomed, making the country one of Europe's most exciting foodie destinations distinguished by international influences, innovative chef-driven eateries, and hyper-regional cuisine. Explore it all with Ker & Downey's ultimate gourmand's guide to Germany.
Sure, beer is firmly cemented in Germany's cultural history — as evidenced by the country's 1,300 breweries and the weeks-long beer worship at Oktoberfest (the world's largest folk celebration). But the land of poets and thinkers is also home to 13 wine-growing regions and 300 Michelin-starred restaurants. Only France, the birthplace of haute cuisine, has more epicurean temples to its name.
Germany's spectrum of gastronomic experiences is as vast as it is surprising, whether it's centuries-old traditional dishes unique to each region, internationally-lauded menus in cosmopolitan hubs, locally-produced beverages in rustic inns, seasonal food festivals catering to the world travelers, or food-themed tourist routes for the adventurous at heart.
Delve deeper into Germany with Ker & Downey's quintessential food-lovers guide and explore every corner of the country.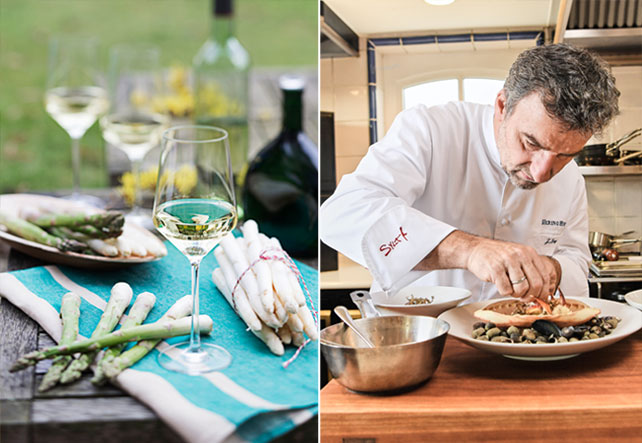 Baden-Württemberg
In Stuttgart, savor Maultaschen, miniature ravioli-style pasta parcels filled with meat, spinach, onion, and parsley. Legend has it they were invented by monks who didn't want to go without meat during Lent, so they secretly encased the forbidden luxury inside pasta.
Bavaria
Dive into the land of lederhosen along Bavaria's Beer and Castle Route, which introduces travelers to Germany's history and countryside, as well as several local breweries, some with secret recipes dating back 500 years. With over 40 beer varieties and 1,000 brands each with its own unique flavor, it's no wonder why Bavaria is known as the land of ever-flowing amber nectar.
Brandenburg
While in Brandenburg, be sure to gobble up the gherkins, the most famous export of the Spree Forest. The beautiful Gherkin Cycle Route is an especially thrilling way to learn about this crunchy snack, as it leads cyclists on a 160-mile journey following the entire production process from field to fork.
Bremen
Enjoy a private tour of one of Bremen's many roasting houses. Ever since 1673, when the first coffee house in a German-speaking country opened in Bremen, the city has exhibited an undeniable passion for the caffeinated drink and is now considered one of Europe's premiere coffee-trading capitals.
Hessen
Head to one of Frankfurt's local cider houses for a sip of Ebbelwoi cider, the signature drink of the Hessen region. Traditionally served in a blue earthenware bembel pitcher, the cider is best enjoyed alongside hearty dishes such as pork chops, blood sausages, or the regional specialty of Grie Soß (green sauce).
Mecklenburg-Western Pomerania
Visit Rügen Island to witness the regional sea buckthorn harvest off the coast. This thorny shrub is rich in vitamins and minerals and its orange berries are often found in local oils, juices, teas, preserves, liqueurs, wine, and grog.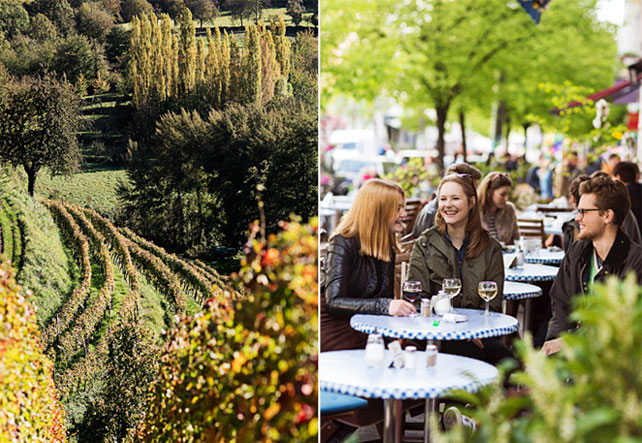 Lower Saxony
Embark on an epicurean tour through asparagus country. Known as the royal vegetable, this white delicacy dominates the Lower Saxony landscape, especially from March through June during asparagus harvesting season. Highlights of this route include the medieval asparagus-producing town of Burgdorf, the Asparagus Museum in Nienburg, and a tour through the beautiful city of Hannover.
North Rhine-Westphalia
North Rhine-Westphalia produces an extensive range of beers, including kölsch from Cologne and altbier from Düsseldorf. Take part in a beer workshop and visit the brewery museum in Dortmund to learn everything there is to know about brewing beer.
Rhineland-Palatinate
Follow the German Wine Route from the famous Dürkheim Barrel in Bad Dürkheim to the German Wine Gate of Schweigen-Rechtenbach. In the country's ancient wine region, visitors will find Riesling, Pinot Grigio, and Dornfelder wines flowing on the side of the road, in tasting rooms, and in numerous wine bars along the way — especially during wine festival season between mid-August and early October.
Saarland
You can't visit Saarland without tasting the popular delicacy of Dibbelabbes, a hash of grated potato, leek, bacon, and herbs all served with homemade apple sauce.
Saxony
Attend Dresden's Christmas Striezelmarkt in December for a taste of Christstollen, possibly the most famous holiday pastry in the world. This geographically-protected fruit bread is produced by just 130 Dresden bakeries, each with their own top-secret family recipe.
Saxony-Anhalt
Take a detour to a local dairy in Saxony-Anhalt for an introduction to Harz cheese. High in protein and low in fat, these healthy morsels have been a favorite in this region for several hundred years.
Schleswig-Holstein
Home to more than 120 different varieties of artisanal cheeses, Schleswig-Holstein plays host to the Schleswig-Holstein Gourmet Festival, a 30-year old event known for attracting international Michelin-starred chefs to northern Germany between September and March each year.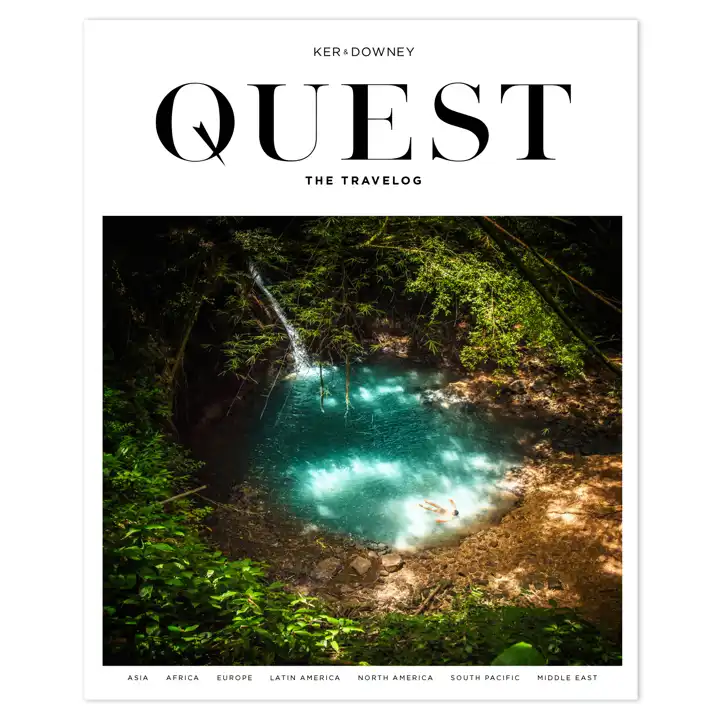 The Travelog
Quest Magazine
Dedicated to the experiential style of Ker & Downey travel, QUEST Magazine features eye-opening content that focuses on unforgettable experience, unheard-of destinations, and the very best our world has to offer. Each issue is packed with insider information, what's new in the world of travel, and editorial pieces that focus on our global culture, philanthropy, and transformative travel.
Read Issue 10