Mekong River Cruise
16 Days / 15 Nights
Vietnam, Cambodia, and Laos


Journey Down the Mekong
Journey on a Mekong River cruise to Vietnam, Cambodia, and Laos to discover some of Southeast Asia's most iconic destinations with Ker & Downey. This customizable trip reveals amazing cultural highlights, delicious food, and of course the beauty of the Mekong River.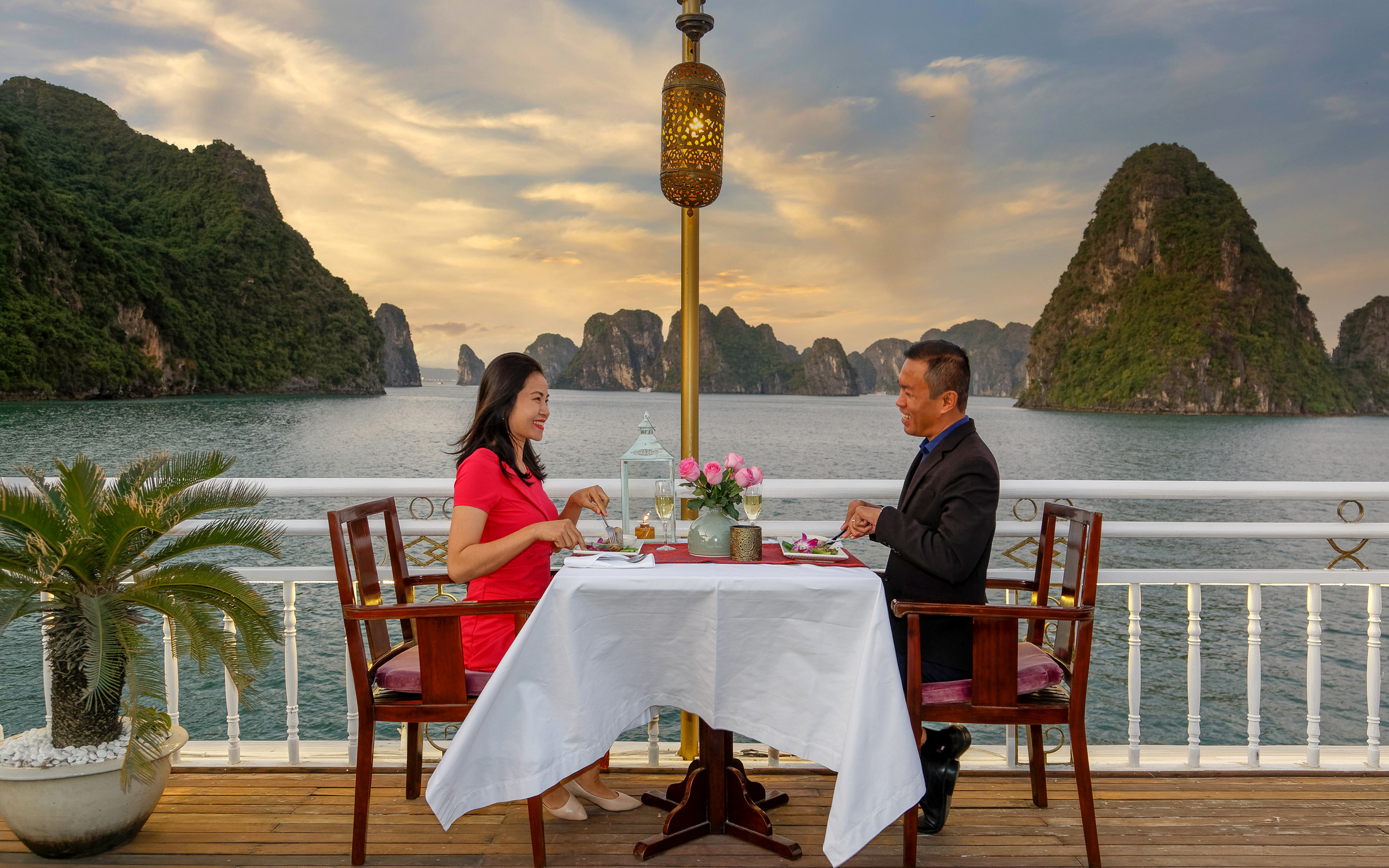 Vietnam is well known for its incredible landscapes and welcoming people. Visit Hanoi, known as the "Paris of the East" for its yellow ochre French colonial-era buildings and tree-lined boulevards. A stop at Ho Chi Minh's house, the sixth-century Tran Quoc Pagoda, and the Taoist Quan Thanh Temple will deepen your understanding of Vietnam's history. Experience modern everyday life in Vietnam through the local street fare on a private food tour with a local guide. Eating a steaming bowl of pho ga (Vietnamese noodle soup with chicken) or a banh mi pate from a street vendor in the Old Quarter is an integral part of the culture in Hanoi.
Then, spend some time sailing in Ha Long Bay. The beauty of the bay is best viewed from the opulent red-sailed Halong Violet as it makes its way around limestone karsts to hidden beaches and isolated islands. From the five-star traditional junk, take a kayak out to explore narrow caves and the former fishing village of Cua Van. Back on board, participate in cooking demonstrations with the chef, and re-center with Tai Chi practice on the boat's upper deck.
After disembarking the Halong Violet, head to Ho Chi Minh City, a city of over eight million inhabitants and four million motorbikes. Zig zag through the hustle and bustle of the streets on a vintage Vespa to discover the city after dark, making stops at popular Vietnamese food stalls, coffee shops, and a boutique restaurant.
From My Tho dock, board the Aqua Mekong for a cruise along the Mekong River. At 2,703 miles long, the Mekong River is the one of the longest rivers in the world. It is the lifeblood for many in Southeast Asia. Along its lush rural shorelines, you'll find Buddhist monks and villagers going about their lives, fishermen casting their nets into the water, and local sampans making their way down the river.
As the first five-star vessel to cruise the popular stretch of river between Vietnam and Cambodia, the Aqua Mekong is making waves. The sustainably crafted ship has 20 suites overlooking the Mekong through floor-to-ceiling windows. It is the only ship on this stretch of river that includes amenities like a fully-equipped gym, screening room, outdoor cinema, and an upper deck pool. With a guide to guest ratio of one-to-one, excursions from the boat are in-depth. From the Aqua Mekong, board a skiff to make your way through narrow channels to villages like Binh Thanh, where locals weave mats from Mekong water hyacinths, or Preah Prosop, a remote village of stilt houses that remain incredibly isolated.
After making your way down the Mekong River, disembark in Phnom Penh for a motorized tuk-tuk tour of the capital, stopping at the Royal Palace, Silver Pagoda, and the National Museum of Cambodia.
Then fly to Siem Reap. The enchanting land of the legendary Angkor Empire is quite diverse with ancient temples peeking over lush jungles, floating villages, and warm people. Take a deep dive into the history of this Southeast Asia jewel by hopping between temples at the Angkor Archaeological Park, including Ta Prohm, Bayon, and Angkor Thom. Wake before dawn to catch a glimpse of the sun rising up over Angkor Wat, one of the world's most impressive temples and largest religious complex. This world-famous temple is the crowning achievement in Khmer art and architecture.
Outside of Cambodia's temples, explore the rural communities surrounded by rice paddies and woodlands near Siem Reap. Seek a blessing from the monks, visit with local families, and spend an evening in a private country villa listening to traditional Khmer music while a chef prepares your evening meal.
The final stop on this journey through Southeast Asia is Luang Prabang. Here, the Mekong River is central to Lao culture and geography. While in Laos, you can't help but explore this tranquil portion of the river, whether by boat, or sitting outside near the river, watching the sun set over it. Stay in Aman Resorts' Amantanka, set on a large verdant estate framed by the Mekong and Khan Rivers with Phousi Mountain in the background. Take a boat to the Pak Ou Caves where you'll find two linked caves full of thousands of gold lacquered Buddha statues. Your Ker & Downey guide will also take you to visit Wat Long Khun, the limestone cave Tham Sakkarin, and the Ban Xiengmene village.
While in Laos, make plans to rise early to witness hundreds of monks walking through the streets of Luang Prabang, accepting offerings of food from the local residents and businesses. It is one of the most timeless scenes in all of Southeast Asia.
Book a Mekong River Cruise with Ker & Downey
Contact a Ker & Downey Travel Professional to personalize your own Multi-Country Mekong River Cruise, and read more about the seasonality and pricing in Southeast Asia. For even more travel inspiration, follow us on Instagram, Facebook, and Twitter.