Flower Power
12 Days / 11 Nights
The Netherlands, Belgium, and Denmark


A Delightful Tulip River Cruise
Gardens and grandeur are the themes of Ker & Downey's Tulip River Cruise through Dutch and Danish history. From the royal palaces of Copenhagen to the floral fanfare of the Netherlands and Belgium… this journey is for those in search color, comfort, and canal-side charm on their next European vacation.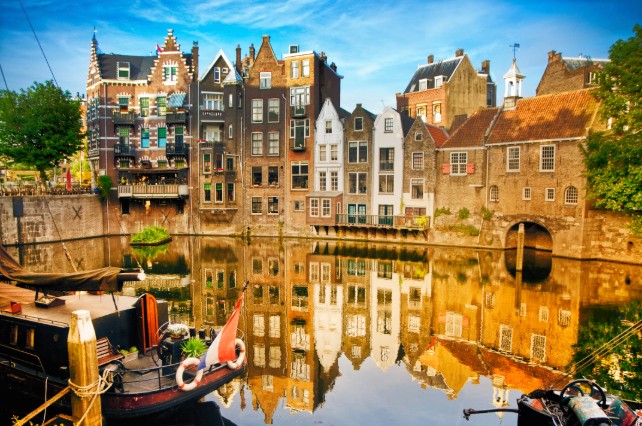 Before embarking on your Tulip River Cruise, begin your journey with three nights in the capital of Denmark: Copenhagen. There is plenty to explore between the colorful Nyhavn harbor, the medieval heart of the city, and the iconic Little Mermaid statue. You will even have the chance to watch a world-famous ballet performance in the Royal Danish Theatre. Outside the city, visit several castles with expansive gardens and grounds. Indeed, many of these countryside escapes look like they were plucked straight from a storybook.
Then a short flight brings you to Amsterdam, the embarkation point for your Tulip River Cruise through the Netherlands and Belgium. During your two days here, take advantage of all the city has to offer. Enjoy a private canal cruise and a visit to one of the city's many museums. Then explore the Aalmeer Flower Auction, the largest trading center for plants in the world. Whether you wish to visit the Anne Frank or Van Gogh Museums, or participate in a private Heineken experience—anything is possible with your private Ker & Downey driver and guide at your disposal.
Finally, set sail on your Tulip River Cruise from Amsterdam. The epitome of elegance, your vessel allows you to cruise the inland waters of the Netherlands and Belgium to discover the land of windmills, tulips, and wooden shoes. Stop in Rotterdam to marvel at the modern architecture; then get lost in the medieval charms of Ghent and the artistic masterpieces of Antwerp; and go biking through the wonders of Veere. Additional options along the way include a workshop at Delft's famous porcelain factory and a visit to Edam to sample its famous cheeses. Or perhaps go on a discovery of Keukenhof Gardens and a tour and tasting at a local oyster farm.
Experience a Tulip River Cruise with Ker & Downey
Explore the history and natural beauty of Denmark, Belgium, and the Netherlands on a Tulip River Cruise. Contact a Ker & Downey designer to customize your own journey. Read more about the seasonality, pricing, and the Ker & Downey Difference in Western Europe.