Ker & Downey for Africa
Thousands of Lives Changed
About the Organization
Ker & Downey for Africa, the 5013c nonprofit philanthropic arm of Ker & Downey, aims to serve communities all over Africa. The mission of Ker & Downey for Africa is to provide love, healing, and hope to the poor, sick, and terminally ill by distributing food, clothing, cash donations, and medical supplies.aAdditionally, the Ker & Downey team adopted several children who receive financial support for schooling, uniforms, computers, and other needs to support their education.
Along with our passion for travel is our passion to serve impoverished communities all over the world. Africa is where Ker & Downey's story began. Furthermore, it is a continent that continues to enrich our lives every day. Through Ker & Downey for Africa, we embrace our responsibility to co-create a world where each of us, our communities, and our planet can flourish. All the while, we celebrate the sheer love of travel. We show how travel, when done right, can break down barriers.
2023 Trip Update
The 2023 annual medical mission trip to Uganda set off in February and visited three villages: Oburangan, Bunanimi, and Highland. Volunteers and local Ugandans were able to distribute 6,000 mosquito nets—2,000 per village—and treat 4,780 people with medical needs. The money fundraised was used to hire 50 Ugandans to make these medical outreach days happen, including seven doctors, one dentist, three clinicians, seven nurses, and two lab technicians. The rest was spent on mosquito nets, medications, and surgeries for those in dire need. Traveling with Ker & Downey helps fund these annual mission trips, and we are grateful that clients continue to support this philanthropy.
History of Ker & Downey For Africa
Shortly after 9/11 and the economic downturn that followed, David Marek, the president of Ker & Downey, realized the need was much greater. He therefore expanded Ker & Downey's philanthropic efforts to create Ker & Downey for Africa. Through annual mission trips, Ker & Downey provides much-needed services to African communities. Specifically, we assist in the administering of blood tests, medical and dental treatment, life-threatening surgeries, and the distribution of prescription medications, reading glasses, and mosquito nets to protect from malaria. Additionally, we provide medical clinics to people living in rural areas of Uganda and Kenya. For some, it is the only doctor they will see all year.
One of the most important aspects of Ker & Downey for Africa's works is the distribution of mosquito nets. Malaria continues to be a major threat in Uganda. Indeed, one million people die yearly from the disease in Sub-Saharan Africa. And most of the victims are children under the age of 5. However, did you know that just $7 purchases one net that lasts three years? Each net can save the lives of four children. Through the donations to Ker & Downey for Africa, we provide insecticide-treated mosquito nets to fight against this terrible disease. Ker & Downey also annually matches donations for every net purchased, helping to stop the devastating spread of disease through mosquito bites. To date, we have handed out more than 90,000 mosquito nets.
Our past trips to Uganda and Kenya have resulted in thousands of changed lives. As a company, we remain dedicated to continuing with the hope of leaving a lasting impact and can't wait to return to help with the massive need.
Read the 2019 Report.
Likewise, to learn more, watch how it all began.
The Ripples Foundation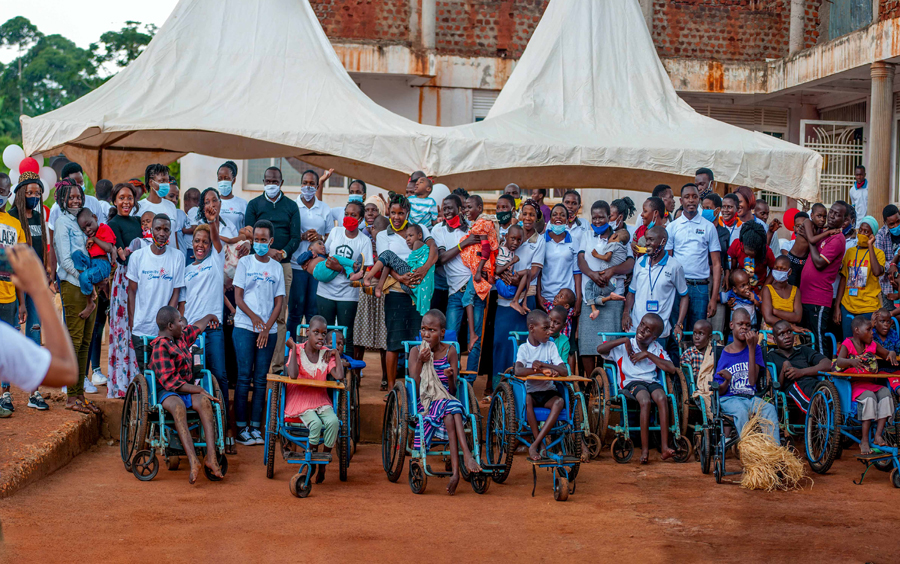 Ker & Downey for Africa also supports the Ripples Foundation. This Ugandan-based charity initiative has a mission to further spread love and kindness to vulnerable children who are orphaned, sick, disabled, or in need. They accomplish this through fundraising and donating to charitable causes.
Donations go to four main causes:
The sponsorship of children for education and upkeep
The Jaja's project, which supports the elderly
Home of Hope, based in Jinja, which is a home dedicated to paraplegic children
Torro Babies Home, a home that cares for 50 children mostly under the age of four
They believe one person may not be able to create a substantial impact on society. However, with joint efforts through acts of love and kindness to the less privileged, it has a greater ripple effect on society.
Over the years, Ker & Downey has supported 12 students to receive an education and help with school supplies, some have attended University and post graduate trade-specific schools.
Your donations help us be able to keep giving back to the countries we love. Read more and consider donating today.