All About Lausanne
The Ultimate Lausanne Travel Guide
Travel to Lausanne to reveal this charming French-speaking region of Switzerland.
Lovingly called "little San Francisco," Lausanne is a university city with ancient Roman Empire roots that resides along the largest lake in Western Europe in Switzerland. Here you will find a Mediterranean take on the Swiss quality of life. It's no wonder, then, why this region was named one of the top places to travel in 2023 by both the New York Times and Condé Nast. 
Here's your ultimate Lausanne Travel Guide.
Getting to Lausanne
History Buffs
Lausanne boasts a charming medieval old town and cathedral dating back to the 12th century. Climb to the Cathedral belfry and listen out for the night watchman, one of the few remaining in Europe but an essential part of Lausanne's traditions since 1405. Additionally, history lovers will appreciate the Escaliers du Marché wooden staircase—one of the most picturesque spots in the city—which dates back to the 13th century.
Art & Culture Lovers
Lausanne has a brand new arts district, PLATEFORME 10, which encompasses three museums and two foundations. From fine arts and photography to textiles and designs, this cultural hub has it all. Another museum of note is the one-and-only Olympic Museum. The Olympic spirit penetrates the city year-round and excites even the most lackluster sports enthusiasts.
Architecture Hounds
The Rolex Learning Center in Lausanne was designed by the winners of the 2010 Pritzker Prize, Japanese due SANAA. It serves as research center for engineering and natural sciences. Additionally, the Tour Galfetti, or Galfetti Tower, is an architectural marvel constructed by Aurelio Galfetti in 1987. It may only be eight stories high, but it is even more impressive from the inside.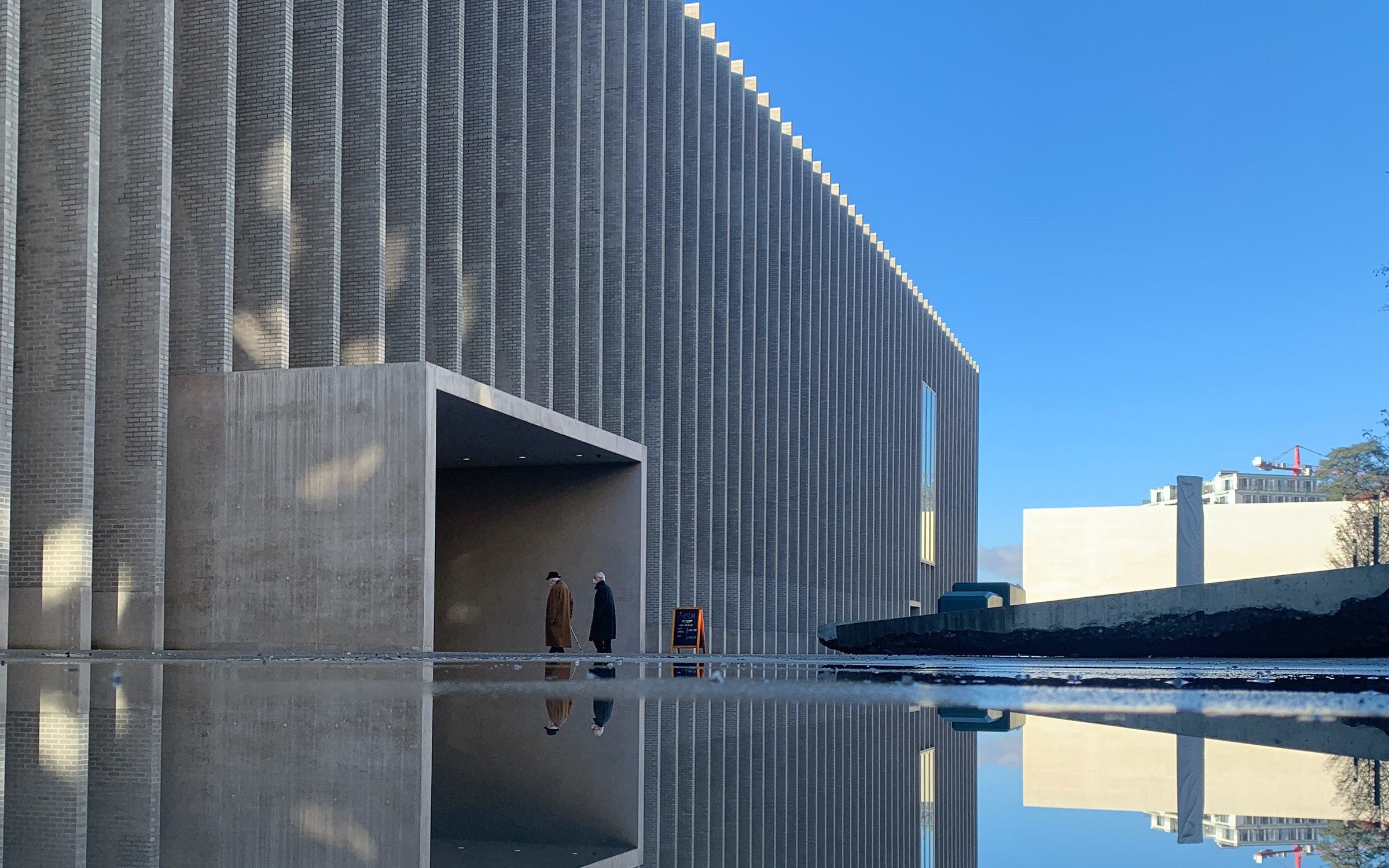 Foodies
Lausanne offers more than 300 restaurants, featuring regional cuisine, international fare, and even Michelin-starred chefs. One such star is Anne-Sophie Pic, the world's most Michelin-starred woman chef. She may have 10 restaurants in France, but her Swiss restaurant holds two Michelin stars and resides in none other than in Beau-Rivage Palace. Additional Michelin-starred restaurants include La table du Lausanne Palace (which was just awarded its second star in 2023), Le Berceau des Sens, and L'Hôtel de Ville de Crissier.
Wine Connoisseurs
Surrounded by several vineyards, Lausanne has been named one of the Great Wine Capitals of the world. However, Swiss wines remain a mystery to many since they are consumed almost exclusively in Switzerland. The Romans brought the vines to the region, and the Cistercian developed the wine region in the 12th century. What's more, the Lavaux Vineyards are listed as a UNESCO World Heritage Site. 
Sweet Tooths
Did you know that the first chocolate shop opened in Lausanne in 1830? The tradition remains to this day, with a wide array of local chocolatiers making their home in the city. Stopping inside offers insight into these family businesses, which have been in operation for generations.
Instagrammers
Pont Bessières, Les Escaliers du Marché, the Ouchy lakefront, Parc de l'Hermitage... the list of "Instagram-worthy" backgrounds and outlooks goes on.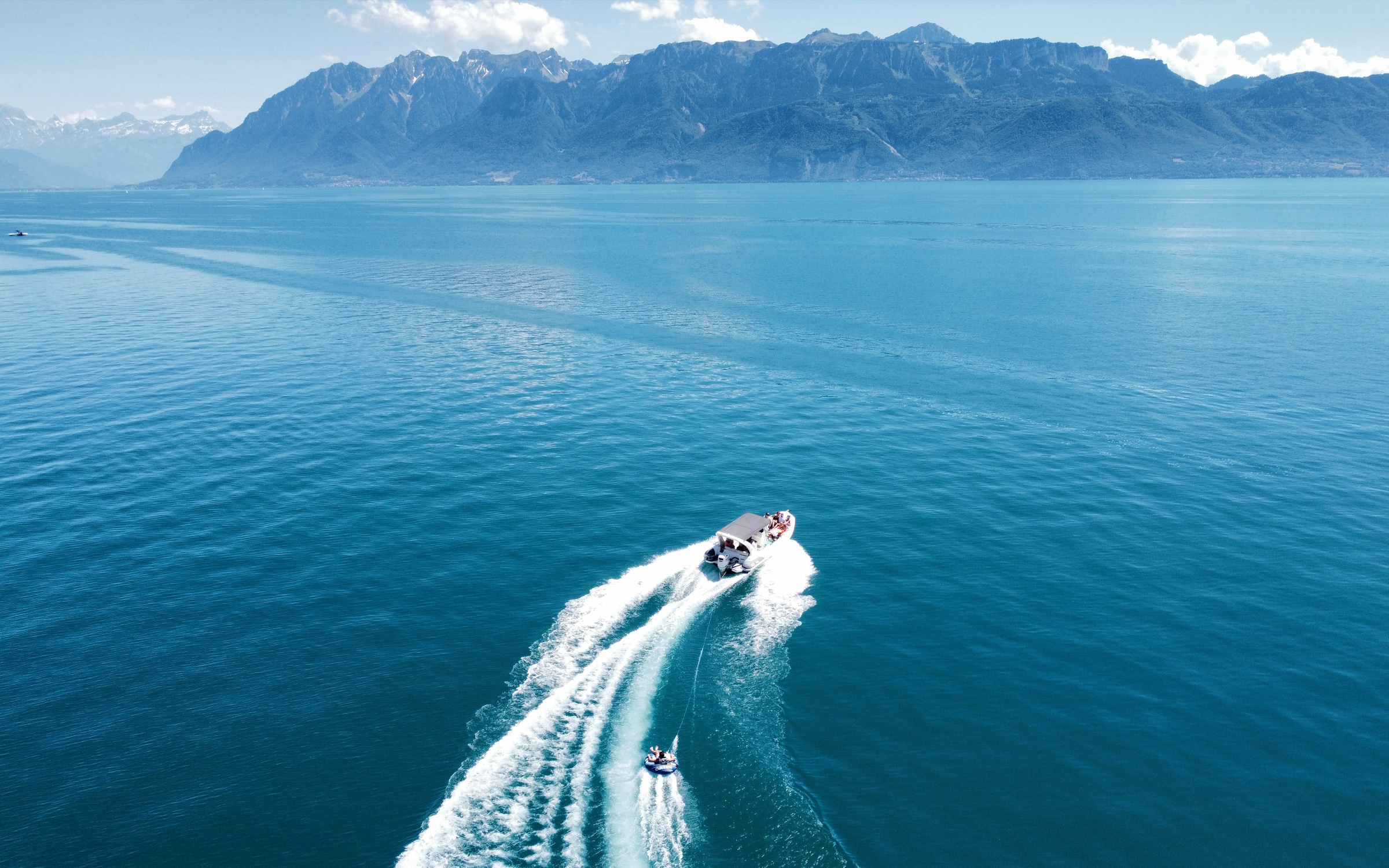 Lake Activities
Travel on one of the Belle Epoque boats to explore the region from the water. Included in the Swiss Travel Pass, this experience offers a large choice of one- to three-hour cruises, which also feature local wine and lunch or dinner. We recommend booking the first class deck and enjoying the passing scenery from a relaxing lounge chair. Alternatively, simply take a dip in the lake on a hot day. Travelers can swim in the lake from any of the nearby towns.
Château de Chillon
Château de Chillon is an island castle located on Lake Geneva and the most visited monument in Switzerland. We recommend taking a morning cruise from Lausanne, enjoying lunch and a visit to the castle upon disembarkation, then taking the afternoon cruise back. 
Chaplin's World by Grévin
This museum is dedicated entirely to the life and legendary work of Charlie Chaplin. It resides in the Manoir de Ban, the famous house where the artist lived the last 25 years of his life.
Chocolate Workshops
Chocolate workshops and behind-the-scenes tours at the renowned Maison Cailler chocolate factory are a must. Alternatively, the 2018 and 2022 World Chocolate Champion, Jorge Cardoso, has a boutique in Lausanne. His exclusive chocolate workshops offer participants a glimpse into his sweet world as well as a gourmet souvenir to take home.
Audemars Piguet Museum
Located nearby in the Jura Mountains, the Audemars Piguet Museum reveals the unique craftsmanship of watchmaking by one of the oldest Swiss luxury watch companies. The museum is a testament to Switzerland's watchmaking heritage and the region of Valle'e de Joux.
Lavaux Vineyards
Set out on a private tour of the Lavaux Vineyards, a UNESCO World Heritage Site. Featuring terraces from the Middle Ages, this unique landscape is best explored by foot, e-bike, or car. Taste the local wine from one of the many wine estates, and don't forget to enjoy the sunset from the steep hillside of Dezaley. 
Truffle Hunting
Somewhat of a local secret, truffle hunting is a fun excursion in the forests near Lake Geneva. Truffle hunting season takes place in the late autumn and is best experienced with a private guide and their dog.
Lausanne Cathedral 
The organ alone is worth the trip inside this beautiful cathedral.
Hot Air Balloon Flight
Leave from the vicinity of Lausanne and have a cheese fondue or gourmet dinner in a private hot air balloon, discovering the region from the air with the majestic Alps as background.
Cépages Tasting Workshops
Before opening her own wine shop, Sarah Pagès worked as head sommelier in prestigious palaces. A tasting workshop with Cépages exposes you to the knowledge and expert advice of a passionate head sommelier. Set out on a sensory journey as you discover the secrets of the art of wine tasting.
Where to Stay in Lausanne
Beau-Rivage Palace
Beau-Rivage Palace has a coveted address near the center of Lausanne in the Ouchy district. This lakeside resort boasts 168 rooms and suites as well as a 5 Mondes Spa and a Michelin starred restaurant helmed by Anne-Sophie Pic. Wander the large garden, take rest on the splendid terrace, and enjoy the exclusive beach club.
Lausanne Palace
A historic hotel in the heart of Lausanne, Lausanne Palace is the definition of timeless elegance. It features 140 rooms and suites, a world-class spa, a Michelin-starred restaurant, and a rooftop bar.
Royal Savoy
The Royal Savoy is a city resort and spa. With breathtaking lake and Alpine views, it's hallmarks are its Art Nouveau design, panoramic rooftop bar, and serene spa.
Chateau d' Ouchy
Château d'Ouchy is a majestic castle-turned-hotel, and therefore exudes both history and charm. This 50-room boutique retreat offers a unique blend of medieval flair and modern amenities, as well as lake views and exceptional dining offerings.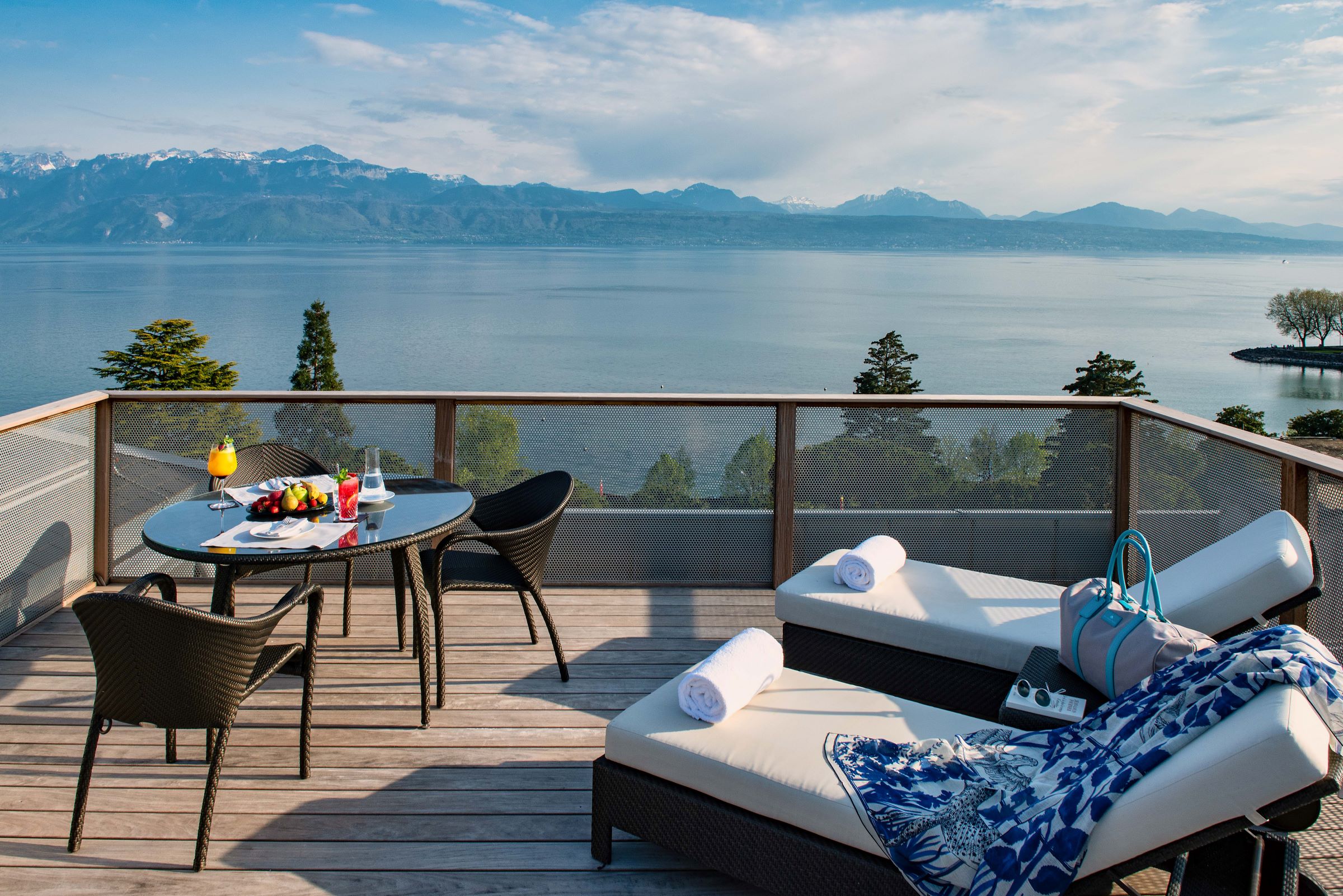 Montreux
Montreux rests on the "fork" of Lake Geneva, a 45 minute drive from Lausanne. This picturesque town, framed by the snow-capped peaks of the Swiss Alps, is perhaps best known for its annual Montreux Jazz Festival which takes place every summer. Aside from music, Montreux also has a beautiful promenade adorned with vibrant flowers and inviting cafes. Whether exploring its charming Christmas markets in the winter or enjoying swimming in water sports in the summer, visitors benefit from its year-round appeal.
Gruyères 
Visit the medieval village of Gruyères for a veritable step back in time. Located an hour away from Lausanne, this cobblestoned city promises all things cheese, chocolate, and charm. Learn about and taste the region's famous gruyère cheese, which dates back to the 12th century.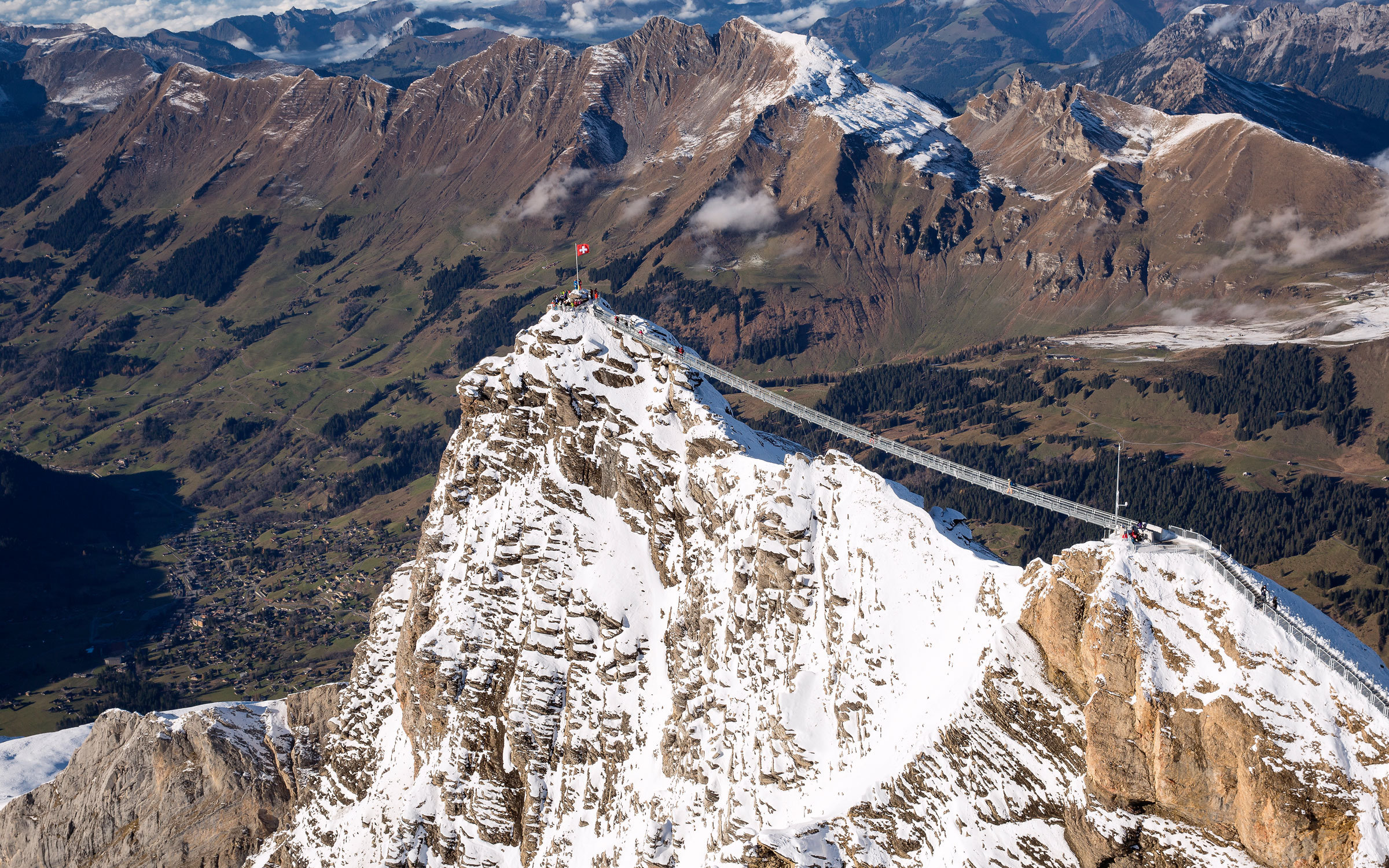 Glacier 3000
The Glacier 3000 is the highest walk in the world and home to the world's first suspension bridge that spans the top of two mountain peaks. Travelers will also find the highest alpine roller coaster in all of Europe. Ideal for families and adventurers, this year-round snow experience is located about 1 hour 30 minutes away from Lausanne.
Belle Epoque Train to Gstaad
Take the Golden Pass Belle Epoque train from Montreaux to Gstaad and admire the panorama. Or, go see the Marmots at  Rochers de Naye. We recommend booking first class seats in the morning train to Gstaad, visit the village and have lunch before taking the afternoon train back. The Belle Epoque Train is included in the Swiss Travel Pass.
Visit the State's Most Beautiful Village
Embark on an easy two-hour hike from the waterfall of Tine de Conflens (just north of Lausanne) toward the village of Romainmôtier. With its Romanesque church and the oldest monastery in Switzerland, Romainmôtier is an ideal day trip. Alternatively, travel by train and enjoy a picnic in the forest between Romainmôtier and Tine de Conflens.
Travel to Lausanne with Ker & Downey
For more information about our Lausanne Travel Guide, or to customize your own trip to Switzerland or Western Europe, contact your travel professional. In the meantime, follow us on Facebook, Instagram, and X for daily travel inspiration.