Exploring the Real Cuba
Ker & Downey Clients Share Their Experience
On December 1, 2016, Ker & Downey travelers Judith, Adrian, Astrid, and Marc departed on Delta's inaugural flight from Miami to Havana – a flight 55 years in the making. Below, Judith recounts their favorite experiences in Cuba with Ker & Downey, which took place during Cuba's mandated period of mourning for Fidel Castro. She also describes why traveling to Cuba with Ker & Downey can truly make all the difference.
Arriving to Havana
On December 1, 2016, we were honored and excited to be on Delta's inaugural flight from Miami to Havana. At our departure gate there were the American and Cuban flags, tables of Cuban food, the press, lots of cameras, and lots of happy people. When we pulled away from the gate (on time), and headed to our runway, the fire department sprayed the plane with water as a congratulatory symbol. (The pilot warned us in advance it was a good thing!)
When we arrived in Havana and disembarked at Jose Marti airport, there was a red ribbon cutting ceremony welcoming Delta back to Havana. A nice welcoming arrival!
Our guide Yanet – in true Ker & Downey fashion - was waiting for us, and remained with us for the full five days. Yanet was friendly, knowledgeable, accommodating, and helped in every way she could to make our trip special. We immediately knew then that Yanet loved her city, loved her Cuba, and we would be with the right guide for our stay. Our driver Ray was also terrific. A good driver, polite and responsible, with his own air-conditioned six-seat taxi.
Our first lunch in Cuba with Ker & Downey was perhaps one of the best meals we had. We ate at a local paladar – a name given by locals to privately owned and operated restaurants. The restaurant was beautifully decorated, and the food was beautifully presented and delicious. What is curious about Cuba is that you can stop at a nondescript street, then enter into a doorway, and something unexpected and wonderful happens.
Next we checked into our boutique hotel accommodations and were again pleasantly surprised. The hotel was small, only five rooms, but tastefully and beautifully restored and decorated. It provided us with a happy and comfortable refuge for our five nights. The staff was very friendly and did everything to make our stay enjoyable. The breakfasts served in the courtyard were delicious, with fresh local fruits, coffee, eggs, breads, ham, and cheese. Once we saw the Nacional Hotel with hordes of tour buses arriving, we were so happy to be in our quiet, little jewel Ker & Downey found for us.
After settling in, Yanet picked us up early in the evening for a tour of the four plazas of old Havana. I would highly recommend seeing these squares at night, all of them impressive in themselves and even more so with warm golden lighting showcasing the beautiful architecture.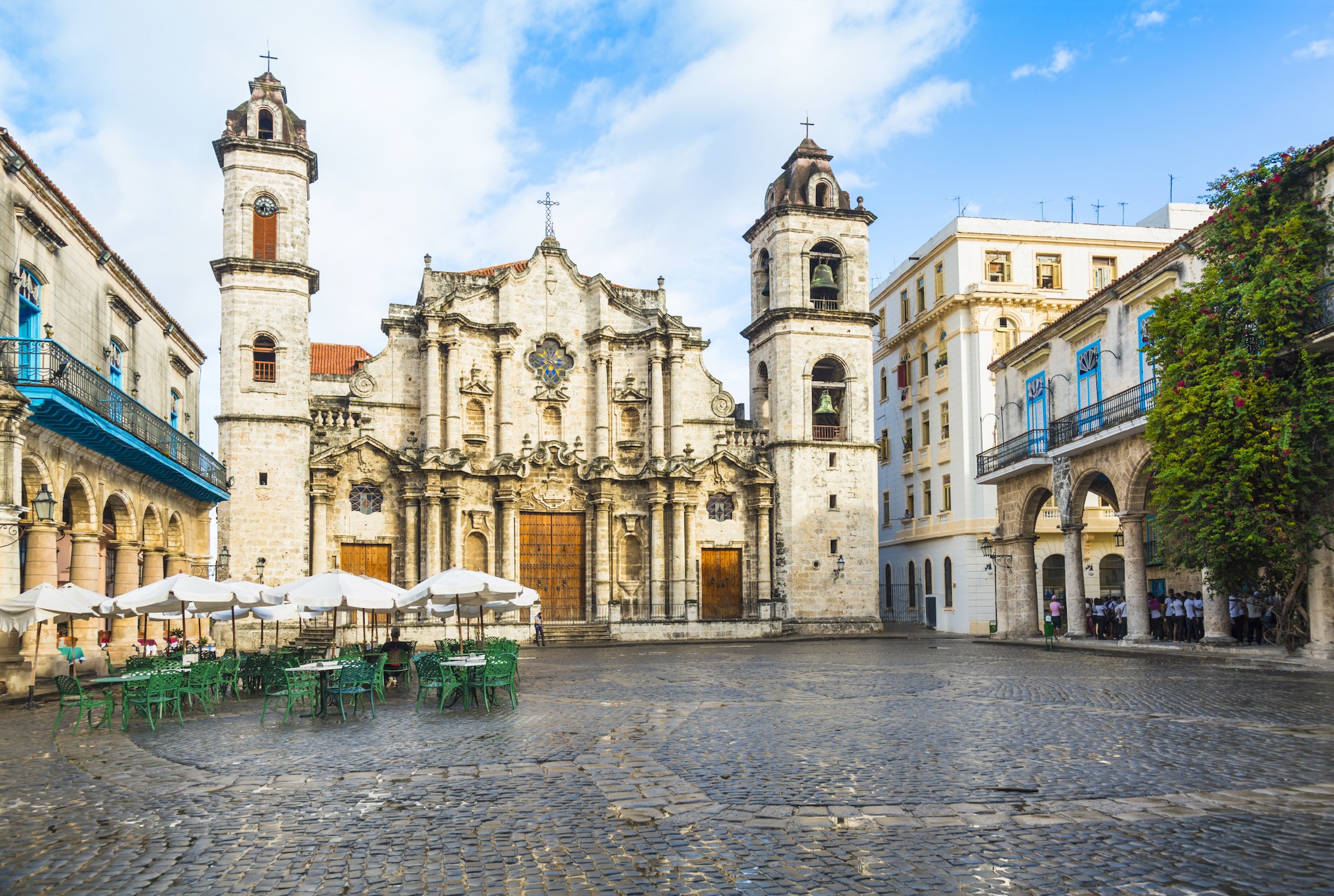 Vintage Cars and Viñales Valley
On our second day, we visited a family business where they specialize in repairing vintage Chevrolets. It is astounding how they take an old wreck and slowly restore it into a beautiful, old vintage car. We took a ride in two of them, including the one John Kerry and Bon Jovi used during their stay! Since the last American car that was imported to Cuba was before the Revolution in 1959, there are expert auto repair and restoration demands out of necessity. There are perhaps close to a half million old American cars in Cuba. I had no idea you would see as part of everyday life so many old American cars in every state of condition or deterioration.
Our third day in Cuba was a long, but interesting day in Viñales Valley. We left the hotel at 9:30 am and drove for 2 1/2 hours west of Havana to the province of Pinar del Rio. The highway will forever stay in mind as a route where hundreds of people are trying to make their way somewhere. They wait for a local bus, which may or may not come. If the bus comes there may be too many people on it, and it will not even stop. There are people of all ages, even mothers and children, just walking on the highway. They hope one of the emptier cars will stop and pick them up. There are horses and carriages. There are oxen. There are people selling guava and cheese, onions, and roasted chickens, by the side of the road.
We arrived at the Los Jasmines lookout overseeing the sensational Viñales Valley. What a spectacular view with the mogotes outcroppings in the distance. It is lush and tropical and something we have never seen before. It is here that my husband buys his Che Guevara hat, so I know he is now fully committed to his experience.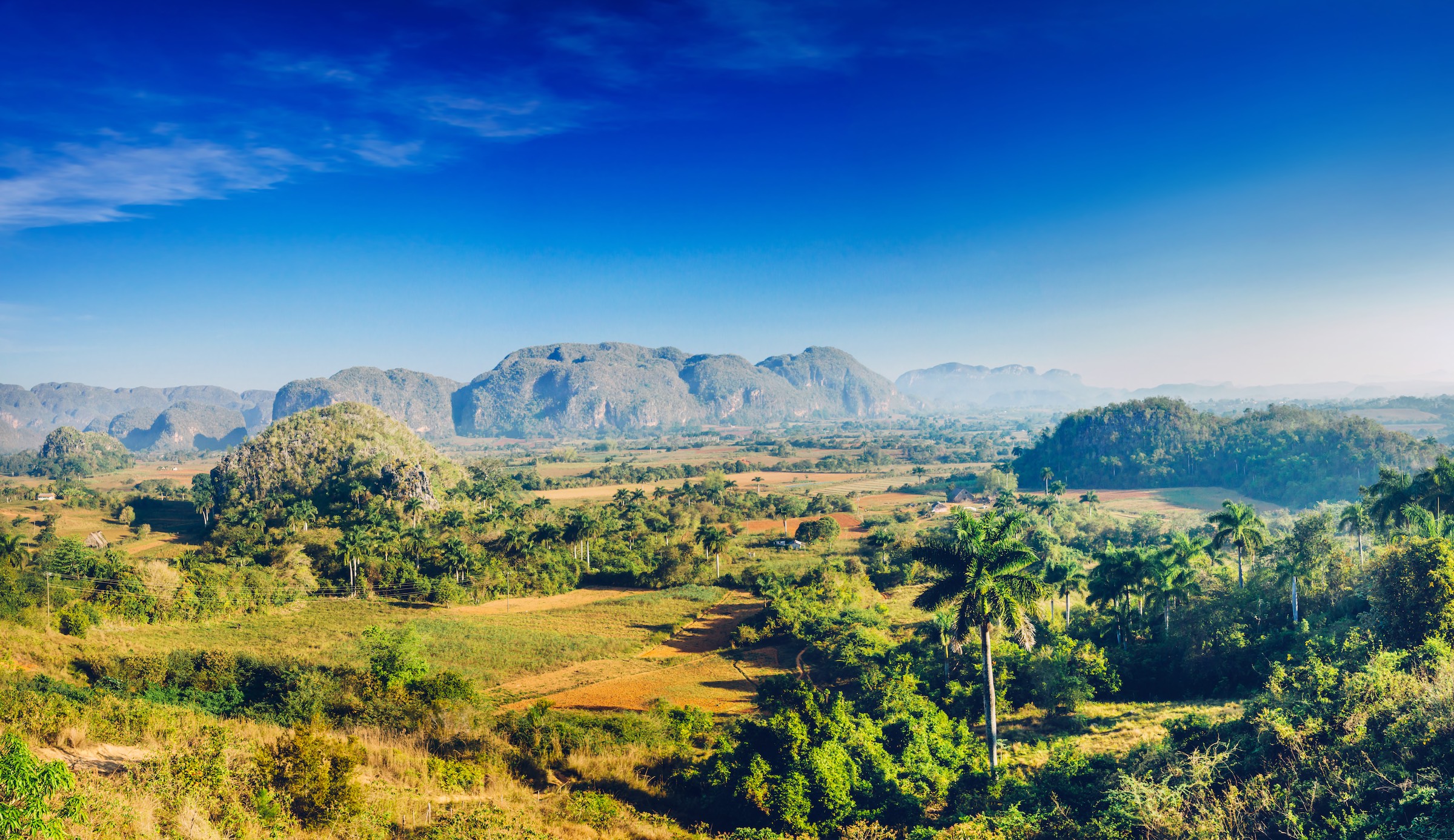 We had lunch nearby at a very local, very cute paladar. We seemed to have the little restaurant to ourselves and enjoyed the local cuisine of taro soup, rice and beans, avocado, chicken in sauce, plantain chips, pulled beef, and salad of tomatoes, lettuce, and cabbage. They had chickens in the back yard and even offered to show us how they kill the chicken, but we politely declined their offer.
We then journeyed not too far from the restaurant to a local tobacco farm. We arrived at a private home owned by the same family for generations where tobacco is grown. The farmer explained how tobacco is grown, harvested, dried, fermented, and then rolled into precious Habanos cigars. The farmer rolled one for my husband, which he smoked and greatly enjoyed. We were all offered rocking chairs on the farmer's porch as a sign of hospitality and welcome.
Exploring the Real Cuba
On day four, Yanet was kind enough to do a lot of revising. My husband decided he did not want to do anything touristy: he wanted to see the real Cuba, without Hemingway. Instead, Ker & Downey's local team quickly arranged a visit to Hershey, a ghost town where the sugar factory used to be. We were given a tour of the town and the remains of the sugar factory and dormitories by two local men, one being the grandson of a former mill manager. We had lunch in this young man's home - a local meal of rice and beans, plantain, avocado, and pork. The second guide seemed to be the chef that made the meal, and for extra money makes cakes and desserts in the town, so we had a delicious flan for dessert. It seemed these two young men were trying to establish a small tourist industry in Hershey, and we were among their first clients.
We had a little time left in our afternoon, so we drove from Hershey to Matanzas, called the Athens of Cuba or the Venice of Cuba because of its many bridges and canals. We saw the nice central square, the opera house, and visited an amazing pharmaceutical museum, which was the highlight of the town for me.
Now comes the best part: We had a private dinner at our hotel on Sunday night as arranged by Ker & Downey! We had dinner and dancing and our own band. One of the staff members at the hotel was the chef and prepared a lovely meal. We had a whole buffet of food with rice and beans, grilled fish, salad, vegetables, and a fancy chocolate dessert. We danced and sang and even other guests at the hotel joined in to enjoy the music and dance. A good time was had by all.
On our last day, we wanted to visit the cigar factory. It is amazing to see how these cigars are made, and under what conditions. Habanos are the pride of Cuba and such an important export.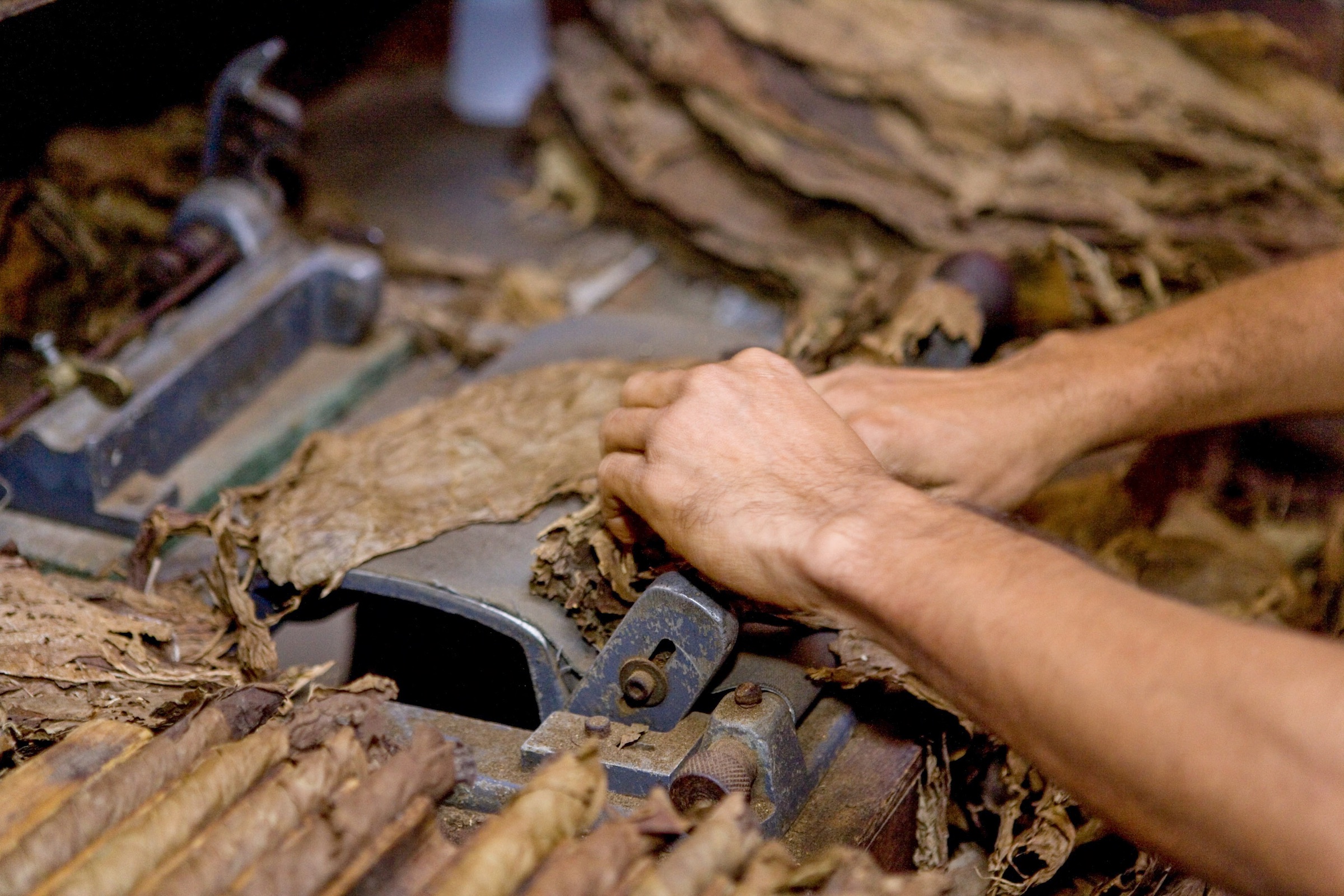 For lunch we had pizza at a local home, and enjoyed meeting some local residents. Again, my husband was interested in seeing the real Cuba, so we did this instead of the more popular Finca Vigia and Hemingway sites. Before we left Havana, we also felt we needed to see the four squares of Old Havana in the daylight, so Yanet again accommodated us and took us back for a walking tour of the squares.
Our last dinner was at a funky paladar in central Havana. I was really skeptical when we pulled up to this derelict building, but once again, after climbing three sets of stairs of what you think might be a construction site, you enter another magical world. Cocktails and cigar tasting on a beautiful terrace overlooking Havana with exotic lighting and great American music playing. Where are we again? Dinner was also outside on another terrace, thanks to Yanet, and we all enjoyed the ambiance and the food.
To cap off the trip we then went to the Buena Vista Social Club. Our final day in Cuba with Ker & Downey was also the first day after the official mourning period of Fidel Castro's death, when music could be played again. What place to celebrate it! We enjoyed the music, but were pretty tired and eager for bed.
Leaving Havana, Ker & Downey had arranged VIP service for us for check in which proved to be a wonderful thing. A gentleman stayed with us through check in until departure to the lounge. Bag check in was easy. Immigration was easy. Customs was not so easy, but our gentleman was able to speak to the customs officials to help expedite the process. In the end, we left more relaxed than when we had arrived.
We thank the Ker & Downey team for helping us make this trip possible. As I went through the list of preferred tour operators to Cuba, they were the only one who said "Yes! I can do this!" on short notice, a private trip for four people, a luxury trip, with scheduled air, private guide, and driver. For this we thank you!! Until next time!
Explore the Real Cuba with Ker & Downey
For your own luxury journey to Cuba with Ker & Downey, contact your Luxury Travel Consultant. Stay up to date on all our online content by following us on Facebook, Instagram, and Twitter.