The Primate Safari by Ker & Downey
16 days / 15 nights
Rwanda & Tanzania


The Ultimate Primate Safari
This custom 16-day adventure by Ker & Downey is the ultimate African primate safari, pairing the apes of Rwanda with the chimpanzees of Tanzania's Rubondo Island and Mahale Mountains. Primate safaris in Rwanda through the hidden forests are some of the most exclusive and thrilling experiences East Africa – matched only in wonder by the Great Migration and wild primate habitats of Tanzania.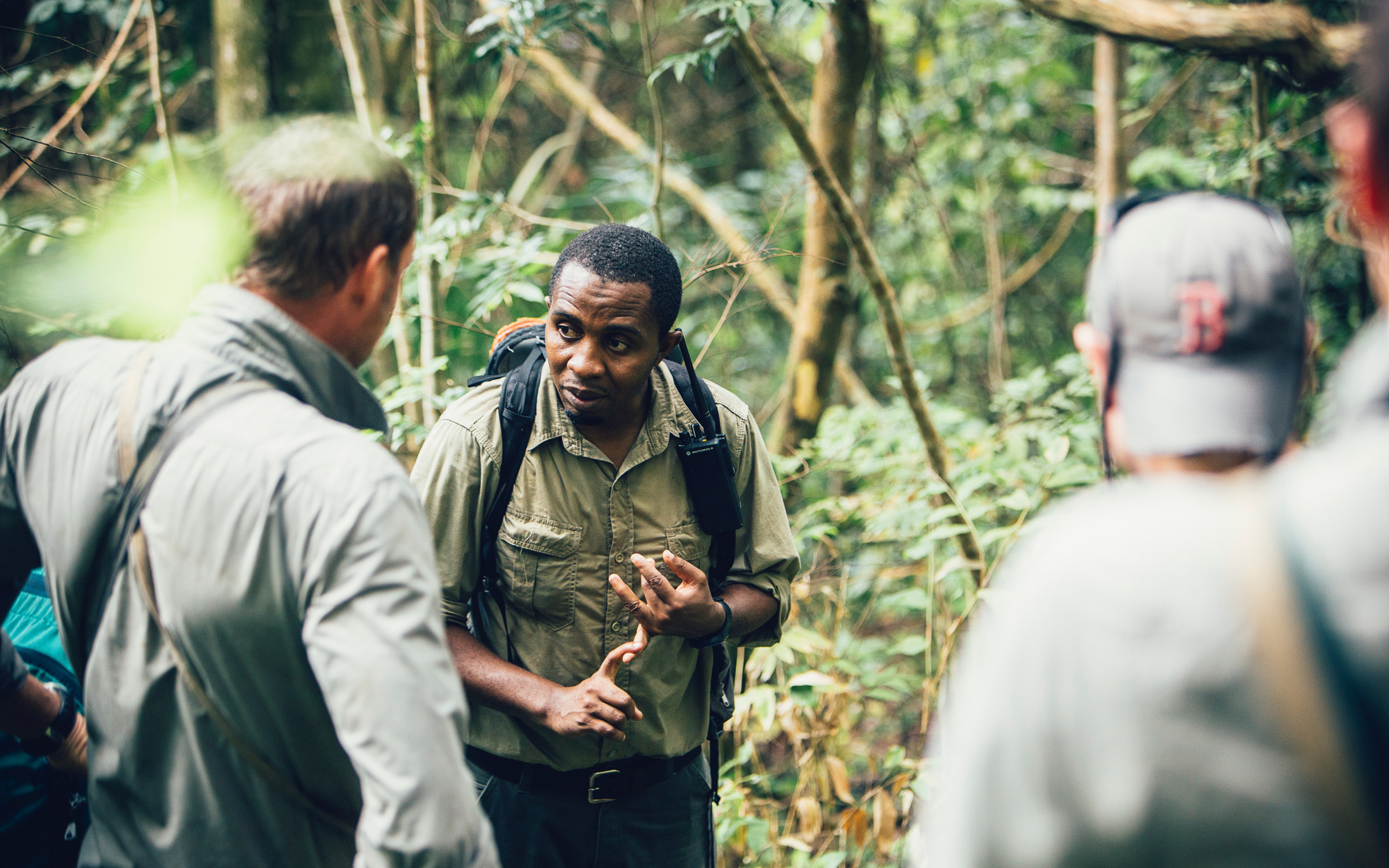 Ker & Downey's primate safari begins in Rwanda's lovely capital city of Kigali with an evening of leisure and rest before transferring nearby to Nyungwe Forest National Park. Spend three days exploring the diverse climates and terrains of the park and embarking upon thrilling primate safaris. Lush forests at varying altitudes offer refuge for a quarter of Africa's primate species, chimpanzees and colobus monkeys among them. Meanwhile between activities, spend time taking in the views from the lodge, located on a picturesque working tea plantation.
Your exclusive primate safari in Rwanda continues in Volcanoes National Park. This famous region played host to acclaimed gorilla researcher Dian Fossey for nearly 20 years. As a result of her work, visitors can now set off in search of silverback gorillas on guided treks. Soak in the sweeping view of the forested valley from the terraces of your accommodations. There are 10 habituated mountain gorilla families in the Rwandan sector of the park tracked for visitor interaction. However, each gorilla family offers something unique and completely different, making no two gorilla treks the same.
On day 8, you will return to Kigali for an overnight ahead of your flight to Tanzania the next day.
Journey next into Tanzania to the jungle clad Rubondo Island on Lake Victoria. Rubondo is home to a number of indigenous mammals such as hippo, vervet monkey, genet, and mongoose that share their protected habitat with introduced species. These include black-and-white colobus, Suni antelope, elephant, giraffe, and the island's famed chimpanzees, all of which thrive amid Rubondo's inaccessibility.
Next, pause your primate safari adventures to visit the land where the Great Migration takes center stage, the Serengeti. Game viewing and remote safari luxury are the staples of any stay. Because of your camp's position adjacent to the Mara River, you can enjoy front-row seats to the seasonal wildebeest crossing, one of the greatest spectacles in the world.
Round out your primate safari on the shores of Lake Tanganyika in Mahale Mountains National Park. This park hosts some of the last wild chimpanzees in the world. In addition to chimp tracking, enjoy game viewing activities, as well as snorkeling and fishing in the world's second largest freshwater lake.
Book a Primate Safari with Ker & Downey
Contact a Ker & Downey Travel Professional to personalize your own Rwanda & Tanzania Primate Safari, and read more about the seasonality and pricing in East Africa. For even more travel inspiration, follow us on Instagram, Facebook, and Twitter.