Shinde Camp
Okavango Delta, Botswana
Shinde in Botswana is nestled on a lush palm-dotted island in the heart of the northern Okavango Delta. Located at the edge of a lagoon, this luxury tented safari camp is surrounded by clear waterways flowing over yellow sands and past palm-fringed islands teeming with birdlife and game. Delight in the best game viewing and bird watching in some of the most luxurious surroundings in the Delta.
Shinde camp's eight large safari-style tents with windows await you in Botswana. These private tents include modern en suite bathrooms with hot running water in ample supply. Comfort and exclusivity best describe the accommodations at Shinde, and the service of the staff is impeccable, courteous, and inviting. Shinde accommodates only 16 guests in total, ensuring that yours is an intimate escape. This full-service luxury tented safari camp features fantastic cuisine, and dining in the treehouse-style main areas is a special experience. In addition, each of the lodge's structures has incredible views of both worlds of the grasslands and the Delta. In other words, this is an intimate experience sure to leave you with unforgettable memories of Botswana.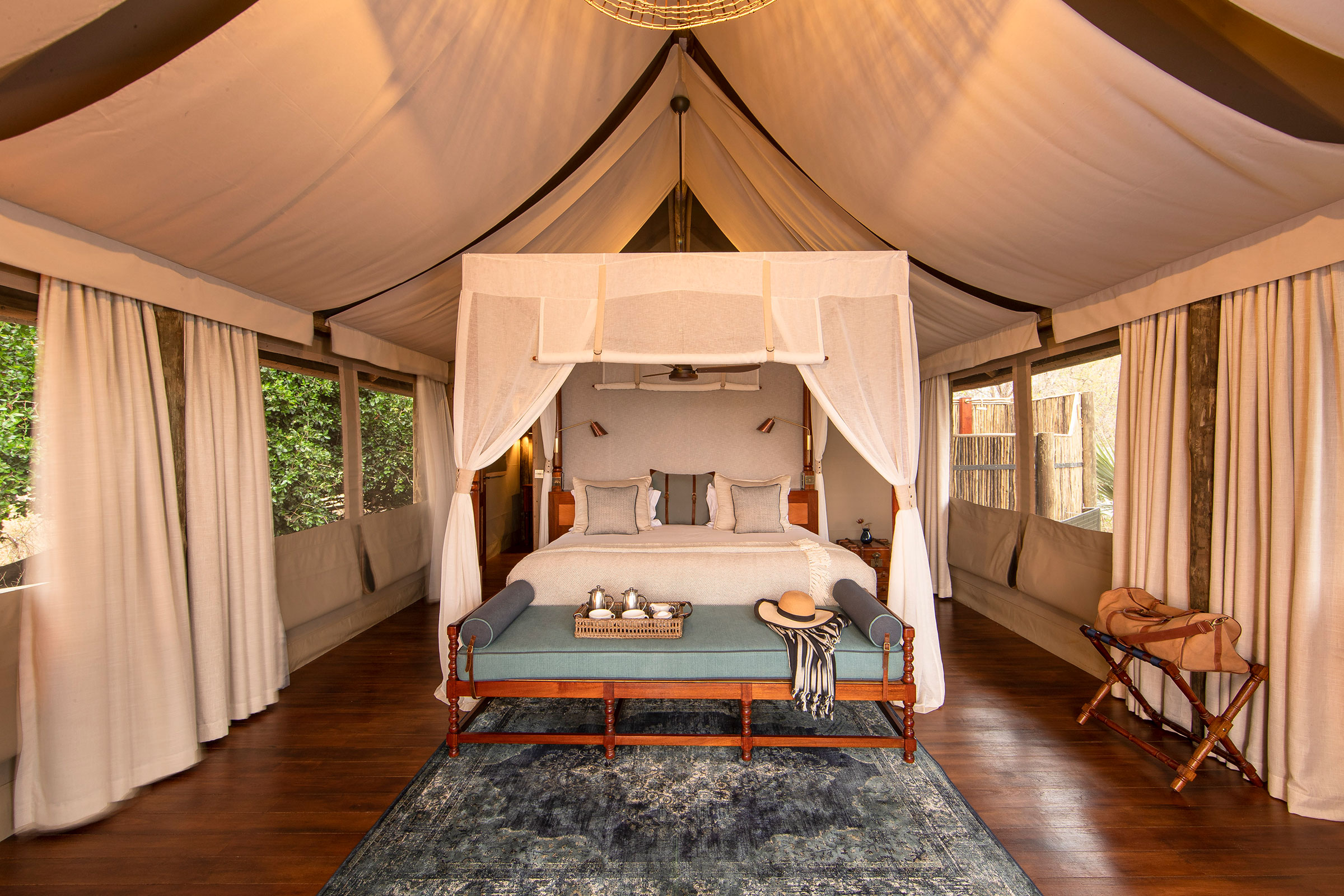 Shinde Enclave
An extremely unique feature of Shinde is its private-use camp, Shinde Enclave. Here, exclusivity reigns supreme in a separate "camp within a camp," while still allowing access to the amenities of Shinde's main camp. The three tented accommodations on elevated on teak platforms overlook vast papyrus and reed expanses dotted with palm islands. Families or small groups of up to six people may reserve Shinde Enclave for private use, and the area includes a private boma and a private dining area and lounge overlooking the lagoon, as well as a personal waiter/barman specifically assigned to this facility and its guests.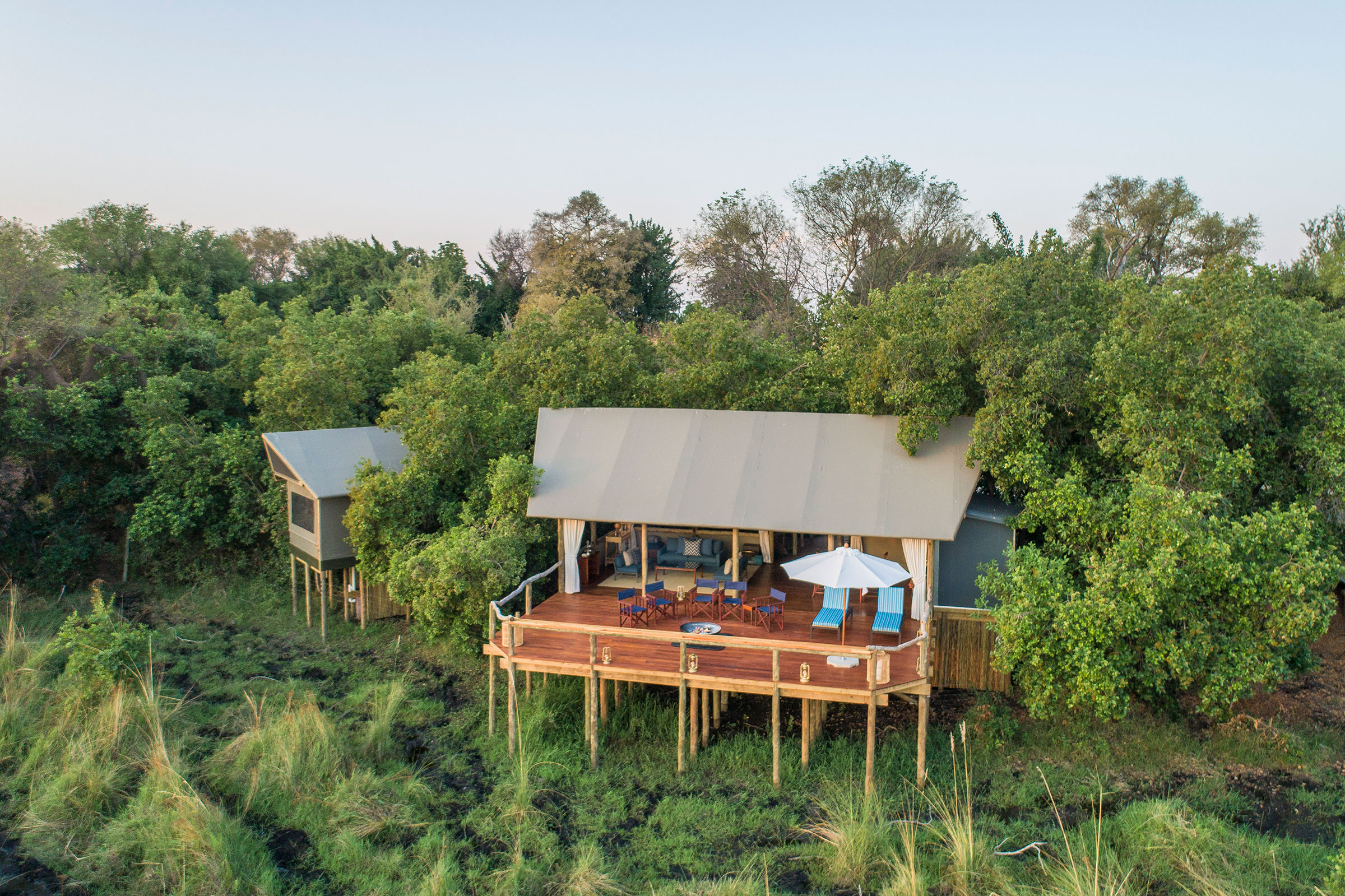 Activities
As part of the Shinde private concession, all game activities are exclusive to guests of Shinde. A senior guide will escort guests on private game activities: morning, afternoon, and evening game drives, game walks, mokoro canoes, motor boats, and excellent fishing. The island is especially favored by members of the antelope family, including the sitatunga whose elongated splayed hooves enable it to walk on the unstable beds of reeds floating on the water. Well-equipped delta craft may take you to see fascinating breeding colonies of herons, egrets, pelicans, and storks. Your guide will arrange walks to show you insects as well as a wide variety of bird life and small mammals. Shinde's abundant wildlife and the silent waters of the Okavango combine to make your stay a rare experience.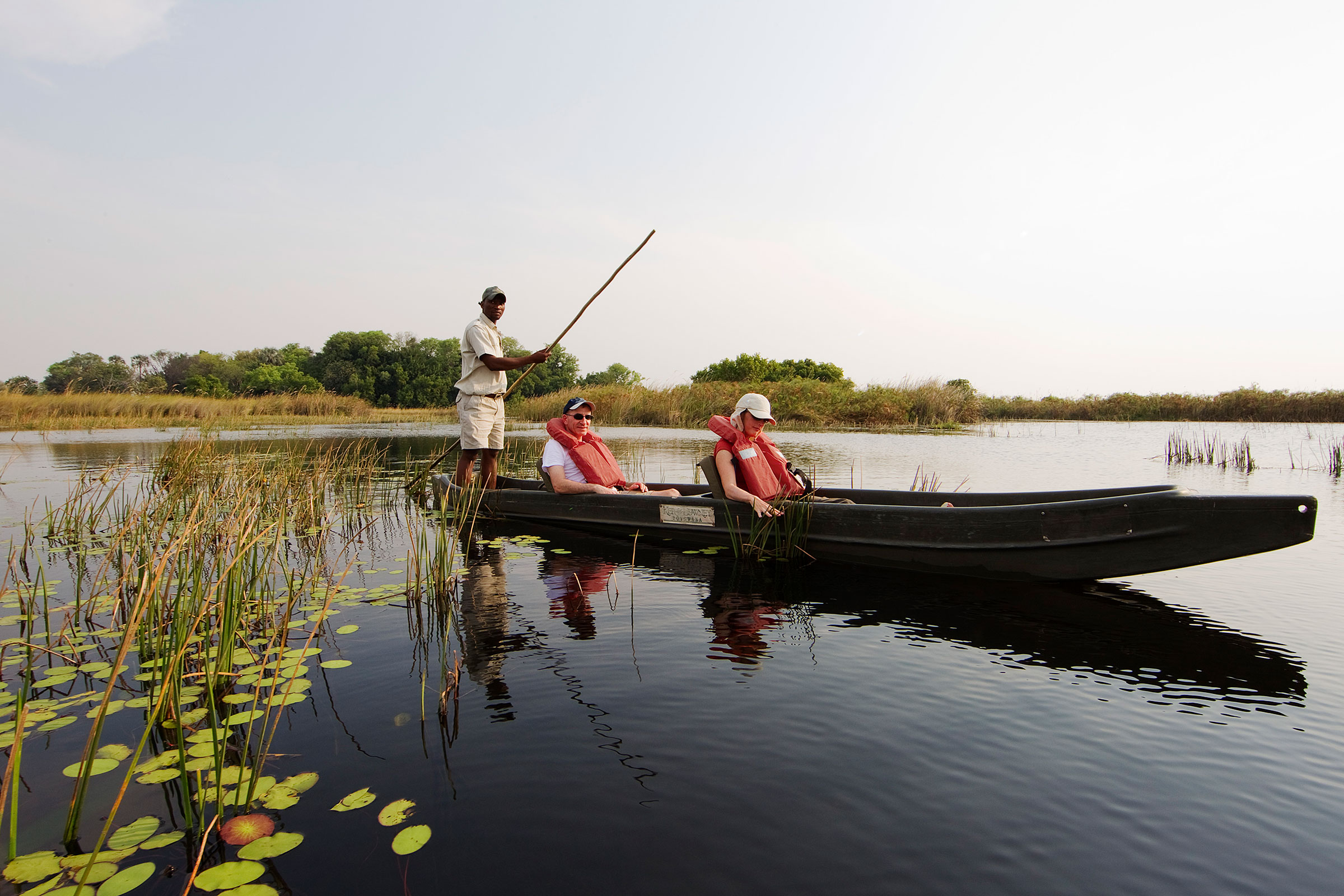 Stay at Shinde on a Botswana Safari
Discover Shinde in our exciting itineraries like The Botswana Luxury Safari. Our designers are at their best when crafting a safari that is unique to you. For more information, contact us to start planning your journey.