Room to Breathe
As Seen in QUEST Magazine
Ker & Downey partners with Explore Ranches as a new way to explore some of the most pristine, privately held land in the United States.
By Haley Beham 
As a child, I remember my dad pulling out a map of Texas and highlighting the quickest route from Houston to the ski slopes of New Mexico or Colorado. The extent of my west Texas travels was driving through it, or around it, to get to the mountains.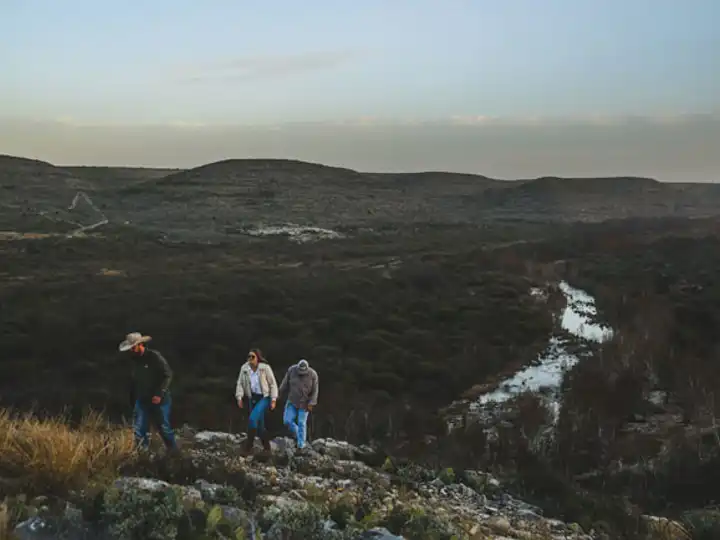 Although I'm a native Texan through and through, I hadn't explored much of the Lone Star State beyond its major cities. When my dad asked if I was up for a road trip to check out a few ranch properties for a new Ker & Downey product in west Texas, I was all in.
Exploring the state's wide-open spaces is actually a pretty rare opportunity. For outdoor enthusiasts looking to get out of the city to mountain bike, hike, or kayak down rivers, there are precious few places to do it. Ninety-five percent of the land in Texas is privately owned, so few people rarely, if ever, get to see what's beyond the ranch fences and locked gates. Hoping to change all that is Explore Ranches, a brand-new company formed by three landowners passionate about sharing the great outdoors with others in new and exciting ways.
The aim of Explore Ranches is for landowners to unlock their gates and share their land's natural beauty with others to cultivate a passion for conservation. The best way to ensure future generations have a love for the great outdoors and a desire to conserve it is to give them access.
Jay Kleberg, along with co-founders Allison Ryan and Jesse Womack, have sought out some of the nation's most historic and pristine ranches. One is located at the headwaters of the clear, cool Devil's River with seven miles of private water access; another is set at the foothills of the Davis Mountains in big sky country; while another is set against the Santiago Mountain Range on 35,000 acres abutting Big Bend National Park — and that's just Texas. Explore Ranches has a growing list of properties in Texas, Colorado, New Mexico, and California including the 270,000-acre Tejon Ranch just one hour north of Los Angeles.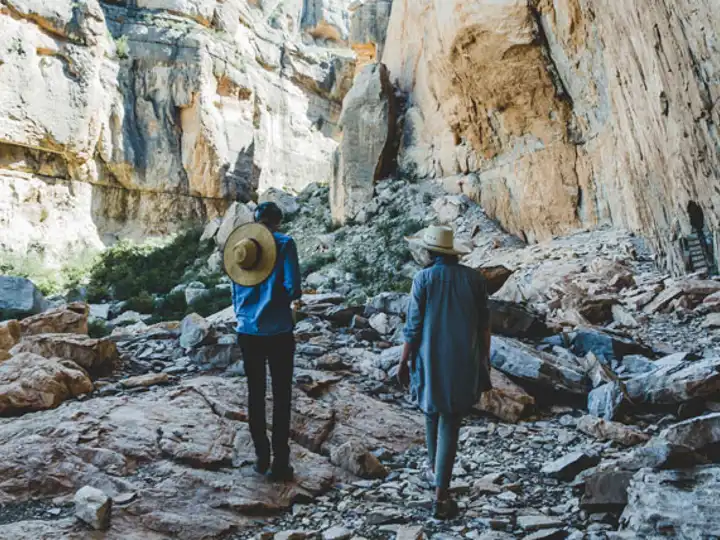 It's easy to see the appeal of the ranches — miles and miles from the closest town (and even farther to a big city), limited cell phone access, boundless beauty to explore, and plenty of room to breathe.
As my dad and I set out for a ride on a 4×4 vehicle at sunset, I could feel the mental load of everyday tasks and to-do lists dissipate. We were cruising on a gravel road towards the Pecos River at Chandler Ranch — a property of 1,500 acres that was exclusively ours to explore for the evening. At the river, we waded 50 feet across to a large, flat boulder ideal for taking in the view: the river so clear I could see fish swimming in it, winding its way around the bend, bordered by a giant cliff on one side.
"I can't believe this is in Texas. I had no idea."
It was our constant refrain throughout the trip.
As we worked our way back home, we stopped at Llano Springs Ranch on the edge of the Hill Country. We were hosted by Ann who, along with her brother and father, jointly bought the ranch in 1994. They spent the next 18 years strategically clearing the 4,640-acre property of invasive cedar. As she drove us around the property, her love for the land and passion for sharing it was evident and infectious. From the truck, we gazed out over the pristine landscape and up into a grouping of trees where three male axis deer stood, the sun bouncing off of their antlers — we were already planning our return.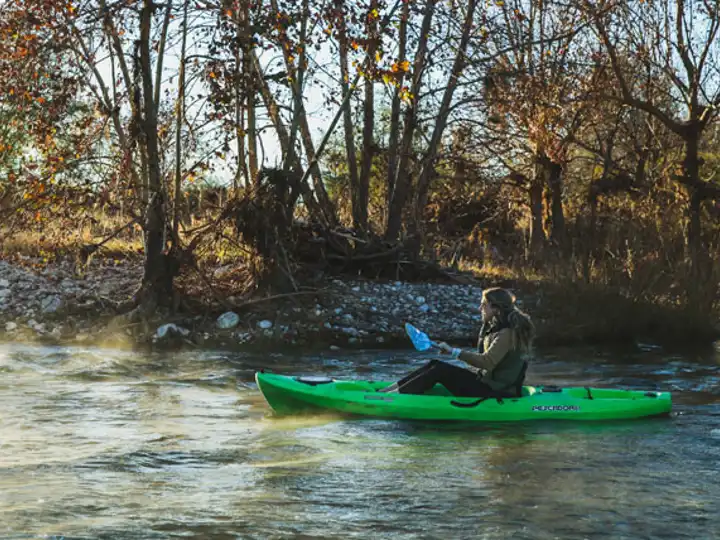 We covered 924 miles of scenic Texas highways in three days to see as much of west Texas as we could squeeze in, but I recommend you take it much slower. Given ample time, I would have spent a morning at Hudspeth River Ranch kayaking the Devil's River and picnicking under the shade of the trees while listening to the spring water trickle over the rocks. Further west at Chalk Draw, I'd plan my days around hiking Bee Cave Canyon, exploring the land's Native American petroglyphs and pictographs, and mountain biking through the Chihuahuan Desert grasslands. I'd finish the day in the glittering swimming pool, staring at the mountains of Big Bend beyond, the west Texas sun shining on my face. I'd take a deep breath and soak it all in.
Round it out
Enhance your Texas experience with a local guide well-versed in Texas history. Begin your journey in San Antonio with a visit to the Alamo. As you make your way through the Hill Country, stop in Fredericksburg for an afternoon of wine tasting, or head to Fort McKavett where you'll find the remains of a 150-year-old west Texas fort, considered to be the best preserved and most intact example of a military post from the Texas-Indian Wars. If you're traveling with children, make plans to stop at Balmorhea State Park to cool off with a swim in the crystal clear water of the world's largest spring-fed swimming pool.
Head Further West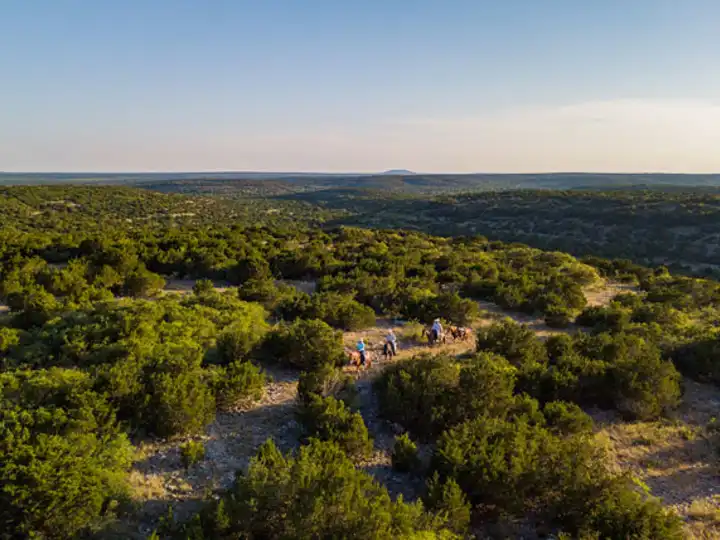 Transition Ranch, Texas
A wildlife photographer and horse lover's dream ranch on 1,750 acres in one of the most biodiverse ecoregions in Texas
The Lay of the Land: Two casitas and a tack room, featuring a Texas ranch house design, sleeps up to nine guestsUnique Experiences: Horseback riding on Peruvian Pasos, trail running, hiking, wildlife photography blinds
Wildlife on the Ranch: Look for the endangered golden-cheeked warblers, black-capped vireos, orioles, Montezuma quail, hummingbirds, butterflies and mammals from world-class bird and wildlife photo blinds
Nearby Activities: Val Verde Winery — the oldest continuously running winery in Texas, Kickapoo Cavern State Park, Lake Amistad
Tejon Ranch, California
A national park-sized ranch with 270,000 acres at the confluence of four ecoregions, conveniently located just one hour outside of Los Angeles
The Lay of the Land: Four individual houses spread throughout the property sleep from four to 12 people each
Unique Experiences: Photo safaris, fishing, biking, hiking, and trail running through the rugged mountains of the Sierra Nevada Mountain Range, San Joaquin Valley, and steep canyons
Wildlife on the Ranch: Deer, elk, antelope, wild turkey, black bear, bobcats, coyotes, quail
Nearby Activities: Sequoia National Park, Kern River rafting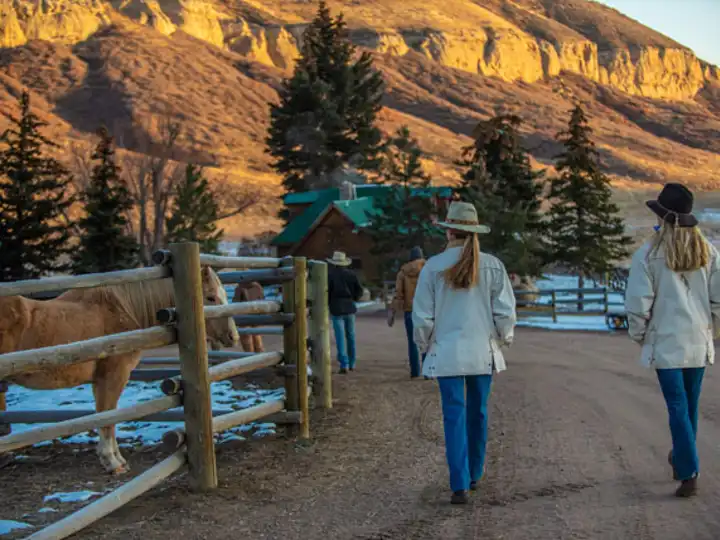 Middle Creek Ranch, Colorado
A 10,000-acre family-owned, working ranch near Steamboat Springs offering a luxury wilderness retreat in the Rocky Mountains
The Lay of the Land: The Main House, built with classic log construction practices and two cabins, sleeps 20 guests
Unique Experiences: Trout fishing, 50 miles of trails, horseback riding, cross-country skiing, snowmobiling, snowshoeing, ATV rides, sporting clays, shooting and archery range, paintball field
Wildlife of the Ranch: Black bear, elk, deer, bison
Nearby Activities: White water rafting on the Colorado River, tubing and fishing on the Yampa River, Ski Steamboat
Ladder Ranch House, New Mexico
A vast 156,439-acre ranch intersected by four Rio Grande tributaries, with valleys and sandstone cliffs set against the Gila Mountains in southwestern New Mexico
The Lay of the Land: Ladder Ranch House sleeps 11 in Ted Turner's private home, decorated by himself and Jane Fonda
Unique Experiences: Hiking, mountain biking, wildlife tours
Wildlife on the Ranch: Works in partnership with the Turner Endangered Species Fund, the US Fish and Wildlife Service, and New Mexico Department of Game and Fish for several species' restoration programs including the Mexican wolf, Chiricahua leopard frog, and Bolson tortoise; find a herd of 1,000 bison, elk, mule deer, bears, antelope, javelina, and mountain lions on the property
Nearby Activities: Explore Hermosa, an 1800s ghost town, and tour Armendaris, a 360,000-acre property of Turner Reserves — home to one of the largest populations of Mexican free-tailed bats in the US.
Pro Tip
Before you go, download the BirdsEye App from the Texas Ornithological Society and be sure to pack a pair of binoculars.
For more information about Explore Ranches, speak with a Ker & Downey travel designer.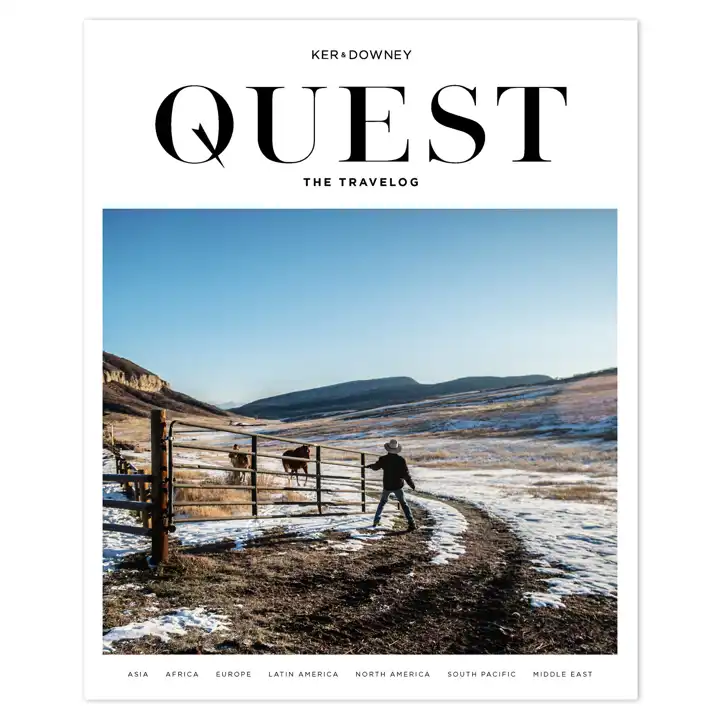 The Travelog
Quest Magazine
Dedicated to the experiential style of Ker & Downey travel, QUEST Magazine features eye-opening content that focuses on unforgettable experience, unheard-of destinations, and the very best our world has to offer. Each issue is packed with insider information, what's new in the world of travel, and editorial pieces that focus on our global culture, philanthropy, and transformative travel.
Read Issue 12