Luxury Tented Camps Around the World
Luxury tented camps, also known as "glamping" accommodations, offer a modern take on a classic experience. Where camping in a traditional tent allows you to escape the city and get closer to nature, luxury tented camps allow you to do just that. However, you won't be sacrificing luxury or comfort. We believe everyone should take the time to slow down and escape, but not leave behind our favorite creature comforts like luxury linens and soaking tubs! So, we've rounded up 13 of the most stylish luxury tented camps around the world — no bedroll required.
Shinde, Botswana
This stunning luxury tented camp has long been one of our favorites. Plus, recent upgrades include larger tents with expanded bathrooms, making way for walk-in showers, new furnishings, and linens. Additionally, sliding glass doors lead onto enlarged decks that overlook the Delta and open floodplains.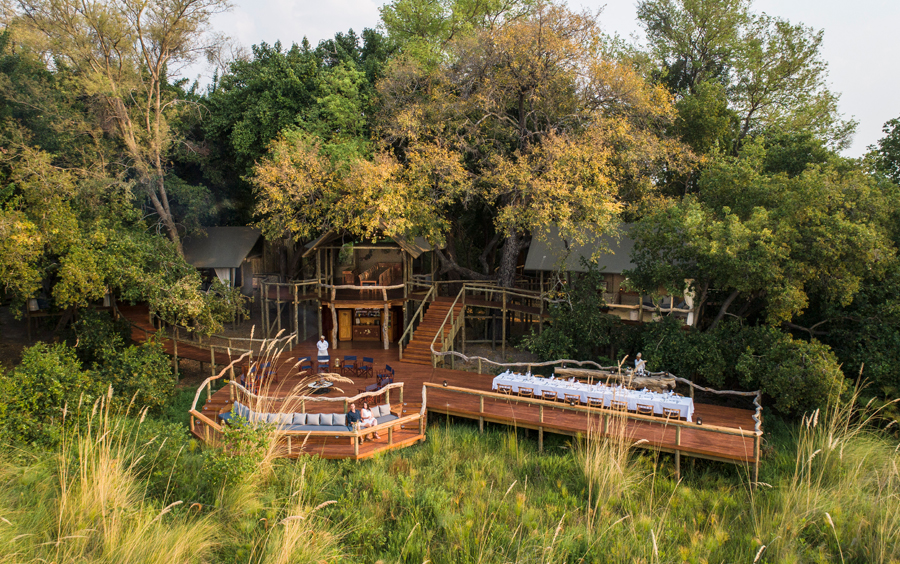 Galapagos Safari Camp, Ecuador
These luxury tents take their cue from classic African safari camps. As such, they offer a unique way to explore the Galapagos. Nine en-suite tents on raised wooden platforms comprise the accommodations at the camp. Each tent incorporates three layers of specially designed canvas to protect you from the sun and rain. One of the first luxury tented camps in Latin America, Galapagos Safari Camps is best combined with a cruise through the islands or visited as a destination on its own. In addition, the three-bedroom Family Suite, with its playroom and amenities, is an ideal hideaway for parents traveling with children.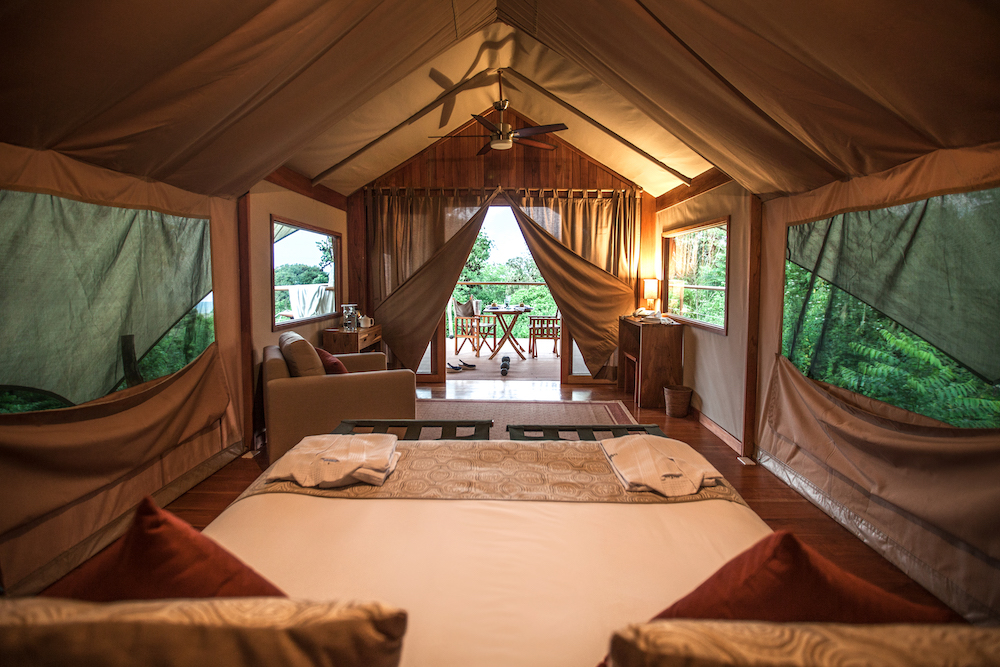 Singita Mara River Camp, Tanzania
This luxury tented camp combines contemporary African design and bohemian chic in the six tents at Singita Mara River Camp. While the camp may be completely "off the grid," the tents are far from basic. Indeed, they feature natural fabrics, stone, raw leather, and elegant art from young African craftsmen adorning the tents.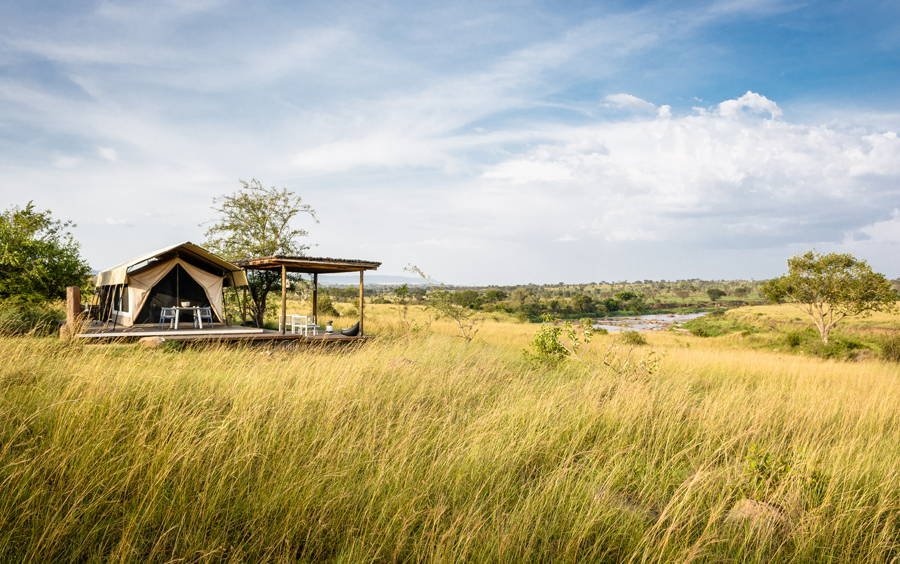 Nayara Tented Camp, Costa Rica
Nayara Tented Camp offers an exciting, eco-friendly experience for adults and children alike in the shadow of Arenal in Costa Rica. Exclusivity comes in the form of 29 luxury tents, including six Family Tents and two private residence tents. Each of the tents sit perched high on the hill and therefore offers unrivaled views of the volcano from their private spring-fed plunge pools or outdoor showers. Oversized bathtubs and four-poster beds round out any tantalizing tented camp stay, as does a host of onsite amenities such as a restaurant, bar, swimming pool, and hot springs.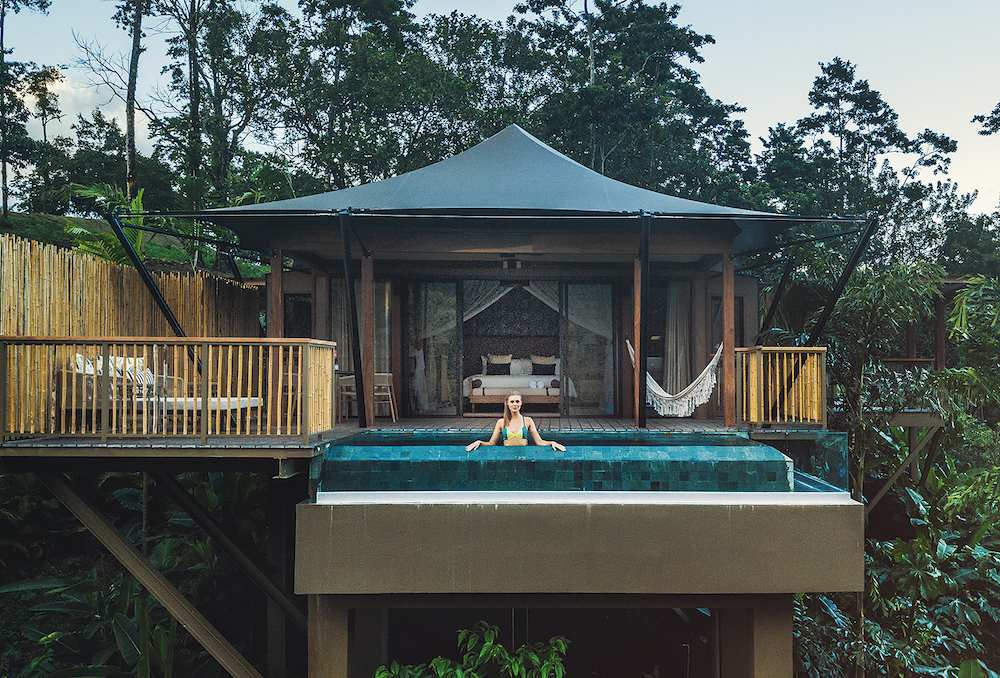 Four Seasons Resort Golden Triangle, Thailand
The 15 elevated tents of the Four Seasons Tented Camp echo the romantic spirit of the 19th century explorers. Without exception, the camp maintains the level of luxury you expect from the Four Seasons brand. With a meticulous attention to detail, all furnishings are handcrafted. Indeed, even the hand-hammered copper tubs are custom-made. You'll never look at a tent the same way after your stay here!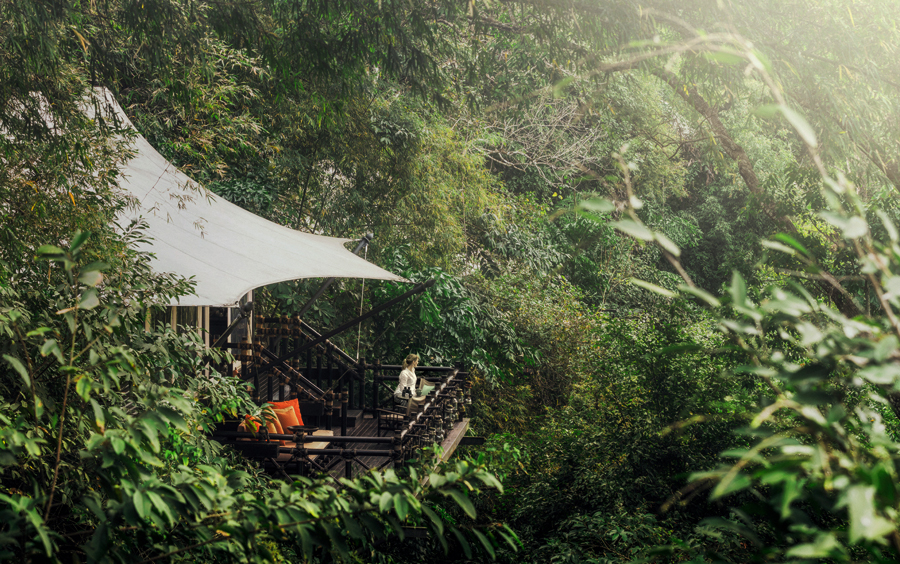 Clayoquot Wilderness Lodge, Canada
Located at the head of the Bedwell River amid the lush coastal rainforest of Vancouver Island, Clayoquot Wilderness Lodge boasts 25 luxurious white canvas tents in the style of turn-of-the-century prospectors. Surrounded by the UNESCO-protected Clayoquot Sound Biosphere, the tents sit around 600-acre property, either on the banks of the Sound or amid the old growth rainforest. From your base on Vancouver Island's magnificent rugged west coast, you'll explore pristine wilderness like pioneers (but elegant ones). Travel miles of First Nations paths on foot or on horseback, follow waterways deep into the old-growth forests in canoes or kayaks, or discover abundant wildlife, including bears and whales, on guided zodiac tours. Other options include fresh water and ocean fishing (hunt for dinner!) and archery. At night, luxuriate in the wood-fueled outdoor cedar hot tub and sauna and gather around the fire for some s'mores under the stars.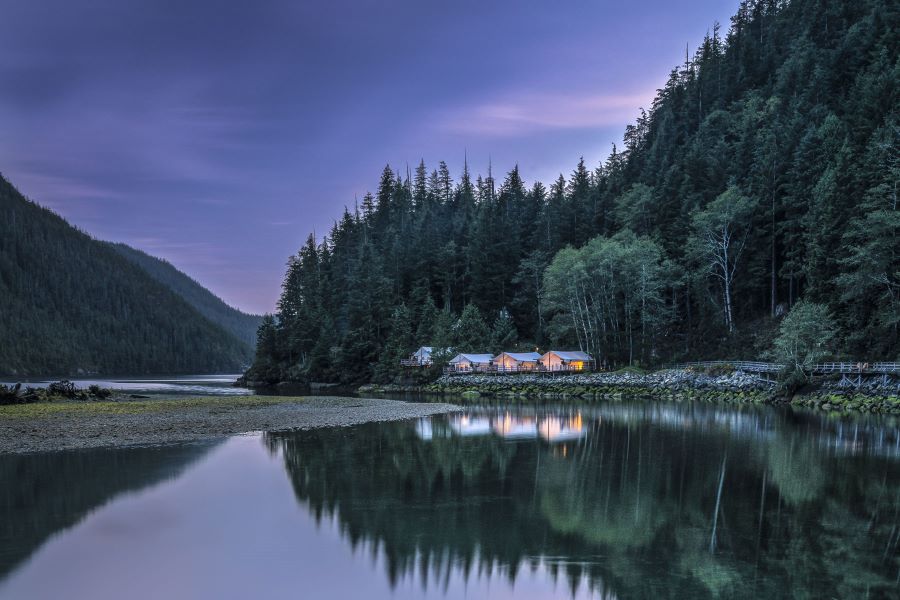 Banjaar Tola Kanha Tented Camp, India
The tents of Banjaar Tola sit among the verdant jungle and grassy meadows of the Kanha National Park. Its prime location on the banks of the Banjaar River therefore make it an ideal places to spot the rare wild tiger and their prey. After a day exploring the jungle, you'll return to a luxury tented experience unlike any other. Indeed, bamboo floors, rich earth tones, and traditional local crafts and artwork contribute to the stunning design of the tents.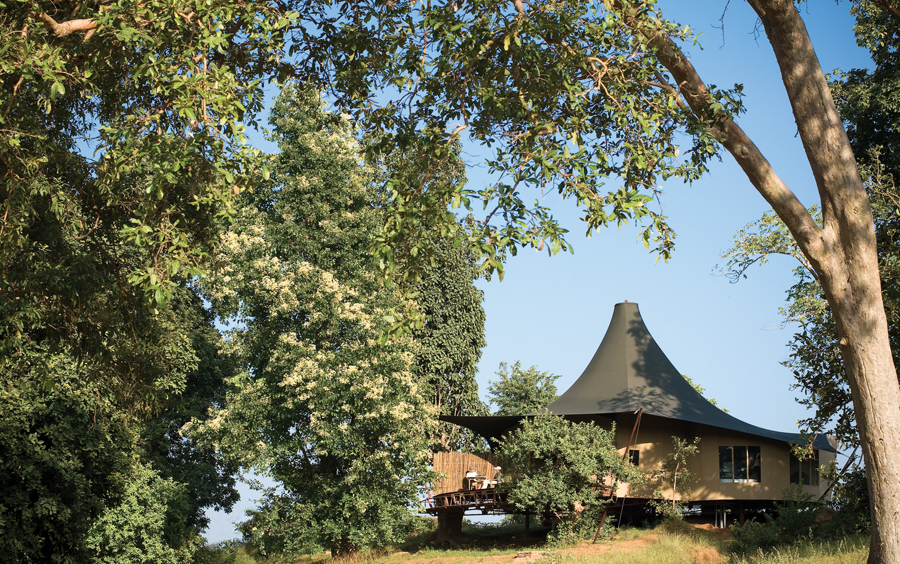 Mara Plains Camp, Kenya
Mara Plains camp is one of just five camps in the Olare Motorogi Conservancy – 100,000 acres of exclusive, low-vehicle density tourism land in East Africa. The camp is equally exclusive with its seven octagonal tents. The interior pays homage to the Maasai and Arab influences of East Africa with deep accents of red and purple, rich leathers, copper, and brass. However, its understated sophistication doesn't overwhelm you. Instead, it allows you to connect with the surrounding wilderness in quiet.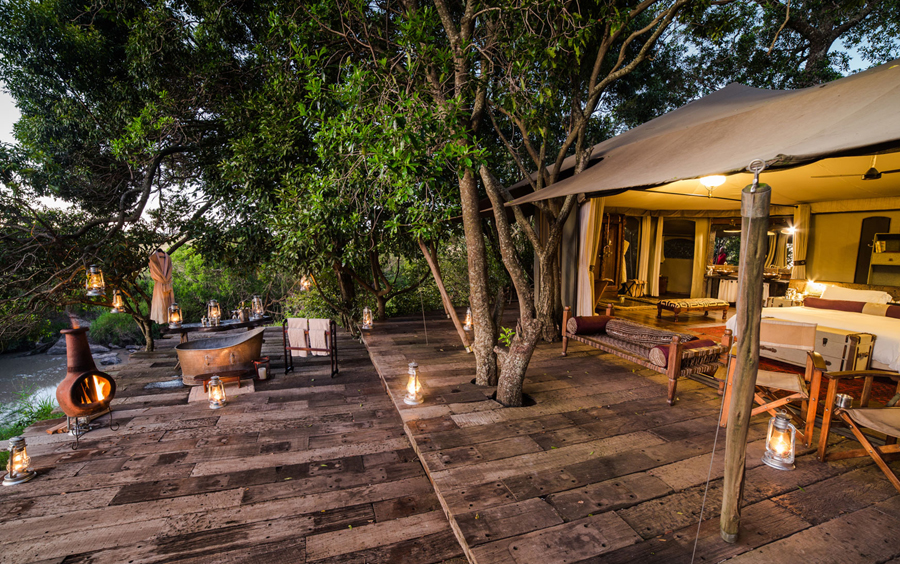 Wadi Rum Tented Camp, Jordan
The private Wadi Rum tented camp is quiet and secluded from the Rum village and tourists. Set amid massive rock formations, ancient sands, and rust-colored sunsets in Jordan's largest wadi make for a secluded experience. The authentic Bedouin tents are elegant, complete with bed and furnishings. Lanterns and candles illuminate camp in the evening for guests. The intimate dining area for this luxury tented camp serves as setting for gourmet meals featuring local cuisine.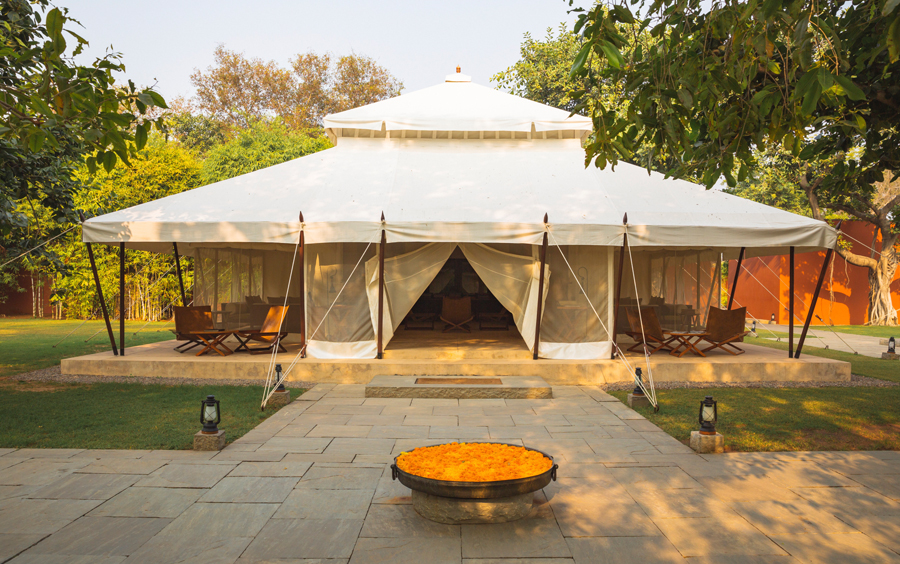 Naviva, A Four Seasons Resort, Mexico
Tented camp has arrived in Punta Mita in the form of Naviva. Nestled in an unspoiled forest overlooking the Pacific Ocean, the luxury tented camp features just 15 luxury tents sitting side-by-side in the resident Four Seasons Resort. This means creature comforts like spa treatments are not far off even though you'll be completely immersed in nature. However, the tents are anything but basic: They come outfitted with open-air living rooms and bedrooms with expansive decks and private plunge pool, all shrouded in vegetation. Wellness is also intentional here, with forest bathing under the stars and shamanic sound healing experiences ready to kick start your inner peace.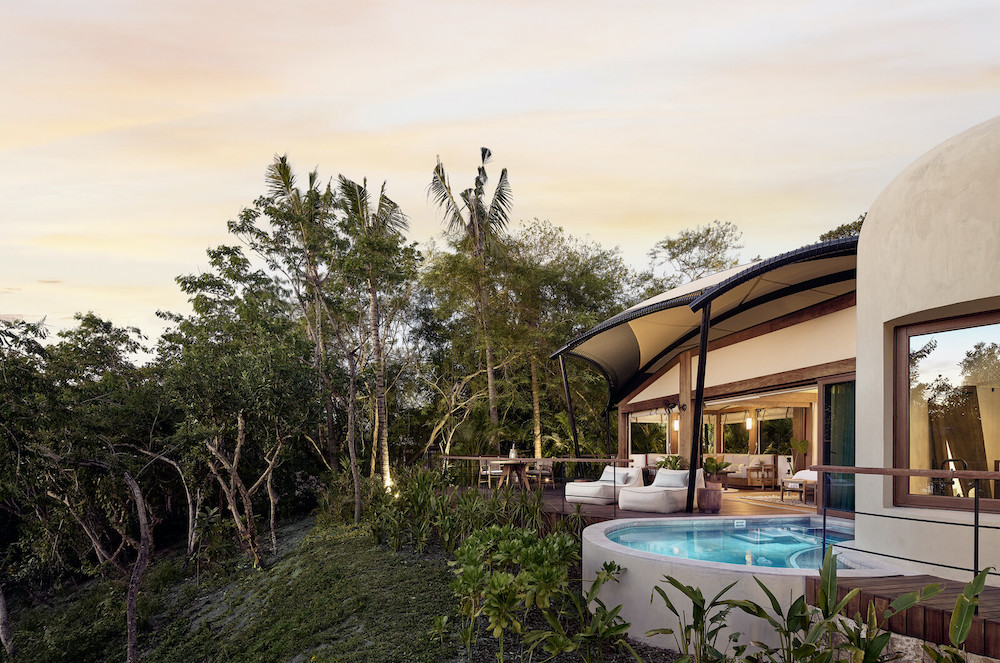 Aman-i-Khás Luxury Tented Camp, India
Reminiscent of Moghul traveling tents of bygone days, the tents at Aman-i-Khás are really more like villas. The generously sized tents — approximately 1,100 square feet — have luxe interiors and cotton drapes separating the rooms. At the center of the tent, you'll also find an oversized daybed, beckoning you to lounge under the canopy.
Chem Chem Safari Lodge, Tanzania
The lavish luxury tented camp suites at Chem Chem Safari Lodge are exquisite five-star accommodations in the heart of Africa. The large tents are a combination of canvas, lava-stones, and wood. Furthermore, to ensure complete privacy, tents are set 260 feet apart. Luxury bathrooms offer both indoor and outdoor showers. Finally, a reading corner, dressing room, and private patios with daybeds complete these stunning tents.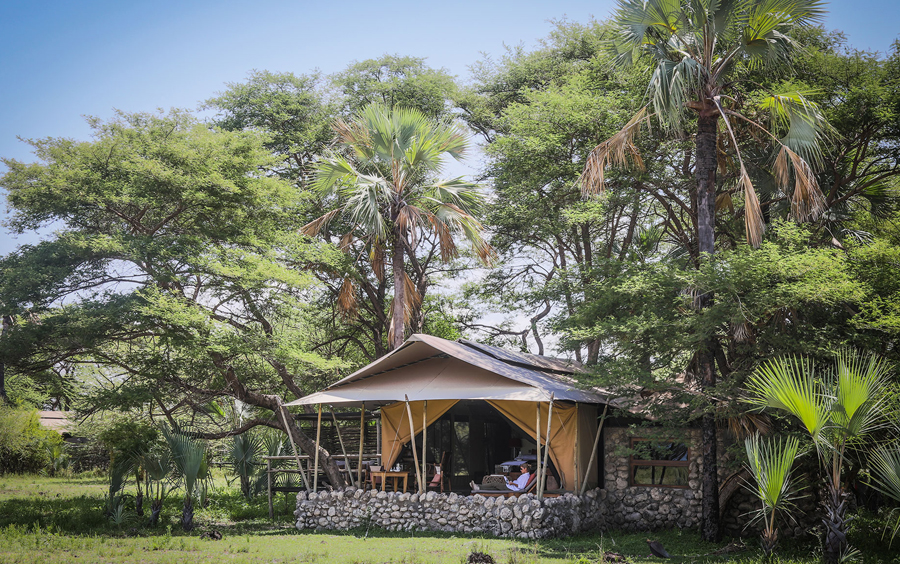 Camp Sarika by Amangiri, Utah
Just a short drive or hike from Amangiri, you'll find Camp Sarika by Amangiri, a self-contained retreat all on its own. North America's first all-weather, year-round luxury tented camp, the property's 10 one- and two-bedroom canvas-topped pavilions, each with a private plunge pool and fire pit, sit tucked in a protected canyon with towering mesas, slot canyons, and the sands of the desert landscape as its backdrop. Furthermore, the tented pavilions are centered around a shared lounge, restaurant, spa, and pool area. At Camp Sarika, expect an intimate, return-to-the-wild experience where the connection to nature is strong. For example, explore the desert and mountains with guided hikes and slot canyon expeditions. At camp, yoga and meditation sessions are held outside amid the stunning environment. In the evening, swap stories around the campfire beneath the star-filled sky.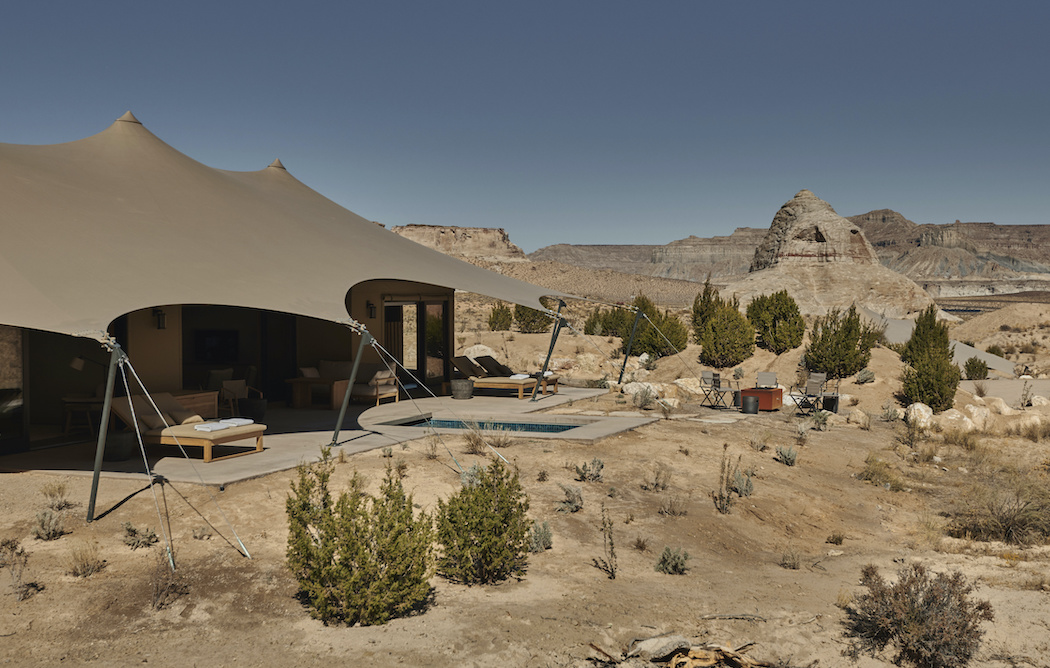 Luxury Tented Camps Around the World
For more information about adding luxury tented camps to your next Ker & Downey itinerary, contact your destination specialist. To stay up to date on all of our online content, be sure to follow us on Facebook and Twitter.