Kanana Camp
Okavango Delta, Botswana
Property Spotlight
Kanana in the Okavango Delta
Experience life in its purest form at Kanana camp in the Okavango Delta. The sparkling clear and clean waters are the pulse of this region, attracting all things wild from herons and other species of birds to elephant and other predators and prey. Intimate and exclusive luxury Botswana safari camps such as Kanana allow guests to maximize their experience. There are no crowds and no safari vehicles fighting for the best views. It is an unforgettable experience and should not be missed in any Botswana itinerary.
Property Details
Kanana Camp, found in the remote inner reaches of the Okavango Delta, is an important part of a Botswana safari. Eight luxury-style tents accommodate up to 16 people and are raised to ensure all guests have views of the floodplains. Inside Kanana's tents is a color scheme of rich neutrals, crisp whites, and turquoise, the essence of 1920's explorer chic. Firstly, you can prepare for the day in your en suite bathroom, outfitted with flushing toilets and hot running water. In addition, comfortable beds ensure you drift away into African dreams easily.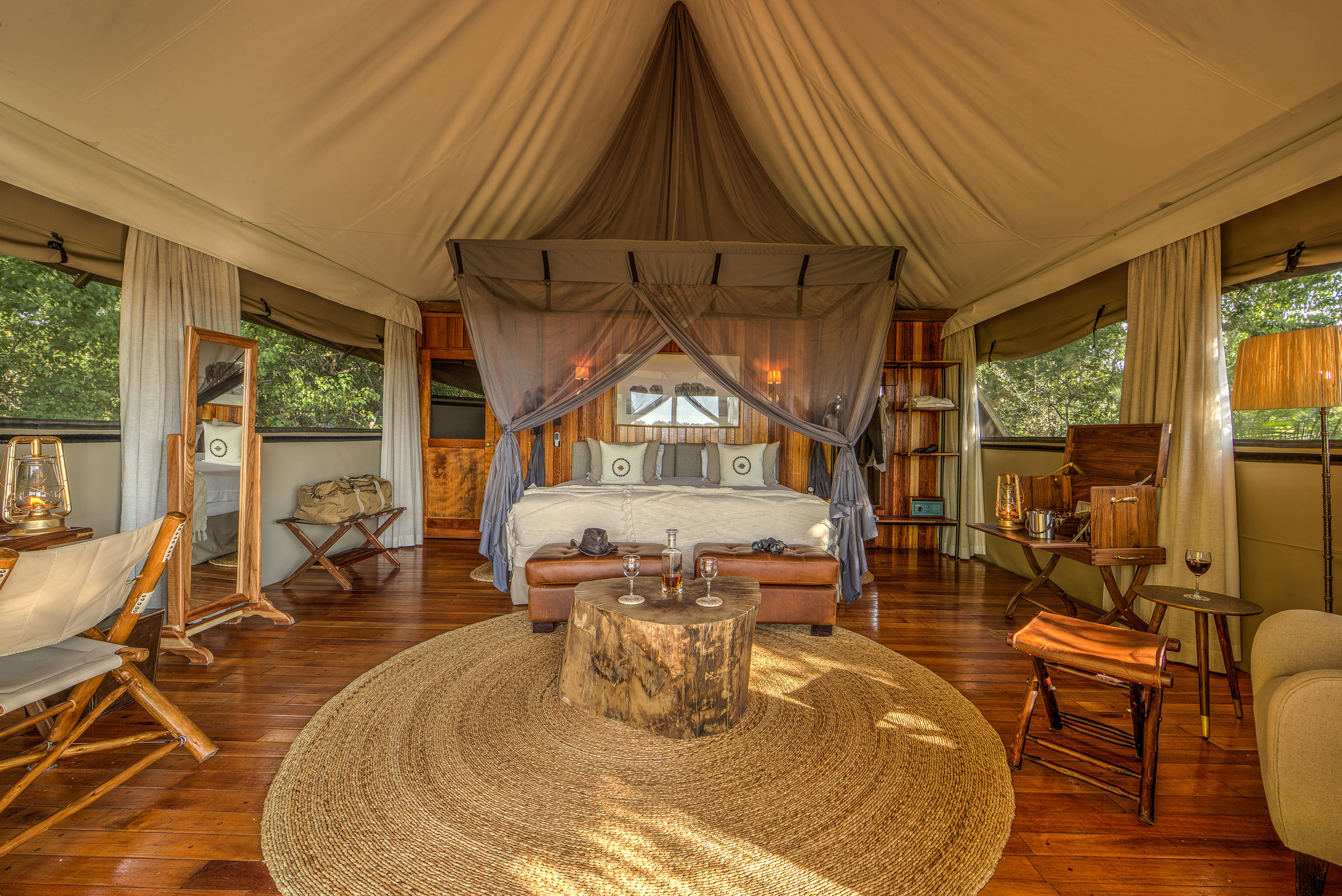 The dining and sitting areas at Kanana are raised on decking encircling a massive ancient fig tree. Likewise, ebony, knob thorn acacia, and sausage trees provide shade on warm days. At dinner, bite into freshly baked bread and vegetables while watching the brilliant sunsets. A well-stocked bar ensures a delicious cocktail is always nearby. 
Activities at Kanana Camp
While game viewing in 4x4 vehicles is popular, the best experience is on foot or by gliding silently through the Delta by mokoro canoe at Kanana. Weave your way through a necklace of small palm-dotted islands. Your senses will come alive upon hearing the elephants' morning calls in the distance. With a private guide, see these giants taking their daily bath, and even a mother gently bathing her calf. It is certainly a moving and incredible experience, drawing you intimately into nature in its purest form. 
Game viewing at Kanana also includes a wide variety of other game in the Delta, including impala, lechwe, hippo, crocodile, and lion. Migratory water birds like the yellow-billed storks and slate egrets come to hatch their young around the area depending on the season. Sometimes you may just spot the sitatunga antelope's nostrils floating above the surface of the water, as it hides from leopards and wild dogs.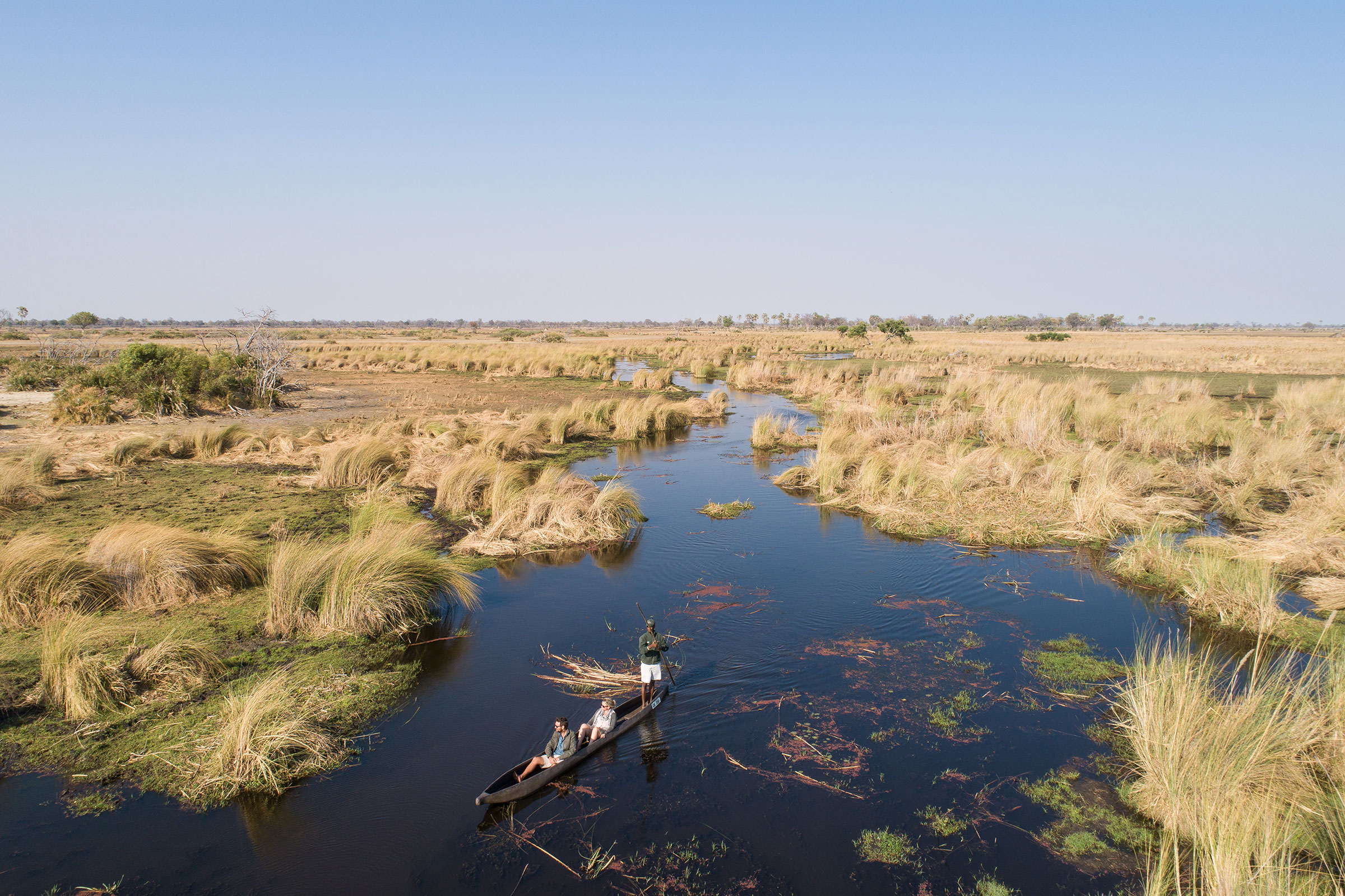 Kanana with Ker & Downey
A stay at Kanana is an immersive experience in one of Africa's most pristine and breathtaking landscapes. Experience it on a luxury Botswana safari with Ker & Downey. You'll find Kanana on many of our suggested Botswana itineraries, including Desert to Delta - A Botswana Adventure Itinerary. To start planning your safari, contact Ker & Downey.