Recharge and refresh in Arequipa at Cirqa, a revival of the original parador, from the geniuses behind Titilaka and Atemporal in Lima. 
With the arrival of Cirqa, Arequipa is no longer a stopover town on your way to the Colca Canyon; in fact, it's a city you might not want to leave. 
Voted number two on the list of 50 best places to travel in 2020, Arequipa has a lot to offer the luxury traveler to Peru. Framed by three volcanoes, the country's second largest city is certainly picturesque. Archways, cobblestone streets, grand cathedrals, and a picture-perfect town square make Arequipa one of the most architecturally beautiful cities in the world. Brightly colored bougainvillea set against baroque buildings carved from white volcanic stone (earning it the nickname 'White City') might have you  questioning what part of the world you are actually in. While there's certainly a European feel to the city, Arequipa has a firm grasp on its identity. The city sees thousands of people from all over the world, yet is as authentic and untouched as they come.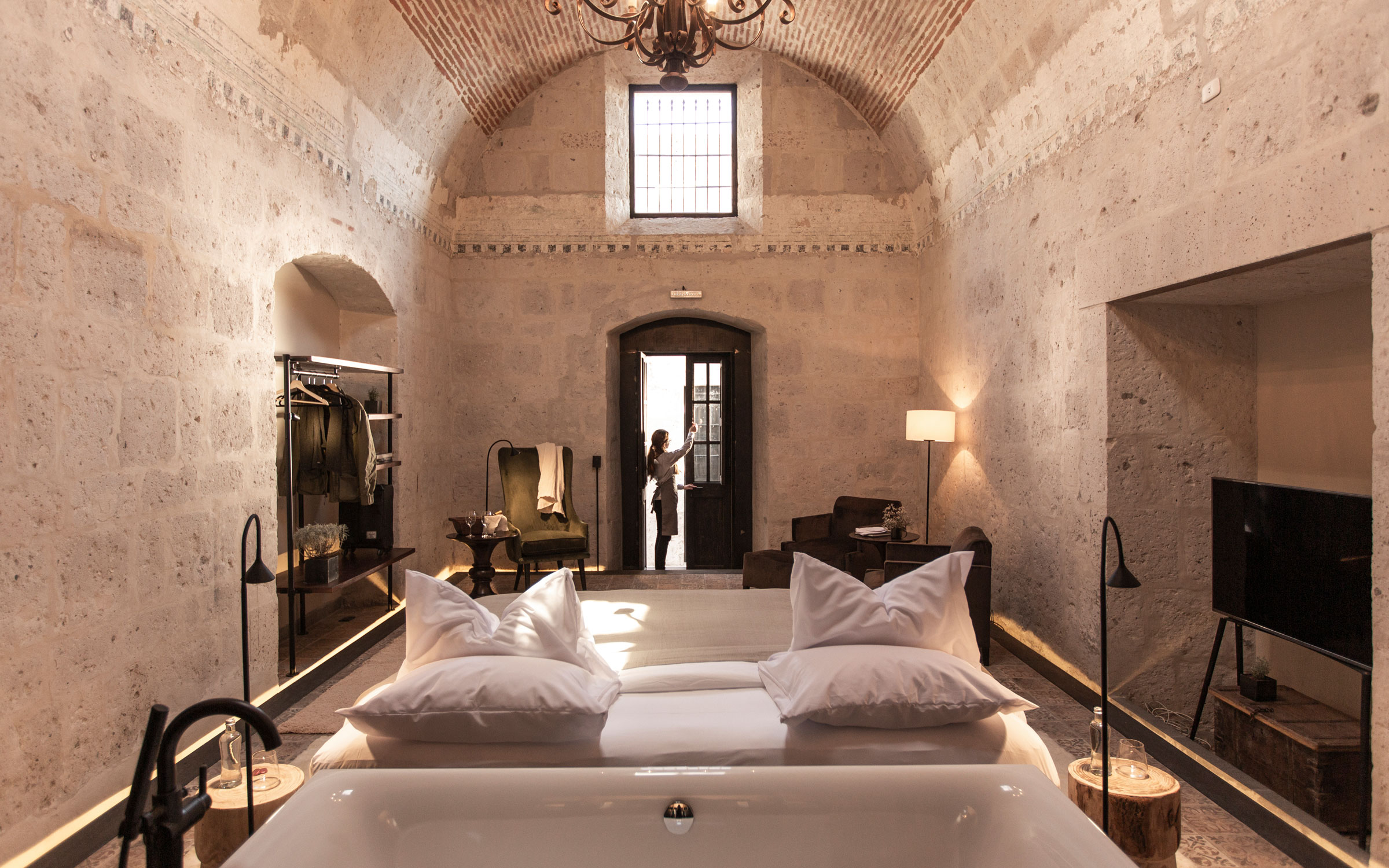 Cirqa
Cirqa is located in the historic center of Arequipa, in a 16th century ecclesiastical complex. What was once part of the San Agustin Church now houses 11 rooms all centered around two charming patios. It was inspired by the church's traditional parador, where monks welcomed travelers and offered them hearty cuisine and warm hospitality. Today it is still a place of rest and fine cuisine.
The architecture of the 11 rooms take center stage. Ancient white stone walls and high barrel ceilings contrasted with panels of glass create sleek interiors that remain sensitive to the past. Pops of color and texture are found in high backed emerald green velvet chairs and colorful florals. Sophisticated design, fine linens, and luxury amenities create a room you'll undoubtedly want to settle into and enjoy. 
Peru has experienced a gastronomic renaissance, thanks in part to the restaurant scene and picanteria eateries in Arequipa. Cirqa's own menu, created by Chef Maria Fe (also of Titilaka), offers a unique take on Arequipenean cuisine. Local ingredients and spices play a big part in the dishes. Head to Cirqa's brand new rooftop for casual dining and specialty drinks with lofty views of the cathedral and snow-capped Misti volcano. 
A Custom Journey to Peru
Ker & Downey is a multi-award winning tour operator. We specialize in creating unique, one-of-a-kind itineraries to destinations all over the world. Our designers are at their best when creating a custom journey just for you. To add Cirqa to your next Ker & Downey journey to Peru, contact your designer. And for even more travel inspiration, follow us on Facebook and Instagram.