Antarctica Fly-Cruise Adventure
13 Days / 12 Nights
Chile & Antarctica


Southern Patagonia & the Seventh Continent
Luxury travel to Antarctica just got easier on Ker & Downey's Antarctica Fly-Cruise adventure. This sweeping 13-day journey was created for travelers in search of the beauty of southern Patagonia and an expedient way to cross off the Seventh Continent from their travel bucket list. It guarantees an unforgettable Chile and Antarctica experience at every turn.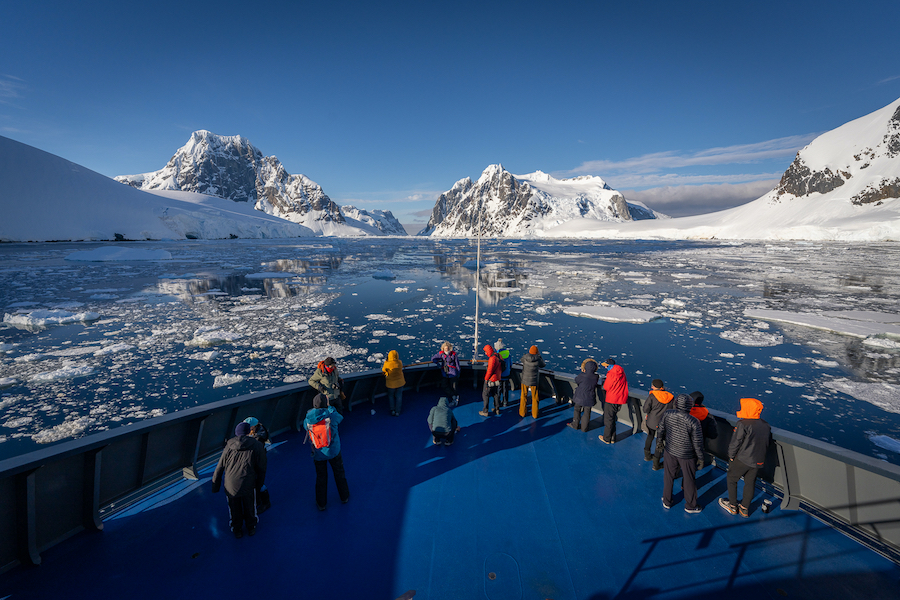 Your Antarctica Fly-Cruise Adventure first begins in Chile's capital city of Santiago. An entire day is dedicated to discovering the colorful port town of Valparaíso. While here, explore its flower-lined streets and Victorian architecture. Also visit the famous Flower Clock and Quinta Vergara of Viña del Mar. En route back to Santiago, stop in the Casablanca Valley for some wine tasting at the local wineries.
Your pre-cruise journey then continues with three days in Chilean Patagonia. The stunning Singular Patagonia lodge serves as your launching pad as you explore the region, including the fascinating Torres del Paine National Park nearby. Additionally, enjoy hiking, biking, and horseback riding through the 37,000 acres of private nature reserve surrounding the hotel. You can also set out by boat to the nearby fjords from the hotel's dock.
Finally, experience luxury travel to Antarctica at its very best. Bookended by overnights in Punta Arenas, your Antarctica Fly-Cruise takes off with a two-hour charter flight to King George Island. Here you will embark your impressive expedition vessel. Accommodating fewer than 100 air-cruise passengers, this modern ship will be your Antarctic home-away-from-home on your five-day expedition.
Your Antarctica cruise takes you between the South Shetland Islands and the western coast of the Antarctic Peninsula. Along the way, sail along ice-filled fjords and among spectacular icebergs. Each day you will take Zodiac excursions from the ship to explore local bays, channels, and landing sites. With wildlife always at the forefront, you will visit penguin rookeries, scout for humpback and minke whales, and search for a number of southern seal species, including the cunning leopard seal. No luxury travel to Antarctica journey is the same, so flexibility is key. The onboard expedition team takes advantage of the ever-changing weather and migratory routes to provide the most exhaustive overview of the exciting Antarctic environment.
A quick flight back to Punta Arenas from King George Island allows you to once again bypass the Drake Passage and begin your journey home. We have no doubt that you will leave filled with awe from your Antarctica adventures.
Book an Antarctica Fly-Cruise Adventure
Ready to enjoy luxury travel to Antarctica? Contact a Ker & Downey designer to customize your own Antarctica fly-cruise adventure and land-based extension, or read more about the seasonality and pricing in Antarctica. For even more travel inspiration, follow us on Instagram, Facebook, and Twitter.