The Zambezi Experience at Royal Chundu Island Lodge
A Luxury Safari Camp on the Zambezi River, with Ker & Downey luxury safaris to Zambia
David's small group stayed at Royal Chundu Island Lodge after their time with The Bushcamp Company. This is part two in a three-part series from President David Marek on his small group trip to Zambia and South Africa. To see part one, click here.
Royal Chundu Island Lodge
We arrived at Royal Chundu after a flight from Lusaka to Livingstone, followed by a 45-minute drive to the lodge. For the three days we were here we wouldn't see any more roads, vehicles, or worries. This absolutely is a worry-free atmosphere.
We stayed at the Royal Chundu Island Lodge, which requires a 15-minute boat ride from the main River Lodge. Our room was located on a tributary of the Zambezi that flowed around the island. The annual parrotfish migration was happening (in June) which meant loads of fishermen. Generally, a father and a son or brother duos would make their way past our suite in dugout canoes to the fishing grounds at the rapids.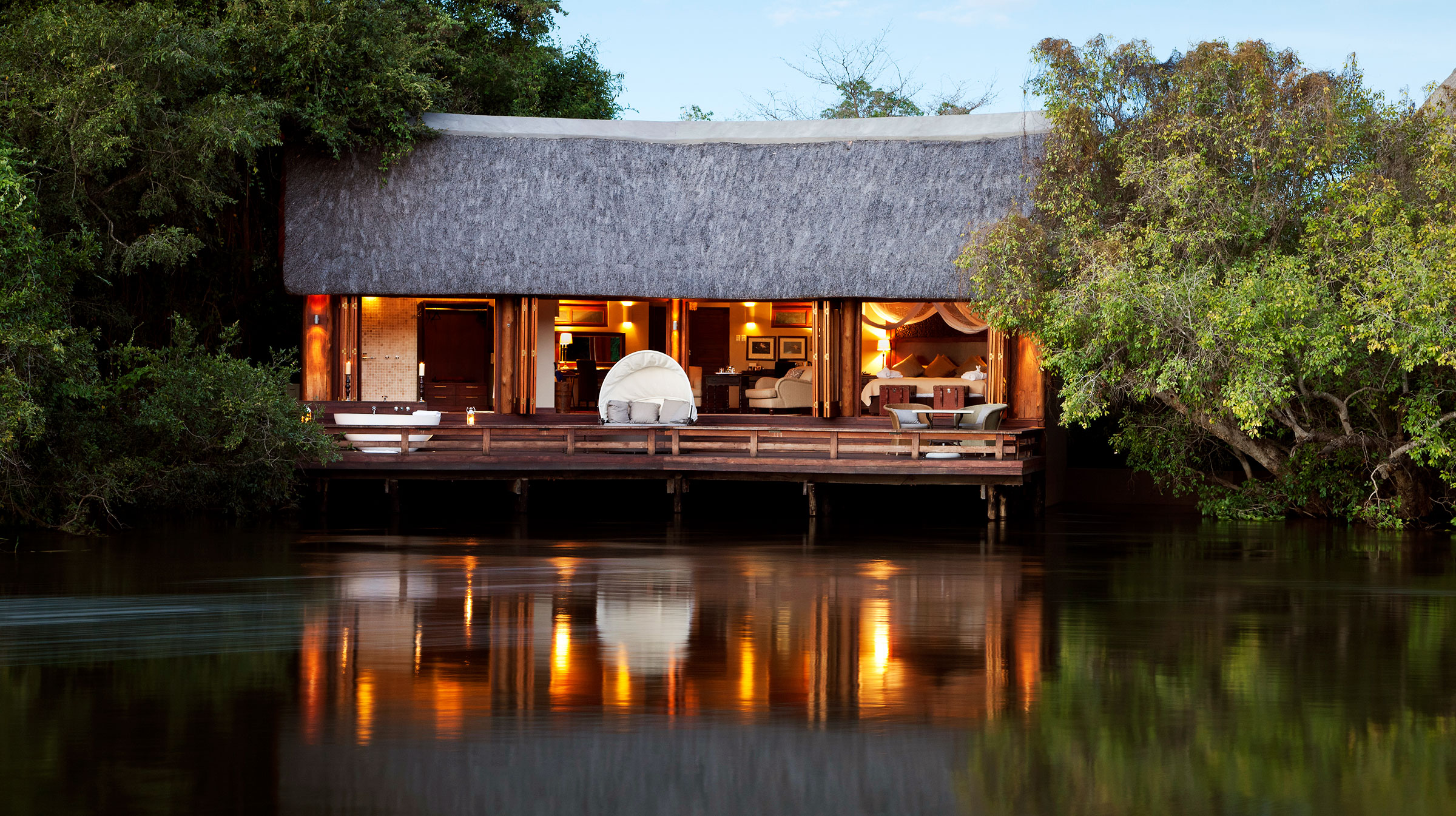 Royal Chundu's service and attention to detail are incomparable. It seems effortless, although I know service at this level doesn't just happen. It's honed and sharpened over years and years through training and treating the staff as members of one's family. Everything here is over-the-top. They don't do standard, and they don't leave anything to chance. Everything is beautifully planned.
Take morning coffee, for example. At an appointed time, someone slips the coffee service through a little door next to your front door. This "coffee nest" then has a small door that opens into your room. And with a gentle knock on the door, you know that coffee has arrived. What a lovely way to start the day! Indeed, the end of each day was just as spectacular. Each night we would head back to our suite to freshen up for dinner and find that someone had filled the outside bathtub with bubble bath! Yes, they did it every evening while we were away. You can't beat that level of service.
Rafting the Zambezi
On our second day at Royal Chundu we rafted the Zambezi. The rapids are tame as far as rafting standards go, but the adventure is real. The starting point of the adventure was the local fishing village. All around, there were loads of small parrotfish laying on racks drying in the sun. When the parrotfish run happens, entire families pick up and move. That means granny, grandpa, kids, housewares, goats, cattle, the whole lot! Midway through our raft, we stopped off at an island and visited another fishing camp. We all watched as they made their local "food" and fried some parrotfish. Most of us had a taste of the fried parrotfish. Although we used the phrase "not bad" aplenty, we all agreed that once was enough.
Onward we paddled until lunchtime. We arrived at another spot on the Zambezi, and once again, nothing was left to chance. The table was beautifully prepared, the service was perfect, and the food was delicious. After lunch, some of us took a nature walk back to the lodge while others took the raft the final way.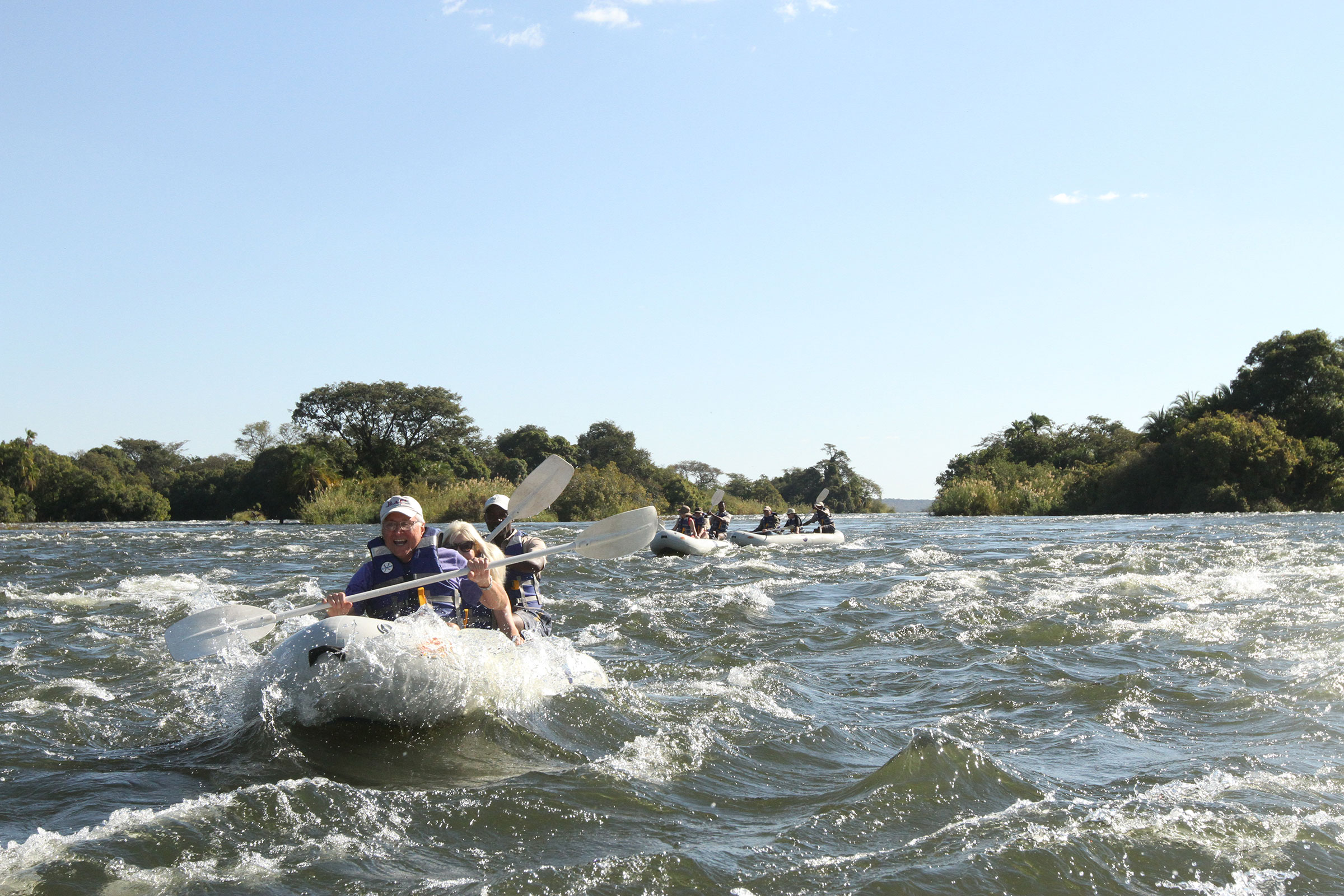 Fishing at Royal Chundu Island Lodge
Since the parrotfish migration was on, that meant that tigerfishing was on as well. So the following morning some of us took off for an early morning tigerfishing experience. Using spinning tackle and large Rapala lures, we managed to catch a number of tigerfish—not an easy feat considering their mouths are rather bony…and toothy! But we prevailed. The interesting thing about fishing at Royal Chundu is that the boat comes with a full morning coffee service on board. That's right: we went fishing with a silver coffee service. Some might consider it a bit over the top, but we will never forget that experience.
Visits to the Local Village
Of course, one of the "don't miss" activities at Royal Chundu is a visit to the local village. The boat took us across the river to a local farming village. There we met a lovely lady, Edith, and her two granddaughters. Edith showed us the way they farm. Farming here starts with the flood. As the floodwaters recede, they plant their crops on the sloping banks of the Zambezi River. They then plant additional crops as the floodwaters continue to recede. In this way, their seeds have the moisture to develop. Eventually, as the crops grow, the crops need to be hand watered. But the seeds have a great start with the freshly flooded fields.
Edith's village was immaculate. All the sand/dirt areas were freshly swept with not a single bit of trash, stick, or stone out of place. They also built a ground toilet, called a "long drop" just for the visitors to use. Edith and her friends take a lot of pride in the village, and rightly so. Their shop in which they sell their local curios was very well maintained. And an anomaly of curios in Africa: the prices were very fair. Usually, African curios become overpriced. Not here, so our little group purchased quite a lot. We said our goodbyes to Edith and the kids and headed back to Royal Chundu feeling a bit better for having met Edith. What a lady!
Helicopter Over the Falls
The "coup de grace" of our stay on the Zambezi was the helicopter transfer from Royal Chundu to the airport in Livingstone. This was no normal flight! Each of the two helicopters would take three passengers. To me, that meant that these agile aircraft were capable of doing things that maybe the larger helicopters couldn't do. Anyway, our transfer ended up being the thrill of our lives. We flew around the magnificent Victoria Falls several times. We flew over the tiny island at the top of the falls, Livingstone Island, where my family spent the best night of our lives in pup tents some 27 years ago. Then we headed to Batoka Gorge where we flew so low over the Zambezi that we had the sensation we were rafting! What a treat!
Back on the ground at Livingstone, we all felt like we had done something special. Now, how were we going to top this? After our arrival in Livingstone, we hopped on a bus for the transfer to Victoria Falls Airport. Getting through all the paperwork on both sides of the border took about an hour and was a bit of a wet blanket in the face of a beautiful helicopter adventure. But we endured. After our morning helicopter ride, we crossed the border into Zimbabwe, took a flight to Johannesburg, caught another flight to Cape Town, and then took a two-hour-plus transfer to Grootbos Nature Reserve. We arrived around midnight, worn out and ready for sleep after a long travel day.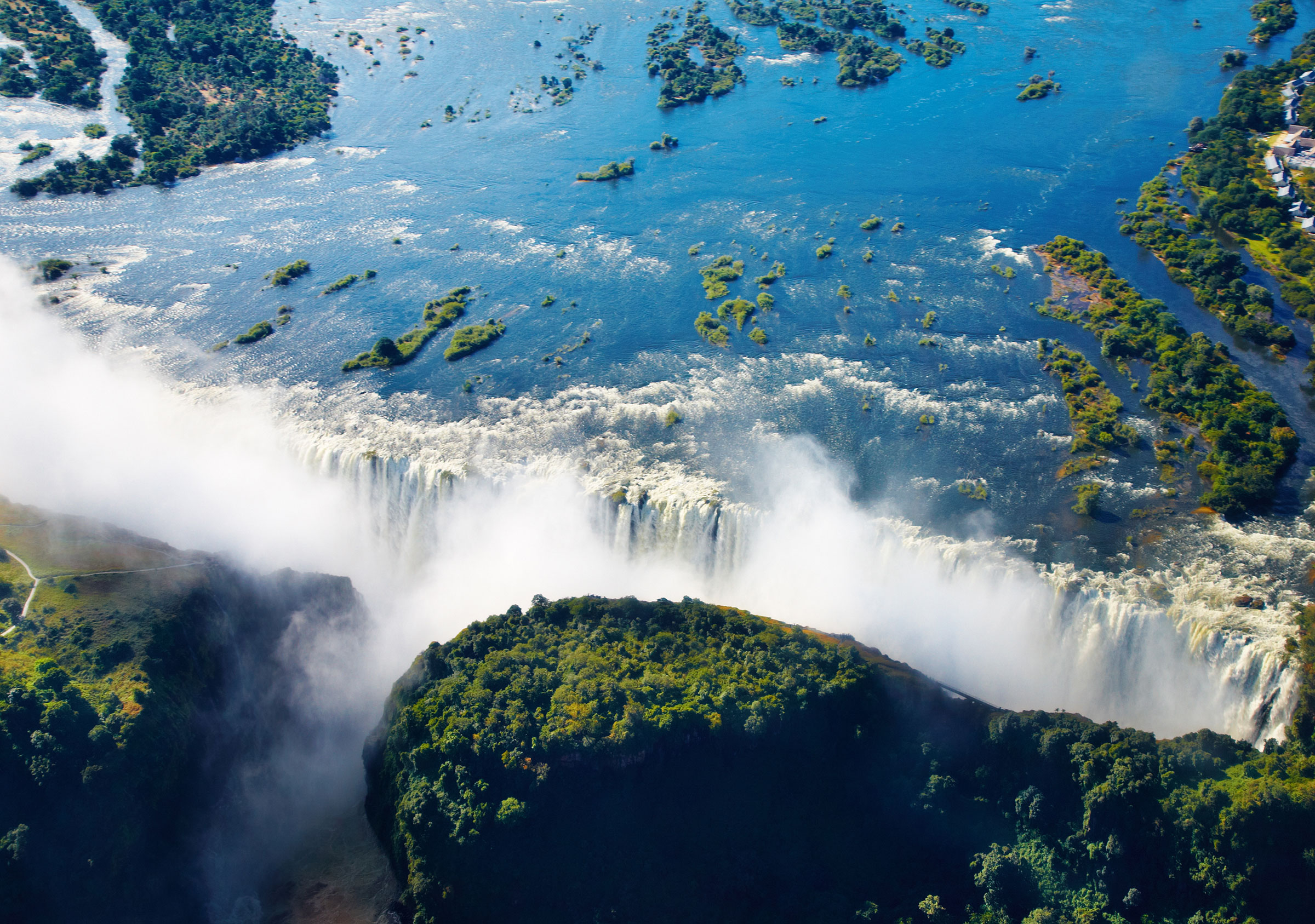 The journey continues in Part Three.
To start planning your journey to Royal Chundu Island Lodge, contact a Ker & Downey designer. For daily travel inspiration, follow us on Facebook and Instagram.