A Southern Africa Luxury Safari with Friends
Ker & Downey President David Marek reflects on his luxury safari with friends to Zambia and South Africa during the COVID-19 pandemic.

A Luxury Safari with Friends
We started planning this luxury safari with friends in 2019. It was to be a trip for a group of friends who had never been to Africa. There would be just eight of us traveling. Little did I know the difficulties this trip would endure, nor the profound effect it would have on our little tribe in the end.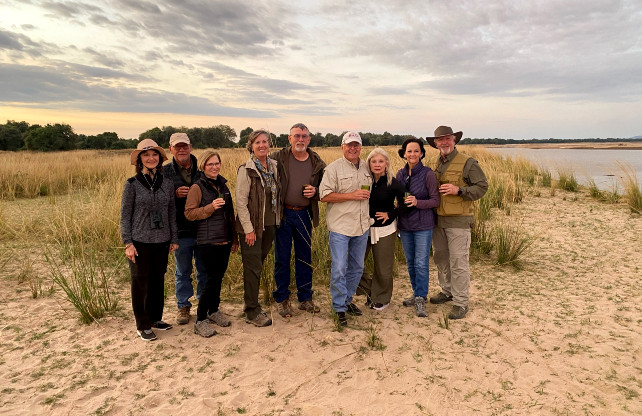 Originally our luxury safari with friends was supposed to travel to Zambia and South Africa in May 2020. We chose Zambia because I really wanted to experience Andy Hogg's Bushcamp Company and see all the great things he is doing for the local community. We also included Tina Aponte's Royal Chundu because, well, sometimes you need an over-the-top experience. And finally, we included the Grootbos Nature Reserve in South Africa, which gave us the marine setting along with the spiritual ancient milkwood forest experience. (As a side note, Ker & Downey supports their reforestation efforts and their agriculture initiatives, so I wanted to have a closer look at where our money was going.) Three locations, three ecosystems, three different experiences…nothing repeated, and a few surprises along the way.
Traveling During the COVID-19 Pandemic
Traveling during the COVID-19 pandemic is more complicated and a bit more expensive than pre-pandemic travel. Since our luxury safari with friends was a two-country itinerary, we needed four COVID-19 PCR tests: one before leaving the U.S., one leaving South Africa for Zambia, one leaving Zambia for South Africa, and the final test to return home. If our original flights with Emirates had not been canceled, we could have used our original PCR test to also get us into Zambia. But since we had to change to Qatar Airways, our flight time lengthened and resulted in the extra PCR test. Flying Qatar Airways was great, and we actually enjoyed flying on less than half full flights. 
That First Luxury Safari with Friends Feeling
It always amazes me to see the reaction of "1st timers" to any destination. And Zambia provided the same reaction. Flying from Lusaka to the bush strip caused a lot of "window peering" excitement as we flew over the bush and sand rivers. Then we saw our first elephant as we made our landing approach. It brought me back to my first such experience in Botswana in 1978.
The Bushcamp Company
Our original planned luxury safari with friends featured a group of eight travelers. But we had since grown to 11, which meant that we would need to split into two groups. Six stayed at Chamilandu Camp, and five stayed at Kapamba Camp. After two nights we switch camps. Gana and I stayed with the group at Kapamba Camp on the Kapamba River. The other group stayed at Chamilandu Bushcamp, also located on the Kapamba River. Kapamba Camp is beautiful with great views over the river and with the option of sleeping out on a raised "tree house". The staff at both camps were exceptional, the food was delicious and plentiful, and our guide Soozio was fantastic! 
One of the requests I made was that the Bushcamp Company try to get our two groups together for joint activities. They far exceeded my expectations. We had joint sundowners…in the river. We had joint lunches…in the river. And we also had one dinner prepared…in the river, while we sat in our chairs…in the river and had our GnT's!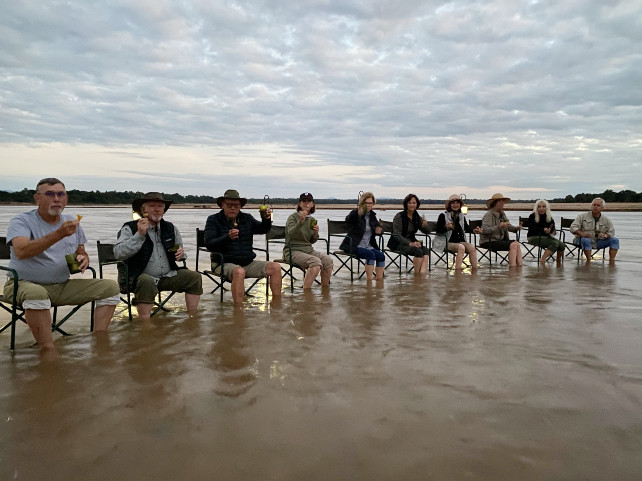 Bilimungwe Camp
After our stay at Kapamba Camp, we moved our luxury safari with friends to Bilimungwe Bushcamp. Set on the open waters of the Luangwa River, Bilimungwe Bushcamp is undoubtedly one of my favorite African camps. Its setting is stunning. They serve breakfast on a bluff overlooking the river. Hippos, crocs, elephants, lions, and buffalo join you as guests for breakfast. As with all the river-front Bushcamps, walking safaris are perfected here. The vast sand riverbed is perfect for tracking, following, and seeing game. We saw elephant, giraffe, hippo, and great numbers of plains game. Our night drives also featured sightings of lion, leopard, honey badgers, civet, genet, and white-tailed mongoose.
Mfuwe Lodge
After our four nights in the bush camps, we made our way to Mfuwe Lodge. Here our two groups again became one. This lodge is larger with 20 rooms and a swimming pool, set again along a riverbed with a waterhole situated out in front. Game comes and goes in front of the lodge. It is therefore not unusual to see elephant, lion, leopard, Cape buffalo, and other species just off the deck. Lions have been known to sleep along the walkway to the rooms. As in the Bushcamps, a security person escorts you to your room at night. One can never be too careful.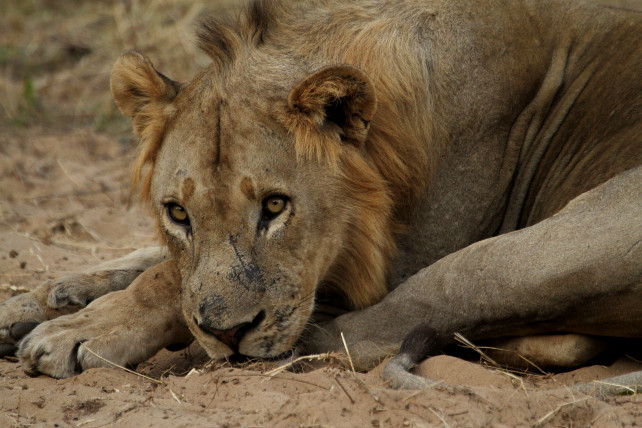 How The Bushcamp Company Gives Back
On our last day in Mfuwe, Andy gave us an opportunity to check out a local village and school. The Bushcamp Company has made it a priority to give back. Here is a list of what they do to help: 
Feed 3,150 school children one meal a day
Fund the schooling of 350 children at approximately $200 a year per child
Fund 45 children through college
Drill 136 water wells at approximately $7,000 each (They drill about 20 every year.)
Build 36 classrooms
Build dormitories for those kids who live too far to commute
Sponsor 10 teachers' annual salaries and benefits
Fund tree planting
Fund five nurses to get HIV training
And finally, they have a new project: dehydrating fruit and vegetables. They are purchasing equipment that will allow villagers to dehydrate fruit and vegetables. Currently, mangoes and other fruit ripen within a 30-day window. Most of it goes bad laying on the ground. The dehydrating equipment will allow them to eat fruit and vegetables year-round.
After our tour of the village and school, we departed to the Mfuwe Airport for our flight to Livingstone and three nights at Royal Chundu. Stay tuned for the next chapter in our safari.
Plan Your Own Luxury Safari with Friends
Ker & Downey designers are at their best when handcrafting a journey just for you. To start planning your luxury safari with friends, contact a Ker & Downey designer. For daily travel inspiration, follow us on Instagram as well as Facebook.