Onduli Ridge
Damaraland', Namibia
Damaraland's newest safari property Onduli Ridge sits perfectly poised for tracking desert-adapted wildlife  and taking in the country's stunning natural beauty. 
Damaraland
There are few places on Earth like Namibia. It's a country of raw, natural beauty. Dramatic landscapes of soaring sand dunes, vast and arid desert stretching miles upon miles, windswept coastlines, and the Naukluft Mountains are just a few of its natural wonders. Meanwhile, the country, which is about twice the size of California, boasts one of the lowest population densities in the world with only around 2.5 million people.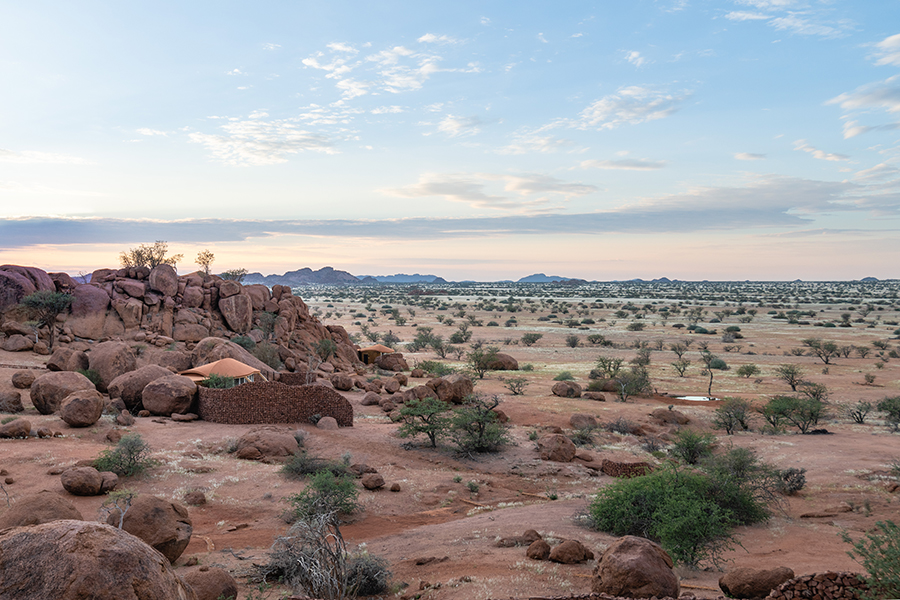 Namibia's northwestern region of Damaraland sits sandwiched between the Skeleton Coast and Etosha National Park. The remote region is special for its ancient natural history, culture, and geology. Vast gravel plains, flat-topped mountains, and clusters of granite outcroppings create a rugged environment. This environment, for thousands of years, has protected a number of rock engravings. The Damara people created the rock art, which dates back 6,000 years. Along with the San, they are thought to be the oldest inhabitants of Namibia.
The White Lady found at Brandberg is one of the most highly debated rock art findings. It's now generally agreed to be a bushmen painting dating 2,000 years ago. The rock art depicts what is assumed to be a ritual dance with several human figures, oryxes, and the "White Lady" which is the most detailed of the figures.
You can find even more ancient rock engravings nearby at Twyfelfontein, a UNESCO World Heritage Site that dates back to the Stone Age. There's more than 2,500 clear depictions of giraffes, cattle, rhinos, and lions alongside geometric markings making it the largest collection of rock art in Africa. It's believed that the San bushmen made the rock art at Twyfelfontein as many as 2,500 years ago.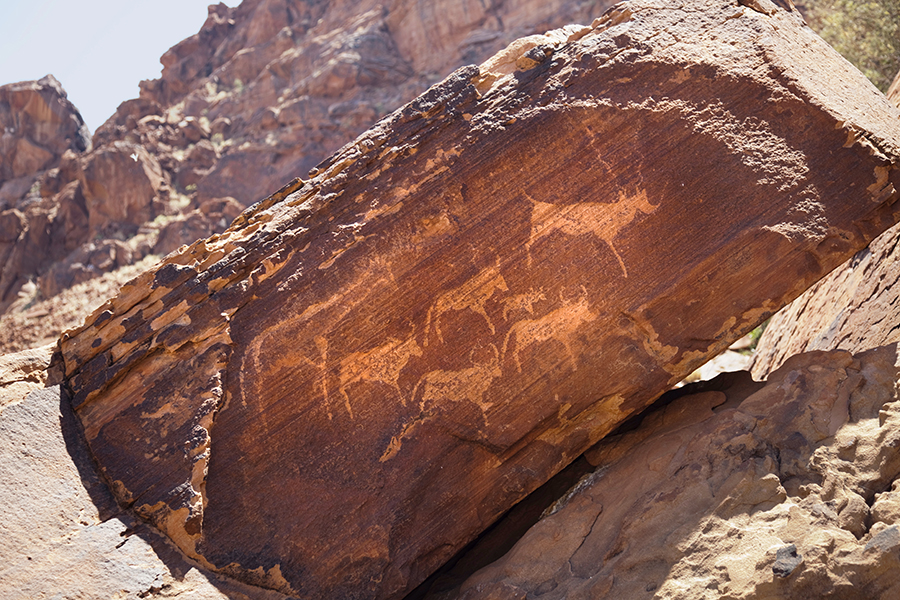 The Newest Safari Hot Spot
An advantage to traveling to the remote regions in Namibia is the personal, and often exclusive, nature of the accommodations. Newly opened (April 2021) Ultimate Safaris' Onduli Ridge is one such luxury outpost. Onduli Ridge, named for the resident giraffe in the area, is located in a private concession in the Doro !Nawas Conservancy in the heart of Damaraland. Situated at the base of two south-facing granite outcrops, the six suites sit nestled among the boulders. The camp's design therefore maximizes views of the striking landscape, including those of the Brandberg, Namibia's highest mountain.
Natural ventilation in the suites take advantage of Damaraland's temperate climate and the extraordinary natural beauty. Additionally, partial open-air bathrooms, louvered shutters, and a deck allows you to roll your bed out onto it for an afternoon siesta or an evening sleepout. Can you imagine falling asleep under Namibia's vast night sky covered in stars?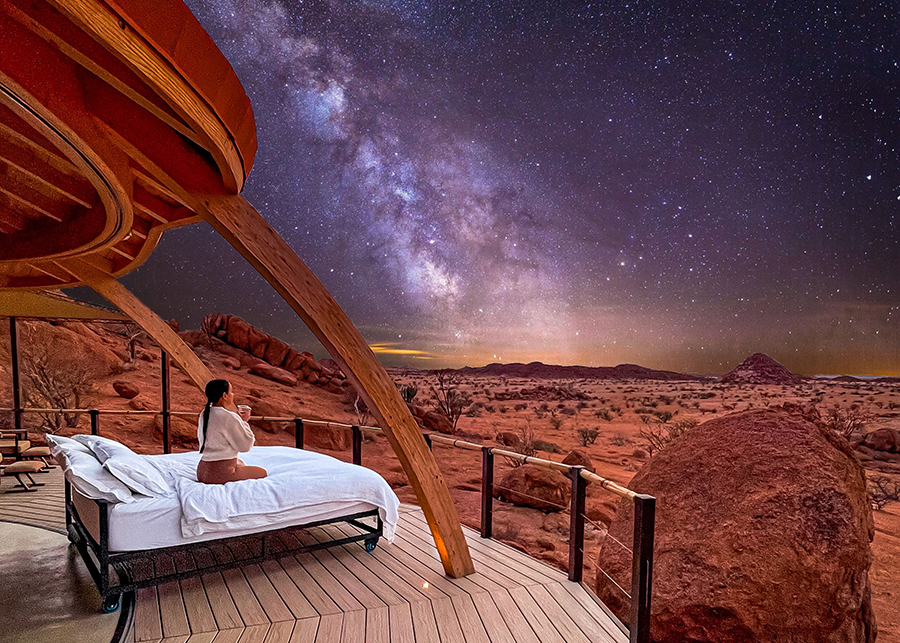 From Onduli Ridge, set off on 4×4 safaris in search of desert-adapted wildlife. Steenbok, kudu, baboon, and warthog all thrive in the area. It's even home to Africa's largest population of free-range rhinos. But the biggest draw to the remote region is the desert-adapted elephant and lion, who against all odds, have found a way to survive in the desert environment. These elephants can even go four days without water. You can even get out of the vehicle and explore the area on foot.
You'll want to stay for at least four nights so that you have time to not only explore the nearby geological sights like Twyfelfontein, Burnt Mountain, Organ Pipes, and Doros Crater, but you can also join in on tracking the desert-adapted elephant and rhinos.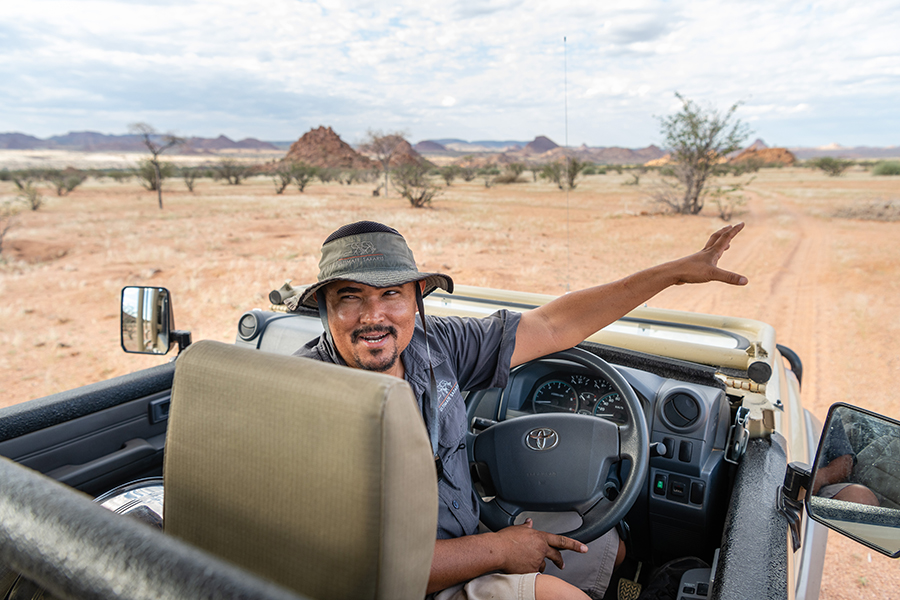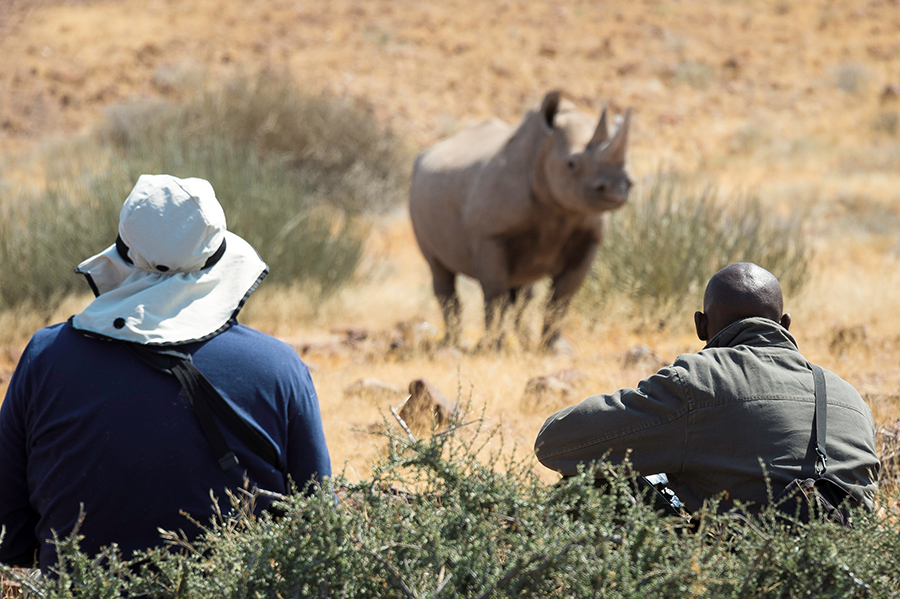 Conservation Chronicles
Like so many of the destinations we travel to, the communities and conservation projects in Namibia and Damaraland depend on tourism dollars. While the regular stream of tourism-related financial support has been slow to recover, Ultimate Safaris rallied with corporate companies, Namibian businesses, trade partners, past guests, and armchair conservationists to raise funds through the Conservation Trust Foundation. Because of their efforts, they were able to invest USD $765,000 to a variety of causes and projects. These included support for rural schools and scholarships and a community food security project.
Additionally, they invested USD $103,000 for two rhino relocations to Doro !Nawas and Huab Conservancies. They also provided assistance for researchers' salaries for the AfriCat Foundations and invested USD $162,000 for human and wildlife conflict mitigation efforts.
While the world was in lockdown, they produced a conservation travel series of 66 episodes called the "Covid Chronicles." It documented real-time, behind-the-scenes life of active conservation in Namibia. Episodes took viewers on adventures following the anti-poaching unit at Ongava. It therefore allowed viewers to get up close to a pangolin, and even the capture and relocation of giraffes.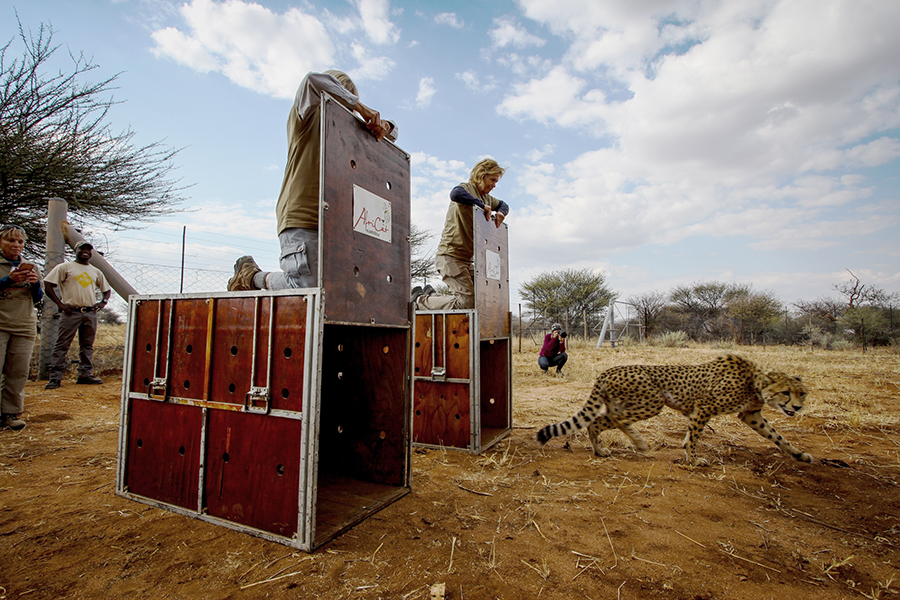 Onduli Ridge with Ker & Downey
You can easily access Onduli Ridge from Windhoek by air. It has its own private airstrip approximately 20 minutes by safari vehicle from the lodge. For a larger exploration of Africa, consider our Grand Tour of Southern Africa itinerary. It includes a stay at Onduli Ridge with time spent in South Africa, Zimbabwe, and Botswana as well. Or, if you'd like to spend more time in Namibia, consider combining it with a stay at Camp Sossus in the Namib Tsaris Conservancy in the south and Ongava Lodge just outside Etosha National Park in the north.
Start planning your journey to Onduli Ridge in Namibia with Ker & Downey. Our team of designers are at their best when crafting a journey unique to you. Contact us today to start planning your next getaway. Meanwhile, for daily travel inspiration, follow us on Instagram and Facebook.