All I Want for Christmas
As Seen in QUEST Magazine
Spanning France, Germany, Belgium, and Austria, some of our favorite European Christmas markets are those found off the beaten path.
By Elizabeth Frels
European Christmas markets conjure up a magical scene: ancient UNESCO city centers, lined in sparkling lights and wooden stalls, playing host to a copious amount of glühwein and general handcrafted merriment.
It's a scene out of a fairy tale and something that we would encourage everyone to experience at least once in their lifetime.
While our preferred markets reside outside the typical tourist circuit, this isn't to say that you should miss the colossal Christmas crèches of holiday hubs like Paris, Brussels, Munich, or Vienna — it just means you should take time to jaunt to these nearby quieter towns where the festivities are at their most intimate.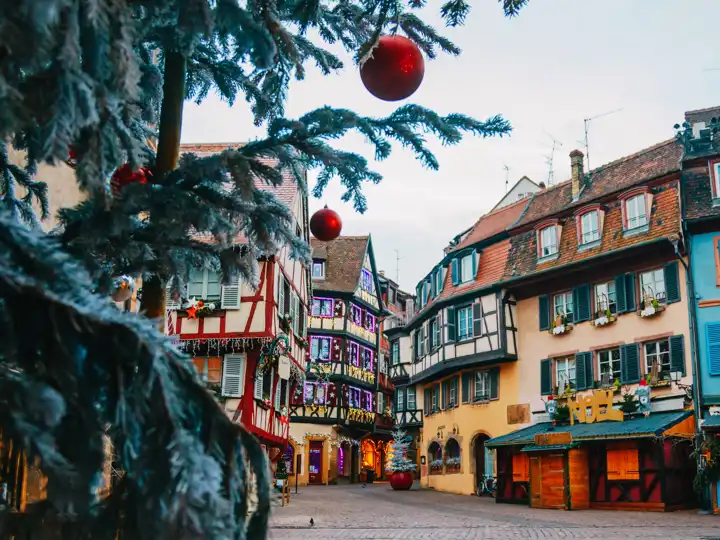 Colmar, France
Cozier and quainter than its popular Strasbourg neighbor, Colmar is the true gem of Alsatian Christmas. The storybook, pedestrian-only city center is filled with colorful timbered houses and meandering waterways decked out in garland and twinkling lights. The locals participate in a convivial decoration contest each year, and you can rest assured that everyone brings their A-game. You won't find any commercialized goods in the six different markets either — only the finest artisans display their wares here, ensuring a truly authentic and unique shopping experience.
Don't miss: The region's traditional bredala cookies. The spiced treat dates back to the Renaissance.
Closest hubs: Strasbourg (30 minutes by train) and Basel (1 hour by train)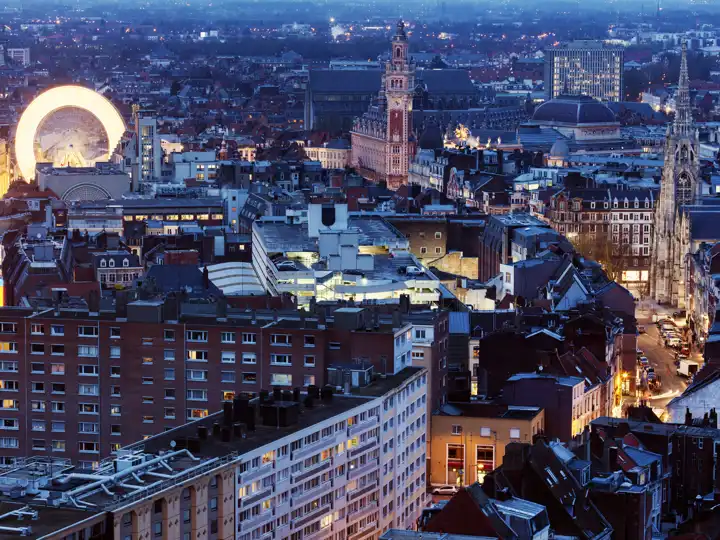 Lille, France
The Marché de Noël of Lille in northern France is the definition of a Christmas dreamscape. Wooden chalets circumvent a massive Ferris wheel and 60-foot high conical Christmas tree in the main square, while window displays of animatronic scenes of polar bears and penguins dance outside the Opera House. The Gallic flavor is in full force here, with vin chaud complementing stalls of nosh and nostalgia. When dinner consists of cured meat, perfected raclette, and life-changing Belgian waffles smothered in speculoos, you know that Christmas has arrived in Europe.
Don't miss: The sausage monger, who dishes out every variation of cured deliciousness, from mushroom to Roquefort.
Closest hubs: Paris (90 minutes by train) and Brussels (1 hour by train)
Liège, Belgium
Liège is Belgium's eclectic college town and there is no better representation of its inherently indulgent culture than the annual Village de Noël Christmas market. The largest and oldest Christmas market in the country, this multi-square concentration of enchantment attracts more than two million visitors per year … and for good reason. Surrounding the central ice rink full of uniformed school children on their postday outings are approximately 200 wooden chalets offering everything from culinary specialties to kitschy souvenirs. Mounds of candy? Check. Waffles galore? Double check. Row upon row of festive bars? Triple check. This is one city always ready for a feast, and its amaretto-spiked mulled wine and signature shots of Peket ensure that the Christmas spirit is full of just that: spirits.
Don't miss: A taste of Liège's signature Peket spirit.
Closest hubs: Brussels (1 hour by train) and Cologne (1 hour by train)
Brugge, Belgium
Medieval Brugge is an idyllic, ancient Flemish city with adoringly preserved architecture and lovely cobblestone streets where the only traffic comes in the form of feet and bicycles. One could spend days simply meandering the streets and popping into the vast array of artisanal chocolate shops. The Christmas market, too, is one of the most famous in the country and features stalls on both the main Market Square and Simon Stevinplein nearby. Ice rinks lined in white-light trees and cozy carriages pulled by strong, timber horses only add to the picturesque atmosphere known for its excellent moules frites menus, upstairs tearooms, and did we mention chocolate?
Don't miss: The many Belgian chocolate shops, all of which are generous with their samples.
Closest hubs: Brussels (90 minutes by train) and Antwerp (90 minutes by train)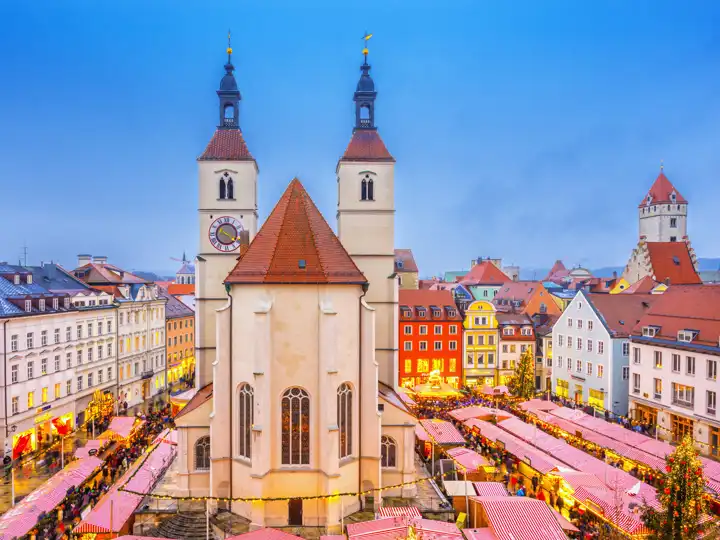 Regensburg, Germany
Sometimes referred to as the most northern Italian city, the romantic confines of Regensburg are the perfect canvas for Christmas pageantry. The UNESCO-protected Old Town is the best-preserved medieval town in all of Germany, making your winter wanderings feel like a step back in the time. The Christmas market exceeds all expectations with its roasted chestnut scents and royal setting on the doorstep of St. Emmeram Castle.
Don't miss: The oldest sausage kitchen in the world, Historische Wurstküche, which dates back to the 12th century.
Closest hubs: Munich (90 minutes by car) and Nuremberg (1 hour by train)
Innsbruck, Austria
Innsbruck is where to go for truly jaw-dropping beauty. The town lies at the foot of the towering Tyrolean mountains and the view of their white-capped peaks — coupled with the enormous Swarovski Christmas tree next to the city's famous "Golden Roof" building with its 2,657 gilded copper tiles — makes this destination one of the most memorable market stops. The Old Town market (appropriately dubbed "Fairy Tale Alley") boasts the same historic splendor as Vienna, but with the added enchantment of the snowy Alpine setting. For the ultimate adventure, be sure to take a funicular ride up to the mountaintop Hungerburg Christmas market for panoramic views and additional shopping.
Don't miss: Kiachl, a Tyrolean-style doughnut with apricot marmalade, nutella almonds, and dark Austrian bread smeared with raclette cheese.
Closest hubs: Munich (2 hours by car) and Salzburg (2 hours by car)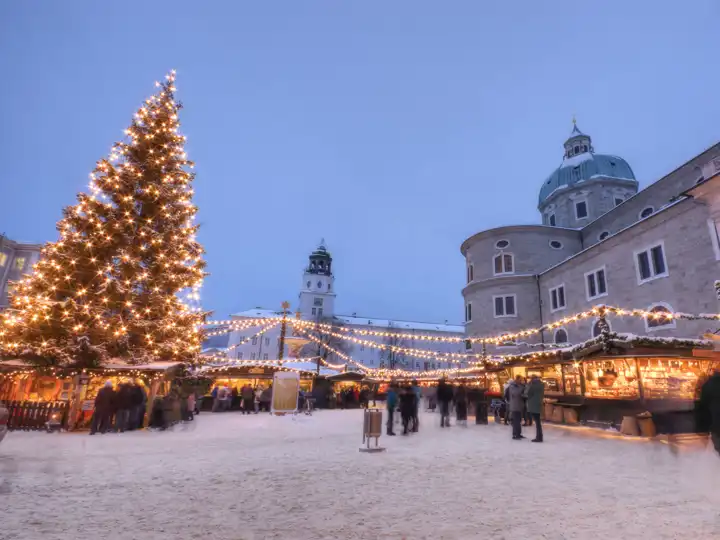 Salzburg, Austria
Salzburg is where you splurge on the horse-drawn carriage. A beautiful destination year-round, this jewel of a city really reaches its prime over the holidays. Allow your carriage to unveil the magical cobblestone streets of Old Town, a UNESCO World Heritage Site, while you sip on a steaming cup of glühwein and nibble on kletzenbrot. Refreshingly uncommercial, the Christkindlmarkt at Residenzplatz and the SternAdvent market at Stern Brau display some of the finest Austrian handicrafts alongside musical merriment: you are invited to lend your talents to the caroling sing-along choir on Tuesdays and listen to the traditional wind ensemble perform on Thursdays and Saturdays. It is the city of Mozart, after all!
Don't miss: The blue-foiled mozartkugel ("Mozart balls") made with marzipan, pistachio, nougat, and dark chocolate. Known worldwide, these chocolates are often mass-produced elsewhere, but they're still created by hand in Salzburg where they were originally conceived in 1890.
Closest hubs: Munich (2 hours by train or car) and Vienna (2 hours and 30 minutes by train)
Plan your European Christmas Markets Trip
Are you ready to plan a fairytale-like Christmas holiday? Contact your Ker & Downey travel designer to begin creating your own custom trip. For further inspiration, follow us on Facebook, Instagram, and Twitter.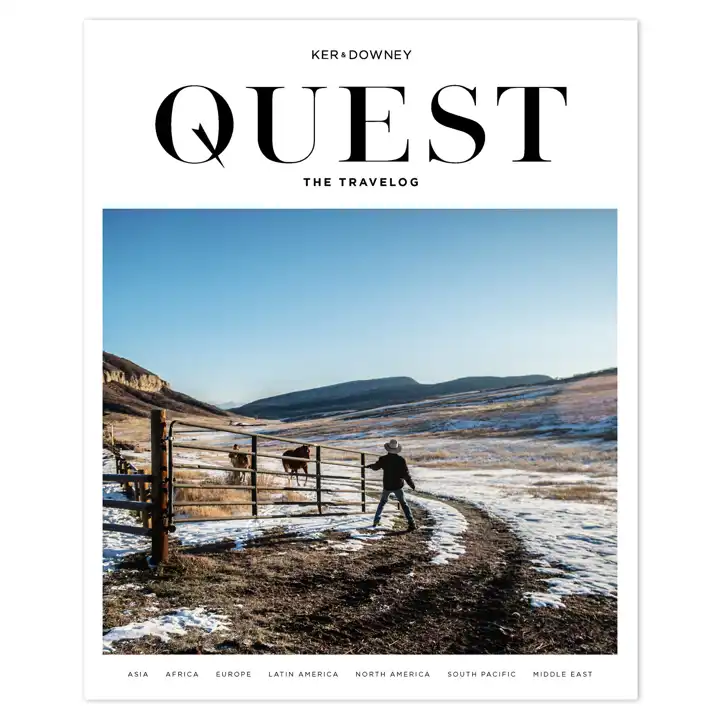 The Travelog
Quest Magazine
Dedicated to the experiential style of Ker & Downey travel, QUEST Magazine features eye-opening content that focuses on unforgettable experience, unheard-of destinations, and the very best our world has to offer. Each issue is packed with insider information, what's new in the world of travel, and editorial pieces that focus on our global culture, philanthropy, and transformative travel.
Read Issue 12