Mediterranean Marvels
12 Days/11 Nights
Greece and Malta


Jewels of the Mediterranean
Embark on a stunning 11-night luxury Mediterranean tour to Greece and Malta with Ker & Downey. The Greek Islands boast a tapestry of myth, legend, and history woven together at the geographical crossroads Europe, Asia and Africa. As such, islands such as Santorini and Mykonos come blessed with a wealth of white sand beaches, sun-bleached ruins, cobbled footpaths, aquamarine coastlines, and bountiful olive trees. Nearby, the tiny island of Malta is a lesser-known jewel with an equally rich history and ancient ruins to rival those in Greece. Combine these countries for a perfect seaside getaway with Ker & Downey.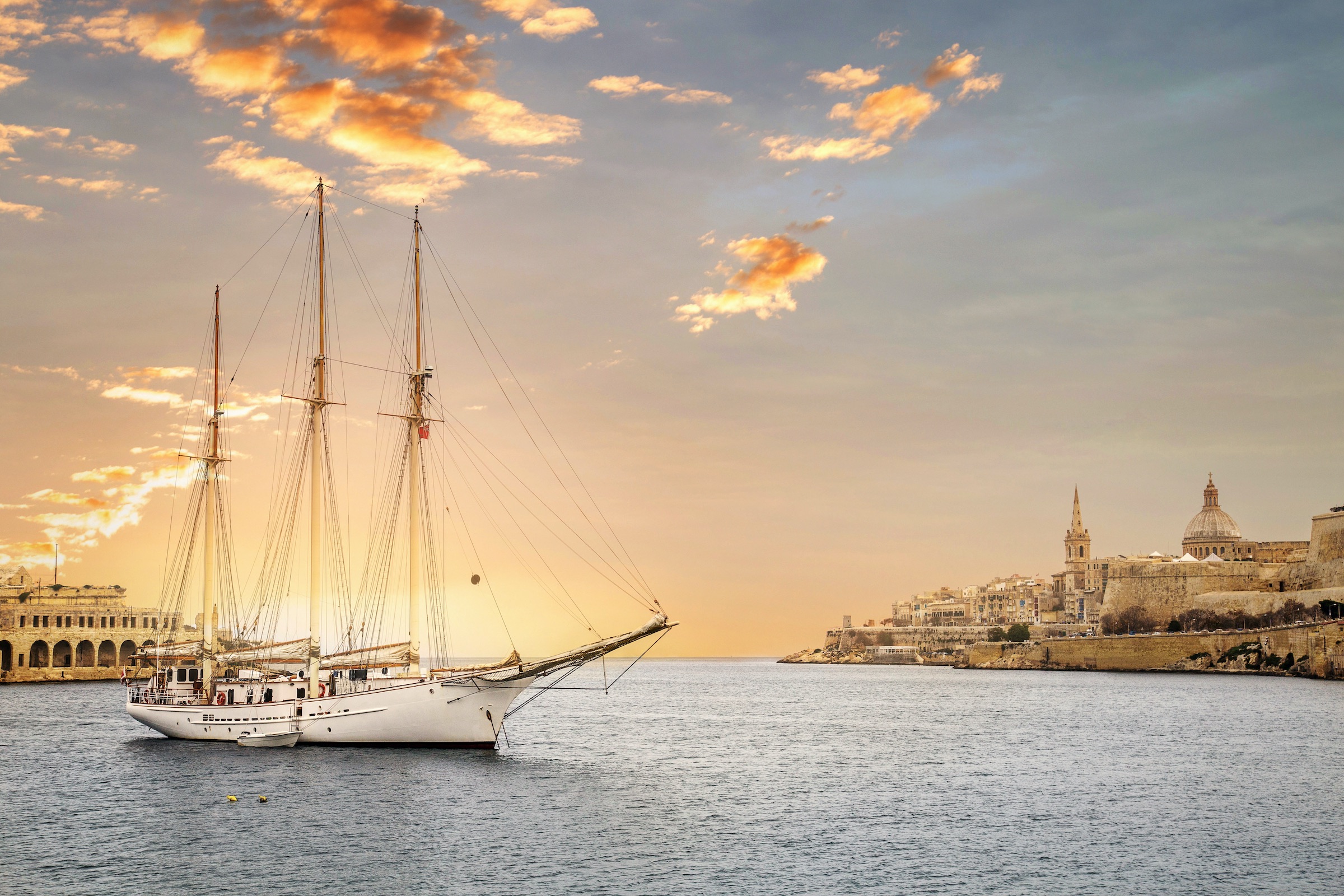 Your luxury Mediterranean tour to Greece and Malta first begins in the ancient capital of Athens. During your two days here, you will witness the unique blend of past and present alive in its streets. Stops include the UNESCO World Heritage Athenian Acropolis, the Hephaisteion temple, Hadrian's Library, the Roman Agora, and the New Acropolis Museum. Guided by an expert, you will then explore the traditional markets and authentic character of Athens' many picturesque neighborhoods. While here, stay in Hotel Grande Bretagne, a heaven of uncommon grandeur and service. From the iconic Greek pillars to romantic views of the Acropolis, its enchanting location within walking distance of the capital's best offers a palatial ambience from which to explore the city. After acclimating to the relaxed pace and embracing the famous Greek joie de vivre, it's time to island-hop.
The next destination on your tour through Greece and Malta is none other than the chic island of Santorini. Its amazing views, romantic atmosphere, mysterious sunsets, and whitewashed houses are perhaps best encapsulated at Canaves Oia. While it will be difficult to tear yourself away from your cliffside suite, you will not want to miss all that is in store. Taste award-winning wines at a local winery, wander through the scenic paths of Oia, and dine under the stars. Additionally, visit smaller islands via your private yacht on the Aegean Sea. A highlight here is Folegandros, a jewel-box island dubbed by locals as the "Island of Peace" that has become fashionable to international jetsetters. Despite this reputation, it is still an untouched piece of true Greece.
After soaking in the beauty of Santorini, continue your luxury Mediterranean tour in Mykonos. Explore its most iconic sites: giant whitewashed windmills and chapels scattered along the countryside, divine sandy beaches, unique Cycladic architectural style, and cosmopolitan nightlife. From your waterfront bungalow at Mykonos Blu, capture the essence of the blue oasis that is Mykonos. Orient yourself with the most famous beaches and architectural marvels of the island with a guided tour. Then set off on a private boat excursion in search of some of the more pristine, off-the-beaten-track beaches and snorkeling spots. If you are inspired to break away from the beach, take a day cruise to Delos. While here, visit one of the most important mythological, archaeological, and historical sites in Greece.
Your Greece and Malta luxury tour finally concludes in Malta. Known as the "Jewel of the Mediterranean", the Maltese Islands — though small — boast some of the best sites and views on planet earth. Upon arrival, go for full immersion upon arrival with an exclusive cooking class and dinner in a private home. Then step into the quiet luxury and impeccable style of boutique luxury hotel accommodations at Palazzo Consiglia. A walk through the rolling countryside will take you from St. Thomas Bay to the Delimara Lighthouse and ends at the Marinisi Estates of Marsovin Winery, complete with a picnic lunch. You'll also encounter local artisans in the gilding studios of a Maltese clockmaker and explore the cities of Rabat and Mdina.
On your final day in Malta, set out on a half-day tour of the capital city of Valletta, where a veritable treasure trove of monuments, art, and a buzzing culture await. For the grand finale of your morning, visit to St. John's Co-Cathedral, arguably the most important site in Valletta and the mother church of the Knights of St. John. Wander and linger at your leisure for the rest of the afternoon. And end your trip on a high note, with private sailboat dinner cruise through the Grand Harbor of Valletta.
Book a Greece and Malta Luxury Tour
Contact a Ker & Downey Travel Professional to personalize your own Greece and Malta Luxury Tour, and read more about the seasonality and pricing in Southern Europe. For even more travel inspiration, follow us on Instagram, Facebook, and Twitter.