Luxury by the Aegean
17 Days / 16 Nights
Greece and Turkey


Luxury Honeymoon
On this epic Turkey & Greece luxury honeymoon, Ker & Downey uncovers the finest luxuries found along the Aegean. No matter where you go, the water will always follow… from your private cruise through the Bosphorus and your many waterfront luxury accommodations in Turkey, to the quintessential beauty found on Greece's two most romantic islands: Santorini and Mykonos.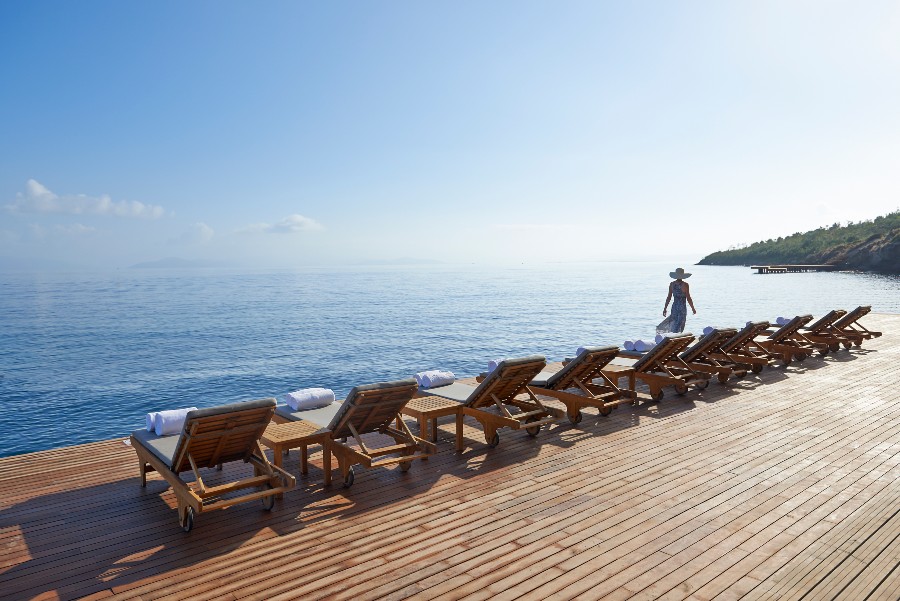 Day 1 - 2: Istanbul
Your Turkey & Greece luxury honeymoon first begins in Istanbul. As soon as you arrive, you will be whisked away on your first introduction to the city: a private Bosphorus Cruise. Then enjoy a full-day tour of the city's highlights, including the Hagia Sophia, Hippodrome, Topkapi Palace, and the Blue Mosque. Your two-night stay will also provide ample time to wander through the Grand Bazaar, the largest and the oldest covered marketplace in the world.
Day 3 - 4: Kusadasi
Next, continue your Turkey & Greece honeymoon along Turkey's Aegean Coast. Your first stop is Kusadasi, where your luxury accommodations tower over the sea. You will have two days to explore the region with your private guide. Visit Ephesus and the Ephesus Museum, and sail to the nearby Greek Island of Samos. Additionally, receive a taste of village life with an intimate lunch in the first village in Turkey to implement eco-agriculture.
Day 5 - 6: Alacati
Next, continue your romantic journey north to Alacati. This Aegean Sea coastal town boasts some of the world's most famous windsurfing beaches. En route to Alacati, tour Izmir — the "Pearl of the Aegean" — and visit Cesme's castle and city center. Two nights in Alacati offers plenty of time for you to relax along the beach and explore the historic stone houses found here.
Day 7 - 8: Bodrum
Finally, conclude the Turkey portion of your luxury honeymoon in Bodrum. Your luxury beachfront resort accommodations offer an idyllic place for pampering. Indeed, it might be difficult to tear yourself away from the legendary Turkish hospitality and opulent amenities found here. However, you will still enjoy a day of exploration with your guide, visiting the famous castle, theater, and mausoleum of Bodrum, and taking a spot of lunch in Gumusluk.
Day 9 - 10: Athens
It is time to continue your Turkey & Greece luxury honeymoon in Greece. Begin first in the country's capital of Athens, where your luxury accommodations promise impeccable grandeur and service. From here, you will have a full day to tour the city with your private guide. Start with the most important sites of the city, including the Acropolis and the Acropolis Museum. Then explore the markets and neighborhoods of Athens, such as Plaka, Anafiotika, and Monastiraki. Finally, set out by private vehicle to see the remaining highlights: the Panathenaic Stadium, Megaron Concert Hall, National Library, and Omonoia Square, to name a few.
Day 11 - 13: Santorini
A Greece luxury honeymoon would be incomplete without a stop in beautiful Santorini. As such, your multi-villa hotel in Oia offers a Zen-like sophistication and discrete luxury for its visitors. Over three nights, get to know this charming island in depth. Begin with a half-day tour to the best vantage points and lesser known villages around the island. Then follow your experience with a visit to one of the island's traditional wineries for a tour and tasting. Finally, set out by private yacht to the nearby island of Folegandros, or the "island of peace." Visit the island's amazing beaches — only accessible by boat — and return in time to catch the famous Santorini sunset from the caldera.
Day 14 - 17: Mykonos
Your Turkey & Greece honeymoon concludes on Mykonos. Your luxury hotel and beach resort accommodations provide the perfect ambiance for the final leg of your trip. Over three days, get to know both the iconic and the lesser known parts of Mykonos. Start with a private tour of Mykonos town, visiting its famous port, churches, and windmills. Afterwards, explore the island by vehicle to see more of its charms — highlights include a stroll through Ano Mera and some relaxation at Kalafatis beach. An entire day has also been set aside for a bit of beach hopping aboard a private yacht. Armed with your captain's knowledge and recommendations, you will determine the day's activities. No matter the itinerary, you are guaranteed to uncover the prettiest harbors, quietest beaches, and best snorkeling spots. Perhaps consider a day cruise to Delos to complete your day at sea.
Book a Turkey & Greece Luxury Honeymoon 
Ready to experience Luxury by the Aegean? Contact a Ker & Downey Travel Professional to personalize your own Turkey & Greece Luxury Honeymoon, and read more about the seasonality and pricing in Southern Europe. For even more travel inspiration, follow us on Instagram, Facebook, and X.