Ionian Islands by Private Yacht
8 Days /7 Nights
An Ionian Islands yacht charter invites travelers to disconnect and immerse themselves in nature. From hidden beaches and waters teeming with sea turtles, to pretty harbor towns and delicious cuisine… rediscover the life's essence as you discover gems like Corfu, Zakynthos, Delphi, and Epidaurus by private yacht.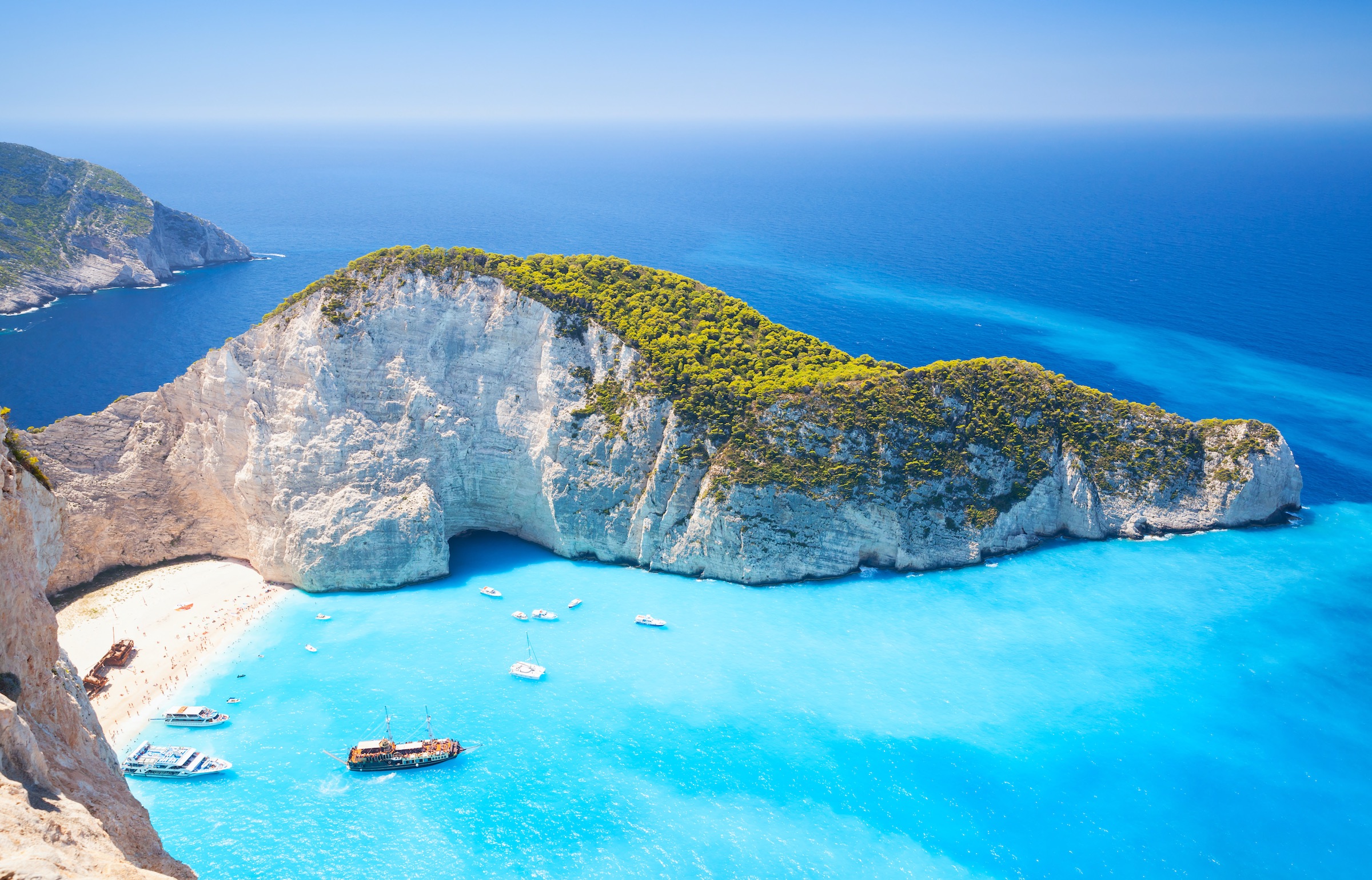 Begin your Ionian Island yacht charter in Corfu Town, a UNESCO World Heritage site. While here, visit the churches, castles, and fine museums and soak up centuries of history. Also, listen out for the marching bands – one of Corfu's special characteristics.
Although not an island, mainland Parga is a worthwhile stop on your discovery of the Ionian Islands by private yacht. Take photo after photo of the pretty town with its brightly painted houses jumbled on top of each other. Perhaps even go kayaking on the Acheron River, one of the five rivers of Hades. Visit the Paragaea Olive Oil Factory or the old Venetian Castle for stunning views. Finally, finish your day with sunset cocktails inside the Parga's Distillery.
Tiny Antipaxos is all about peace, quiet, and glorious beaches. Relax on soft golden sand and swim in clear blue and turquoise waters. Also go snorkeling to spot colorful fish, underwater rock arches, and caverns. Walk through the olive groves carpeted with wildflowers to the tiny village of Vigla, with its maze of narrow, walled paths. Watch the sunset from the yacht's jacuzzi, sipping champagne as total tranquility falls over the island.
Continue your Ionian Islands yacht charter on Cephalonia. Access Melissani Cave — home to the nymphs in Greek mythology — by boat and swim and snorkel in its emerald-green water. Head to milky-white Myrtos beach, and go hiking on Mount Ainos, a national park where deer and wild horses roam. Perhaps even explore the pretty fishing village of Fiskardo with its Venetian architecture. Finally, enjoy a delicious meal right on the harbor at Tassia, washed down with the local Robola wine.
The National Marine Park on Zakynthos provides protection for the 'Caretta-Caretta' loggerhead sea turtles and other incredible flora and fauna. Go diving within the park, and later stop off at Navagio Beach – one of Greece's most famous sites with its iconic shipwreck. Lastly, enjoy traditional cooking and live music known as kantades, the traditional songs of the Ionians.
Anchor your Ionian Islands yacht charter in Galaxidi. From there, visit the ancient ruins of Delphi, a UNESCO World Heritage Site. The ruins of the Temple of Apollo can also be seen, dating from 586BC and including an amphitheater and hippodrome. There are also many preserved statues of athletes including the Charioteer of Delphi. For even more culture, take a private tour of the Archaeological Museum.
Pass through the Corinth Canal, an experience in itself. On arrival at Epidaurus, another significant ancient site, take in a performance in the atmospheric amphitheater. If you prefer, cruise on to Athens and enjoy Dinner in the Sky, suspended over the city, or stay grounded at a Michelin starred restaurant.
Wake up in Athens – at the heart of Ancient Greece. The city is still dominated by 5th-century BC landmarks, including the Acropolis. Take in as much and as many as you can before your flight home or prolong your holiday at a luxury hotel in this vibrant and historical city.
Book a Ionian Islands by Private Yacht Journey
Ready to Greece's dreamy islands? Contact a Ker & Downey designer to customize your own journey. Choose additional countries and destinations, change property selections, add activities, tours, and more. With Ker & Downey, the choice is yours. Read more about the seasonality and pricing in Greece.