Secret Cyclades
11 Days / 10 Nights
Greece


A Luxury Vacation Featuring Unrivalled Island Beauty
On this beautiful Greece luxury vacation, Ker & Downey highlights the smaller, more "secret" Cycladic Islands. Experience delicious cuisine, discover hidden paradises, and set off on private day-trip cruises on this Greece island hopping tour to Paros, Sifnos, and Milos.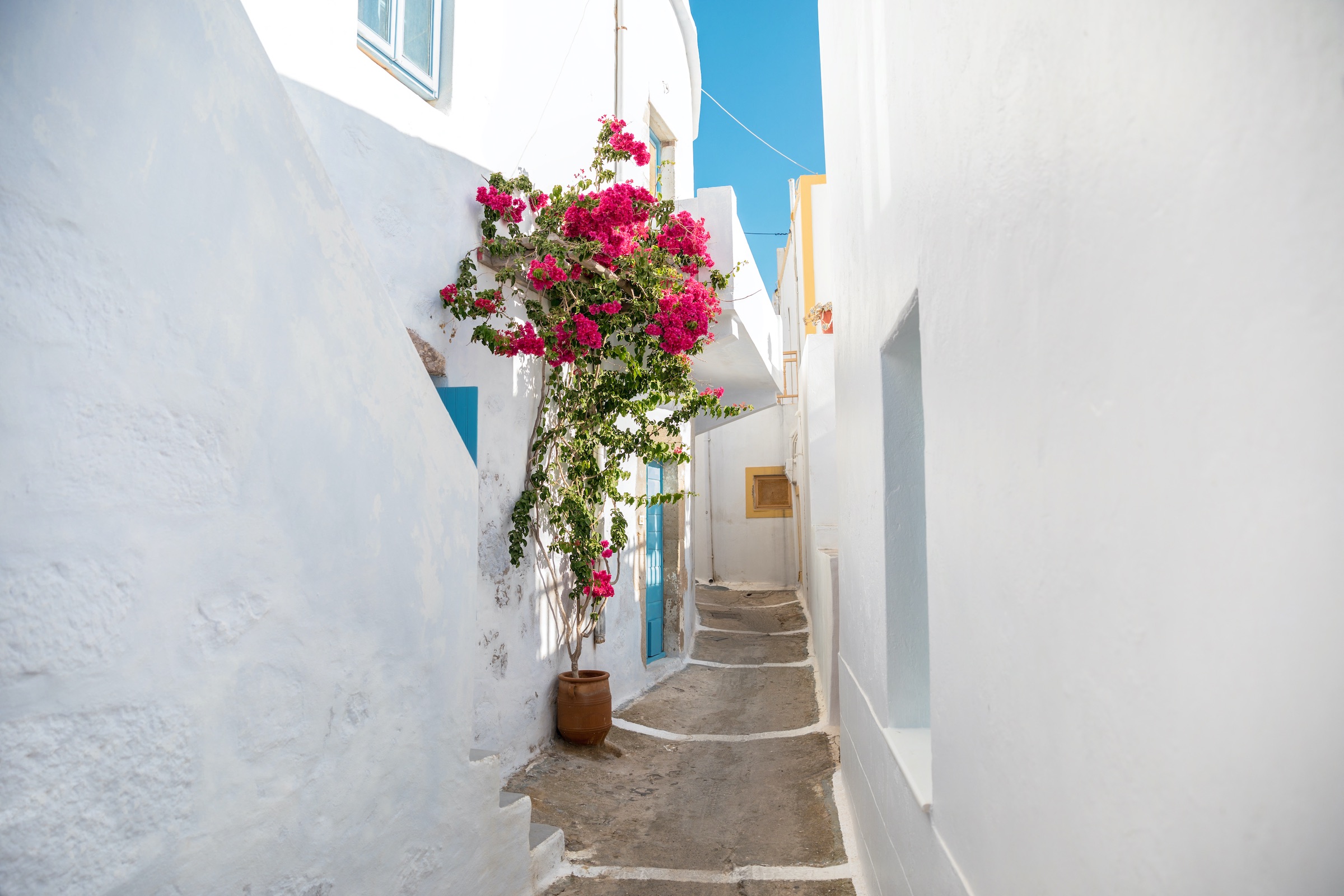 Your Greece luxury vacation first begins in Greece's ancient capital of Athens. Over two nights, experience the very best of the city. First, enjoy a privately guided tour of the Acropolis and the Acropolis Museum. Then enjoy a walking food tour of the city. Along the way, learn all about the tastes Athenians cherish and indulge in a plethora of appetizing sweet and savory local delicacies paired with local spirits, beers, and wines.
Next, continue your Greece luxury vacation on the island of Paros. Unrivalled natural beauty, crystal clear waters, bright white marble, iconic Cycladic architecture, and Byzantine footpaths connecting traditional villages make Paros a traditional, unassuming summer destination. Over three nights, explore the island by both land and sea from your luxury resort accommodations. First, set out on a private tour of nearby Naoussa, and indulge in a private wine tour and tasting at a century-old winery. The highlight of your stay, however, is a full day at sea aboard a private cruise to the Small Cyclades nearby. For instance, visit the peaceful islands of Schinousa and Koufonisia, and dine on fresh fish and seafood.
After soaking in the beauty of Paros, continue your Greece island hopping experience in Sifnos. You will not take the most direct path there, however. Instead you will enjoy yet another full day at sea, transferring from Paros to Sifnos in a private motorboat. Of course, there will be plenty of opportunities to stop at hidden islands, beaches, and coves along the way. Enjoy two nights on Sifnos, an island known for its many chapels and pottery and culinary traditions. As such, you will experience a hands-on cooking experience in a traditional Sifnos house. Prepare, taste and enjoy traditional Greek recipes with the help of the born and raised in Sifnos cook, who shares not only the secrets of the Sifnian cusine but also her love for traditions and local products.
Finally, conclude your Greece luxury vacation on Milos. The island is a true Cyclade: varied and unique beaches, crystal-clear waters, blinding light, and — above all — an unforgettable combination of endless blue and white. From your luxury resort accommodations, you will have three days to venture around the island. Begin first with a private full-day RIB boat cruise around Milos, Polyegos, and Kimolos. (Of course, Ker & Downey can customize any cruise to ensure you see the Small Cyclades on your bucket list.) On your final day, set out on an off-roading experience around Milos in a 4×4 vehicle. Highlights include Sarakiniko (Milos' renowned lunar beach), Papafragkas Cave, Agia Marina, Cape Vani, Empourios, and Agathia beach, where you can stop for some swimming and a picnic.
Book a Secret Cyclades Journey
Ready to experience the traditions and tastes of the Cyclades? Contact a Ker & Downey designer to customize your own journey. Choose additional countries and destinations, change property selections, add activities, tours, and more. With Ker & Downey, the choice is yours. Read more about the seasonality and pricing in Greece.