The Trend: Come Fly Away
As Seen in QUEST Magazine
Where to Fly Camp: An In-Tents Travel Experience for the Adventurous
The term 'fly camping' originates from the early days of African safaris. Explorers wishing to travel light packed just the outer sheet of a tent – called a fly sheet – and strung it up between trees for their shelter. The minimalist camping setup protects the safari-goers from the elements. In addition, fly camps move easily to the next stop on a safari.
Modern travelers are embracing fly camping for its low-impact ethos and the rare chance to completely disconnect from the world. There aren't any permanent structures, electricity, or cell phone reception. Today's fly camping experience is varied. Your shelter might be an actual tent with bucket showers. Alternatively, a mosquito net strung up over a bed roll provides protection. Either way, it is every bit as adventurous as those early days of safaris. Here is where to fly camp with Ker & Downey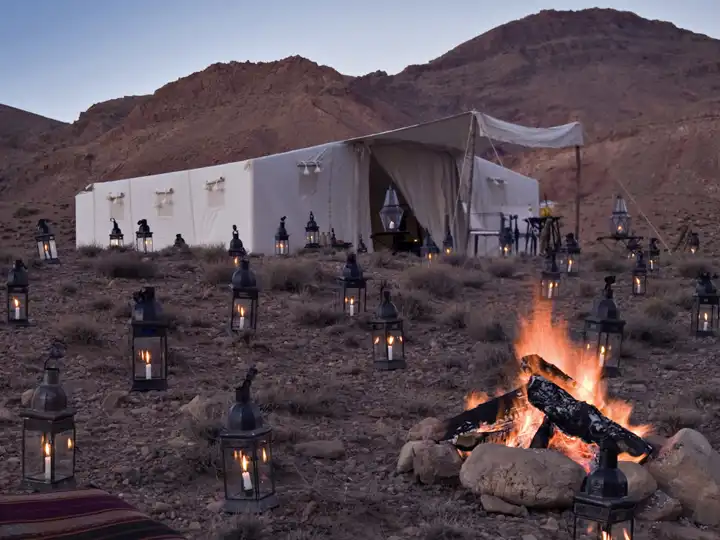 Desert Dreams
Dune's Camp at Dar Ahlam | Sahara Desert, Morocco
Swirling sand dunes surround you in the ancient salt lake of Iriki. The Sahara Desert is one of the best places to view the vastness of the starry night sky without any obstruction or light pollution. Your tent sits tucked away in the sands, fitted with traditional reed mats and Berber cushions, plus the luxury of an en suite toilet and sink. Climb to the top of the dunes for a sundowner and enjoy a traditional dinner by the fire at camp. In the morning, the first rays of the sun set the dunes ablaze setting the tone for your day of exploration in Morocco.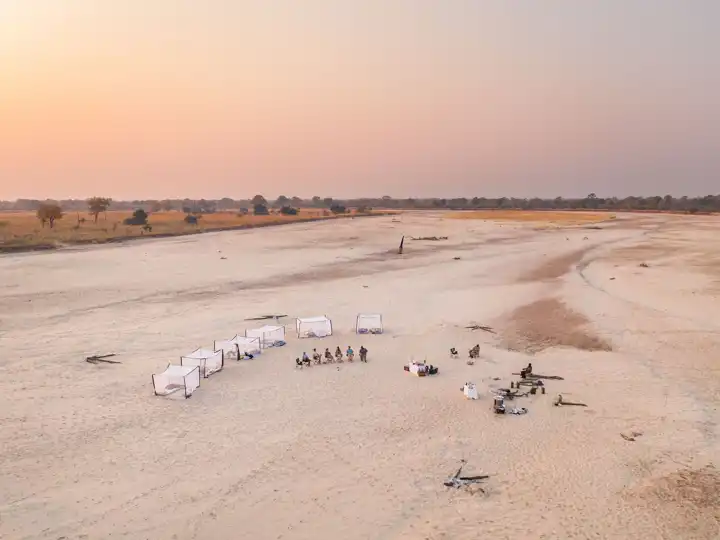 Under the Stars
Time + Tide King Lewanika | Liuwa Plain, Zambia
For those with a truly adventurous spirit, Time + Tide King Lewanika's Sleepout Under the Stars is an extraordinary experience. Guest connect with nature in a simple yet profound way with this overnight fly-camping safari. A cozy bedroll, bush loo, and a culinary team ensures this experience is as comfortable as it is memorable. Settle in to a chorus of African night sounds under a million twinkling lights in the sky. Then, listen for lion's distant roar across the plains. All of these experiences in Zambia combine to make this adventure like one of a true explorer.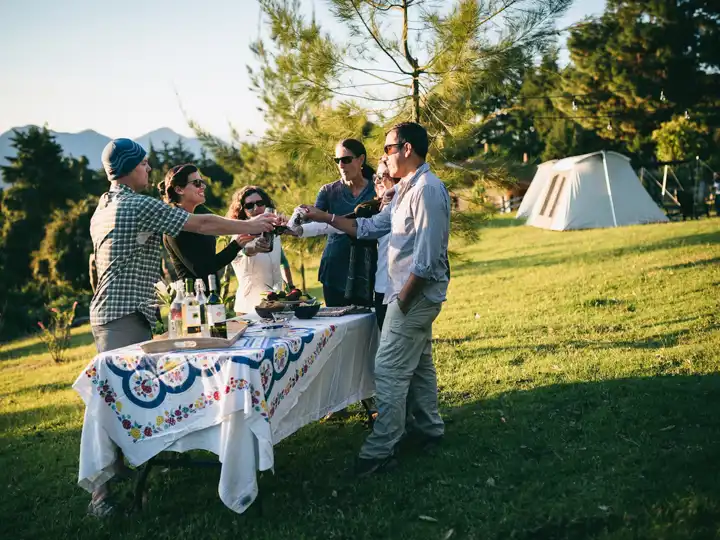 Aim High
Maya Community Trek | San Andres Iztapa, Guatemala
Combining the culture and nature of Guatemala with immersive trekking adventures, the Maya Community Trek spans three days throughout the communities of San Andres Itzapa. Active volcanoes and pine forests share the region with verdant agricultural fields and the shimmering waters of Lake Atitlán. You don't just pass through these wonders. Each new locale offers a chance to interact with locals, from the farmers in their terraced fields to receiving a lesson in traditional weaving and making blue corn tortillas. A trio of camps - Terra, Fuego, and Agua - are no-nonsense canvas-clad fly-camps to bed down and recharge along the way. The trip tops out at 9,040 feet above sea level. Look around. Your panorama includes six different volcanoes and the mesmerizing cloud forest.
Where to Fly Camp with Ker & Downey
Ready to go fly camping? These are just a few of our favorite picks on where to fly camp around the world. Contact a Ker & Downey destination specialist to start planning your experience. Additionally, for even more daily travel inspiration, follow us on Facebook and Instagram.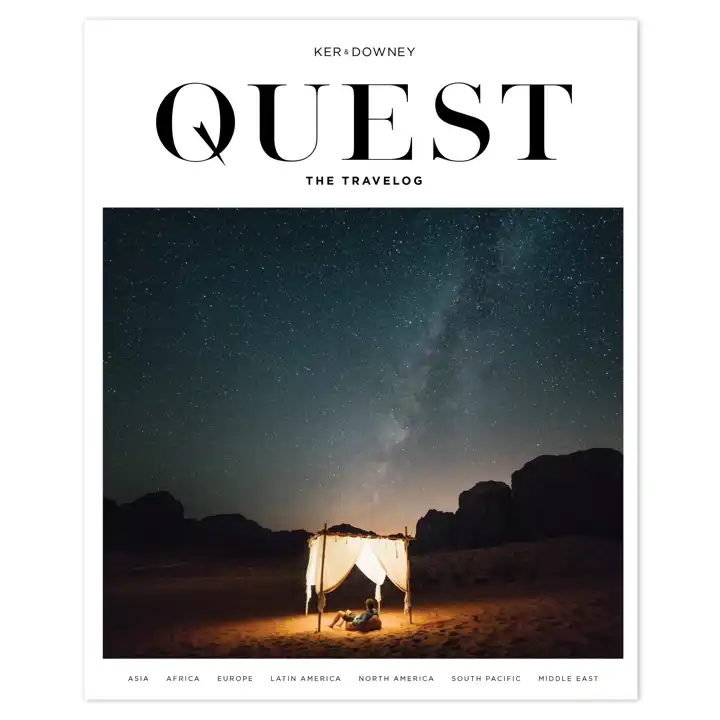 The Travelog
Quest Magazine
Dedicated to the experiential style of Ker & Downey travel, QUEST Magazine features eye-opening content that focuses on unforgettable experience, unheard-of destinations, and the very best our world has to offer. Each issue is packed with insider information, what's new in the world of travel, and editorial pieces that focus on our global culture, philanthropy, and transformative travel.
Read Issue 13