Trip to Morocco
Culture and Traditions in the Land of the Berbers
A country that has proven culture and tradition can sustain the test of time, a trip to Morocco is on our list of top experiential places to visit. From the nomadic Berber tribes to the vibrant city life, your journey through Morocco will leave you wanting more.
Take a Trip to Morocco
Morocco is an enigmatic country, at once ancient and modern, traditional and contemporary. A concoction of cultures - Spanish, French, Arabic, Berber – all share influence over the details that delight the senses on any given city street. It's a country so much bigger than a breezy piano bar fit for Humphrey Bogart, or a bustling square packed with performers and steaming food stands. While city life is vibrant, historic, and exciting, there is another world beyond the walls of the Medina.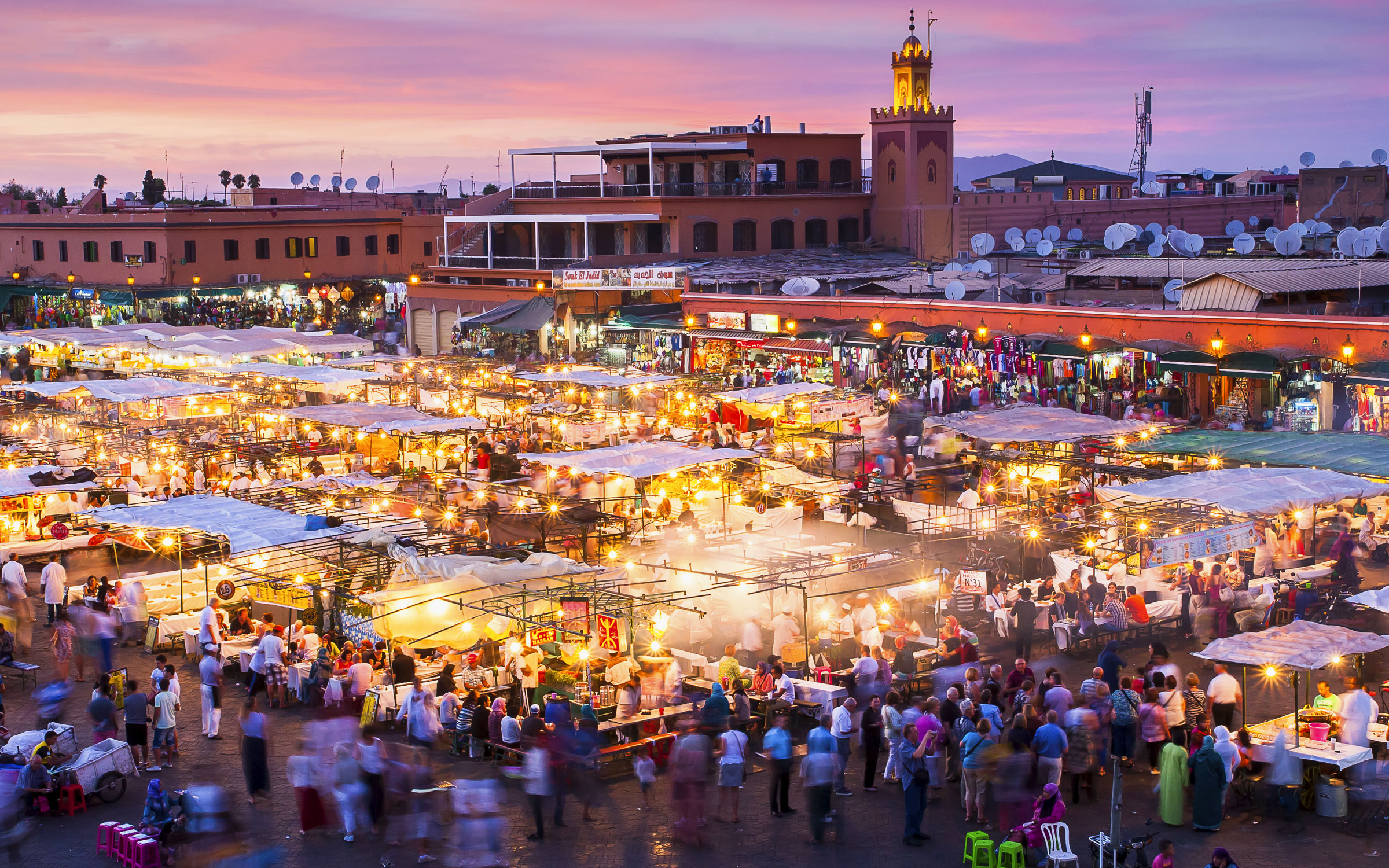 What to See and Do on a Trip to Morocco
No trip to Morocco is complete without a visit to the quieter side of the Atlas Mountains, where rock kisses sand and the Sahara begins its long stretch across the north of Africa. This range divides the country: to the north, the Mediterranean and Atlantic coasts with famous cities like Fes, Casablanca and the capital city, Rabat; to the south, vast open desert speckled with tiny oases and Berber settlements.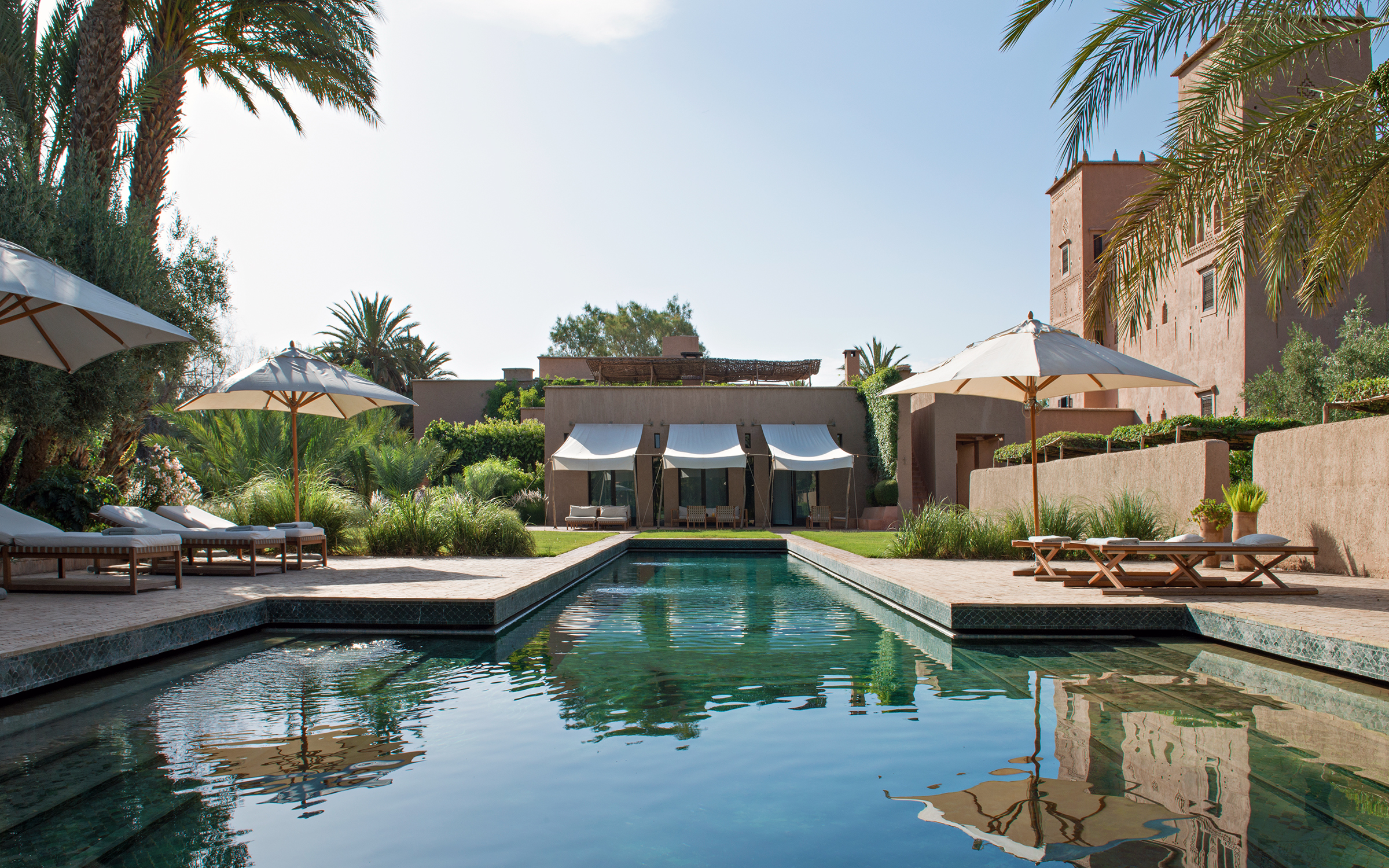 Where to Stay in Morocco - Dar Ahlam
Lush palmeraies dot the desert landscape, often surrounded by settlements and villages taking advantage of the rare waters. Located just outside Ouarzazate and sustained by the Skoura palmeraie is Dar Ahlam, a 19th century Kasbah built on what was once a sultan's hunting ground that has now been transformed into one of Morocco's most elite hotels.
"House of Dreams," as the hotel's name translates, is an understatement. Between your complimentary first massage in the secluded garden, peaceful desert picnics and thrilling mountainous treks, you may have to pinch yourself more than once. Elegant accommodations feature a refined modern décor with traditional touches and a variety of locally-handcrafted textiles. Discover an indulgent Hammam and treatments delivered by French-trained staffers at Dar Ahlam's spa. Gourmet cuisine of local meats and organically-grown produce is on offer. Dine in a new place each meal, like in the palm grovers on plush pillows under billowing tents. Or for something private, in the nooks in the main Kasbah. Each vignette is carefully created by the attentive staff.
Excursions to the Sahara 
This gracious abode is isolated, far from fast-paced civilization but close to the swirling dunes and endless sandy vistas. Head into the silent Sahara and partake in sundowners on the sands. Or rather, extend the experience with an overnight stay (at additional charge). Dar Ahlam creates a magical evening in the desert. Candles cascade down the dunes and surround the luxurious furnished tent. A roaring bonfire completes the scene.
Further excursions offer a chance to discover the Dadès and Draa valleys. Explore on four wheels. Or opt for an authentic desert trek on the back of a camel or mule. The Dadès River valley, also known as the Valley of the Roses, produces coveted flowers and rosewater for use in perfumes and products around the world. The valley flourishes ahead of the rose harvest each May, alive with color and intoxicating fragrance. Visitors in this area will also see Todra Gorge, a massive canyon chiseled by years of river flow. Sand and stone cliffs speckled with shrubs and grasses rise up to 1,200 feet above the shallow trickle of the Todra River.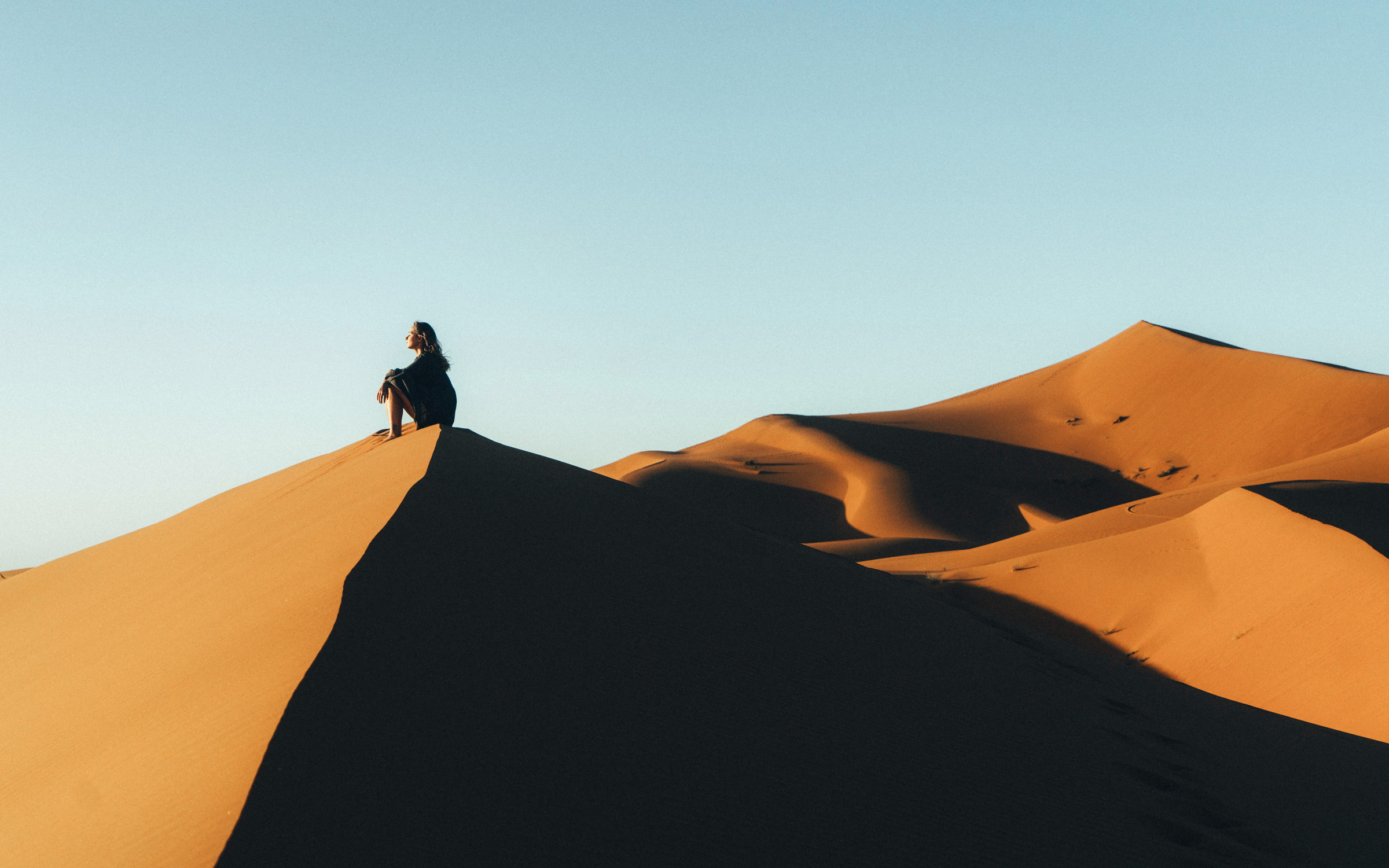 Land of the Berbers
Morocco's longest river, the Draa River, winds through the unforgiving rocky terrain bringing life to the endemic flora and tiny towns that have sprung up next to the flow. Life here currently is not unlike that of a millennium ago. Nomadic herders tend to sheep in the mountainous outcroppings, living their lives with few modern conveniences. For them, it may as well still be the Middle Ages. When traveling with Ker & Downey, you will meet these proud, simple souls and perhaps share a cup of tea in their homes within a cliffside cave. The Berbers possess their own language, style of calligraphy, and unaffected way of life. Unfortunately modernization and assimilation threaten it with each passing generation. Experiencing their modest hospitality may not be so easy in years to come.
Region of the Thousand Kasbahs
Here lies the Region of the Thousand Kasbahs - stone fortresses rising out of the sand. These Kasbahs were beacons for ancient travelers and safe havens from desert marauders. One Kasbah travelers may find familiar is Aït Benhaddou. The UNESCO World Heritage Site has been the filming location for several motion pictures. Nearby Ouarzazate, aptly nicknamed the "the Hollywood of North Africa", is home to a large studio and post-production facility. Ouarzazate's prime location on the cusp of the Sahara, coupled with low production costs and a supportive Moroccan government, makes it an attractive filming location. Producers of the 2010 blockbuster The Prince of Persia: The Sands of Time filmed for eight weeks in the Sahara. They even used over 3,000 Moroccans as extras. Gladiator, Jewel of the Nile, The Mummy and Lawrence of Arabia all employed local extras and craftsmen during their filming.
Today, Kasbah Aït Benhaddou is still home to a handful of Berber families. They continue to live and work in the city as their ancestors have for centuries past.
Tallatast
The desert side of the Atlas is best visited in the middle of a trip to Morocco, bookended by stays in Fes and Marrakesh. The rugged drive back over the range takes travelers through many small Berber villages. Here, travelers can purchase fine handcrafted wares as souvenirs. Most notable is the village of Tallatast, where traditionally-made pottery and goat breeding sustain the residents. Outreach programs funded in part by tourism revenue have helped to build a school that offers reading and writing lessons to residents of all ages. A venue was also built to help younger generations learn traditional weaving and crafting methods. This project also helps to improve the health and quality of life of the residents with hygienic and life skills education. The children will need this knowledge should they decide as adults to pursue a life in the cities.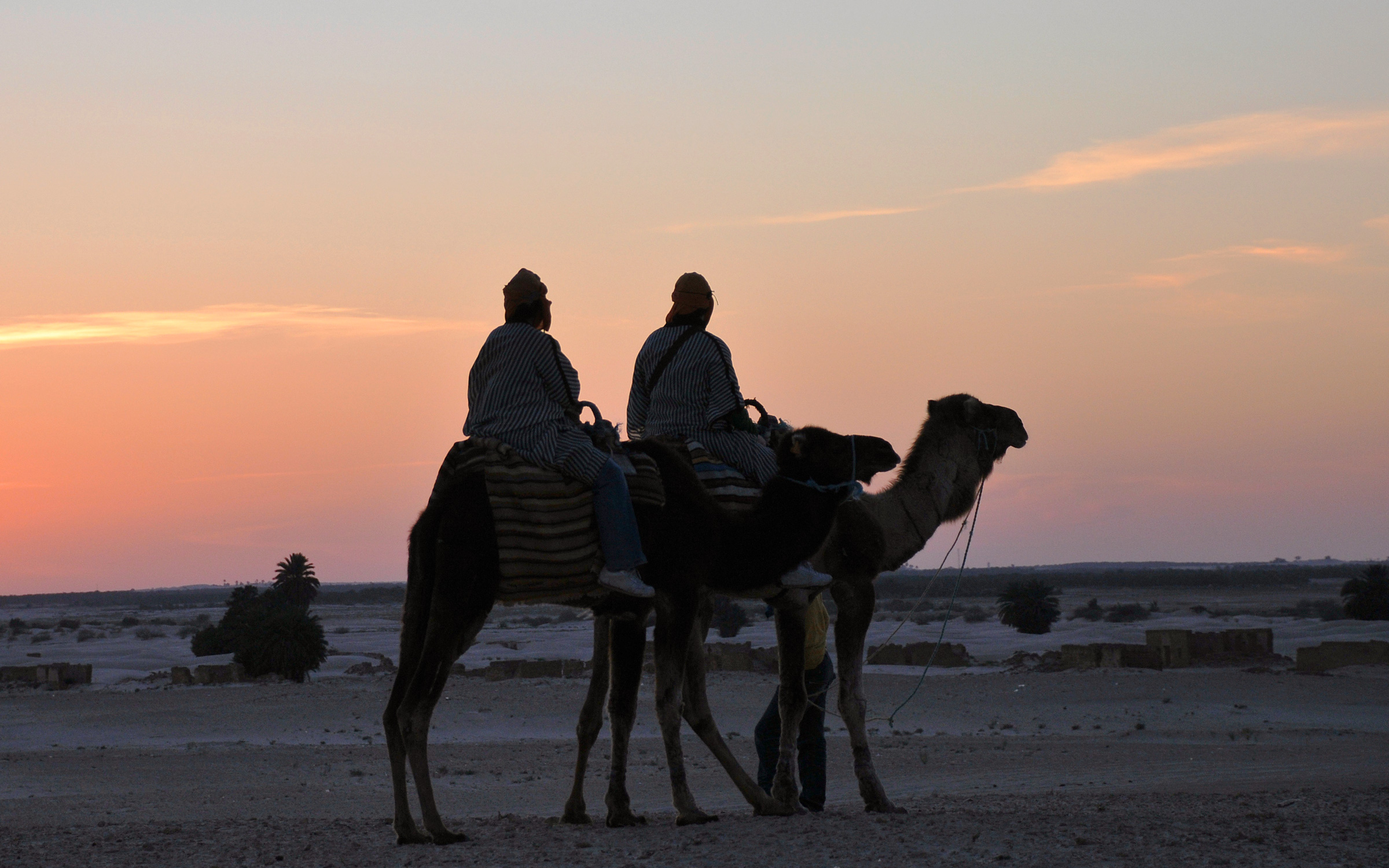 A Trip to Morocco with Ker & Downey
Ker & Downey designers are at their best when creating a journey unique to you. For more information about traveling to Morocco, contact your Luxury Travel Consultant. In the meantime, for daily travel inspiration, follow us on Facebook and Instagram.