Ker & Downey Nepal Mountain Lodges
Himalayas, Nepal
Ker & Downey Nepal's lodges are the premiere destinations for travelers wishing to trek Nepal at a leisurely pace and in total comfort. With excursions guided by local Gurkahs, Ker & Downey Nepal reveals the charm and allure of this mountainous kingdom as it was meant to be seen - on foot.
Ker & Downey Nepal Mountain Lodges Locations
This collection of Himalaya lodges is spread out within the Annapurna Conservation Area, separated by picturesque terrain and a moderate half-day hike. Each lodge offers a unique view and new perspective on the region, overlooking its hidden villages and shadowed by its towering peaks. Private baths with hot running water come standard in all of the guest rooms, with cozy blankets and down bedding warmed nightly by a hot water bottle.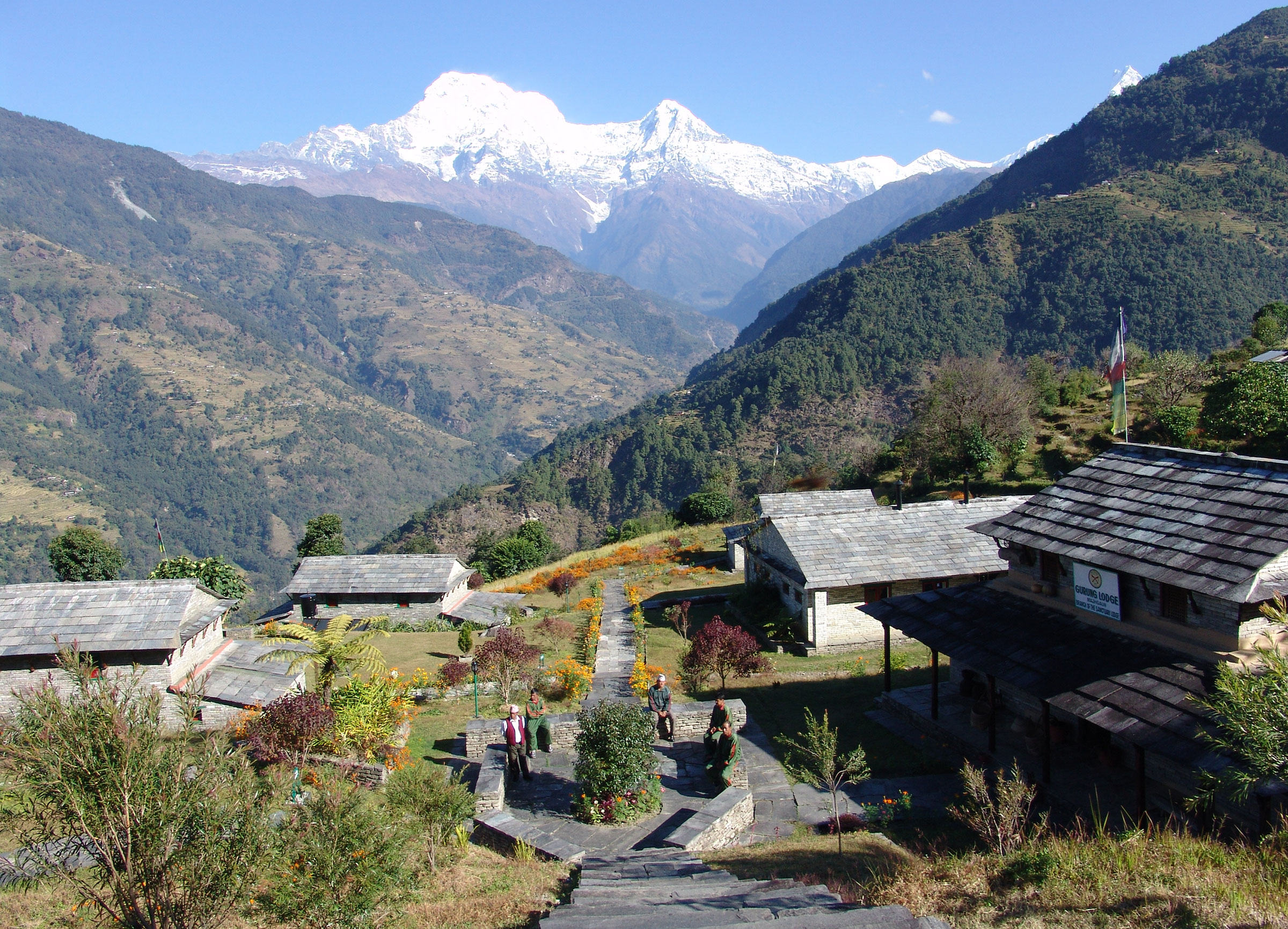 Himalaya Lodge, located at 6,560 feet, overlooks the slate-roofed village of Ghandruk, once a popular recruitment location for the Gurkha soldier regiments. Villagers today craft traditional hand-woven rugs as they have for generations, and also participate in ecological endeavors via the Annapurna Conservation Area Project.
Panoramic views of the Phedi and Mardi Valleys can be enjoyed at 4,920 feet from Basanta Lodge in Dhampus. Nearby activities include nature walks through thick forests of bamboo, conifer and rhododendron, as well as farming demonstrations on the steep hillside terraces.
Tribal-style houses and manicured gardens comprise Gurung Lodge on the edge of the village of Majgaun. Located at 4,620 feet, the views of the surrounding mountains and valleys are truly incredible and provide excellent photographic opportunities.
From its vantage overlooking the Modi River, Sanctuary Lodge is also afforded stunning views of the sacred Fishtail Mountain in the distance. This stylish lodge, located at 3,600 feet, was handcrafted by local artisans and enjoys a prime location on a promontory with half a mile of river front views. Travel to the nearby village of Birethanti to visit the local school and to watch mule trains journey across the river via suspension bridge.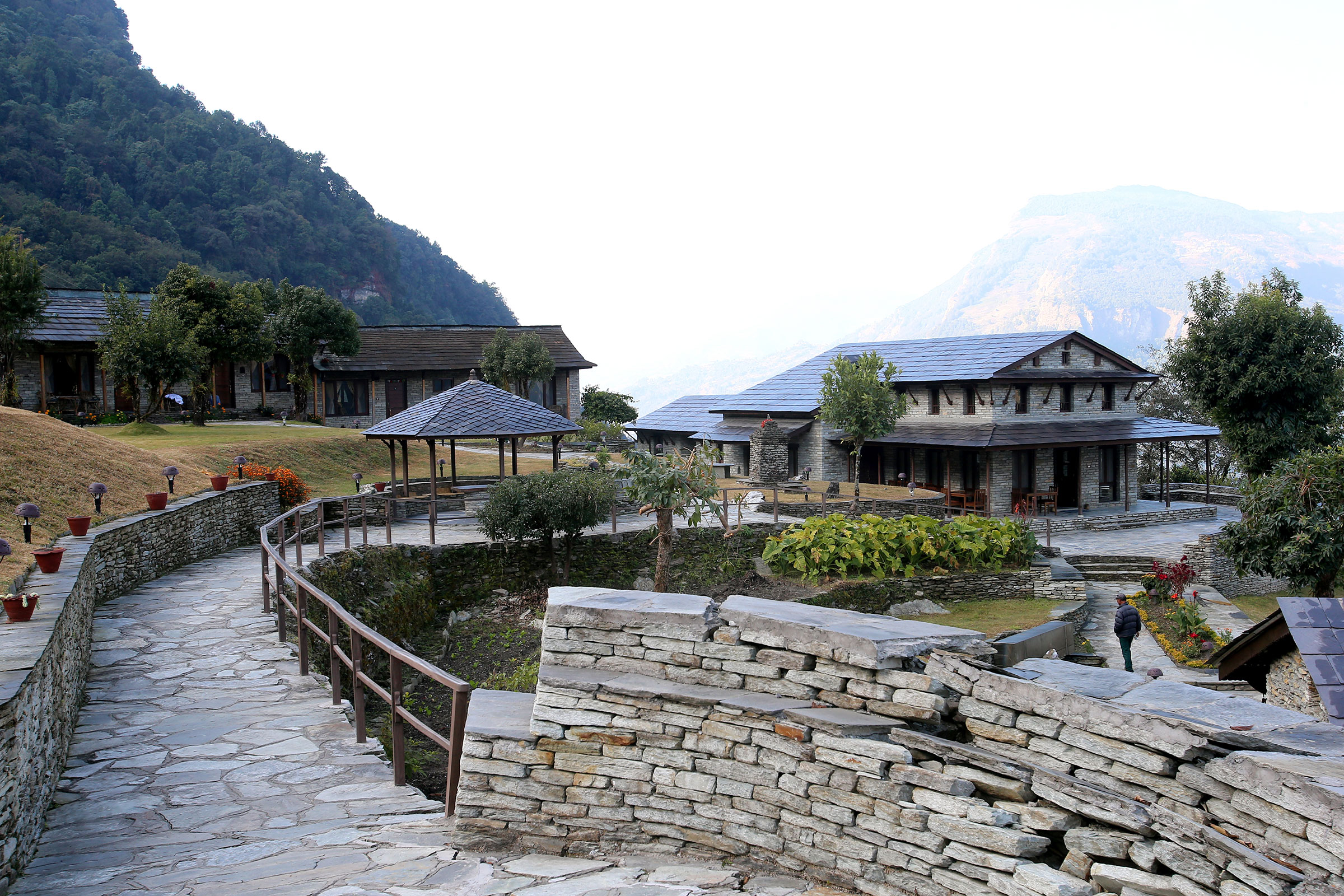 Dining and Trekking
Hearty meals are served family-style in the lodges' traditional dining rooms, inviting spaces to relax and recall the sights of the day's trek. Spacious terraces plus a large fireplace and lounge area complete the shared spaces in the Himalaya lodges, with Sanctuary Lodge also including a cozy library. Treks are led by local Gurkha guides, committed to exploring the mountains respectfully and adhering to strict conservation guidelines. The Gurkha's intimate knowledge of Nepalese hill cultures and traditions leads to a trekking experience that is truly off the beaten path.
Book a Himalaya Trek with Ker & Downey
Are you ready for your own adventure trekking through Nepal? Book a stay at the Ker & Downey Nepal Mountain Lodges by contacting us. Discover a world of difference when our destination experts craft the perfect adventure for you.