Galapagos Travel Guide
Travel to the Galapagos with Ker & Downey
Everything You Need to know about Traveling to the Galapagos Islands
The Galapagos is one of the most biodiverse destinations on the planet. It was the first location to be named a UNESCO World Heritage Site. However, it is also the UNESCO World Heritage in Danger list due to the rare and rapidly endangered wildlife species that reside there. Thankfully, careful management and contamination control have allowed original ecosystems to gain their footing. However, it is our mutual responsibility to ensure these controls remain in place.  
Ker & Downey, therefore, only works with the most responsible and ethical cruise operators and land accommodations. Our goal: that the only thing changed by your visit is the way you see the world.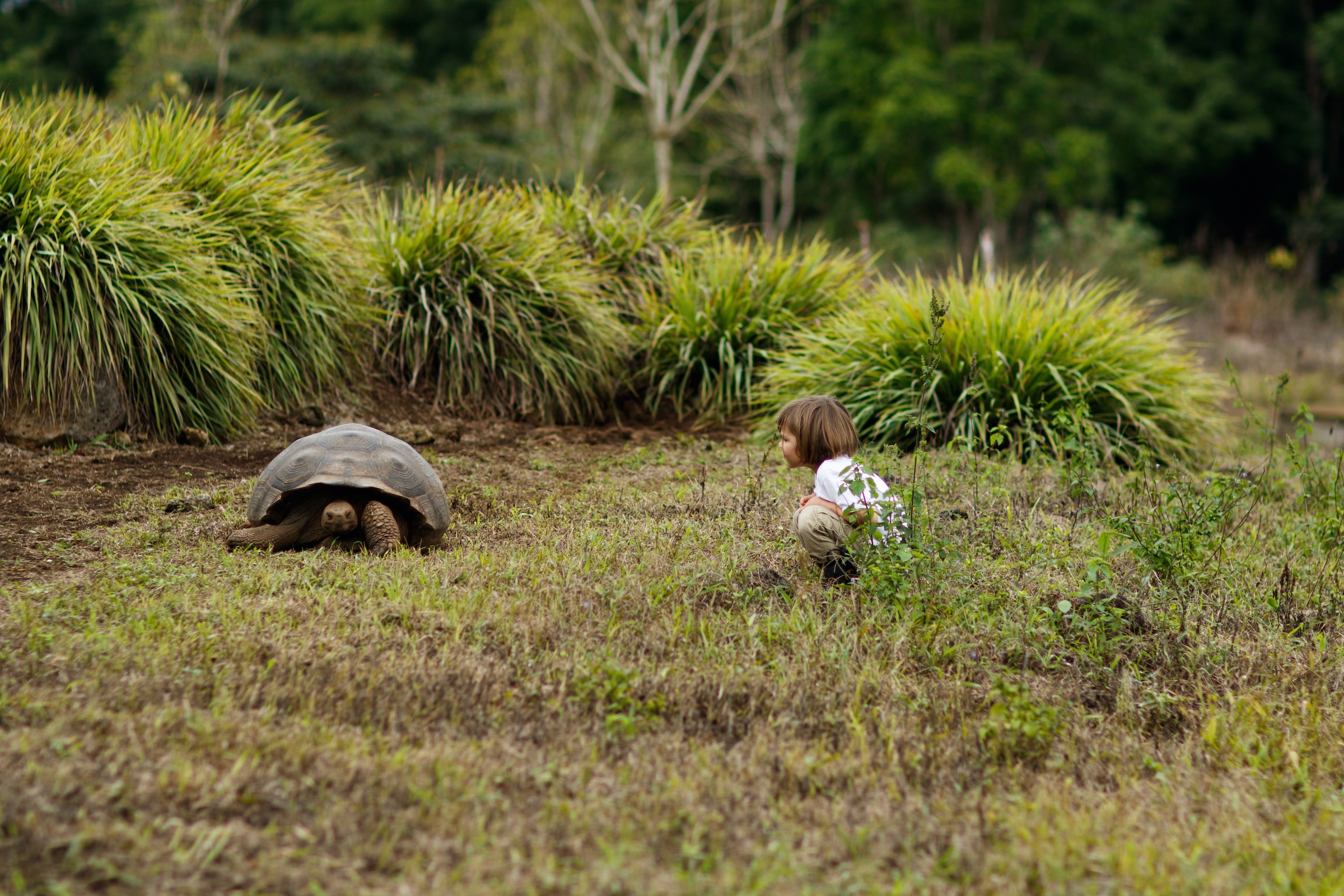 GALAPAGOS TRAVEL GUIDE
There are various ways to get to and explore this unique and fragile ecosystem.  
Getting to the Galapagos Islands
Travelers will need to fly to/from the Galapagos via either Quito or Guayaquil. Flights average around 2 hours in duration. Ker & Downey can help decide which overnight hubs work best for each traveler's itinerary and touring preferences.  
Seymour Airport on Baltra Island is the point of arrival for most travelers to Galapagos. It is just one of two airports connecting mainland Ecuador with the Galapagos. After clearing the immigration desk at the airport, Ker & Downey's partners will transfer travelers to their respective accommodations.
Boats anchor in the Aeolian Bay nearby. Meanwhile, accommodations on Santa Cruz require crossing the Itabaca Canal via ferry or private boat service.
Documentation
All travelers visiting the Galapagos Islands must have a Transit Control Card and pay a Galapagos National Park entrance fee. Ker & Downey will generally include these essentials in our programs to the Galapagos.
Land vs. Sea Options
Travelers can choose between either a land-based luxury eco-resort, private villa, or tented camp, and/or a water-based tour on a cruise. There is also an option to go island hopping, combining hotel accommodations and yacht transfers between the islands. 
If combining land and sea options, consider doing your cruise first, followed by a lodge. A land-based accommodation will be able to better cater experiences to avoid those you have already had by boat. It will also allow you to reclaim your land legs and go deeper into the destination.
Focus on Sustainability
No matter your accommodation, expect a strong focus on conservation and sustainability on the Galapagos Islands. Seymour Airport on Baltra Island -- also known as Galapagos Ecological Airport -- is the world's first green airport. The airport operates on almost 100% renewable energy.
Lodges and vessels, too, take extra measures to protect the surrounding ecosystem. Solar energy, water capture filtration systems, locally sourced cuisine, and low-volume naturalist-focused tourism models are the norm.
Most adhere to strict water conservation models. They therefore do not change the bathroom towels daily or offer laundry services. Guests may also need to turn off their individual A/C units when they leave their rooms to conserve energy. 
Food and Beverage
It is difficult to stock ships and source products in the Galapagos. Residents must ship most everything in on shipping containers from mainland Ecuador, which can take weeks. Therefore, always communicate any allergies, dietary restrictions, or food and drink preferences to your Ker & Downey travel designer at least 90 days in advance. That way, you can enjoy your travels to the Galapagos without complaint.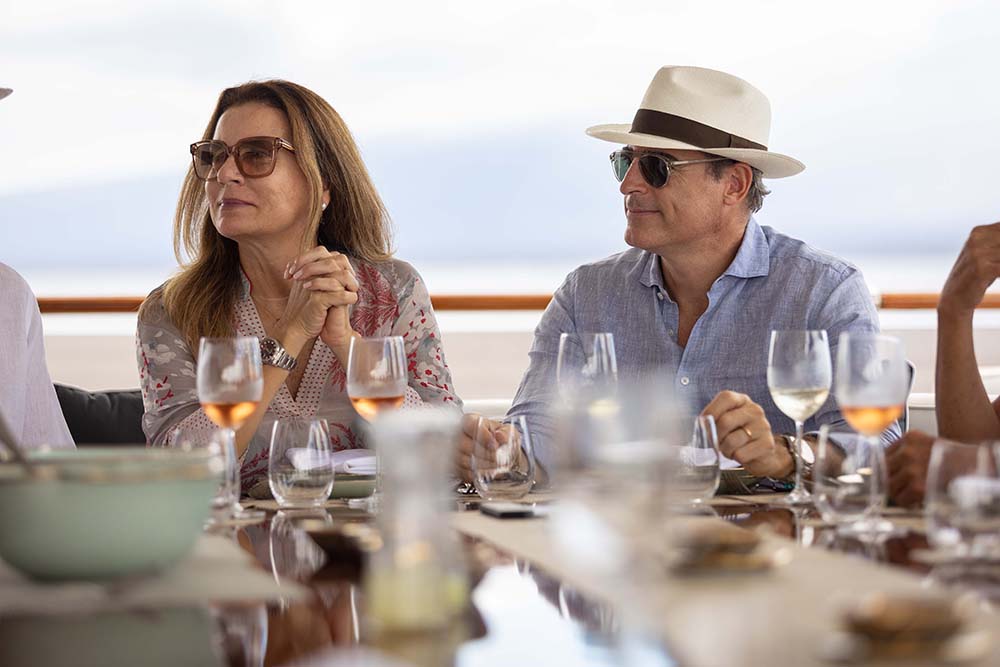 CRUISING IN THE GALAPAGOS
Ker & Downey has access to a wealth of luxury, first-class, and diving-specific yachts, catamarans, and trimarans. While the quality of each of these vessels is of the highest caliber, please consider the following expectations. 
Why This is Not a "Traditional" Cruise
Travelers will not find any large cruise ships in the Galapagos. Boats in Galapagos National Park have a strict 100-passenger limit. Experiences in the Galapagos also focus mainly on wildlife and conservation as opposed to large menus of activities. Entertainment options onboard are limited (there are no televisions or nightly performances), the internet can be spotty, and amenities like fitness centers, spas, and game rooms are incredibly rare. 
Vessel Considerations
Ker & Downey prefers to work with small 16- to 20-passenger vessels and mid-size 32- to 48-passenger vessels. These cruises offer departures ranging between 4 and 16 days in duration. Some also offer charter opportunities for large groups or families traveling together. For such a small destination, there really is a type of boat for everyone, from family-friendly to luxury, to a private charter, to sailboats, yachts, catamarans and more.
Here is what to consider when choosing a vessel that's right for you:
Vessel Classifications
Boats in the Galapagos fall under four main categories: Budget, Tourist Superior, First-Class, and Luxury. Ker & Downey mainly works with First-Class and Luxury vessel classifications. We also have many diving-specific options as well.
All ships regardless of their category have private bathrooms with showers, air-conditioned cabins, meals, a sundeck, and a shared living space. 
First-Class vessels enjoy a comfortable, "hotel on the water" ambiance. Amenities include: interconnecting rooms, outdoor dining areas, indoor and outdoor bars, beer and wine inclusions, ample lounge areas (some with Jacuzzis), and double or twin-size bed configurations.  
Luxury Class vessels, however, offer the most spacious, comfortable, personalized, and stable cruising experience. They have the highest level of on-board services and amenities.
While this is not the equivalent of a 5-star luxury hotel, it does include everything as the First-Class vessels, plus such things as: 1:1 crew-to-guest ratios, electronic stabilizers, daily housekeeping service, private balconies or floor-to-ceiling windows, larger en suite bathrooms, king-size bed configurations, Jacuzzis in the lounge areas, and gourmet food. They have Cruise Directors and the most qualified and experienced Naturalist Guides.  
Yachts, Catamarans, and Trimarans
The main difference between monohull yachts and multi-hull catamarans is the amount of contact the boat has with the sea. Yachts are typically more intimate and sit lower in the water, allowing them to slice through the water with relative ease. Catamarans and trimarans, however, feature two parallel hulls designed to provide a wider stance and thus more stability on the rolls, though not necessarily on the pitch. 
Size of Vessel
Small 16- to 20-passenger vessels tend to have a more romantic or intimate quality to them given their small size. They are therefore ideal for couples, honeymooners, or even one or two friends or family members traveling together. On the other hand, mid-size vessels often have more accommodations for families, including triple room configurations, interconnected suites, doctors on board, and a second Naturalist Guide that can be assigned specifically to a larger family.  
Size of Cabins
Many of the smaller vessels in the Galapagos provide larger cabin spaces than those found on larger cruise ships. Large 100-passenger cruise vessels typically host more passengers and offer larger communal spaces. Cabins on Ker & Downey's preferred vessels usually include larger en suite bathrooms, comfortable twin, double, or king size beds, closet areas, and writing desks.
Guides
Guides matter in the Galapagos. That's why Ker & Downey only works with small vessels with at least one or two dedicated Naturalist Guides on board. These bilingual Naturalist Guides are typically native to the Galapagos and introduce no more than 10 to 16 people at a time to the wonders of the ecosystem. Specifically, guides on Luxury class ships are more experienced and are required to hold a university degree and to be a level III naturalist guide. 
Cruise Directors
Luxury class vessels have a bilingual Cruise Director who takes care of the wellbeing of each passenger aboard the ship. They ensure the execution of passenger preferences.
Cruise Staff
Please note that the rest of the staff aboard the vessel will most likely not be English speaking. This is because the Galapagos adheres to strict employment regulations and must employ staff local to the region. 
Routes
There is no bad route in the Galapagos. Plus, given the passenger restrictions of the National Park, you will never have to fight for that perfect sea lion photo. However, if looking for a weeklong cruise itinerary -- the most conservation-friendly cruising options in the Galapagos Islands -- consider choosing a route that is not disrupted by passengers disembarking/embarking midway through.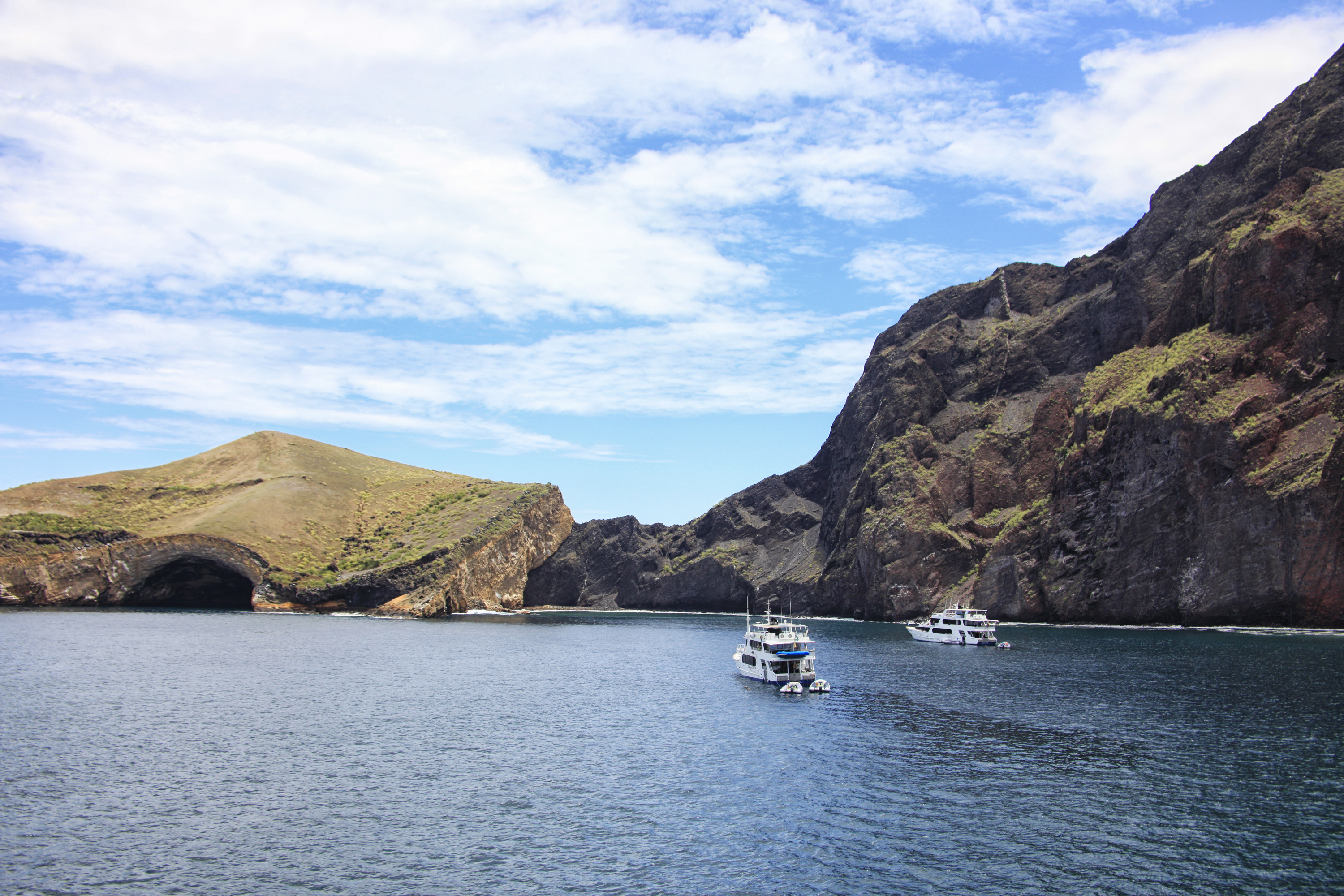 Pros and Cons of Small Ship Vessels
Ker & Downey considers the following aspects of small ship cruises to be positive. However, we recognize that many travelers may not agree. Please keep this in mind when choosing the cruising experience that is right for you. 
Intimacy
When someone travels on a boat with 12-16 other passengers, they will undoubtedly get to know their fellow travelers over the course of their cruise. They will also receive much more personal attention from the crew and captain and even have the chance to get to know them on a more personal level, which can often make the cruise feel much friendlier. There is a chance, however, that some personalities may clash in this environment. 
Flexibility
The daily cruising destinations in the Galapagos are planned out months in advance, but how much time one spends on any given activity at each site is more flexible on a small ship cruise. For example, if a traveler wants to do a shorter hike and spend more time snorkeling afterwards, most guides can accommodate these interests, especially if everyone else agrees.  
Increased Activity Time
Those traveling on a small ship cruise vessel enjoy more dedicated time for activities. Boarding and deboarding 100+ passengers can often take up to an hour, which can cause travelers to lose time enjoying a key activity.
Furthermore, every visit to the islands must be done in separate groups as the Galapagos National Park only allows small groups to visit the islands in order to avoid overcrowded trails and erosion. So, while a group goes for a hike to an island, a different group will go on a different activity. In contrast, when there are no more than 20 people deboarding for a single activity, more time is dedicated to experiencing the destination and not on adhering to strict boarding/deboarding and meal schedules.  
Less Impact
The smaller the cruise vessel, the less impact. Not only do smaller cruise vessels increase the quantity of time passengers spend with their guide, they also minimize the impact, disturbance, and erosion that can come from larger tour groups.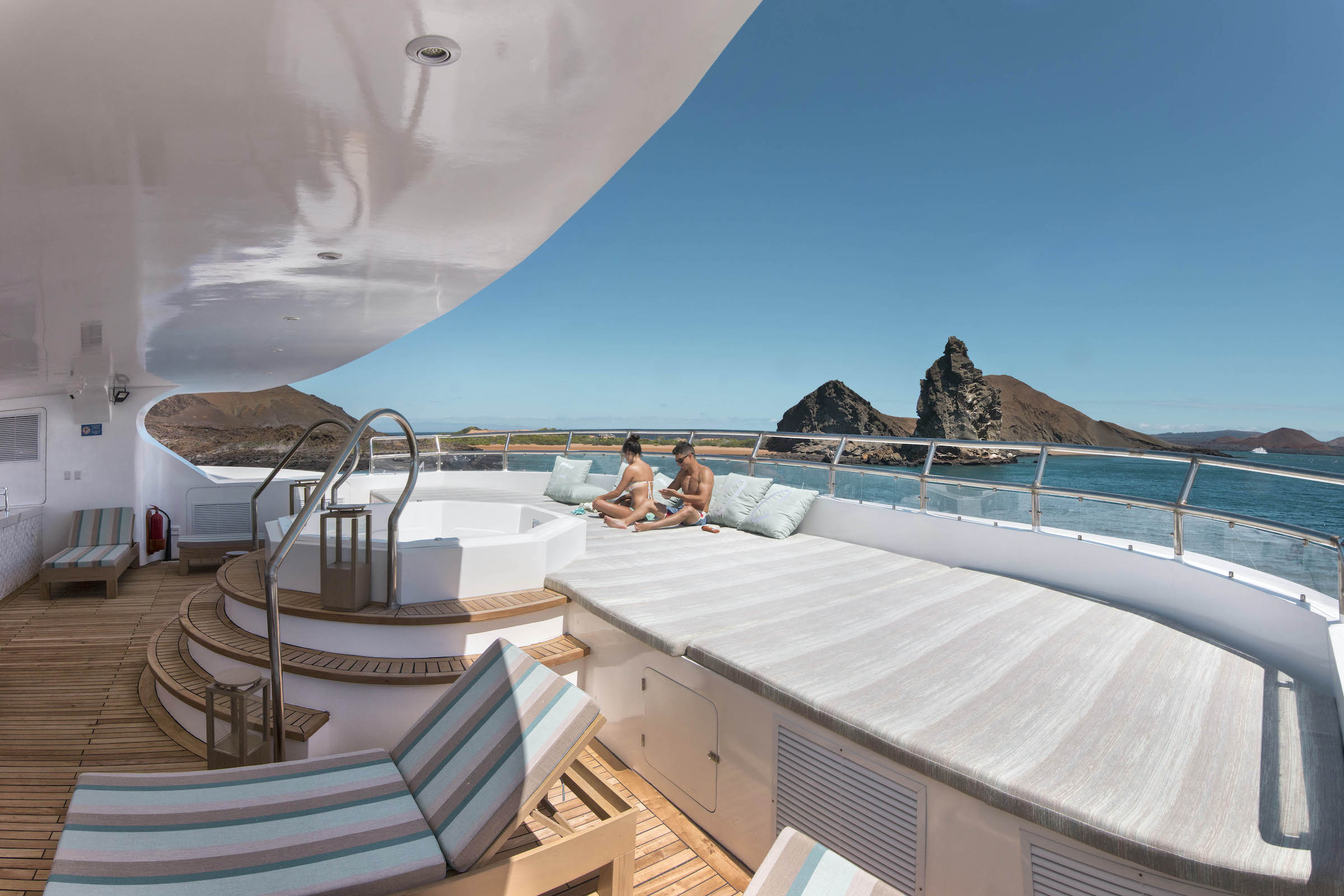 BEST TIME TO VISIT THE GALAPAGOS
The Galapagos Islands is a year-round travel destination. There is, therefore, no bad time to visit. However, its two main seasons offer different
July through November: Generally cooler and cloudier. Waters tend to be a bit rougher, but underwater marine life is in its prime with the presence of the Humboldt Current. Also, expect a quieter naturalist experience with fewer crowds.


December through June: Generally warmer and wetter with plenty of wildlife encounters. You can also expect more visitors over the festive and summer travel seasons.
TRAVEL TO THE GALAPAGOS ISLANDS
Contact a Ker & Downey Travel Designer today to put this Galapagos Travel Guide to use. In the meantime, for daily travel inspiration, follow us on Facebook, Instagram, and X.