Galapagos Island Hopping
10 Days / 9 Nights
Ecuador


Unleash Your Inner Ecuador Explorer
Galapagos Island Hopping is one of the best ways to experience the fabled archipelago off the coast of Ecuador. Luxury eco lodges, private yacht transfers, and deep immersions into each island's wildlife and natural wonders ensure an explorative yet leisurely land-based experience in the Galapagos. Bookended by Quito's colonial quarter and authentic hacienda activities on Ecuador's southern coast, this Galapagos Island Hopping adventure is perfect for those looking for an altogether different journey to South America.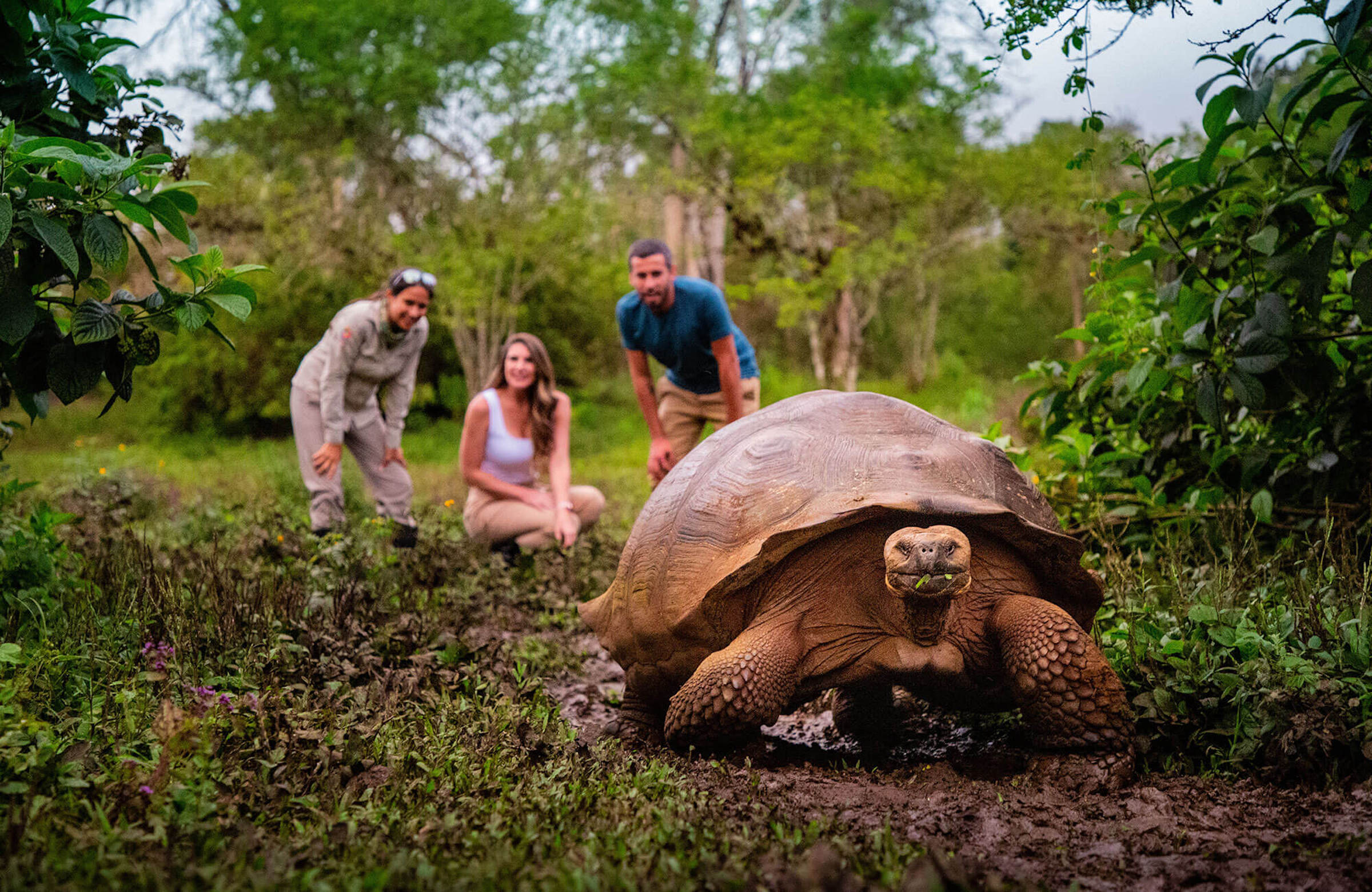 First, begin your Galapagos Island Hopping itinerary in Quito amid the grandeur of Casa Gangotena. During your luxurious stay, you will have unique access to Quito's UNESCO-preserved colonial center alongside your private guide. The highlight of your two days will certainly be a special chocolate workshop and tasting at the Republica del Cacao.
Santa Cruz Island is your first stop in the Galapagos. Giant Tortoises and wildlife encounters abound here. From your eco-friendly yet elegant accommodations at Finch Bay Hotel, picnic amid the roaming Giant Tortoises, and embark on yacht excursions to nearby islands. A passionate naturalist guide and dedicated crew will be with you all day. As a result, they will ensure your comfort and to bring the Galapagos Islands to life.
Your Galapagos Island Hopping adventure then continues on Isabela Island, is a young, volcanic destination with wildlife and alien-like landscapes. Your accommodations at Iguana Crossing are named for the many iguanas passing by the hotel en route to the water. Two full days of guided explorations will therefore bring you face to face with iguana colonies, mangrove trees, swimming holes, and snorkeling spots. Follow the Wetlands Trail to the Wall of Tears, hike along the Volcan Chico and the rim of Sierra Negra crater, the second largest in the world after the Ngorongoro in Tanzania. Finally, go snorkeling in the Tintoreras islands alongside the resident white-tipped reef sharks, sea lions, turtles, rays, penguins, pelicans, and blue footed boobies.
After four nights of Galapagos Island Hopping, it is time to head to the Ecuadorian mainland. Just an hour from Guayaquil rests the coastal hacienda retreat of Hacienda La Danesa in Bucay. This 1,200-acre traditional dairy farm introduces you to authentic hacienda experiences within the shadow of the Andes Mountains. While here, anything is possible, from cacao plantations and horseback riding to hiking, biking, and milking the resident cows.
Finally, conclude your journey through Ecuador and the Galapagos in Guayaquil at the garden-enclosed Hotel del Parque, a Relais & Chateaux paradise in the heart of the city. Everything culminates with a special farewell dinner at the hotel's Casa Julián Restaurant. This romantic restaurant is housed within a restored 19th-century building overlooking the Daule River. It, therefore, offers an unforgettable conclusion to your Galapagos Island Hopping journey.
Book A Galapagos Island Hopping Journey
Contact a Ker & Downey destination specialist to customize your own Galapagos Island Hopping Adventure, and read more about the seasonality and pricing in South America. For even more travel inspiration, follow us on Instagram, Facebook, and Twitter.