Trails Through the Sacred Valley
13 Days / 12 Nights
Peru


A Sacred Valley Horseback Riding Adventure
This Peru horseback riding tour offers a luxurious, physical, cultural, and spiritual 13-day escape. Your trusty steed will lead you along the trails of the mysterious Incas to the legendary ruins of Machu Picchu. Along the way, you will have the chance to share in the culture and customs of local Andean families. You will also stay at enchanting mountain lodges and ride to majestic peaks with emerald-green glacial lakes. It is undoubtedly an unforgettable way to experience this mystifying land.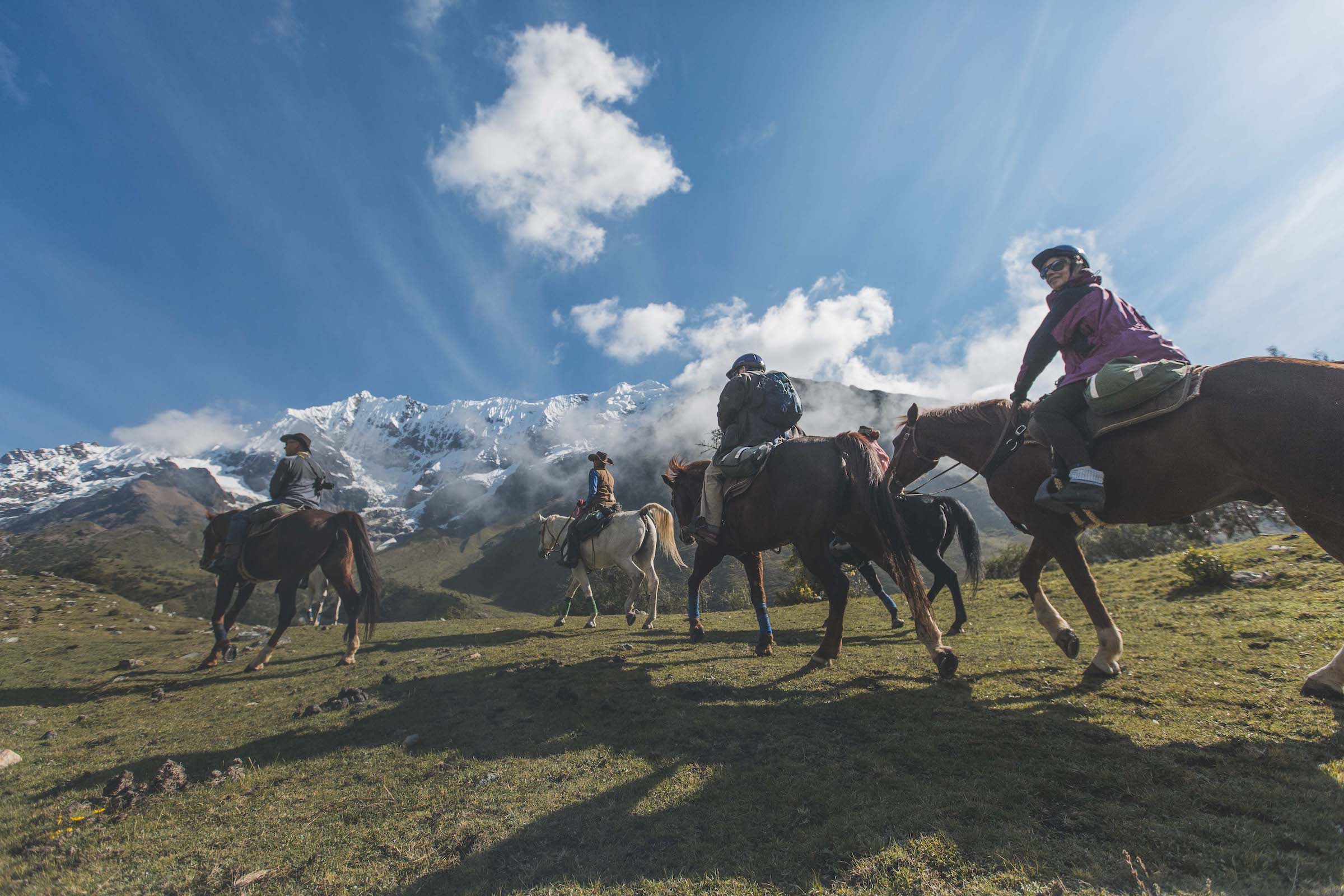 First begin your Peruvian journey by getting acquainted with a few of its urban centers. Start in Lima and your fashionable accommodations in the Barranco district. A quick overnight here will allow you to rest up after your travels.
Then continue on to Cusco and your luxurious accommodations in a restored 16th century Carmelite convent. Over two nights, you will have the opportunity to explore Cusco and its surrounding landmarks, both with a guide and on your own, before embarking on your luxury Sacred Valley horseback riding adventure.
Finally, meet your horse at Coronilla Ranch, a short drive from Cusco through Inca ruins and mountain villages. After a short period of familiarization with the team and the horses, begin your five-day horse ride through the Sacred Valley. Along the way, stop at various vantage points, enjoy warm lunches, and stay at the multiple havens. Indeed, this exciting adventure of surprising comfort that takes you along the ancient Salkantay Trail, the road less traveled to the lost city of the Incas. The route winds through the Cordillera Vilcabamba, a spectacular Andean mountain range, before plunging into forested canyons.
Spend evenings at enchanting mountain lodges, soaking in the Jacuzzis, enjoying aperitifs around the fireplace, and tasting light, traditionally Peruvian dinners full of ingredients that provide energy and satisfaction after your demanding daily rides. Highlights of your adventure include swimming in the glacier-fed Humantay Lake and hiking to the "Chakana" to witness an offering to Mother Earth by a local Shaman. Additionally, ride through Salkantay Pass with panoramic views of the Vilcabamba Range, and descend into the cloud forest of the Salkantay River. Finally, pass through orchards and coffee plantations along the Santa Teresa River Valley.
Horseback Riding Details
Seasonality: Available April through October
Amount of riding: 5 days / 4 to 6 hours per day
Skill level: Intermediate to Advanced
Type of tack: Choice of American and English Endurance saddles
Riding accommodation: Mountain lodges
Non-riding accommodation: Luxury boutique hotels and spa lodges
Age minimum: 12
Weight maximum: 196 lbs.
Say farewell to your horse at the beginning of the Llactapata Inca Trail, which leads to a distant but spectacular view of the Machu Picchu Sanctuary. As such, a scenic train ride will carry you to Aguas Calientes, the town of Machu Picchu. Rest at your luxury hotel before exploring the Machu Picchu Sanctuary and its many ruins with your private guide.
The final leg of your journey provides some much-needed relaxation after your arduous five-day horse ride and challenging hike through Machu Picchu. Board the Belmond Hiram Bingham luxury train service to Ollantaytambo, where you will be transferred to the beautiful Urubamba Valley for two days basking in the tranquil amenities at your luxury hotel and spa situated in the shadow of the Andes. At last, conclude your trip exploring the many colorful native markets in Urubamba and attending a special Peruvian Paso Horse Show, a magnificent spectacle and treat to cap off your horse-led adventure through Peru.
Book a Peru Horseback Riding Tour
Contact a Ker & Downey destination specialist to customize your own luxury Sacred Valley adventure, and read more about the seasonality and pricing in South America. For even more travel inspiration, follow us on Instagram, Facebook, and Twitter.