Southern Tribes and Trails of Ethiopia
9 Days / 8 Nights
Ethiopia


A Cultural Exploration in East Africa
Dive into Ethiopia's fascinating southern region for a unique nine-day glimpse into its diverse, colorful, and enigmatic tribes people with Ker & Downey's Ethiopia luxury travel adventure. After visiting with locals in Jinka, Arba Minch, and the Omo Valley, head east to Bale Mountains National Park for two days of game drives and horseback riding through one of the most unimaginable and wholly unique natural landscapes in the world.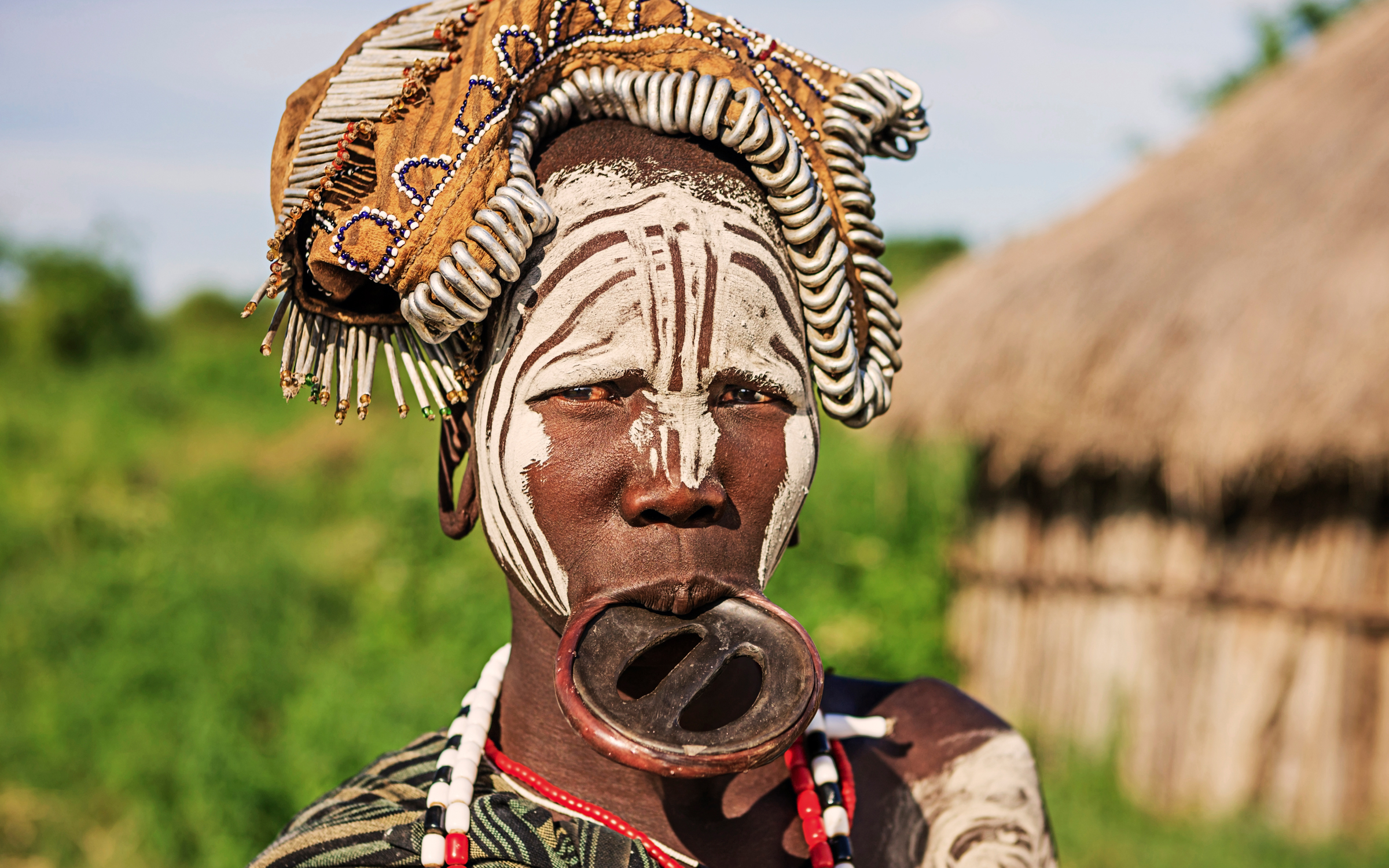 Your Ethiopia luxury travel adventure begins in Addis Ababa with a panoramic escape to Mt. Entoto and an essential stop at the National Archaeological Museum, home of the 3.5 million-year-old bones of Lucy, the world's oldest hominid.
Next, journey southward to Arba Minch to begin your exploits in Arba Minch. Also known as "The Forty Springs", Arba Minch is famous for its natural and cultural spectacles and provides such adventures as hiking along God's Bridge, visiting the crocodiles in Lake Chamo, and trekking through the Arba Minch jungle forest and Nechisar National Park. Trekking in Ethiopia is perhaps one of the best ways to experience wildlife. Enjoy searching for gazelle, zebra, baboon, and various birds, as well as taking dips in the famous Forty Springs, believed by locals to carry sacred healing properties.
Drive further south to Konso, a UNESCO World Heritage Site whose people are known for their intricately-terraced hillsides, fine woven materials, and carved totems with which they decorate their graves. After your visit in Konso, turn toward Jinka to uncover ethnographical information about the 18 diverse tribes of the Omo Valley, all untouched by modern civilization.
Within the Omo Valley is Mago National Park, another UNESCO World Heritage Site, containing the highest concentration of tribal communities in Ethiopia. During your stay at Buska Lodge in Mago, take time to interact with the local tribes people, visiting Mursi villages, shopping at the local markets, watching Karo face and body painting, and perhaps even witnessing a rare Hamer bull jumping ceremony.
Your final stop in Ethiopia is Bale Mountain National Park, a location of unimaginable and wholly unique natural beauty and wildlife. From the eco yet luxurious accommodations at Bale Mountain Lodge, enjoy two full days of wildlife exploration through the 1,367 square miles of the park's mountains, cloud forest, and plateaus. These various habitats and ecosystems are a veritable playground for endemic wildlife, such as the rare Bale Monkey, Ethiopian Wolf, and Giant Mole Rat, as well as spectacular bird life. After exploring this fascinating environment, return back to the lodge for more relaxing moments with nature in the glass-bottom spa situated above the river or the natural waterfall-fed plunge pool on the deck—a delightful way to conclude your adventures in Ethiopia.
Book a Southern Tribes and Trails of Ethiopia Experience
Contact a Ker & Downey Travel Professional to personalize your own adventure through Southern Ethiopia, and read more about the seasonality and pricing in East Africa. For even more travel inspiration, follow us on Instagram, Facebook, and Twitter.