Slovenia and Croatia Adventure
13 Days / 12 Nights
Slovenia & Croatia


Bikes, Boats & Balloons
Eastern Europe's Slovenia and Croatia are bursting with boast-worthy historic sites and natural wonderlands. Ker & Downey's Slovenia and Croatia Adventure itinerary takes a fun spin through these countries on bicycles, boats, kayaks, hot air balloons, and even your own two feet.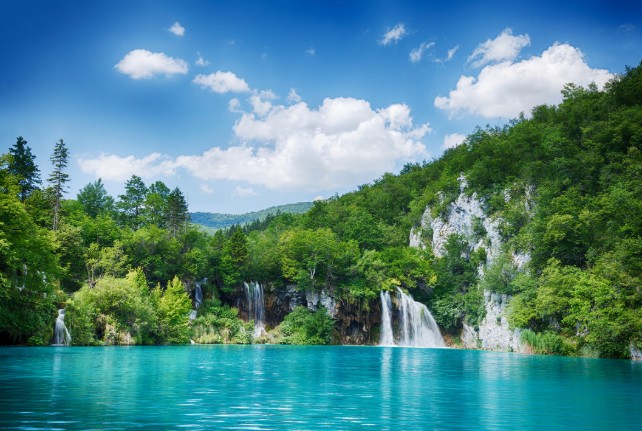 St. Mary's Church is a pretty little place nestled on a tiny island in Slovenia's scenic Lake Bled, and the only way to get there is by boat. While you sail across the glassy lake, admire the heavenly views of the Julian Alps. Watch fish swimming beneath your boat in the distinctively bright blue water in the Soca River. A kayak ride will lead you past twists and turns, and even some rapids. 
As with most of Europe, there will be a lot of walking on this journey. Slovenia's capital, Ljubjana, is pocket-size enough to wander, and we particularly like strolling by the castle that's been standing guard over the city for 900 years. Zagreb, Croatia's capital, is also small enough to explore on foot with an experienced Ker & Downey guide who will show you all of its picturesque historic sites and hidden lanes. Get a bird's eye view of Croatia on a hot air balloon over some of the world's most beautiful landscapes, including Zagreb and the Zagorje hills. When you touch ground again, you will be greeted with an intimate champagne brunch. Sip and snack before zipping off again to explore more of the land.
Croatia's Plitvice Lakes National Park is not to be missed. Be prepared to hike past 16 lakes with inter-connecting waterfalls, all nestled within dense forests. Join in the tradition of making a wish at the largest waterfall… perhaps you'll wish to travel more often!
Trogir and Split are best seen on a private guided tour. Hear the local Klapa singing about life, the sea, and love. Learn about the Roman ruins in a city the Split locals call the most beautiful in the world; you will find it hard not to agree.
Since Dubrovnik has always been a seaport, it's only fitting to go sea kayaking past the city walls, Lokrum Island, and hidden caves. You can even hop into the water for a little snorkeling and soak in the sun on a quiet beach. Another day, a private boat sets sail to the Elaphiti Islands, whisking you away from city noises and crowds into a serene world of small villages, local cuisine, and dreamy seascapes.
Book a Slovenia and Croatia Adventure
Ready to see the landscapes and history of Slovenia and Croatia on this suggested itinerary? Contact a Ker & Downey designer to customize your own journey. Choose additional countries and destinations, change property selections, add activities, tours, and more. With Ker & Downey, the choice is yours. Read more about the seasonality and pricing.