Salt Flats of South America
13 Days / 12 Nights
Chile & Bolivia


Atacama to Uyuni in Comfort & Style
Discover the Salt Flats of South America on this 13-day Northern Chile and Bolivia Luxury Tour by Ker & Downey. From Atacama to Uyuni, the natural wonders of these two countries come into focus in comfort and style. This itinerary also pairs well with the Northern Argentina should you wish to combine all three salt flat regions: Salta in Argentina, Uyuni in Bolivia, and Atacama in Chile.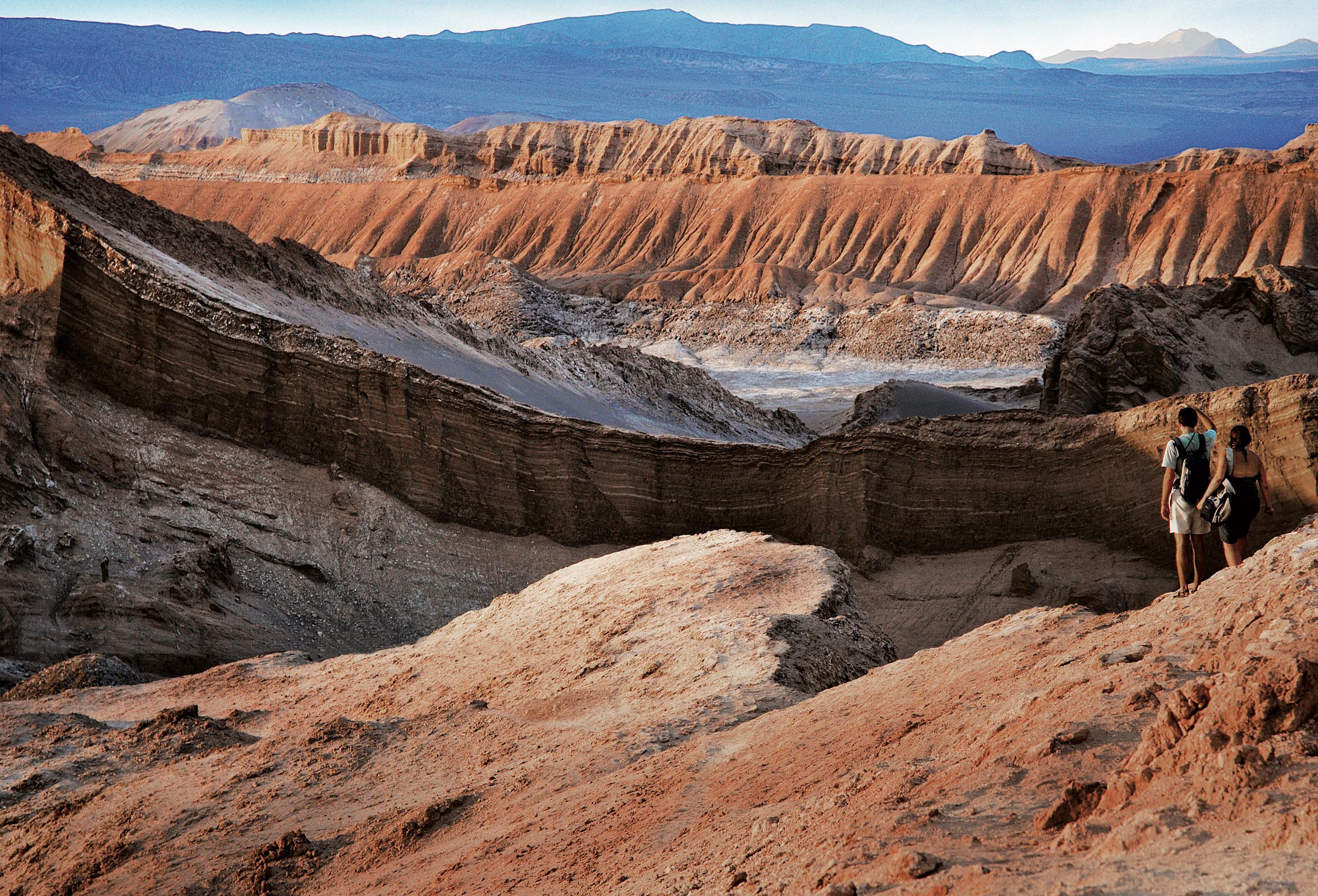 Your Chile and Bolivia Luxury Tour first begins with two days in La Paz, Bolivia. While here, embark on a privately guided city tour of the world's highest capital city. The city of La Paz and its surroundings are rife with a living history where indigenous, colonial, and modern customs collide, all under the watch of the majestic Illimani mountain. Next, enjoy wonderful aerial views of La Paz City during a ride to El Alto by cable car. Then escape the city's buzz with a stop in Moon Valley, an out-of-this-world landscape of stone formations.
Next, leave the bustle of burgeoning La Paz for the tranquility of local lifestyles on Lake Titicaca. Visit a workshop where a local family's youngest generation make traditional totora reed boats. Then travel by private boat to Moon Island, where you can find the vestiges of Inca Culture. You will also visit the Sacred Temple of the Virgins of the Sun, Iñak Uyu where young women were housed on the island to keep an eternal sacred fire lit, and the "Palacio de Yñakuyo", or the Temple of the Moon.
Your Chile and Bolivia Luxury Tour then continues in the salt flats of Sala de Uyuni. Over three days, experience Uyuni from two different perspectives: salt hotel, deluxe airstream camper, and lodge. One night in a salt hotel in Colchani places you on the banks of the largest salt flat of South America.
Then, meet up with your Deluxe Aistream Camper for a two-night adventure across the Uyuni salt flats. Indeed, a Deluxe Airstream Camper offers the most unique way of experiencing the Salar de Uyuni. Witness the bubbling ojos del sal ("eyes of the salt") during dry season and visit Incahuasi Island, notable for its giant cacti. Admire Tunupa Volcano and the pre-colonial ruins and ancient mummies of Pucara Ayque. Additional highlights include a walk alongside the Alota River, a stop at the famous Rock Tree, a journey to remote cave paintings, and an exploration of the many lagoons of the area, home to the famous pink flamingoes. Also, see geysers and take a dip in the natural hot springs. Finally, cap it all off with an astronomy stargazing experience led by an astronomy specialist. Indeed, the unobstructed expanse of the isolated salt flats makes this a truly spellbinding experience.
Next, continue your Chile and Bolivia Luxury Tour in the deserts of Northern Chile. Here in Atacama, take advantage of your luxury accommodations in the middle of one of the driest deserts in the world. Over four days, visit the onsite hot springs, try a treatment at the spa, and invigorating your body and spirit after days of exploring this stunning aliplano with personalized excursions.
Finally, conclude your journey with a refreshing overnight in one of Santiago's finest hotels ahead of your departing flight onward.
Book a Chile and Bolivia Luxury Tour
Ready to experience your own Northern Chile and Bolivia luxury tour? Would you like to include Salta in Argentina as well? Then contact a Ker & Downey designer to customize your own journey to the Salt Flats of South America, and read more about the seasonality and pricing in South America. For even more travel inspiration, follow us on Instagram, Facebook, and Twitter.