Private Island Honeymoon Escape
11 days / 10 nights
Maldives, United Arab Emirates, & Seychelles


White Sands and Romance
White sand romance and secluded resort luxury define this exclusive private island honeymoon getaway. Experience an indulgent and unforgettable journey for two in the Maldives, Dubai's Palm Jumeirah, and Seychelles.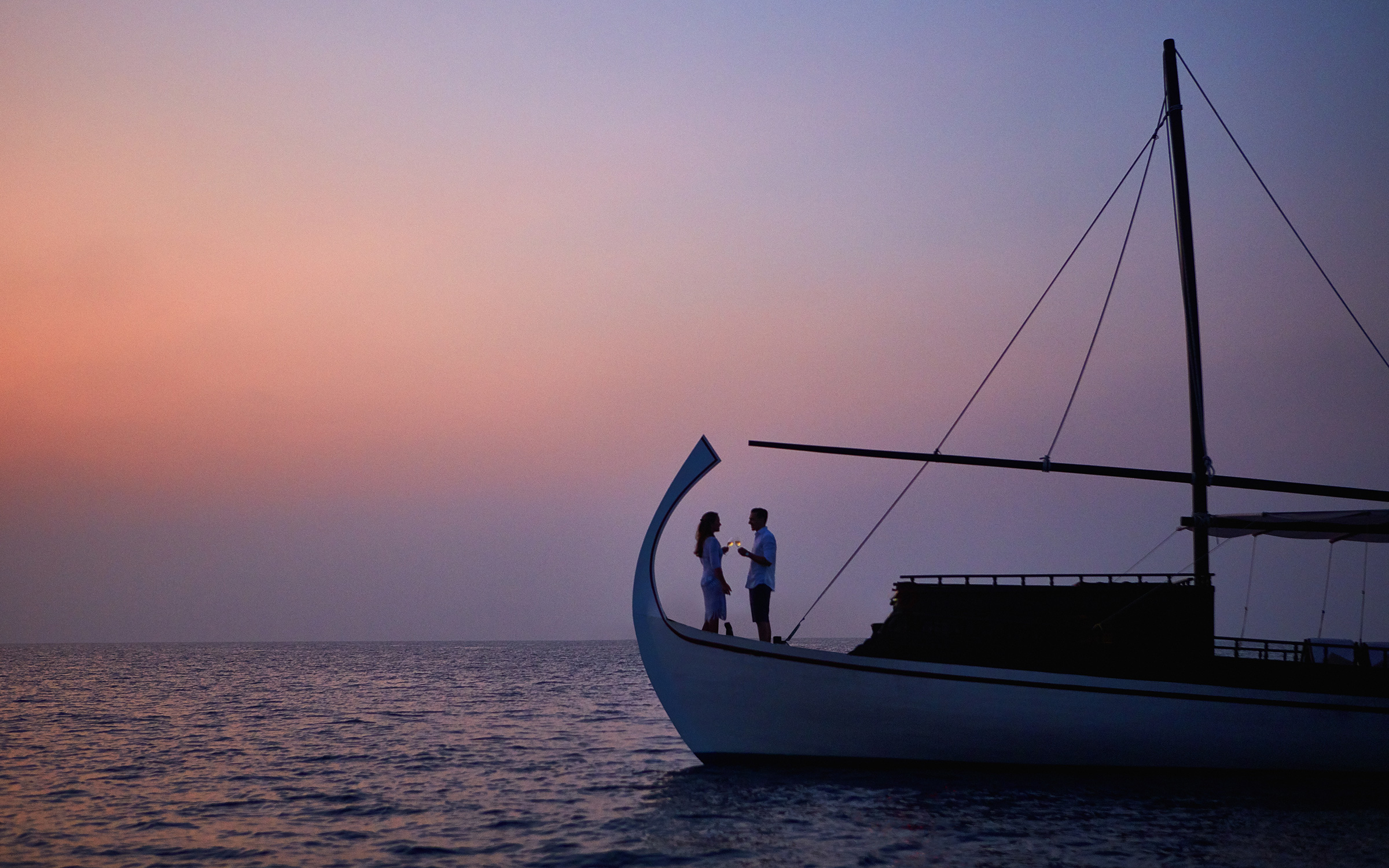 Your private island honeymoon first begins within the waters of the Indian Ocean. Here the coral reefs and sandbar islands of the Maldives await. Your luxury private villa offers a cocoon of sumptuousness floating above the turquoise lagoon. Indeed, this secluded corner of the Earth promises both privacy and peacefulness, as well as views of the pure blue skies and ocean waters extending as far as the eye can see. Your days here exist as you wish. Explore the stunning coastline and private beaches, or go island hopping over the crystal-clear waters. Alternatively, choose an adventure on land and sea in search of vibrant marine life.
Next on your private island vacation is Dubai's most intimate beach resort. Without a doubt, this UAE hotspot boasts one of the most glamorous venues in town. Soak in the Moorish-meets-Andalusian style and a maze of gardens and pools on a private peninsula of Palm Jumeirah. Additionally, cruise along Dubai's Creek on your private wooden dhow and experience the metropolitan bustle of one of the world's most impressive cities. Of course, there is always the choice of simply indulging in a renowned ESPA treatment and sun lounger service. Finally, end each evening at the see-and-be-seen overwater 101 Dining Lounge. The resident shisha master, local DJ, and panoramic Dubai city views will leave you with a feeling of celebrity status.
The final stop on your private island honeymoon is within the unspoiled natural beauty of Seychelles. Indeed, these freckles in the Indian Ocean offer the perfect romantic retreat for two. Get ready for an island paradise defined by sugar-white beaches, granite rock formations, and blue-hued horizons. Your Private Island Residence comes complete with a private beachfront access and a stunning view of your own slice of paradise. Spend your days shamelessly indulging at the spa, exploring an unbelievable world of marine life, and enjoying your days in barefoot luxury. Your retreat also invites you to participate in the conservation efforts of this beautiful environment. No matter how you spend them, every day promises to leave you with a deeper sense of belonging within the breathtaking beauty that is Seychelles.
Experience a Private Island Vacation with Ker & Downey
Ready to go on a once-in-a-lifetime private island vacation to see the world's untouched paradises? Contact a Ker & Downey designer to customize your own journey, and read more about the seasonality and pricing for the Middle East, East Africa, and Southern Asia. For even more travel inspiration, follow us on Instagram.