Luxury Kenya Honeymoon on Safari
10 days / 9 nights
Kenya


Isolated, Romantic, Luxurious
Our Kenya honeymoon will whisk you away on a 10-day journey filled with some of the world's most isolated landscapes and romantic luxury safari lodges. From Mount Kenya to the Samburu and Masai Mara reserves, share all of the wild sightings and wonderful serenity on a celebratory safari for two.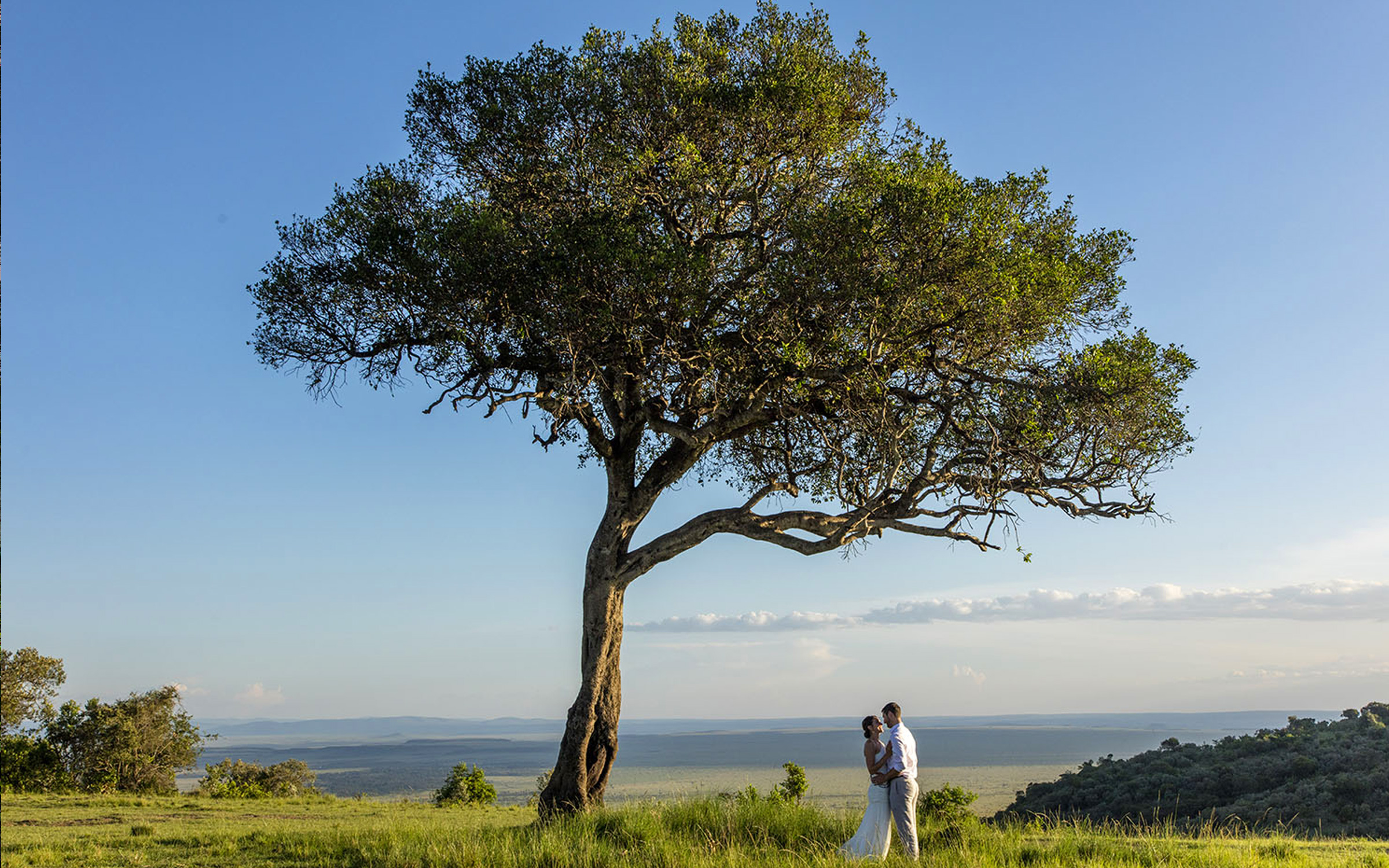 Start your Kenya honeymoon in Nairobi, arriving to your hotel by private helicopter for a restful night before your safari.
The next day, head to the secluded and beautiful mountainous surrounds of Solio Lodge, located in the shadow of Mount Kenya. As the only lodge on the entire 45,000-acre Solio Game Reserve, its wonders are yours to explore as you wish. Curate your own activities, from game drives and mountain biking to cuddling next to the fireplace in your private suite.
Fly into the Samburu Westgate Conservancy next, where a host of safari experiences await. Your safari suite on the river enhances your picture-perfect Kenya honeymoon. Witness elephants bathing and drinking below your tent or from the vantage of the swimming pool. Later, set out on game drives with local guides to catch a glimpse of the area's wildlife, ranging from big cats and elephant families to the more rare Grevy's zebra and reticulated giraffe. Additionally, plan special moments like a bush breakfast for two, private sundowners, or a romantic dinner on the deck.
The famous Masai Mara National Reserve is the final stop on your luxury Kenya honeymoon adventure. Find yourself floating above the endless plains while at Angama Mara, peering down from your splendid suite. There are ample opportunities for game drives and walking safaris through the reserve. Here you can uncover a thriving ecosystem teeming with plains grazers and numerous predators. Meanwhile, indulge in the luxury lodge activities and excellent cuisine. Or, consider capping off your romantic Kenya honeymoon with a hot air balloon ride together. 
Finally, return to Nairobi on the last day of your Kenya honeymoon, taking time in a day room to refresh and reflect before you return home, your bond only strengthened by the magic of your African safari journey.
Book a Luxury Kenya Honeymoon
Ready to go on a once-in-a-lifetime adventure on a luxury Kenya honeymoon? Contact a Ker & Downey designer for a sample itinerary and to customize your own journey. Every journey you read about on our website is completely customizable. We have hundreds of itineraries designed by Ker & Downey experts, ready to be tailored just for you. With Ker & Downey, the choice is yours. Read more about the seasonality and pricing in East Africa.