Luxury India Tiger Safari
15 Days / 14 Nights
India


A Royal Tiger Safari
The Luxury India Tiger Safari dives into India's dramatic mystique and jungle wildlife. Tailor-made and all-encompassing, this 15-day journey covers not only majestic creatures in the wild, but also exploring India's fascinating cities and spiritual heritage. So whether you're after big cats like leopards or ancient history, this once-in-a-lifetime luxury tiger safari in India delivers something for everyone.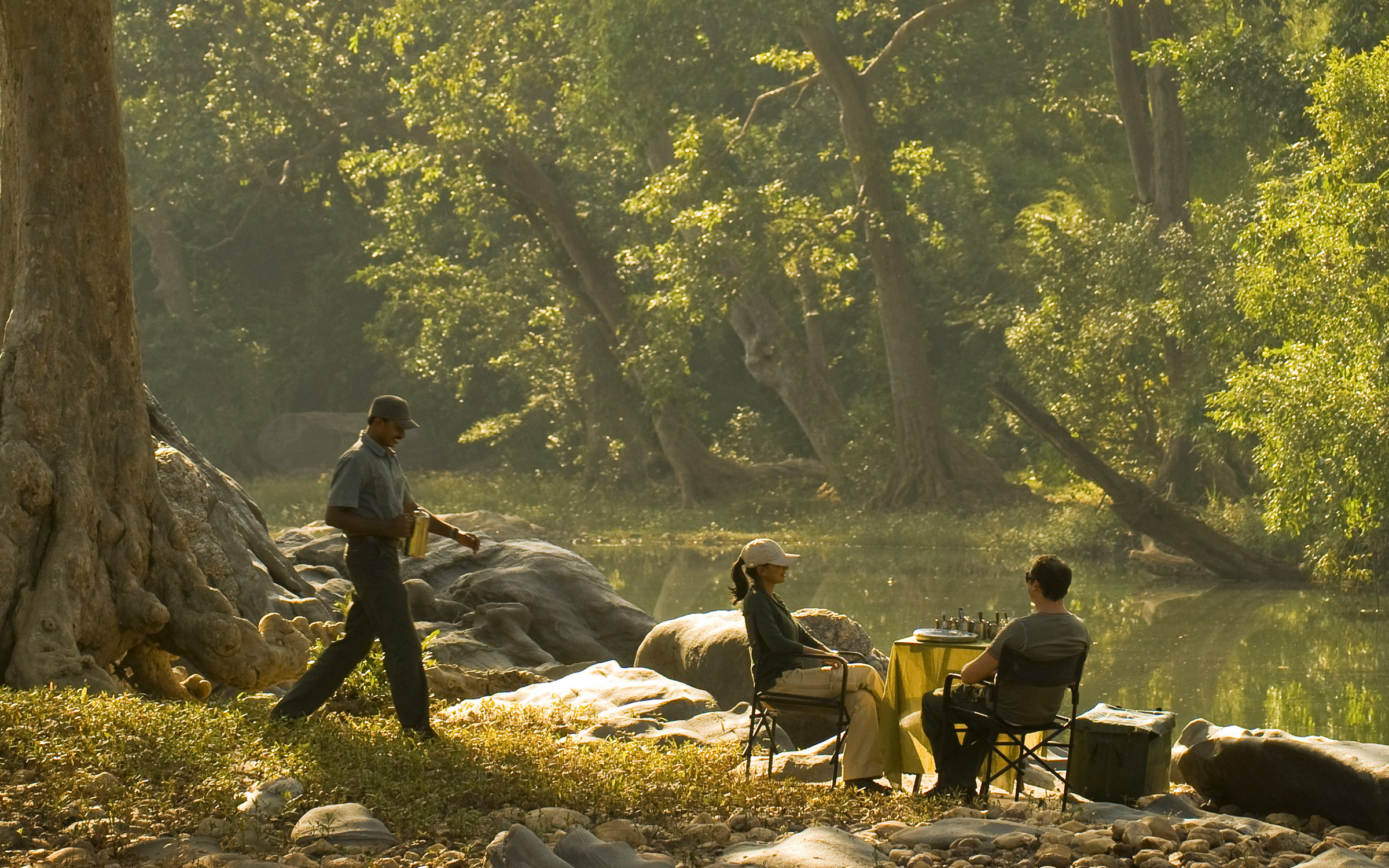 First, begin your journey by exploring Old and New Delhi's many sites like the Mughal Jama Masjid and bustling Chandni Chowk market. Indeed, no trip to India is complete without sampling the delectable street food and indulging in a high tea.
Continue on to the first stop on the tiger safari, Kanha National Park. This park is one of the country's largest conservation areas, a prime India luxury tiger safari wilderness of bamboo forests and grassy meadows. While here, explore the dense jungles on early morning 4×4 safaris with trained naturalists pointing out the flora and fauna and animals cooling off near the cool streams.
Next, explore India's wild side in Bandhavgarh National Park, home to some of the country's highest concentration of tigers, making it a must-see for big cat enthusiasts. The park is also home to other Indian flora and fauna set amongst breathtaking dense green valleys and rocky hills. Tucked within the park is Bandhavgarh Fort with large tanks carved from volcanic rock, ruined 11th and 12th century temples, and caves that were once quiet retreats for ascetics but are now inhabited by bats.
More luxury India tiger safari awaits within the tranquility of Panna National Park where you'll spend time appreciating India's sheer natural beauty in a teak forest. Learn more about the tiger conservation program and be on the lookout for leopards, wild dogs, and hyena in the jungles too.
No trip to India is complete without experiencing some of its spiritual offerings like the Hindu and Jain Khajuraho Temples exhibiting detailed sculptures and architecture. Explore this immense history before heading to Varanasi.
In Varanasi, one of the world's oldest continually inhabited cities and also considered one of the holiest, you'll see pilgrims by the Ganges performing their early morning devotions or shop for fine brocade fabrics. Sail along the river in the evening to bask in the ethereal glow of the aarti ceremony conducted with thousands of tiny lamps.
Take a day trip to Sarnath where Gautama Buddha gave his first sermon just a short drive from Varanasi. The site includes several stupas, excavated monastery ruins, and pillars with four-sided lion's heads, considered a national emblem of India.
Your last portion of the trip ends in Agra where you'll visit the Mughal-era Agra Fort as well as the magical Taj Mahal, an iconic ode to love, not once but twice at both sunrise and sunset.
Customize Your Own Luxury India Tiger Safari
Contact a Ker & Downey Travel Professional to personalize your own Luxury India Tiger Safari, and read more about the seasonality and pricing in Southern Asia. For even more travel inspiration, follow us on Instagram, Facebook, and Twitter.