Luxury Europe by Train
14 Days / 13 Nights
Italy, Austria, and France


All Aboard the Orient Express
See Europe by Train as you travel from Italy through Austria to France aboard the historic Belmond Venice Simplon-Orient-Express. On this two-week journey, savor each destination with multi-course meals, exclusive access to museums, and luxury accommodations.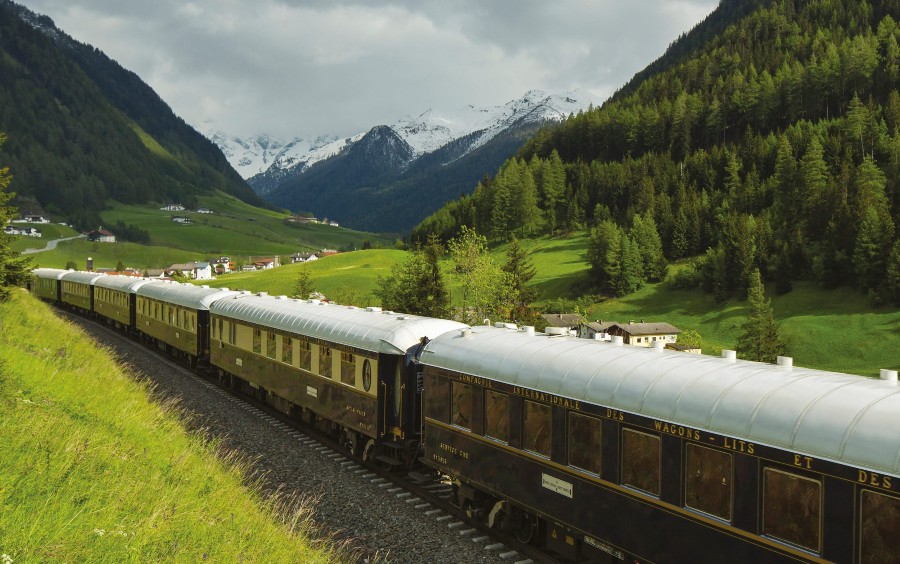 A wealth of treasure awaits in Rome. First enjoy a private cooking class at a duchess's apartment at Campo de Fiori and a tour of the city via an exciting treasure hunt. Through riddles and puzzles, you'll dig deeper into the secrets of Rome, the architecture, or cinema in the city. You will also enjoy an exclusive and special opening of the Vatican Museums to see masterpieces of Renaissance and Baroque art.
Next transfer to Lake Como via Milan via luxury train travel. While here, retreat to the Grand Hotel Tremezzo, perched on the water's edge where it enjoys the best views of the lake. Spend one day on the water and one at Villa del Balbianello. Built at the beginning of the 12th-century as a Franciscan monastery, the villa has since been used by many cinema producers for movies like Star Wars and 007 Casino Royale.
Then head to the floating city of Venice. A private tour takes you to some of its lesser-known spots. It also allows you to walk over bridges that cross the celebrated canals of the city. A sunset gondola ride gives you a different perspective of the history and architecture of this beautiful city. Finally enjoy a private and exclusive visit of the S. Marco Basilica, and spend a day on the islands of Murano, famous for glass production, and Burano, known for its brightly colored homes.
Your Luxury Europe by Train journey finally commences in Venice aboard the Belmond Venice Simplon-Orient-Express. Luxury train travel from Venice to Vienna aboard the Belmond Venice Simplon-Orient-Express is like journeying to the past. As such, white glove service, personalized amenities, and perfected details down to the fine china onboard are just a few highlights you will notice as you experience one of the world's finest train travel experiences en route to Austria. The Old World panache of luxury train travel is perfectly complemented in Vienna. Your private art historian guide will open doors to the city's acclaimed art scene. Visit the Kunsthistorisches Museum (Museum of Fine Arts), as well as the Albertina Museum and the Schloss Schönbrunn Palace. You will even have a chance to greet the famous white Lipizzan stallions of the Spanish Riding School and tour St. Stephan Cathedral before rejoining the Venice Simplon-Orient-Express train bound for Paris.  
Conclude your Luxury Europe by Train journey in Paris. Enjoy breakfast in your cabin before the Belmond Venice Simplon-Orient-Express pulls in to the city. You will then be transferred to your luxury hotel, located in central Paris just a few minutes from the Louvre Museum and Notre Dame. Over three nights, complement European luxury train travel with all the city has to offer. Enjoy an exclusive private visit to the Musée Yves Saint Laurent Paris before the museum opens to the public. Partake in a private cooking class at the Ecole Ritz Escoffier in the Place Vendôme. And set out on a privately guided market tour with a local food expert. As always, French hospitality is on full display with a five-course tasting menu at the Eiffel Tower's Jules Verne Restaurant and a five-course dinner cruise on the Seine River — the perfect conclusion to your luxury Europe by train journey.
Experience a Luxury Europe by Train: Italy, Austria & France
Ready to go on a memorable trip to Europe? Contact a Ker & Downey destination specialist to customize your own journey and read more about the seasonality and pricing in Europe. For even more travel inspiration, follow us on Instagram, Facebook, and Twitter.