Intrepid Cambodia
10 Days / 9 Nights
Cambodia


An Adventure in Southeast Asia
Feeling adventurous? This 10-day thrill-seeking journey is a unique and exciting way to see the many splendors of Cambodia, whether by gondola, bicycle, motorbike, tuk tuk, zip line, kayak, or boat.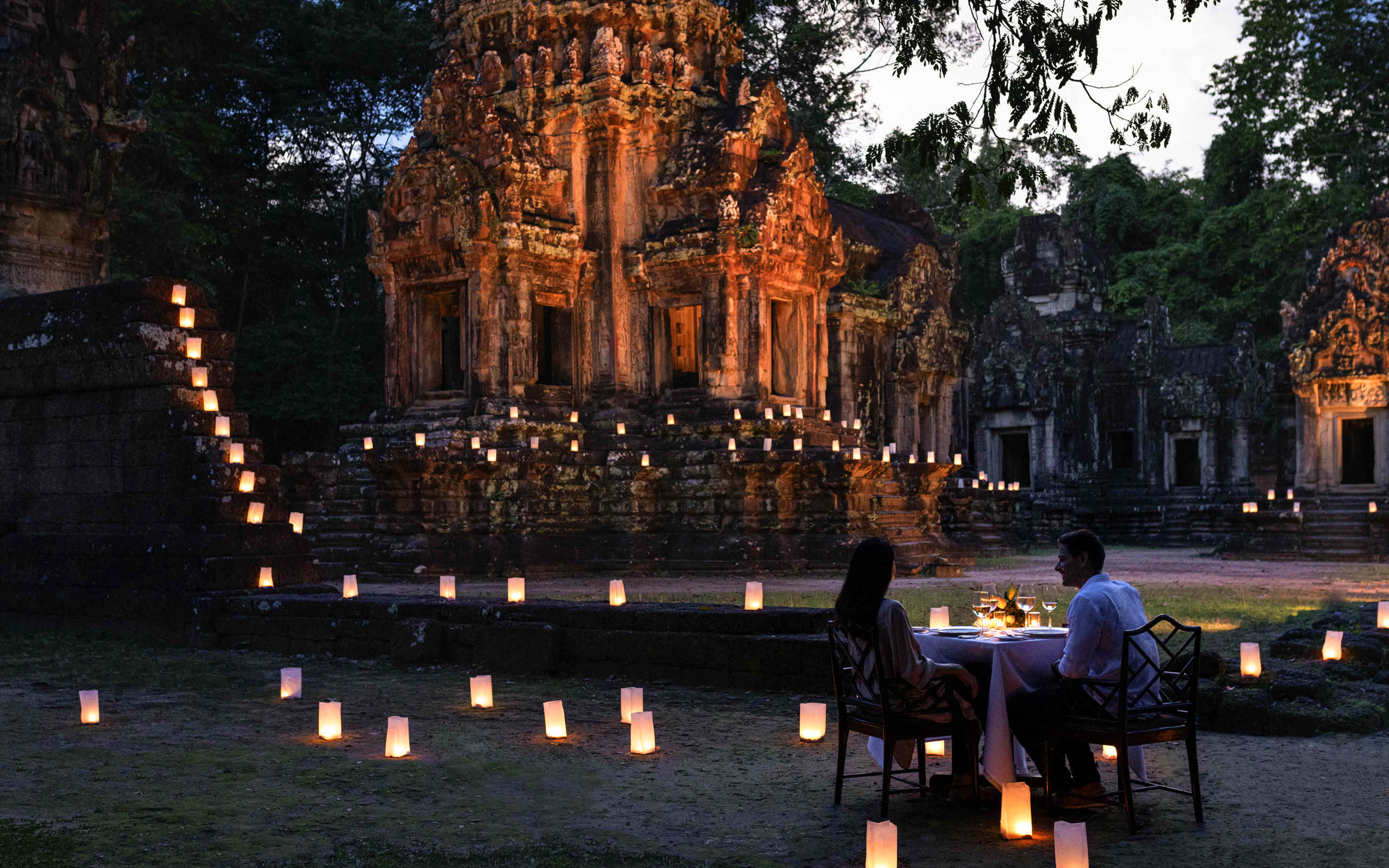 Begin your journey in Siem Reap, the charming gateway to the mystical Angkor temples, where you will experience some of the region's most remarkable landmarks. First, take a bicycle tour through the forest temples of Srah Srang, Ta Nei, and Ta Prohm, swallowed by the surrounding jungle. Spend a full afternoon in the "lost city" of Angkor Thom, home of the beautiful lakes of Phimeanakas and Jayavarman's jungle-clad state temple of Bayon, and enjoy sunset drinks aboard a leisurely gondola while learning about the ancient Khmer water systems.
Your next adventure awaits at Phnom Kulen, a small national park just north of Siem Reap. Spend the day hiking through the jungle's rocky outcrops and tropical forests past pre-Angkorian animist statues before completing the loop an exhilarating motorbike ride around the park. Early the following morning, travel through the darkness of the Cambodian pre-dawn on an exhilarating tuk tuk to welcome the sunrise over Angkor Wat. Spend the intimate morning with these man-made wonders before embarking on journey of discovery through Cambodia's rural landscape to see authentic, contemporary Khmer culture. Take an ox-cart ride through villages and voyage by boat along the Western Baray reservoir to reach a remote villa for sunset drinks and a celebratory dinner with the locals.
Depart for the nearby Angkor forest for a private Flight of the Gibbon experience, where you will soar on zip lines, traverse suspended sky bridges, abseil from towering trees, and fly through the rainforest like never before. Follow your high-flying adventure with a kayak tour of the great Tonle Sap Lake, where you will travel by boat to local villages known for their floating and stilted homes.
Your final destination is the oceanfront village of Kep, the perfect base from which to explore the coastline. Take a self-guided walk around Kep Hill and venture to Koh Ton Say (Rabbit Island) for snorkeling and lazing away in the the beachfront hammocks. Enjoy private beach barbeque prepared by a local Kep chef, or try fresh seafood straight from the crab shacks on shore—an adventure in and of itself. Conclude your epic journey through Cambodia with cocktails amid the sunset.
Book an Intrepid Cambodia Journey of Your Own
Contact a Ker & Downey Travel Professional to personalize your own Intrepid Cambodia adventure, and read more about the seasonality and pricing in Southeast Asia. For even more travel inspiration, follow us on Instagram, Facebook, and Twitter.