Fine Wines and Frontiers
7 Days/6 Nights
Argentina


Luxury Salta Tour
Discover the soul of Northwest Argentina on this unique luxury Salta tour. On this magical escape, Ker & Downey takes you along unpaved mountain roads and unveils off-the-beaten path treasures in the Salta province.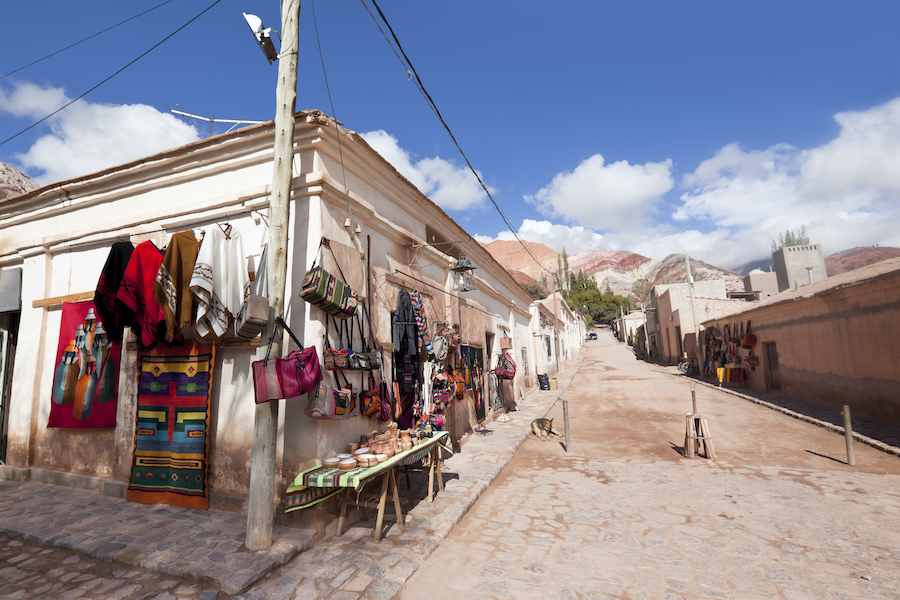 Nicknamed "the beautiful," Salta is a dynamic Northwest Argentinian province rich with fertile valleys, stunning mountains, and breathtaking salt flats. Your luxury Salta tour begins in the city of Salta in a centuries-old mansion at the foot of the Andes. While there, sit under the stars while enjoying mouth-watering dishes, fine Argentinian wines, and stimulating conversation.
A stunning drive through Cuesta del Obispo and Los Cardones National Park reveals centuries-old candelabra cacti and dinosaur fossils. Meanwhile, continue your luxury Salta tour along the famous perfectly straight Recta de Tin-Tin to arrive in Cachi. This beautiful little village is known for its skilled weavers and artisans. It is also renowned for its stunning 18th century Church of Cachi, a recognized National Historic Monument. Stay at in a hacienda-style La Merced del Alto before venturing onward to Cafayate. En route, take time to shop on The Artisan's Road for ponchos and yerba mate tea with locals.
Then pause in Molinos to visit the local church and one of the town's textile cooperatives selling local vicuña and llama wools knits. You will also enjoy a light, stylish lunch at the Bodegas Colomé winery, a hidden jewel amidst the Andes owned by Hess Collection. The James Turrell Museum is also an exquisite treat with its modern light installations. Your luxury Salt tour then arrives in Cafayate, a land of extraordinary wines, incredible stone formations, and undulating hills. From your accommodations, you will have the opportunity to visit some of the local wineries and vineyards and taste some of the region's most popular varietals: torrontés, malbec, cabernet sauvignon, and tannat. Alternatively, you may forego the winery visits and return to Salta early to embark on a walking excursion of the historical district of the city.
Next, return back to Salta. You have the choice to either visit some local wineries en route or return back to Salta early for a full day in the city. Your accommodations just north of the city allow guests to share the authentic lifestyle of a working estate and to learn in detail the history of northern Argentina, a region rich in traditions. Spend time at the estancia participating in a variety of activities unique to a working estate, including helping the gauchos with their daily chores, taking a cooking class with the resident chef, playing a game of polo, and going horseback riding on an authentic Peruvian Paso.
Finally, head to your final destination on luxury Salta tour: Purmamarca. Visit the Humahuaca Gorge, the Cemetery of Maimara, Tilcara, and the churches of Huacalera and Uquia on the way. Purmamarca is a quiet village in the shadow of the majestic Hill of the Seven Colors. Your retreat here is a place to unwind and absorb the ancient serenity of Andean culture. Of course, your luxury Salta tour concludes with some of the best cuisine from the area prepared by chef Sergio Latorre, known for his reinvention of local dishes. Paired with impressive Argentinian wines from Mendoza, Salta and maimareños, your farewell dinner will punctuate what is an unbelievably unique adventure through Northern Argentina's frontiers.
Book a Luxury Salta Tour
Ready to explore the fine wines and frontiers of Northwest Argentina? Contact a Ker & Downey Travel Professional to personalize your own luxury Salta tour, and read more about the seasonality and pricing in South America. For even more travel inspiration, follow us on Instagram, Facebook, and Twitter.