Ecuador Horseback Riding Adventure
9 Days / 8 Nights
Ecuador


Luxury Horseback Riding in Ecuador's Highlands
This nine-day Ker & Downey Ecuador horseback riding tour leads you through the breathtaking shadows of the Andean Mountains. Luxury horseback riding in Ecuador allows you to uncover the unique artisans, farmers, landscape, and hospitality indigenous to Ecuador's spectacular highlands.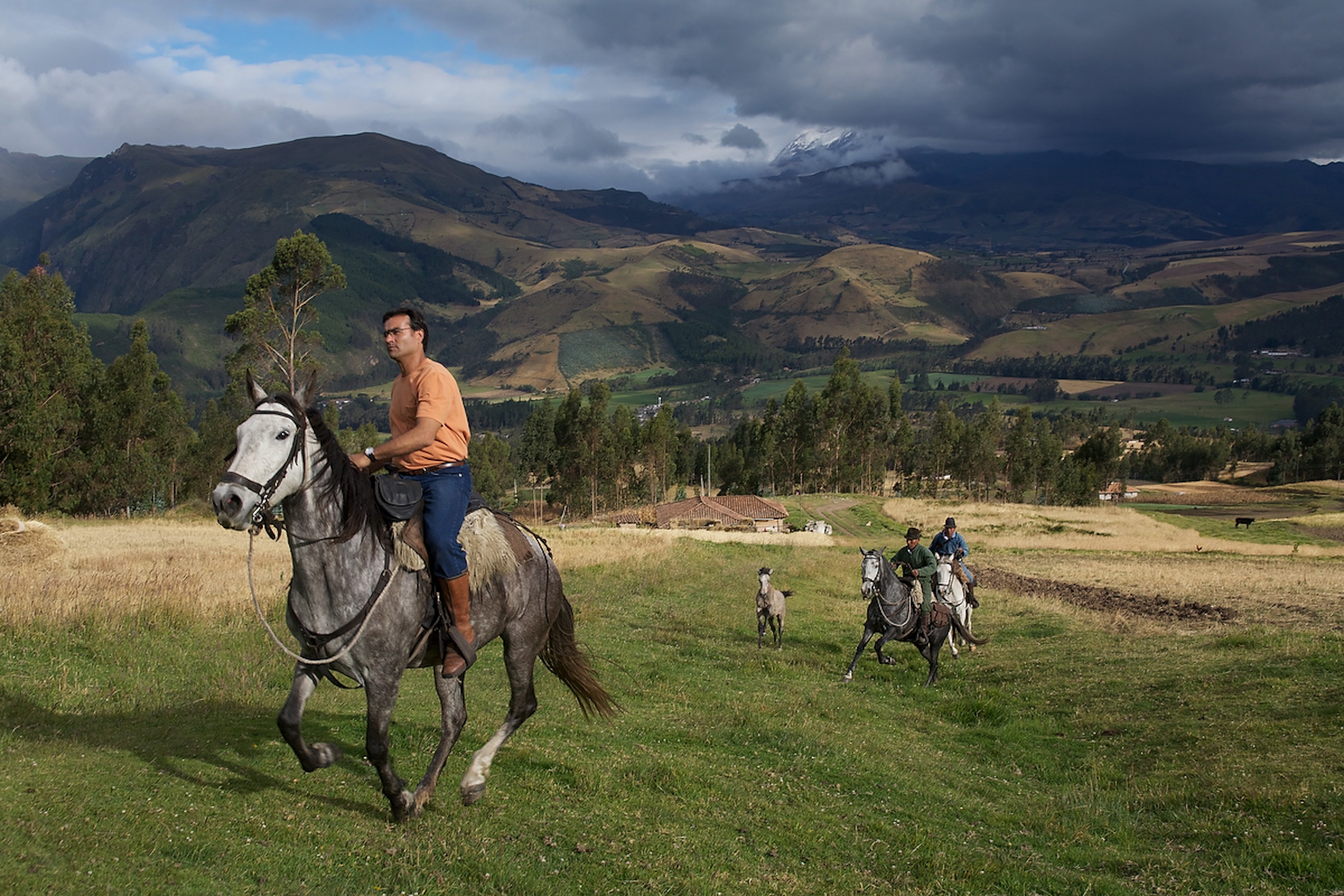 First begin in Ecuador's capital and second largest city, Quito, for a quick overnight. Your intimate and luxurious boutique hotel provides endless comfort. It also allows you to adjust to the area's higher elevation upon arrival.
Your Ecuador horseback riding tour through the Ecuadorian Andes then starts in Otavalo and the eclectic Hacienda Zuleta. This 17th century hacienda and working farm serves as a spectacular base from which to explore the wonders of the region. Indeed, the next five days are dedicated to uncovering Ecuador's culture in the highlands from the back of a robust, noble, and smooth Andean Zuleteño horse. These horses are a unique mixture of Spanish–Andalusian, English, and Quarter horses with a perfect disposition for trail riding and any skill level.
Every day's horseback riding has a particular beauty and charm. Traverse through valleys surrounded by mountain lakes and snow-capped peaks, ancient pre-Incan structures, and dramatic views of waterfalls above the clouds. You will also have the opportunity to meet a local saddle maker. Next, travel to Zuleta village, where women wear their traditional clothing and local people work their land, waving to you as you ride by. Each ride comes accompanied by three-course picnic lunches in the countryside.
Hacienda Zuleta is a 5,200 acre working estate with 3,000 sheep, 600 dairy cows, and 120 horses. As such, feel free to join in the numerous daily activities around the farm. Foals are born every month in the breeding barn. Therefore, horsemen will appreciate the help in training the young colts and fillies or refining canter aids in the ring. Go visit the different herds in the fields, or encourage the playful foals to canter alongside you. While not riding, perhaps tour the grounds to watch the milking, sheep shearing, or to sample one of the 11 varieties of cheese made in the cheese factory. Additionally, explore on horse-drawn carriage rides and mountain biking trips into the mountains. Or hike through the pastures and forests of the undulating valley.
Horseback Riding Details
Seasonality: Available year round
Amount of riding: 5 days / 1 to 5 hours per day
Skill level: All skill levels
Type of tack: South American western-style saddle
Riding accommodation: Luxury hacienda
Non-riding accommodation: Luxury boutique hotels
Age minimum: N/A
Weight maximum: N/A
Finally, conclude your horseback riding in Ecuador and return to Quito for two more nights. While here, enjoy a culinary unveiling of historic and modern Ecuador via the unassuming South American staple of the potato. You will also set out on a guided exploration of Quito — a walking narrative of the city's history — before departing for your journey onward.
Book an Ecuador Horseback Riding Tour 
Contact a Ker & Downey destination specialist to customize your own luxury horseback riding tour, and read more about the seasonality and pricing in South America. For even more travel inspiration, follow us on Instagram, Facebook, and Twitter.