Discover Namibia
13 days / 12 nights
Namibia


The Ultimate Namibia Safari
This 13-day luxury Discover Namibia safari of a lifetime draws you to the inner-reaches of Namibia and its fragile ecosystem, the drifting sands telling the story of a landscape that changes with the African breezes. A well-kept secret, Namibia luxury safaris offer the traveler seductive seclusion, breathtaking natural beauty, ancient and interesting cultural experiences, and wildlife that is unique only to this region. This is the ultimate safari experience with unforgettable luxury, exclusive experiences, and incredible Namibian style.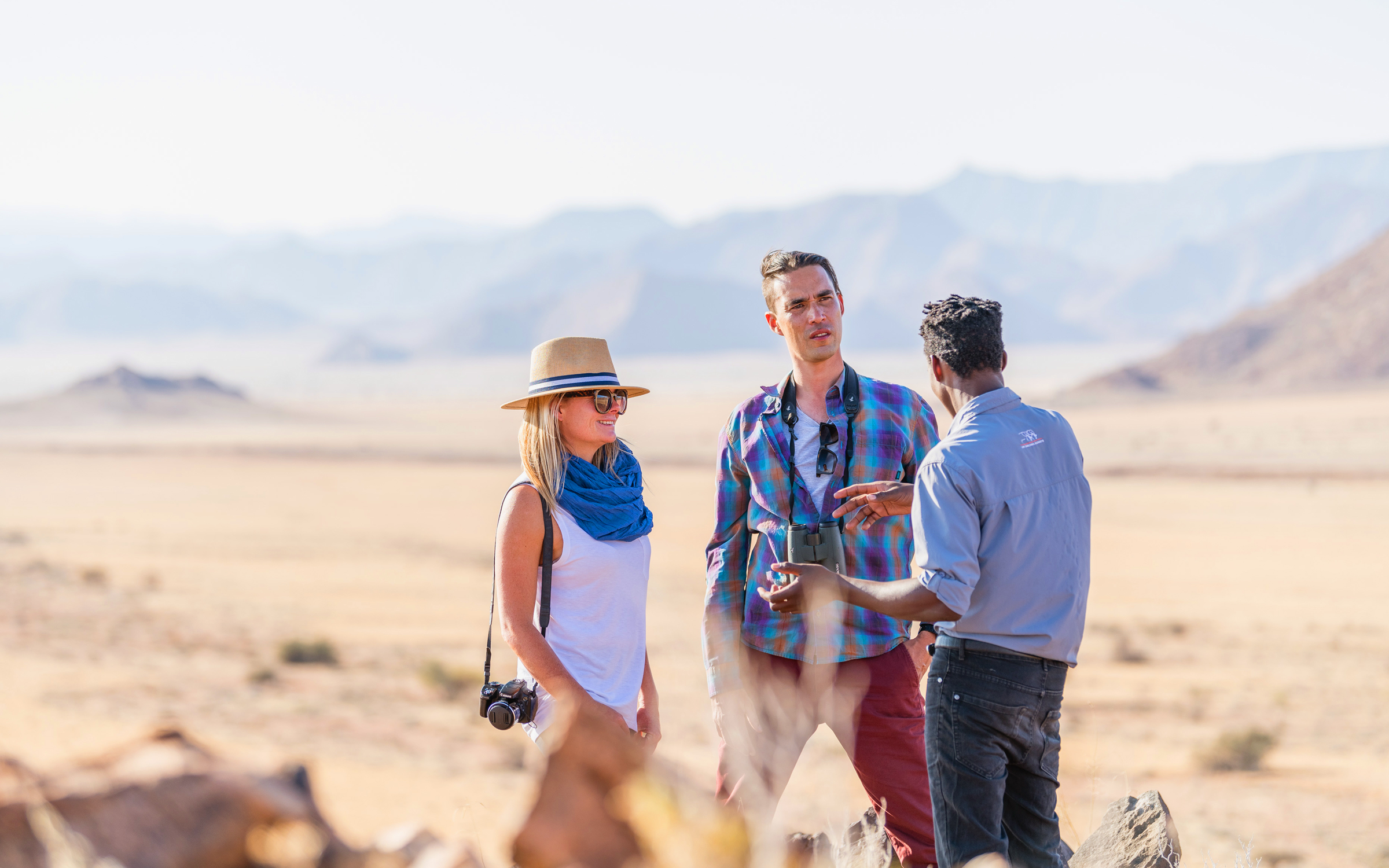 Windhoek is the first destination on your journey. Its German-colonial streets welcome you to Namibia and an evening to recharge, preparing you for the journey ahead.
Begin your journey to Discover Namibia with two nights in the private Namib Tsaris Conservancy in the Sossusvlei region. 
Enjoy early morning guided nature drives to the spectacular dunes of Sossusvlei. World-famous Sossusvlei is an enormous clay pan, flanked by the famous red sand dunes that stand out starkly against the blue sky. These dunes have developed over millions of years, the wind continuously transforming the contours of this red sand sea. The vlei (pan) itself only fills after rare heavy rainfall when, in a complete
turn-around, it becomes a spectacular lake.
Continue your journey with three nights in secluded luxury in the Doro !Nawas Conservancy of Damaraland. Damaraland is famed for its access to the Twyfelfontein rock carvings, a UNESCO World Heritage Site, as well as rare desert-adapted wildlife.
Activities in Doro !Nawas include nature drives, walks, and e-biking. Or consider spending a night under the stars from your suite's private deck. 
The next location on your luxury journey to Discover Namibia is the Skeleton Coast, a spectacular setting famed for roaring dunes, Cape fur seal colonies, and the skeletal remains of ships that succumbed to the extreme conditions just off the coast.
Explore the region by closed 4x4 vehicles and on foot. Enjoy a guided stargazing experience of this incredible, remote place at night. Meanwhile, an excursion to the coast is a must for birders and photographers alike.
The penultimate stop on your luxury Namibia holiday is the Onguma Game Reserve in the Etosha Pans region. Etosha is the premier destination in Namibia for wildlife experiences. Enjoy twice daily game drives searching for the Big Five and over 100 other mammal species.
Keen photographers will love the lodge's hide, where numerous award-winning wildlife photos have been snapped. Additionally, enjoy bush walks and sundowners, or recover from all the exciting game viewing with a luxurious massage at the on site spa.
Finally, on your last morning, fly back to Windhoek to connect with your onward journey.
Discover Namibia with Ker & Downey
Based in the United States, our team of experts work hard in order to get to know each and every client and partner with them to design the ultimate itinerary. Contact a Ker & Downey designer to customize your own Namibia safari. You can also read more about the seasonality and pricing in Namibia. For even more daily travel inspiration, follow us on Instagram and Facebook.