Croatia by Land and Sea
11 Days / 10 Nights
Croatia


Explore by Both Land and Sea
To experience Croatia by land and sea is to witness the country's coastal beauty and jaw-dropping landscape. Let Ker & Downey whisk you off on a Croatia private tour to the country's most exquisite seaside escapes and blissfully beautiful countrysides. With this completely customizable itinerary, you don't have to choose between land or sea explorations. Indeed, you can choose both for a fully immersive experience, the Ker & Downey way.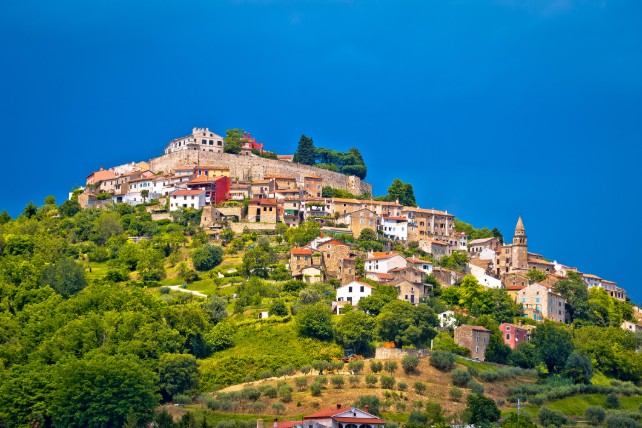 Ker & Downey's Croatia by Land and Sea journey begins first in Rovinj. Croatia's most northerly pocket—known as Istria—is a coastal gem best explored with a Ker & Downey guide leading you through the "Tuscany of Croatia". Here, Rovinj's cluster of houses and small squares makes the modern day seem like a faraway place. Nearby, explore the Venetian architecture in Porec. Italy isn't that far off geographically from this part of Croatia, and its influence is easy to find. Indeed, the mosaics in the UNESCO-listed sixth-century Byzantine basilica rival Ravenna's. Of course, the highlight of your time here will be an exclusive truffle lunch in Motovun.
Continue your exploration of Croatia by Land and Sea At Plitvice Lakes National Park. Here, 16 lakes interconnect by gurgling and gushing waterfalls and form the backdrop for a tranquil retreat. Croatia, without doubt, has much to offer the active traveler. 
Then travel onward to Zadar, the heart of the Adriatic. This medieval walled city is ripe for exploration with its idyllic Old Town and Roman ruins. Don't miss the famous Sea Organ, which plays music according to the rhythm of the waves.
Finally, it is time to continue your Croatia private tour aboard your private yacht charter. Your private skipper will take you along the Dalmatian Coast in search of your favorite island or coastal town. The choice won't be easy, since there are more than 100 islands to choose from.
While every itinerary can be customized, potential highlights include a panoramic cruise through Kornati National Park and a stop in Skradin, a place famous for its risotto. Additionally, channel your inner nature lover in Krka National Park, where you can hike and bike blissfully amid the waterfalls. 
Explore Split with a private guide. Then cruise to Brač and Hvar Islands, as well as the Pakleni Islands, well known for their mesmerizing sandy beaches and crystal clear seas, as well as some of the best restaurants in Croatia. 
Finally, conclude your yacht charter in Korčula, one of the greenest islands in the Adriatic Sea. Explore the famous town of Korčula and enjoy a fun and informative wine tasting at a local winery.
Your private yacht charter will eventually bring you to the Pearl of Adriatic, Dubrovnik. On your way, enjoy an amazing panoramic view of the Elafiti Islands, a group of thirteen islands located northwest of Dubrovnik, or decide to stop for an optional swim. It is up to you to decide.   
Once in Dubrovnik, your Croatia private tour concludes with a privately guided tour through the Old City, a UNESCO World Heritage Site and  one of the most important living historical monuments in this part of Europe. Your expert guide will take you around this magical medieval town full of legends and give you a glimpse of the incredible history that makes Dubrovnik such a unique city.  
Book Croatia by Land and Sea
Ready to see Croatia's beautiful coastlines and landscapes? Contact a Ker & Downey designer to customize your own journey. Choose additional countries and destinations, change property selections, add activities, tours, and more. With Ker & Downey, the choice is yours. Read more about the seasonality and pricing in Croatia.