Brazil Luxury Honeymoon
14 days / 13 nights
Indulge in some of Brazil's most romantic escapes on this exclusive two-week Brazil Luxury Honeymoon. From the hidden wonders of Ibitipoca State Park to the relaxing waters of Florianópolis… Ker & Downey has packed in all of the best of Brazil on this journey made for two.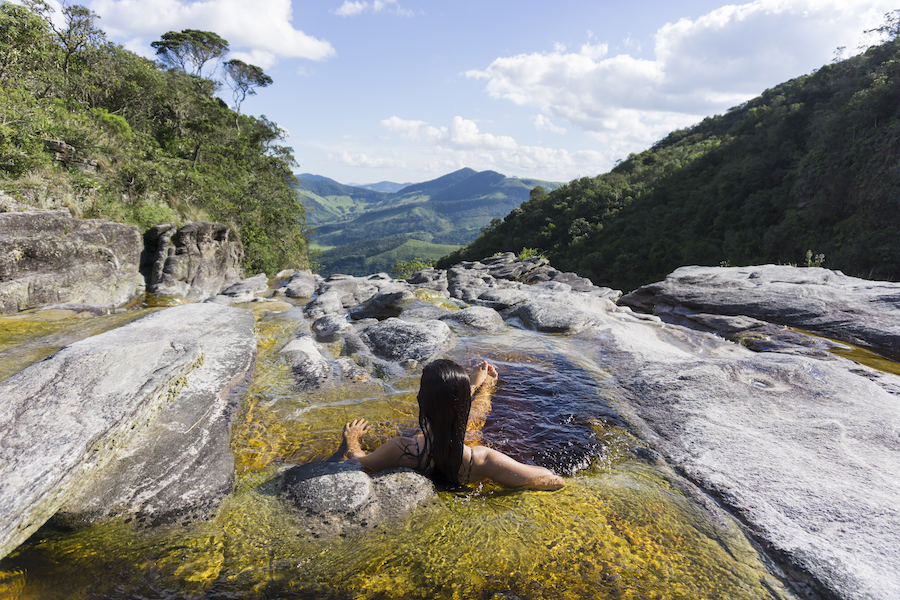 First, your Brazil Luxury Honeymoon begins in Rio de Janeiro. From your luxury accommodations at Hotel Fasano Rio de Janeiro, enjoy three days in this vibrant city. Enjoy a private tour of Sugar Loaf Mountain, including fast pass service to bypass the lines. Also visit the statue of Christ the Redeemer, one of the New Seven Wonders of the World. We intentionally keep the afternoons at leisure to ensure quality time together, whether beachside relaxing, city shopping, or fine dining.
Next, continue your Brazil Luxury Honeymoon in Ibitipoca State Park. The region is located a four-hour drive from Rio, but a private helicopter or charter flight can also be arranged. The Ibiti Project here invites its guests to escape everyday life in a tranquil setting where art and nature collide. Over three nights, you'll be able to enjoy a range of transformative experiences.
Activities at The Ibiti Project include exploring Pico de Gavião mountain by foot, horseback, or vehicle. Additionally, witness the stunning beauty of the seven Burning Man statues – the tallest standing 40 feet high – located on the back side of Pico de Gavião. Also visit the nearby waterfalls and soak in the natural pools.
For wildlife and conservation enthusiasts, visit the Muriqui Rescue Project. Alternatively, explore nearby Ibitipoca State Park with a guide. It's only a 45-minute drive from the fazenda and offers more stunning caves, streams, waterfalls, and vista points accessible via well-manicured and signposted trails. At the end of each day, indulge in delicious home-cooked dinners and caipirinhas on the veranda (made with cachaca distilled on the property) while watching the sunset and listening to the ever-increasing drone of frogs and cicadas.
Your Brazil Luxury Honeymoon then continues near the mesmerizing waters of Iguaçu Falls. While there are many romantic accommodation options in the area, none are as indulgent as those found at Awasi Iguazu. With its private villa accommodations (replete with private plunge pools!), gourmet cuisine, and hyper-personalized service, Awasi represents romance and luxury at their finest. While here, explore both sides of the Falls with a private guide, including the impressive Devil's Throat. Indeed, if the Argentinian side of the Falls is all about immersion, then the Brazilian side is all about the views. You will also have an opportunity to boat along the Alto Paraná river to a secluded waterfall. Depending on time, you may have an opportunity to visit the local Guarani tribes, who are native to these lands.
Finally, conclude your Brazil honeymoon along one of the country's many famous beaches. Of course, Florianópolis is an ideal option for its charming fishing villages, crystal clear waters, and bustling town nearby. What's more, Ponta dos Ganchos Resort boasts a location on a privately owned peninsula. It therefore guarantees absolute privacy to its guests. Here, you can be as active or as relaxed as you wish. Perhaps try fishing, kayaking, snorkeling, horseback riding, and sailing. Alternatively, indulge in the resort's swimming pool, cinema, game room, and spa. Romantic dinners for two on the beach can also be arranged.
PLEASE NOTE: Florianópolis can become quite cool in the North American summer months (June, July, and August). Ker & Downey suggest traveling to another indulgent beach location further north, such as Trancoso, should travel take place during this seasonal window. 
Book a Brazilian Luxury Honeymoon
Contact a Ker & Downey Travel Professional to customize your own Brazil Luxury Honeymoon, and read more about the seasonality and pricing in Latin America. For even more travel inspiration, follow us on Instagram, Facebook, and Twitter.