Bali Luxury Honeymoon
10 Days/9 Nights
Indonesia


Celebrate Big in Bali
The Island of the Gods beckons on this 10-day Bali luxury honeymoon, the ultimate romantic escape. From the rice paddies of Ubud to the private beaches of the Lombok Strait, Ker & Downey has gathered all of Bali's most luxurious resorts and secluded hideaways to create what you will no doubt remember as the honeymoon of a lifetime.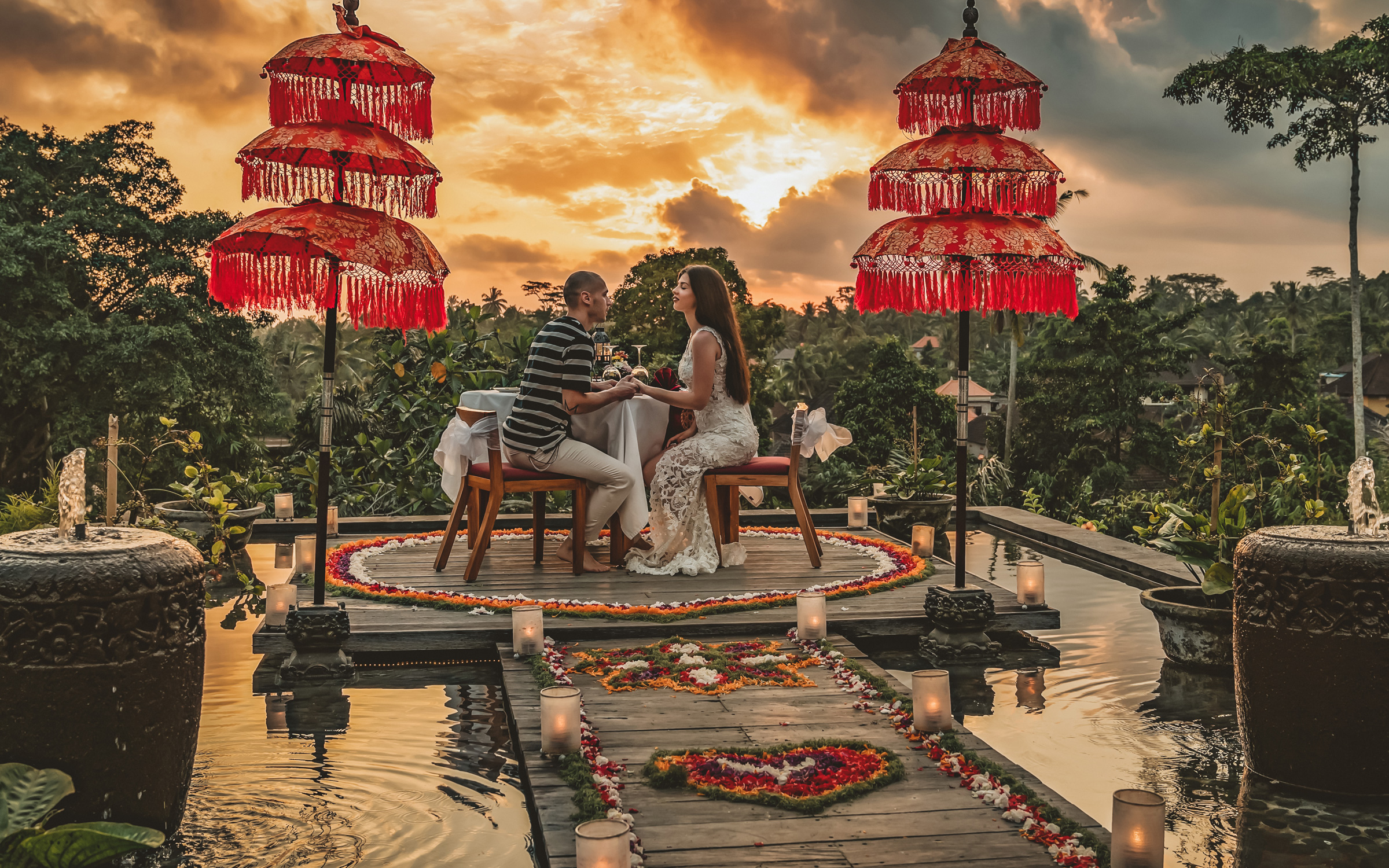 Your Bali luxury honeymoon begins first at the sanctuary setting of Mandapa, an outpost of the exclusive Ritz-Carlton Reserve brand. Your private villa is nestled amid the terraced rice paddies and indigenous culture of this sacred region and offers a temple of Balinese serenity and signature Ritz-Carlton butler service during the first leg of your journey. The highlight of your time in Ubud is either your romantic horseback riding excursion to Serangan beach and a local village or your participation in a private Hindu blessing and purification ceremony to honor your recent marriage.
Retreat next to the quiet beaches of East Bali and the peaceful luxury of Amankila. Channeling refinement and elegance, this cliffside gem offers nonstop waterside vistas and incomparable pampering. Your freestanding ocean villa is framed in bougainvillea, topped in ylang-ylang thatch, and outfitted with private terraces and pools. The unspoiled coastline extends as far as the eye can see. To truly appreciate this ancient setting, embark on a private picnic lunch to a secret spot set high in the hills. Dramatic ocean, mountain, and village views await, or take to the waters to marvel at the unspoiled coral reefs of the region. Your stay ultimately culminates with your attendance at a Hindu wedding celebration for a unique glimpse into the colorful customs of Bali.
The final destination on your Bali luxury honeymoon is Ayana Resort at Jimbaran. Its name means "place of refuge" and its location on Bali's southern coast certainly fits its title. Private villas are terraced into the bluff, swimming pools are plenteous, and sunsets are almost as magical as the water is endless. Your ocean villa is the perfect haven of luxury, offering on-call butler service, maximum privacy, and the perfect base from which to seek out the mysterious and adventurous pleasures of Bali. Indulge in lava-based body treatments at the floating spa. Take a dip in one of the resort's 11 swimming pools. Dine at one of 15 restaurants and bars offering the gamut of gourmet cuisine and 360-degree panoramas. The cornerstone of your Ayana Resort experience is certainly your romantic sunset dinner cruise. The sounds of a bamboo xylophone accompany the soft waves of the ocean as you enjoy a four-course dinner for two. This romantic dream on the Island of the Gods is the perfect concluding moment on your Bali luxury honeymoon. 
Book Your Own Bali Luxury Honeymoon
Ready to plan your own romantic honeymoon trip to Bali? Contact a Ker & Downey Travel Professional to personalize your own Bali Luxury Honeymoon, and read more about the seasonality and pricing in Southeast Asia. For even more travel inspiration, follow us on Instagram, Facebook, and Twitter.