Zambia's First Dessert
Sour Milk Cheesecake with Musika Jelly
As part of their six-course tasting menu, Royal Chundu wanted guests to taste Zambia. They designed the menu to be inspired by the region, to echo the land. For the final course, however, the chefs has to get creative. Because Zambia does not have a traditional dessert to call its own, the team created one - Zambia's first dessert.
Zambia's First Dessert
In Zambia, if someone wants something sweet after a meal, they might eat leftover nshima, cold or hot. Nshima is the staple dish of the region. It is made from ground cornmeal, or maize, and resembles a porridge. To make it sweet, locals will often add sugar and sour milk to it.
For the final course in the tasting menu at Royal Chundu, the chefs used sour milk to replace the cheese for a smoother consistency, and complemented the dish with a Tennis biscuit. Tamarind (musika) jelly tops it. To serve, they add a scoop of tamarind and cayenne pepper sorbet, which acts as a digestif. The Sour Milk Cheesecake with Musika Jelly has become of the guests' favorite dishes at Royal Chundu.
The lodge team invite you to make this dish at home - but it isn't easy, they warn. Thanks to the chef team at Royal Chundu for sharing this taste of Zambia with us!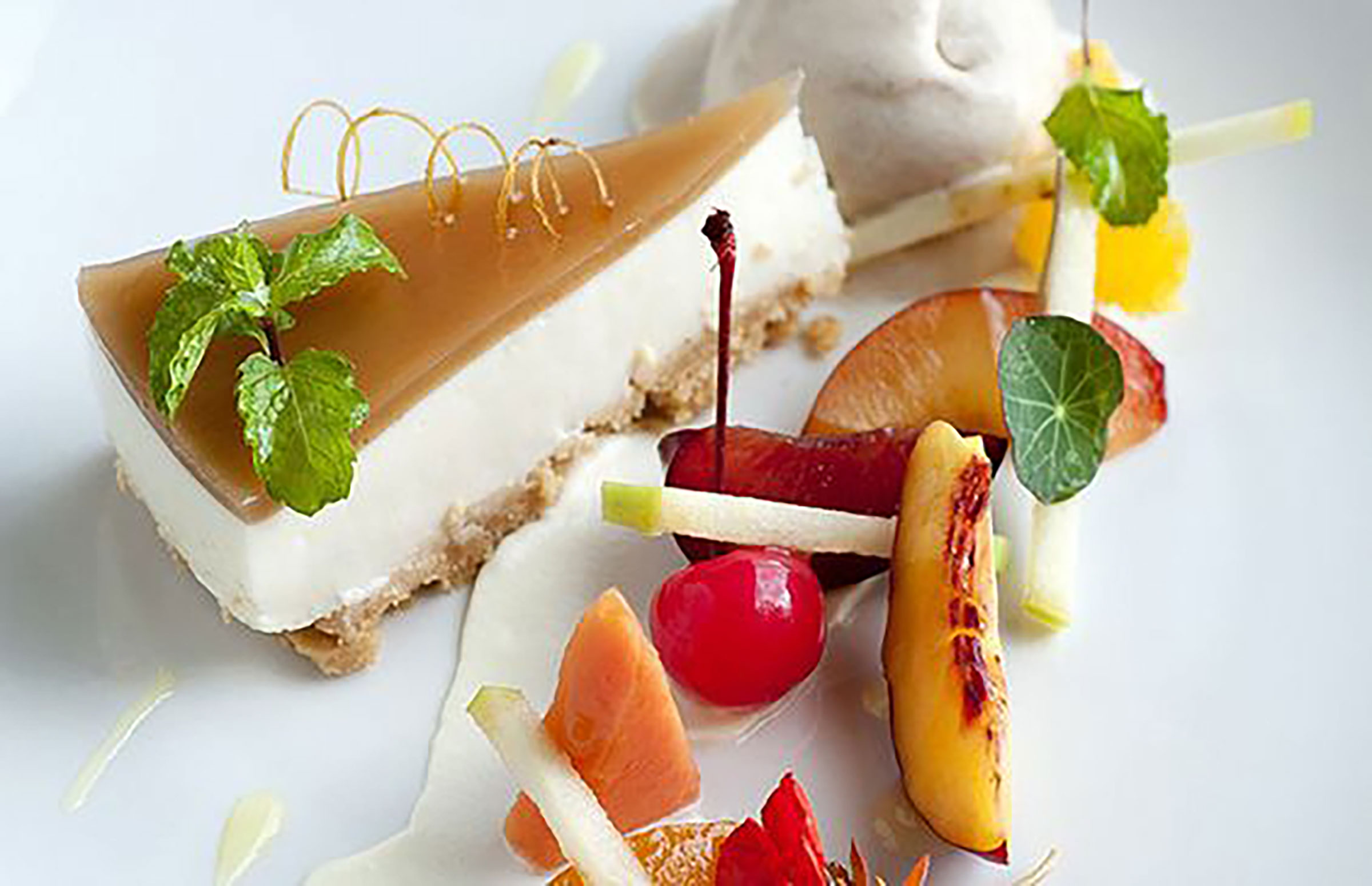 Ingredients
Sour milk mixture
400ml sour milk
3 tbsp icing sugar
200ml plain cream cheese, or fresh cream, or sour cream
100ml plain yoghurt
Lemon zest
Juice of ½ a lemon
4- 6 leaves of sliced mint
15g gelatine dissolved in ¼ – ½ 50ml – 100ml hot water cup
100ml of sweet wine
Musika (Tamarind) pulp
2lt fresh orange juice
2 tbsp cayenne pepper
500g Musika (Tamarind) peeled
250g of sweet wine
150g of castor sugar
I whole orange of zest
Musika Ice Cream
Homemade ice-cream (or a good cream or ice-cream from your local producer)
Biscuit base
200g of tennis biscuits
60g butter unsalted melted
Musika (Tamarind) jelly
125g Musika (Tamarind) pulp
8g gelatine dissolved in hot water
Garnish
100ml fresh cream
2 tbsp cream cheese
10g icing sugar
Nasturtium flowers
Seasonal fresh fruit: apple julienne, red and yellow plums, orange segments, nectarine
Mint
Passion fruit pulp
Instructions:
Musika (Tamarind) pulp: Combine all ingredient together then allow in a pot the bring to a boil
Reduce it by ½ half then remove the seeds from the mixture & pass through a fine sieve.
Then allow it to cool & place in fridge for later.
Musika Ice Cream: Combine ¾ of to ¼ of Musika (Tamarind) pulp then blend together in a food processor then place in the freezer, for about 24hrs, for a perfect texture. If you have an ice cream machine it's even easier, to combine the mixture.
Biscuit base: Crush the tennis biscuits, till its fine then add the melted butter mix together. Lay in the biscuit mixture in a cake tin with a removable base allow it to set in the fridge for 10 – 15mins.
Sour Milk Mixture: Combine all the sour milk mixture together, icing sugar, cream cheese, yoghurt, lemon zest, & lemon juice, beat together then add the dissolved gelatine & place to the side. Then Pour in the sour milk mixture into the cake tin & place back in the fridge for it to set.
Musika (Tamarind) Jelly: combine all ingredients & slightly cool the recipe & allow it to cool down. Then pour a line layer of the mixture over the cake & place back in the fridge.
To serve: mix the fresh cream, cream cheese & icing sugar from the garnish requirements for the base. Then arrange the fruit in stylish fashion & finsh off with flowers & mint leave topped with the sugar tuile.
We'd love to hear how it turns out if you try your hand at making the dish at home. Tag us on Instagram at @kerdowney. For those of us who don't know our way around the kitchen, we'll just start planning a trip to Royal Chundu to try the country's first dessert in bush. 
To plan your safari to Royal Chundu, contact your Ker & Downey designer. For further inspiration, follow us on Facebook, Instagram, and X.