Women's Safari Packing List
Our clients often ask us what they should pack for a safari. Our women's safari packing list gives you a good guideline for a 10-14 day safari in southern and eastern Africa (excluding a Kilimanjaro hike). The number one thing to consider when packing for a safari is to avoid overpacking. Small chartered flights on safari adhere to strict weight restrictions for all luggage.
In most cases, you will want to dress mainly for outdoor comfort in lightweight, loose-fitting clothing. Cotton and cotton/synthetic mixtures are most comfortable. Safaris can also be dusty, and while game viewing, the most practical clothing is tan, khaki, and other neutral colors. In the evenings, you'll want an informal change of clothing for dinner. In the austral winter, you will need a heavy sweater or jacket when game viewing or spending any time outside in the early morning and evening.
Disclaimer: Some of the links below are affiliate links. As an Amazon Associate, Ker & Downey earns a small commission when you click through and make a purchase.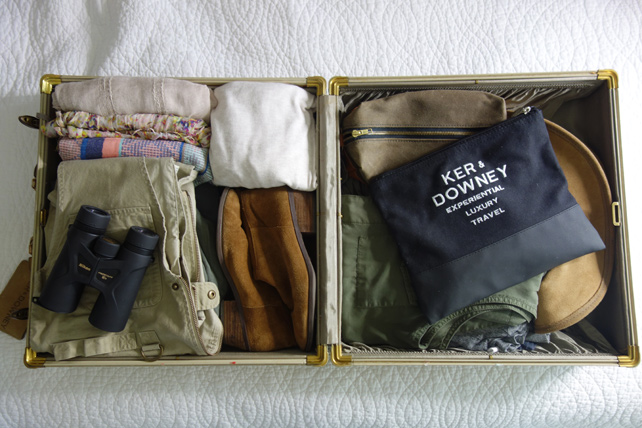 Women's Safari Packing List
Safari Pants
3 pairs of light cotton pants or pants that convert to shorts, or 3 pairs of light cotton pants and 1-2 pairs of shorts
1 pair of long cotton pants suitable for walking in the bush
1 pair of jeans or other casual long pants for the evening
Shirts
3 short sleeve shirts
2 long sleeve shirts (styles with tabbed, rollable sleeves are most versatile)
3 cotton t-shirts
Outerwear
1 lightweight jacket or windbreaker
1 safari vest for camera equipment (optional). We really like this one by ExOfficio for all of its interior pockets.
Raincoat (Optional)
Shoes and Accessories
1 pair of lightweight hiking or walking shoes. We're big fans of shoes like these Merrell sneakers and New Balance trail running shoes for how lightweight they are and how well they pack. In most cases, they can pull double duty as hiking/walking shoes, and casual shoes for the evening so you can save space in your luggage.
1 pair of comfortable shoes for the evening
1 pair of flip flops or sandals for use in your room, at the spa, or around the pool
10 pairs of socks
10 pairs of undergarments
1 wide brimmed hat, especially to wear in safari vehicles while driving in the parks, as the tops are left open for game viewing and photography
1 swimsuit
1 bandana for dust and/or cooling
sunglasses with UV protection
Optional Items You May Want to Pack:
small personal flashlight
universal wall plug adapter kit
Don't forget to pack any medications you are currently taking at your time of travel. You should also consider packing your preferred pain relievers, lip balm, sunscreen, antiseptic cream, personal toiletries, and insect repellent with 35% DEET. Most camps will have these items on offer, but if you have a preference and the room in your luggage, by all means take it with you.
To see more ideas of what to pack on your safari, visit our Amazon Women's Safari Packing Guide.
To start planning your safari, contact your Ker & Downey designer.
Watch our Safari Packing Video