Where You Should Spend Next Christmas
It's not too early to start planning where you should spend next Christmas. Picture this: a holiday surrounded by your loved ones, enjoying amazing scenery and experiences, and all perfectly planned by a trusted partner. If that sounds like a Christmas dream, we think you should round up the family and head off to South Africa's Cape region, where you'll find timeless treasures to captivate all ages.
Where to Spend Next Christmas
Spend Christmas in Cape Town, overlooking the city and the Twelve Apostles range in your own private five-level villa. Obsidian, one of several stunning residences in the Royal Portfolio collection, is an ideal place to spend Christmas. Five sumptuous suites and a dining room set for 12 have room to bring the whole family for Christmas dinner. Impeccably appointed and designed to capitalize on the outrageous views from Lion's Head, it doesn't get much better than this for cozy conversation and celebratory sips of amarula.

Within the villa enjoy a swim in the infinity pool, a round of pool or ping-pong, or screen your holiday favorites in the home theatre. Beyond the residence, explore Cape Town and the coast with our local team of private guides. Active families can arrange hiking, biking, surfing, paddleboarding, and much more, and child-sized adventure and safety gear is at the ready for every member of your family. Get from place to place escorted in your own "Adventure Utility Vehicle" equipped with wireless Internet on board, a cooler of local gourmet goodies, and a toy box. Yours will be a journey that promotes family time and engages your children and grandchildren in new ways.
If it's not feasible to get away this Christmas, why not New Year's Eve? See our list of great places to ring in the new year >>
Big Five Game Drives
Twice a day you will be jumping into a 4×4, heading off on a game drive in search of the Big Five. It's not uncommon to spot a cheetah's black dots or an elephant proudly displaying his regal tusks. Smaller feathered friends tweet and chirp in the trees. Your little ones can stretch their legs during Kwandwe Ecca Lodge's "bugs and bones" ecology walks, their opportunity to look for creepy crawlies and animal tracks. The kids can join rangers casting their line on a fishing adventure or dig into a cooking class. Giving back is easy too. Small hands get involved in the big task of knitting squares together to make blankets for communities in need.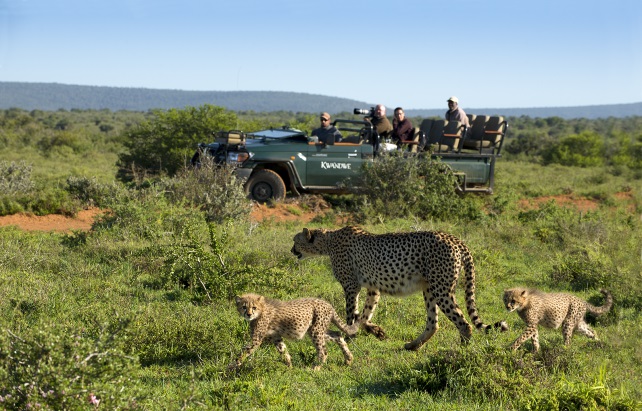 Spa Time
A vacation isn't really restful unless you get a chance to kick back. And what better place to do so than in the Garden Route's Kurland Hotel & Spa. Rose gardens and airy verandas evoke a time gone by, and families will feel right at home in the exclusive mansion. While Mom drifts away during a spa massage, the kiddos amp up their energy during a ride on a Shetland pony. The private lofts come complete with toys and books to keep them entertained too. And what's more therapeutic than sinking your tired feet into the sand? Spend a lazy beach day with the family; you have a full staff to tend to your every need.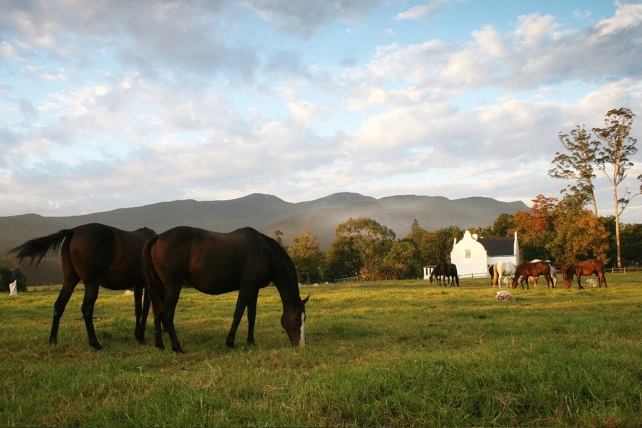 Eco-Friendly Fun
Stretch your desk-bound legs on the nature trails surrounding Grootbos Forest Lodge. Grootbos is a wonderland of ancient Milkwood Forests and wind-whipped views of the Atlantic Ocean and the Cape of Good Hope. Each time a Ker & Downey client travels to South Africa, a tree is planted in Grootbos, so you can enjoy the lap of luxury knowing you are doing good at the same time. Little ones will love trotting along during a riding lesson. Go on a family boat trip out to sea for a once-in-a-lifetime opportunity to see the Marine Big Five. Your kids will revel in the close encounters with leaping dolphins, silly seals, and playful penguins. You may even spot one of the ocean's top predators: the Great White Shark.
Wine and Dine
Take the scenic route along the Coast Road leading you past bays, granite boulders, and Table Mountain. Charming villages and fishing harbors give way to steeper peaks as you head to the Good Hope Nature Reserve. Grab your binoculars to spot whales on the coastline below. Your children will love the picnic on-board a sunset cruise while parents dig into oysters and drink champagne. Head off to the Western Cape'sWinelands where you will savor crisp white and red wines. It's a scenic stop; the Wellington and Drakenstein Mountains hover in the distance. Wander with the family through the French colonial town of Franschhoek, full of galleries, boutiques, antique shops, and award-winning restaurants. South Africa is a feast for the eyes and your taste buds.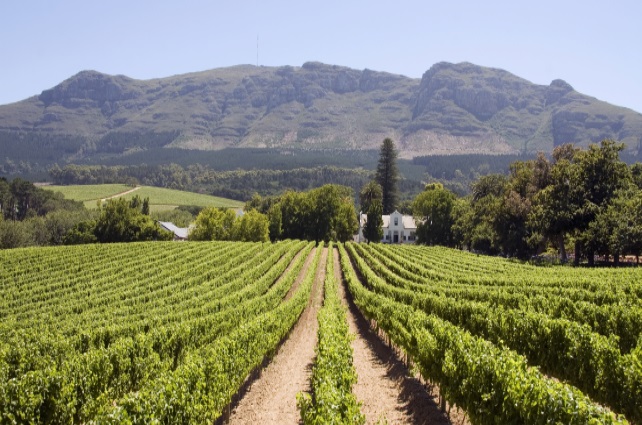 Where You Should Spend Next Christmas
For family fun and relaxation, we recommend a journey in South Africa in December. Consider customizing our South Africa Family Safari to see the best of the country designed for the whole family.
Let us help you plan a journey to South Africa for next Christmas. Contact your Ker & Downey luxury travel designer to get started.