Tunisia: Unknown Africa
As Seen in QUEST Magazine
Tunisia isn't the first to come to mind when the continent is mentioned, but there are plenty of reasons why it should be for a traveler seeking something beyond a traditional safari.
Stretching longways from the Mediterranean to the Sahara sands, Tunisia is jam packed with varying landscapes. And although many flock to the country for its clear water beaches (which are no doubt beautiful), they would be remiss to pass up the opportunity to understand the North African country a little more, discovering layers of history and unique works of art along the way. 
By Rina Chandarana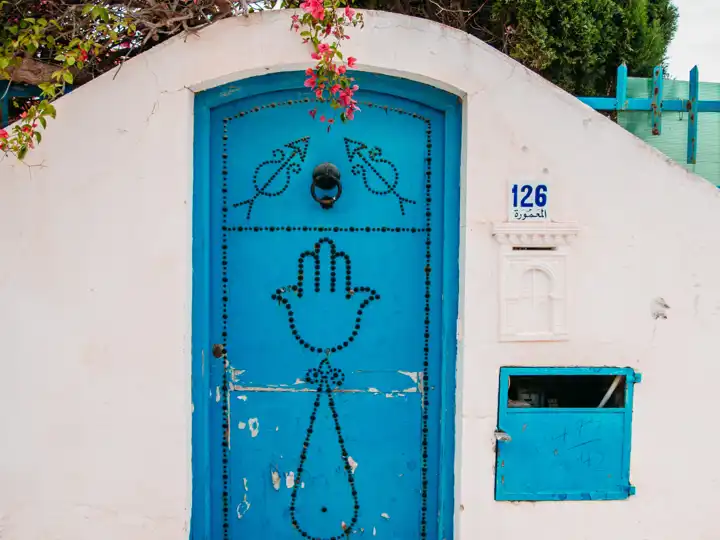 Seaside Sights
A journey to Tunisia kicks off near the coast. Explore the crumbling puzzle of villas and baths in Carthage once ruled by the Phoenicians and Julius Caesar in Roman times with the backdrop of the Mediterranean unfurling beyond like a welcoming aqua blanket.  
And then there's the striking contrast of whitewashed walls and sea blues in Sidi Bou Said, a coastal village, and arguably one of the most beautiful in Tunisia. Spanish Muslims in the 16th century influenced the architecture of this fishing enclave making it a must visit for a leisurely stroll and al fresco couscous meal served with seafood. Tunisians don't shy away from spices, so expect the flavors of cumin, caraway, coriander, paprika, and saffron in many a dish. 
Another coastal favorite is Hammamet with long, sandy beaches. And although the waters are a crowd pleaser, it's the fortified Medina that beckons history buffs to its labyrinth of tiny lanes displaying lattice balconies and detailed window shutters all in shades of cobalt and turquoise. But the doors designed with nail head moon, star, floral, and hamsa (hand) patterns traditionally believed to ward off bad energy, really capture the artistic eye.  
Just down the road is Nabeul near the Strait of Sicily, a region rich with olive and fruit trees. Because of the Cap Bon Peninsula's geographic location, it has faced attacks from the Normans and the Spanish, while Jews, Christians, and Muslims share a common link with this area. The potters of Nabeul created beautiful glazed yellow, green, and cobalt jars, vases, plates, and intricate tiles used to decorate palaces throughout the country. In Tunisia, patterns and color always provide a contrast to the striking landscape.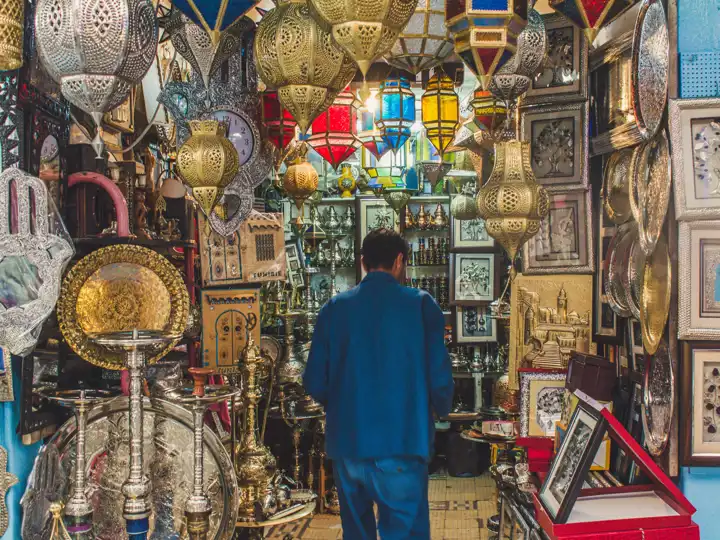 Cross Cultural
Tunis, the country's capital, is a blur of past and present, with its Art Nouveau buildings and the 8th century Medina where it's easy to happily get lost amongst the winding, narrow streets discovering palaces, mosques, and gurgling fountains. According to UNESCO, there are 700 historic monuments packed into the area.  
At one time, Tunis was considered one of the wealthiest cities in the Islamic world with exchanges of arts and architecture with the rest of the Maghreb, southern Europe, and further east. It's not hard to imagine what the Medina was like long ago because even today the bustling souqs are filled with tiny cafes serving piping cups of hot tea with sprigs of mint and pine nuts bobbing on the surface. French and Arabic intermingles in the shisha cafés and rows of babouches, traditional leather shoes with curved toes, sit in neat rows.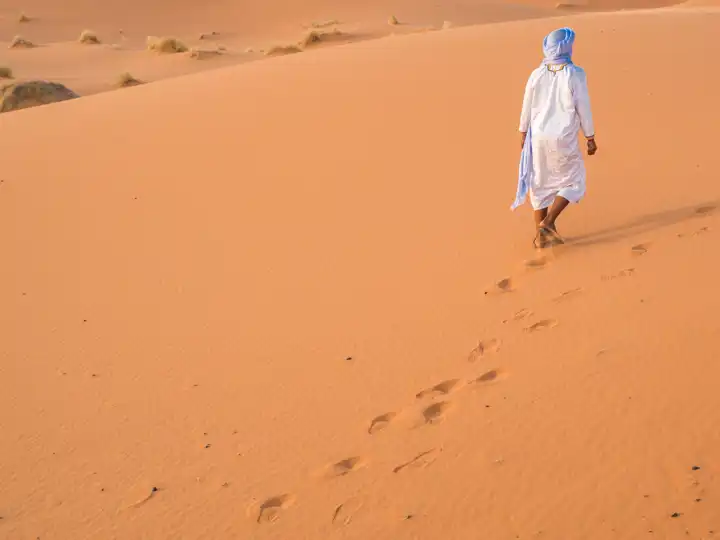 Mountains and Mirage
Spotting the candy-colored blue natural pools, cascading waterfalls (perfect for a cooling splash), date palms, and fig trees in Chebika, Tamerza, and Mides may seem like a desert mirage, but thankfully they're not. These Sahara oases and rocky desert landscapes are best seen on 4x4 stopping overnight to stay in a welcoming Berber village where you'll learn about their way of life in this arid landscape.  
Besides undulating dunes worthy of any movie scene (Star Wars and The English Patient, to name a few), there's also Chott El Djerid, a salt lake embodying the best of barren beauty. The water is a spellbinding myriad of magenta, orange, pinks, and of course a milky blue, (blue a seemingly constant sight throughout Tunisia) giving it an incredible otherworldly appeal.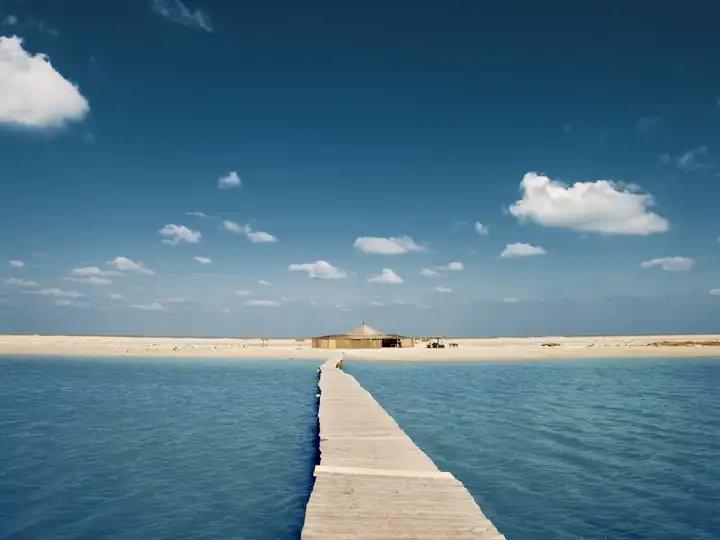 Island Life
Back along the coast, cross over a bridge dating back to Roman times to the island of Djerba which once inspired Homer in his writing of The Odyssey. The impossibly colorful island is home to one of the world's oldest Jewish communities. The story goes that the El Ghriba synagogue, a pilgrimage site outfitted with spectacular azure archways, was built with a stone dating back to the destruction of Jerusalem's Second Temple. Despite Djerba's significant history, there's also a palpable modern energy. Whitewashed walls make for a tempting canvas, transforming Djerba into a mecca for street artists making their mark with creative depictions cascading down the sides of buildings like the bushels of bougainvillea.  
Pro Tip
Pair Tunisia with a journey to North Africa's other enchanting country, Morocco, exploring kasbahs, embarking on desert drives, and admiring the unique architecture.
To explore Tunisia, contact your Ker & Downey designer.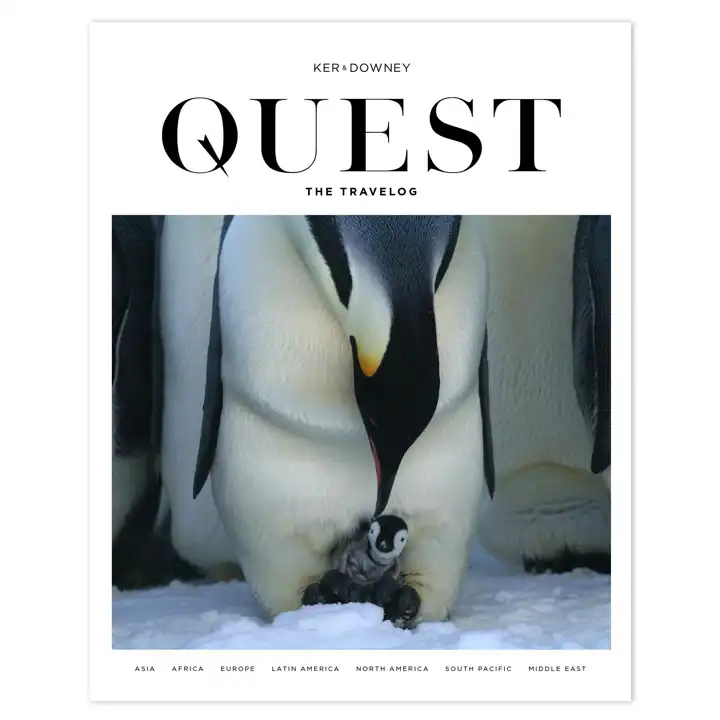 The Travelog
Quest Magazine
Dedicated to the experiential style of Ker & Downey travel, QUEST Magazine features eye-opening content that focuses on unforgettable experience, unheard-of destinations, and the very best our world has to offer. Each issue is packed with insider information, what's new in the world of travel, and editorial pieces that focus on our global culture, philanthropy, and transformative travel.
Read Issue 20