Inspiring Israel
As Seen in QUEST Magazine
Israel feels like the center of the world geographically and spiritually. The world's three major religions converge in delicate balance within Jerusalem's timeworn lanes while the small country's future blazes ahead in its booming cities.
By Rina Chandarana
Travel to Jerusalem, The Holy City
The heavens seem to feel a touch closer to us mere mortals in Jerusalem. A muezzin's call reverberates between the sandstone-colored arteries, pumping life into the mosques where the Muslim faithful gather to prostrate in prayer five times a day.
The golden sheen of the Dome of the Rock — an ever-present staple of Jerusalem's timeless skyline — shimmers behind. Jewish men in crisp white shirts bow their yarmulke-topped heads repetitively in whispered prayer, stuffing scribbled prayers into the weathered cracks of the over 2,000-year-old Western Wall, a sacred remnant of the Temple Mount. Inside the shadowy interior of the Church of the Holy Sepulchre, Christian pilgrims light spindly candles — smoke rising in darkened wisps like spirits.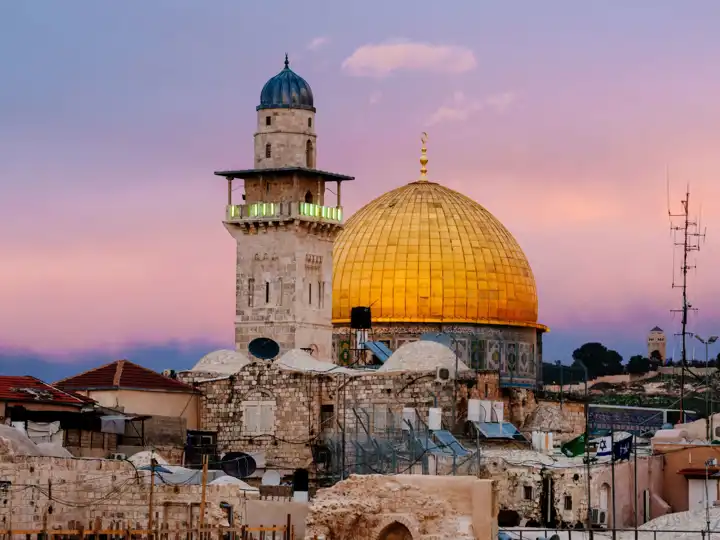 Outside, the scene is more frenetic. Heaps of patterned rugs sit alongside golden images of saints, wooden crosses, and a bunch of touristy kitsch. Jerusalem is a mix of many things. It evokes a feeling of undeniable awe of the ancient and auspicious. Here it is impossible not to feel the weight of the past. The stories of old come to life in exuberant color and mood. Somber believers thread through the narrow lanes following the Stations of the Cross — the traditional path Jesus is believed to have walked leading to his crucifixion.
The oldest copies of the Hebrew Bible rest in the city's Israel Museum. Climb the Mount of Olives across from the city and soak in the heavenly view.
Descend below ground to explore the 5,000-year-old water system at King David's palace. Climb down to the Shilo-ach Pool where it is believed Jesus healed the blind.
It's not just the intense faith that attracts us to Jerusalem. It's a foodie's paradise too.
In the Machane Yehuda Market, shoppers haggle for ruby-red pomegranates. A guide leads your taste buds to some unique foods — Ka'ek (Jerusalem bread) covered in a crunchy sprinkle of sesame seeds, Sheikh Al Mahshi (eggplants stuffed with meat), and Mutabaq (a pancake-like treat dusted with powdered sugar). A cheeky glass (or two) of wine at a gourmet restaurant gives you a taste of Israel's local varieties.
Gooey baklava sits in sticky slabs. It's a saccharine delight that sticks to valleys of your teeth with flaky layers of phyllo pastry, chopped walnuts, cinnamon, honey, and some sweet rose water syrup. Just like Jerusalem, it is multilayered.
The Holy Land Beyond Jerusalem
Archaeologists are still uncovering treasures from the past all over the land; a fragment of an old pot here and a shard of glistening ancient glass there. Roll up your sleeves and grab some excavation tools in search of the Hellenistic and Second Temple period's past in Beit Guvrin National Park's underground caves and subterranean cities — about an hour outside of Jerusalem.
The Romans ruled for 500 years further north in Caesarea, a port city founded by Herod the Great and governed by Pontius Pilate. This is also the harbor where St. Paul was taken prisoner and shipped off to Rome.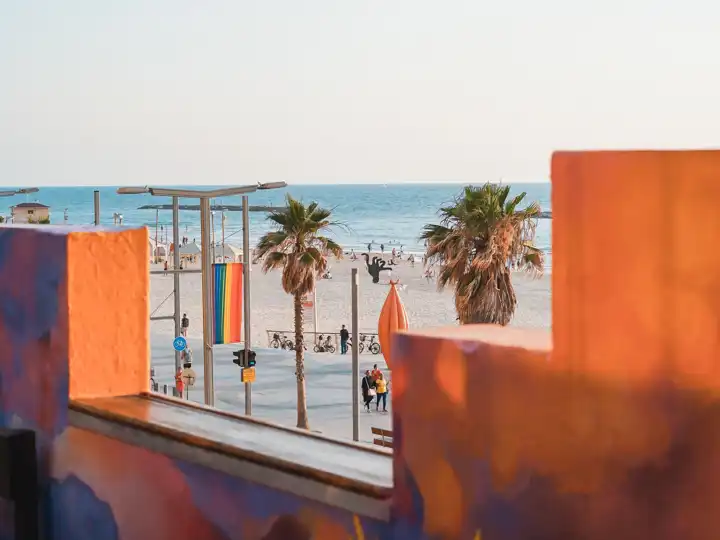 Step foot in St. Peter's house and tread on Mount of Beatitudes in Israel's northeast, where Jesus issued his Sermon on the Mount. Pious devotees make their way to the West Bank region to weep saline tears in Bethlehem's Church of the Nativity.
Just as Jerusalem and the rest of this ancient country make it a cinch to travel swiftly into the past, Tel Aviv ushers you into Israel's promising future. Tel Aviv is gifted with a coveted Mediterranean address with bikini-clad beauties splashing in the surf and couples strolling along the promenade.
But in the midst of all the modernity, there are hints of the timeless. Old Jaffa is possibly the oldest port city in the world where according to the Bible King Solomon's ally, Phoenician King Hiram of Tyre, brought cedars from Lebanon for the construction of Solomon's temple.
Israel's political tides continued to shift in 1948 when the State of Israel was proclaimed in Tel Aviv — just one of many points in modern history a local journalist will discuss with Ker & Downey travelers on a journey to Israel.
With such a complex yet fascinating history, everyone leaves with a different perspective and sentiment. It's hard to know what Israel's future holds, but one thing is for certain: the sacred past will continue to attract worshippers and the curious for decades to come.
Pro Tip!
Try to avoid going during certain holidays like Passover, Sukkoth, and Hanukkah when hotels may be full and tourist sites will be busier than usual.
- Nicole Porto, Designer
Travel to Jerusalem with Ker & Downey
Ready to travel to Jerusalem and beyond? Contact your designer to start planning your journey. In the meantime, follow us on Facebook, Instagram, and X for daily travel inspiration.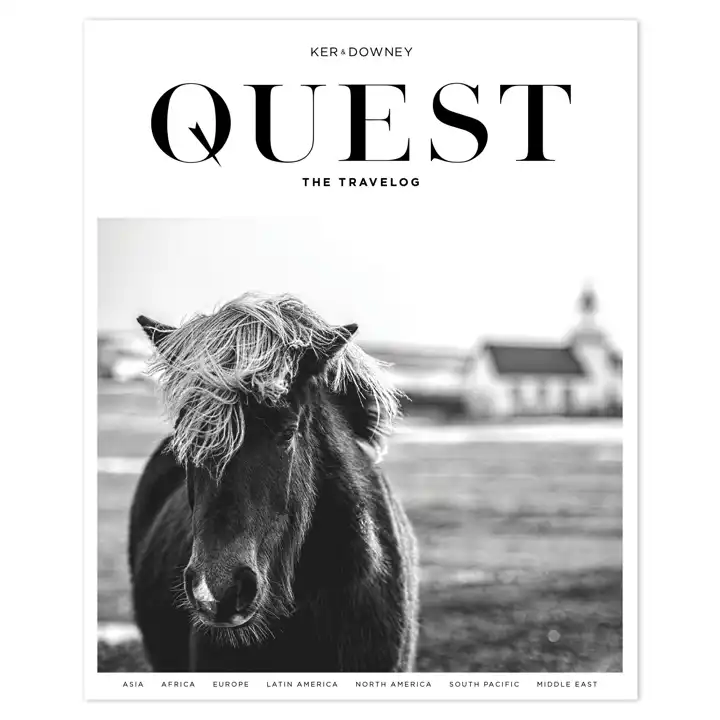 The Travelog
Quest Magazine
Dedicated to the experiential style of Ker & Downey travel, QUEST Magazine features eye-opening content that focuses on unforgettable experience, unheard-of destinations, and the very best our world has to offer. Each issue is packed with insider information, what's new in the world of travel, and editorial pieces that focus on our global culture, philanthropy, and transformative travel.
Read Issue 12