Catskills Revival
As Seen in QUEST Magazine
Ker & Downey designer Catherine Brown trades in international glam for a truly memorable active adventure closer to home in the Catskills.
As told by Haley Beham
The Catskills is ripe for a revival. Just 90 miles northwest of New York City, the pine-covered peaks and rolling hills were once the backdrop of a tourism empire. From the early 1900's through the 1970's, urbanites escaping the heat of the city and looking for fresh mountain air fled to the Catskills. Then, almost as if overnight, tourism to the area declined. Hotels that once hosted throngs of New York families for the summer sat shuttered and in ruins.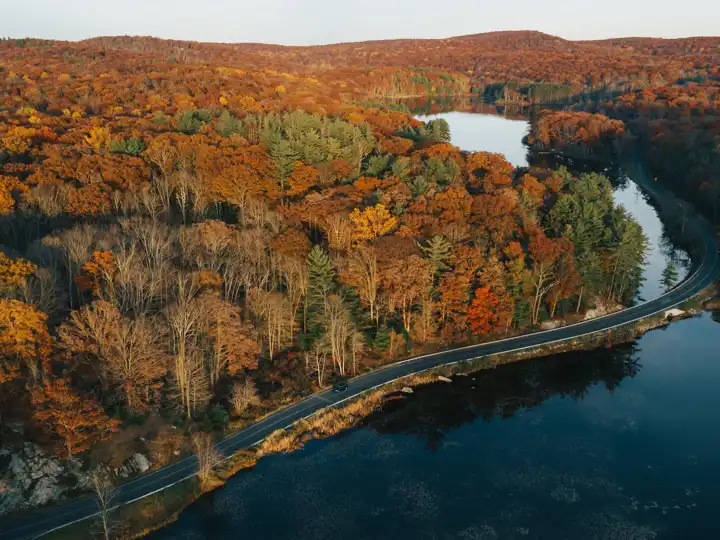 The region is ready for a renaissance though.
The last 10 years have seen talented chefs move to the Catskills' small towns and plant gardens, offering delectable farm to table dining options. Cafes, bars, artist studios, and craft breweries are also beginning to spring up.
In contrast to the Hamptons, which have become ritzy and crowded, there's a real sense of remoteness and discovery happening in the Catskills. It has suddenly become the go-to retreat for those looking for exclusivity.
To witness this revival for myself, I packed up my children and drove to the Catskills in search of natural beauty and fresh mountain air.
Eric and his wife Troy had invited us to stay in their charming guest house encompassed by well-maintained hiking trails, miles of perfect creeks, ancient Native American caves, idyllic waterfalls, and crystal-clear swimming holes. We felt we had arrived at a secret national park.
Eric is a pioneer in the rafting world. He tirelessly works not only to protect the river resources and running conservation awareness trips, but also promoting safety. For over 30 years, he has led rafting trips for couples, families, and celebrities. Whether in Patagonia, Canada, Peru, or the Catskills, Eric's love for all-ages adventure is undeniable.
Coupled with Eric's enthusiasm for the region and its resources, our excitement for the experiences yet to come were heightened. Knowing we would be ready to stretch our legs after the drive, Eric had mountain bikes waiting for us. He and my eight-year-old daughter shared a tandem bike. Admittedly, none of us have ever been confident bikers. Eric's easy way of encouragement though had my daughter asking to go again the following day (and the next!).
Over the next several days, we went hiking, caving, swimming, white water rafting, stand-up paddleboarding, and more. My kids had the time of their lives. It almost felt like a family "outward bound" experience. With each new activity, Eric pushed us just a little beyond our comfort level. Everyone, including my six-year-old son, rose to the challenge, which was an amazing experience for my family.
"Witnessing my kids blossom as they navigated the woods, white water, and caves with enthusiasm and an adventurous spirit – that was the unexpected gift I brought home."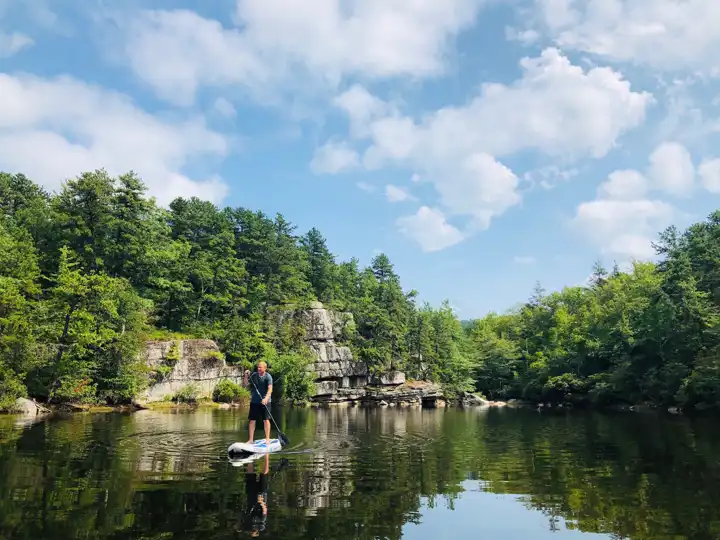 One of our most memorable activities was white water rafting, which was perhaps unsurprising given Eric's professional experience. My son and daughter rafted with Eric in a cataraft, and I kayaked on my own – two things I never thought we would do. When we finished our first run, my daughter immediately turned to Eric and said, "Can we do it again?" The answer was yes.
Our accommodations were comfortable. The food, whether made at the house by a fabulous private chef or at a charming Mexican restaurant in town, was a wonderful reward at the end of each day. But the true luxury of the Catskills was not in the accommodations or the dining options. Luxury, we found, was in the experience: going wherever the trail or Eric led us. Watching my kids navigate woods, white water, and caves with enthusiasm and an adventurous spirit - that was the unexpected gift I brought home.
Travel to the Catskills with
Ker & Downey
At Ker & Downey, each itinerary is designed to reflect who you are. When you travel with us, you can expect exceptional service from start to finish. To start planning your journey to the Catskills, contact a Ker & Downey destination specialist. For daily travel inspiration, follow us on Instagram, Facebook, or X.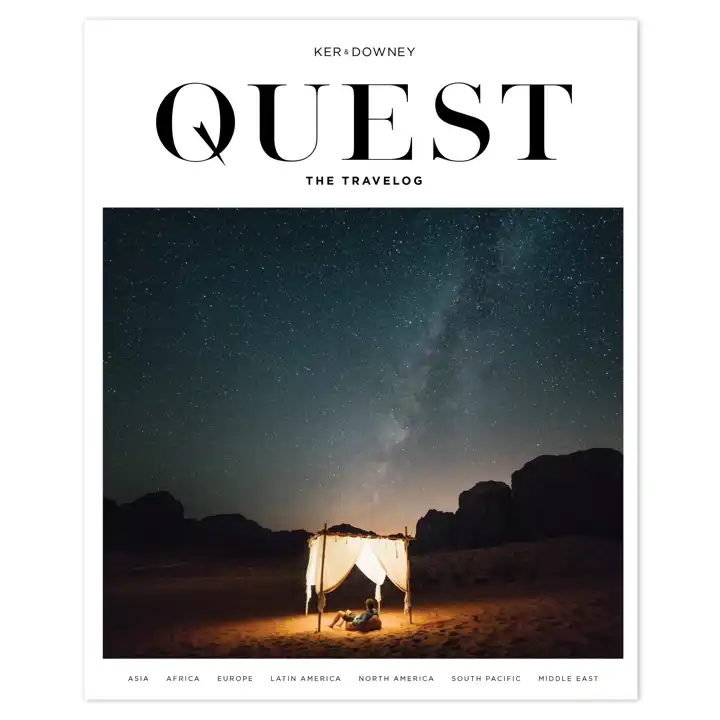 The Travelog
Quest Magazine
Dedicated to the experiential style of Ker & Downey travel, QUEST Magazine features eye-opening content that focuses on unforgettable experience, unheard-of destinations, and the very best our world has to offer. Each issue is packed with insider information, what's new in the world of travel, and editorial pieces that focus on our global culture, philanthropy, and transformative travel.
Read Issue 13